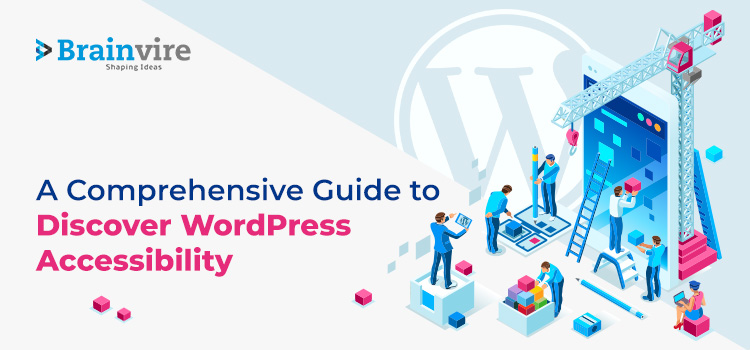 Modern-day businesses run on websites and this makes it imperative for WordPress development services to create easy-to-accessible websites.
For the inexperienced, this means taking all possible measures to publish the website on the public domain so that users can learn about the client's services.
A majority of us don't have to acknowledge the accessibility aspect of the website as it is easily available on the browser. We just click on Chrome and plug into our search. However, a couple of others have to struggle to get access to the right website.
A good development company can combat website accessibility issues with ease. 37% of websites are powered by WordPress and hence it becomes essential to get a grip on WordPress accessibility. Improved website accessibility empowers you to reach a wider audience.
Apart from this, it also enables:
Enhanced user experience- This is required to build loyalty, trust, and retain customers.
Optimize SEO and gain a higher rank in search engines.
Keep lawsuits and unwanted fines at bay.
Excluding the compliance section, there are several factors involved that affect the accessibility of the website.
[Also Read: How much will a website development cost you?]
We have discussed a number of these factors in detail here:
Understanding WordPress Accessibility and its Significance
Varied Types of Accessibility
Which One to Prioritize-Accessibility or Usability?
Human and SEO Perks
Threats of a Poorly Accessible WordPress Website
Key Elements That Must Be Accessible on the Website

Understanding WordPress Accessibility and its Significance
Web accessibility comprises creating websites and platforms that are easily used by any user regardless of their economic status, disability, or geographic location. The more people can use the website, the better is its accessibility.
For instance, as a real estate agent, you want to reach more property investors. You need to hire a real-estate software development company that can develop an easy-to-accessible website and increase your reach.
Website accessibility has the power to introduce you to lucrative opportunities and witness remarkable business growth.
Want to convert your idea into a successful app or website? Schedule your free call with our expert now.
Varied Types of Accessibility
Accessibility- the term is considered in different aspects and some are discussed here:
Visual, Auditory, Motor, and Cognitive Impairments
The fundamental aspect of web accessibility is about offering comprehensive accessibility.
Over 285 million individuals living across the globe with visual impairments can use screen readers to surf the web.
466 million individuals with hearing loss who cannot hear video or audio content.
A certain number of individuals have limited motor skills due to their conditions and may have to resort to voice commands or other techniques to view websites.
5%-10% of the global population suffers from Dyslexia and other illnesses and struggle to read precise smaller-sized texts and other fonts.
An estimated 15% of the global population is predicted to be suffering from some or the other sort of disability. Accessible websites make the lives of these 1 billion people easier and also have a positive impact on them.
Learning about these facts, you may think of redesigning strategies with simple web page layouts and menus that are easy to navigate. Besides, you may also recommend the use of easy-to-scan content for the website.
Multiple Devices Accessibility
This accessibility ensures that whether you visit the website from a smartphone or desktop it appears the same. Users get a uniform feel and look regardless of the device they use.
With an increased number of smartphone users, your website must be easily accessible to both the audience. Responsive design is the way to go to provide this accessibility and improved user experience.
Most WordPress themes are responsive but it's wiser to conduct an audit before your website goes live. This will also help eliminate unwanted errors and glitches on the website.
Certain templates and plugins aren't designed considering accessibility in mind and hence your website won't have the much-needed usability.
Consider Global Status
Modern websites are designed on high-end technologies that are supported only on high-tech smartphones or devices. If you use such a solution, then you are bound to skip a major section of the audience. Your website will be restricted to only a niche audience that has access to technologically advanced devices.
Websites based on custom CSS, high-end widgets, and plugins failed to load on older web browsers such as Opera. In case, you cater to a global audience, then consider this fact and design a website that is accessible to everyone.
Which One to Prioritize- Accessibility or Usability?
There are two significant aspects about usability which one must consider while analyzing website accessibility:
Website theme- The look of the website
Custom coding and plugins- The website functionality 
Accessibility also consists of the appearance of the website. A dull-looking website with unclear fonts is not regarded as an accessible website. Likewise, advanced but incompatible plugins make the website inaccessible to several users.
Hire WordPress developers as they have the niche talent to blend usability along with accessibility and design a promising website.
Human and SEO Perks
We have discussed some human-related and SEO perks that can increase web accessibility:
Better Reach
No surprises that a majority of the section faces accessibility issues. This inability means you miss out on a huge section of the audience which results in poor engagement.
It is important to consider the needs of specialized sections as it is a huge part of your audience.
Improved Usability
With each step towards an accessible website, you are likely to increase the usability of the website as well. Simplified coding and easy-to-navigate portal, improves user experience as well.
Higher Search Engine Ranking
Quality SEO, image ALT tags, transcripts, and use of the right keywords improve website visibility. Simultaneously, the user-friendly journey helps towards enhancing website performance.
Google's algorithm concentrates on website accessibility and hence an accessible website will rank higher in the search engine results. The combination of good SEO and website accessibility can increase your website's probability to rank higher in the search results.
Threats of a Poorly Accessible WordPress Website
Along with good SEO, it is equally important to focus on quality content and images. This ensures that your website is accessible for all strata of individuals. An easily accessible website can provide a brilliant opportunity for online shopping for individuals with disabilities. An inaccessible website fails to tap this market.
[Also Read: Why WordPress Development Services Are Getting Popular?]
Cyber-attack is not a new concept; individuals have failed to follow norms in the past resulting in an increased number of cases. However, it is important to follow all the norms so that you don't have to enter the above list. Skimp through the fundamental accessibility requirements and follow through. Experts can guide you through this so that you don't break any stringent laws unknowingly.
Key Elements That Must Be Accessible on the Website
If you don't want to go wrong with website accessibility, take into account the following elements:
Acronyms
Everyone is not familiar with acronyms and hence one must consider the wide range of audience while using them. Possibly, communicate the meaning of acronyms so that a reader doesn't misinterpret them.
Fonts
Intriguing and designer fonts may appear appealing but are they easy to read, this is the main question here. Make sure that you don't design a striking layout at the cost of readability.
Instead, stick to a simple font that makes reading easy for almost everyone.
Image and ALT text
Visually impaired users use screen readers to skimp through the website. The ALT text assigned to the image plays a vital role for such users. Therefore, it is important to use correct images that can be easily assigned to the related ALT text. Apart from these, links and contact forms are also significant elements on the website.
Get in touch with our professionals to learn more about website accessibility.