In this world of mobility, people browse most of the times on their smartphones or tablets than on desktops. With time, the competition in mobile app development is also increasing. New platforms and tolls are evolving to add to the competition. However, iOS and Android OS rule the world of mobile apps. If you are an integral part of the Android application development team, this post is going to be interesting for you, as it brings you some of the most important and interesting tips to improve the visibility of your app on Google Play….
Here a few things you should do and a few you should not to for the store listing optimization of your application on Google Play…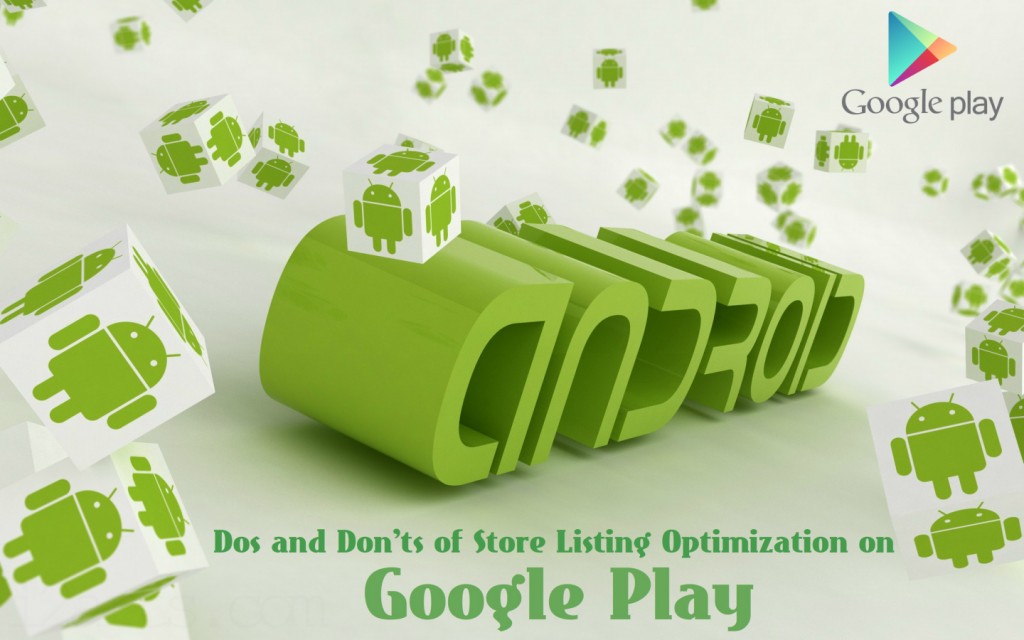 Dos:
1. Icon: Users come across the icon at first, so make sure you make it attractive enough to convince audience that your app is interesting. Also, try portraying in icon that it is exactly what users are looking for.
2. Reviews: Make sure you respond to the customer reviews quickly, as it helps you to increase rating. High rating is a social proof that a lot of people like your app and this will help you gain trust of other customers.
3. Link: The best thing to do is to link your Google Play store listing to everything right from your website to your social media accounts and press releases, so that it drives the organic visibility to the targeted audience. This will create positive impact on search positioning.
4. Page Description: One of the most important tips is to keep the content of the page description informative and concise. Also, it should be short and clear; don't flood out the information.
Don'ts:
1. Title: When it comes to the app title, you must not spam it with keywords. In fact, it should be short and original. Most importantly, it should be thoughtful, so that it represents your offerings.
2. Short Description: After the title, let us come to the short description, as most people read it to decide whether to download the app or not. So, the tip is not to overload the short description. Make sure that the description is to the point and talks about the USP of the product which impresses users and makes them install the app quickly. Also, don't forget to implement the best SEO practices.
3. Screenshots: Do not make the extensive use of text in the screenshots. The aim of screenshots is to make customers understand your products visually, without making them read a lot. Also, use localization wherever possible.
4. What's New: Never confuse users in the 'What's new' section. Make sure you let them know about the updates, changes and bug fixes that are implanted in the new version. Keep the points informative and clear.
Even if you have adopted the best Android application development process for your app and even though it has amazing features and looks good, it will not get maximum downloads unless people don't notice it. So, you must optimize the store listing on Google Play to get more installations. The above mentioned tips will help you with the store listing optimization of your application on Google Play.