Are you a non-technical founder establishing a tech-oriented startup? Hiring developers for your startup can be a crucial step towards overcoming the challenges that come with being a first-age entrepreneur. It's not an easy journey, but with the right team by your side, you can tackle any hurdle that comes your way.
Besides, why not? Being a person from a non-tech background, you have a limited idea of the why and how of the hiring process. The contributions of developers can make or break the success of a startup. Additionally, with so many options available, it can take time to determine where to start. 
Under this circumstance, your greatest hurdle lies behind a simple question, 'how to hire a developer.'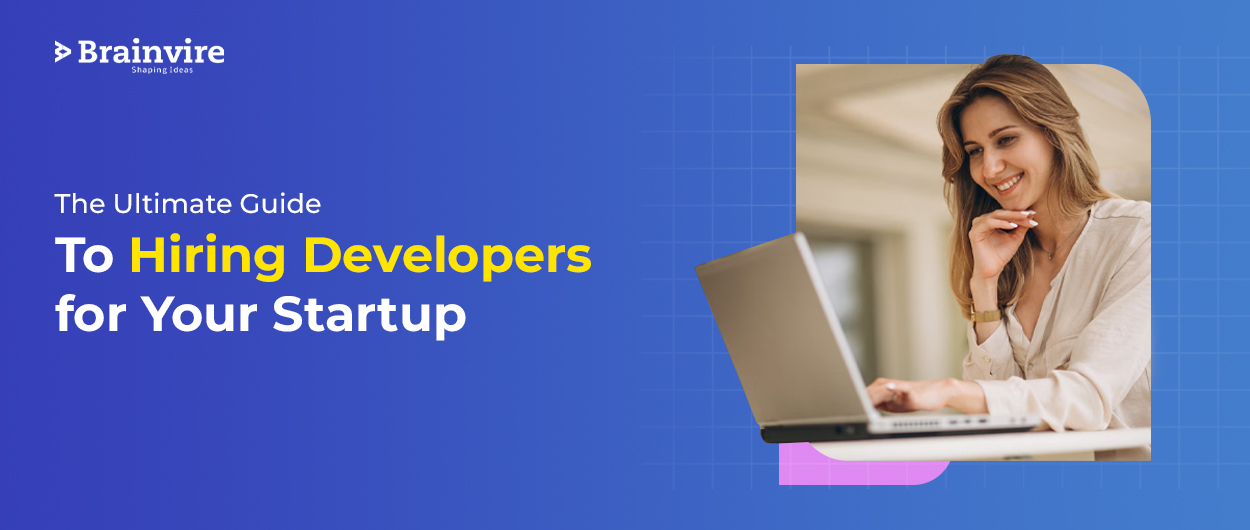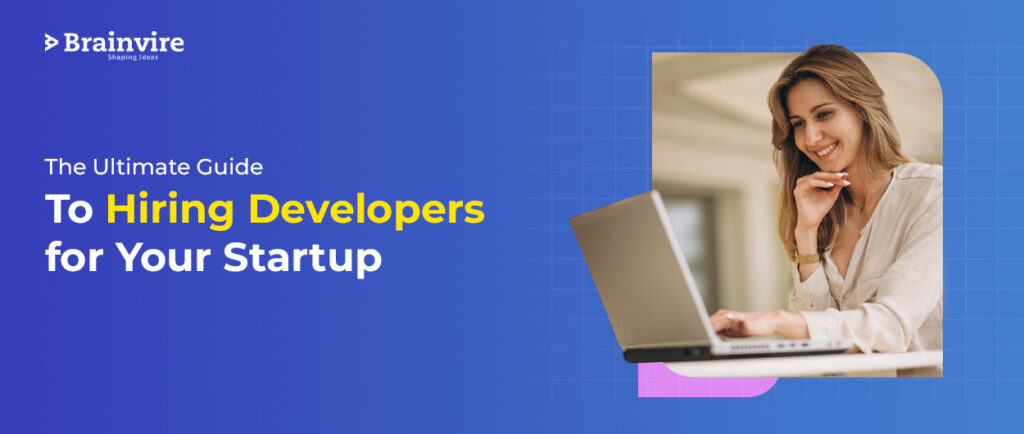 So if you're a startup looking to hire app developers, this blog is for you. Continue reading as we understand more about how you can locate the most qualified applicants for your startup. In the following sections, we've walked you through all the information you need to make the right hiring decision. Let's get started! 
Understanding The Role Of Developers In Your Startup
Software developers are essential to the growth of every startup since they are in charge of building and maintaining the systems that drive the company. However, not all developers are equal, and different specializations of programmers fulfill different functions in a startup.
Here are the three most common categories of developers that new businesses should look for:
Front-end Developers: 
Front-end developers create the website or app's front end, which includes the user interface and user experience. They are responsible for creating and developing the sections of the program that the end user interacts with. 
In addition to mastery of markup languages like HTML and CSS and scripting languages like JavaScript, front-end engineers should be well-versed in design theory, user experience, and device accessibility. They are concentrating on making an interface that is both aesthetically pleasing and straightforward to use.
Back-end Developers:
Back-end developers are ones that work on the server front of an application. They are experts in programming and establishing the application's database, server, and APIs.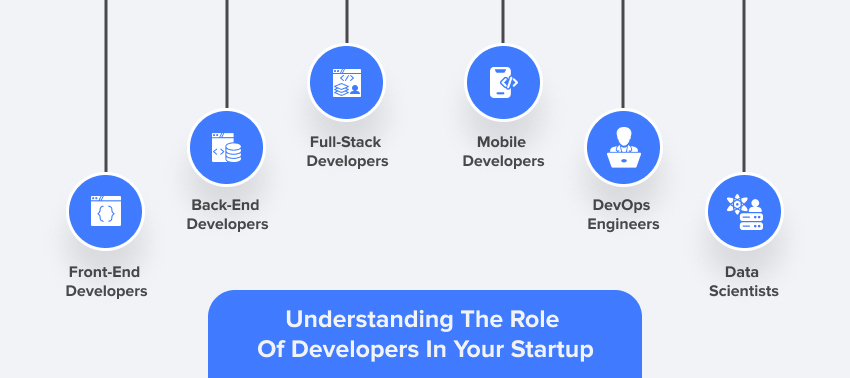 When you are searching for developers to work on the back-end of your website or application, you must ensure that the professional has a thorough understanding of various development languages such as Java, Python, or Ruby, along with other emerging options in the industry. Such professionals also ensure the program function runs safely, correctly, and dependably.
Full-stack Developers: 
Full-stack developers are professionals with a complete experience in both front and back-end development of software. They're well-versed in software development, from developing the interface to constructing the backend. 
While these three developers may look sufficient for a successful application, they're not! To ensure the best application, startups must hire developers with specialized skills and expertise.
You can also read: Top Reasons Why Full-Stack Developers Can Help SMBs
Here are a few examples of such developers: 
Mobile Developers: 
As the name suggests, mobile developers are the ones who specialize in creating applications for tablets and smartphones across iOS and Android. They should be well-versed in mobile app development frameworks like React Native and Flutter and fully grasp mobile-centric UX and design ideas.
DevOps Engineers:
DevOps are programmers who are specialists in developing the overall infrastructure and rollout of a given software. They are experts in using automation tools and have an idea of leveraging different cloud computing platforms like Amazon Web Services and Microsoft Azure for your operations.
Data Scientists: 
Data scientists are the latest addition to a lot of developers. These professionals are experts in decrypting data to give you valuable inputs about your business. 

When looking to hire data scientists, you must look for developers with expertise in:
Knowledge of different frameworks and several programming languages for their development.
Experience with database management systems and system administration is a plus.
Familiarity with the best security and privacy procedures
Familiarity with guidelines for usability and accessibility
Working knowledge of agile development practices
Competence in solving problems and thinking critically
Superb interpersonal and communicative abilities
Determining Your Development Needs
Each startup that wants to make it in today's cutthroat industry must prioritize identifying its development requirements. You can keep your development process on track and your project within budget by assessing your technical needs, outlining your development milestones and timetables, and calculating your development costs.
Here's a brief overview of how to determine your development needs while on your quest to hire software developers: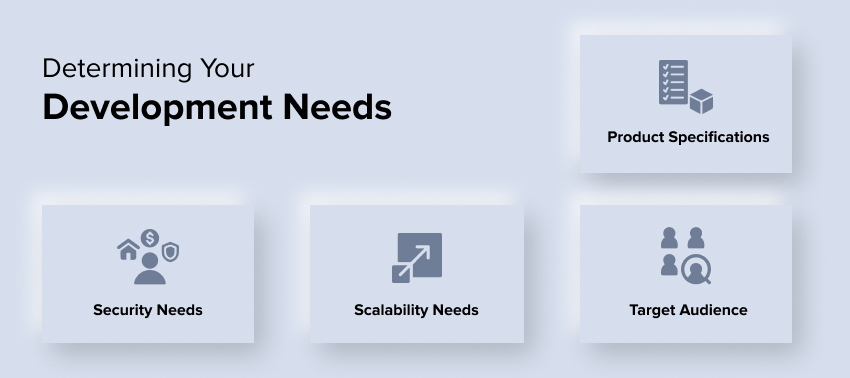 Assessing Your Startup's Technical Requirements
It is important to evaluate the technological needs of your startup thoroughly before beginning product development. The following factors are assessed in this procedure:
Your product's technical specifications: Detailed descriptions of your product's characteristics and capabilities and the software and hardware components that will be used to create it are called technical specifications. This will guide your hiring decisions as you build your development team's skill set.
Your target audience: Understanding who you're making your product for can help you nail down its specifications. Their demographics, preferred devices, and typical usage patterns are examples of how you might tailor your product's features to them.
Your scalability needs: You'll want scalability because you expect your startup to expand rapidly. As a result, you should evaluate how scalable your technological stack needs to be.
Your security needs: If your product deals with sensitive information or processes financial transactions, you must ensure its security. As a result, it is incumbent upon you to determine what kinds of safeguards are necessary to keep your product and your customer's information safe.
Identifying Development Milestones And Timelines
Now that you've determined the technical aspects of hiring software developers, it's time to set and establish different goals for your operation. This step entails detailing your plan and segregating it into finer, more manageable phases where each step has a well-defined objective. 
To get started, it's important to: 
Prioritize your milestones: Determine the most important development milestones and allocate sufficient time and resources to achieving them.
Define your timeline: Establish your schedule by setting reasonable deadlines for each stage of development in light of the project's complexity and the available resources.
Monitor your progress: Keep a close eye on your development milestones and deadlines to ensure you're on schedule to meet your targets.
Estimating Development Costs And Budget
Plan for and estimate your project's development costs and budget to guarantee you have enough money to do the job. Salary, hardware, and software purchases, as well as any other development expenses, must be estimated at each stage of development. While planning your development budget, it's important to take into account the following factors: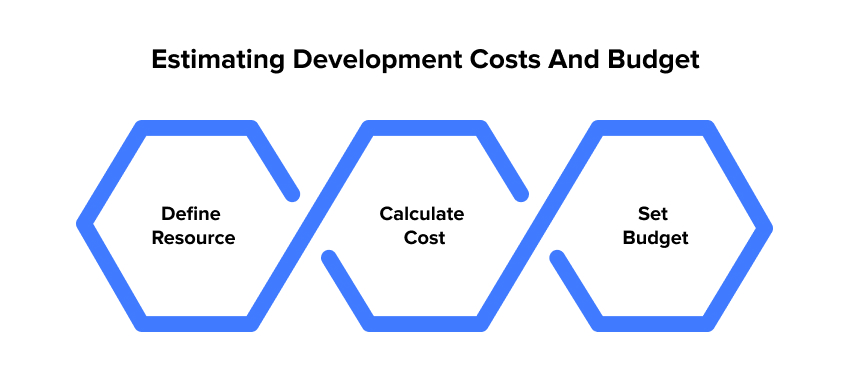 Define your resources: List everything needed to finish the development project. This aspect of your program should include machines, people, and programs.
Calculate your costs: The costs to your operation are another significant factor that limits your hiring abilities. Therefore, it's advisable to assess the development costs at different stages of the process, including software, wages, hardware, and other expenses.
Set your budget: Create a realistic budget for your project based on your expected development costs. This way, you can ensure that you have enough time and money to dedicate to individual stages of development. 
Sourcing Potential Candidates
Sourcing potential candidates is a vital part of any recruitment effort. Recruiters may find and attract top talent for open roles by employing numerous strategies for sourcing candidates, producing effective job advertisements and outreach messaging, and building relationships with developers. 
What's more? Professional recruiters have the right strategy and tools that are centered around how to hire developers for startups. To help you better, here are some methods for sourcing potential candidates.  
Methods For Sourcing Candidates
Job boards, word-of-mouth, and staffing agencies are just a few options for finding qualified workers. One of the most prevalent techniques is posting openings on various internet resources, such as job boards, social media, and company websites. 

Referrals from current employees or industry contacts are another common practice. Conversely, employment agencies are third-party recruiters that source and evaluate potential employees on behalf of their clients.
Tips For Writing Effective Job Postings And Outreach Messages
Effective job postings and outreach messages are crucial to your development plan. When planning to implement such aspects to your business, ensure that you:
Explain your skills and experience in a clear, bite-sized format that is easier to comprehend.
Highlight the positive aspects of working for your company in a manner that attracts like-minded individuals. 
Give insight to potential candidates by providing them with crucial information like job location, salary range, and work culture, among other factors. 
Send personalized emails or communication pieces exploring their potential. Explain how they could be an effective addition to the team. 
Best Practices For Networking & Building Relationships With Developers
Recruiting great developers requires a lengthy process. After you have finished posting outreach messages, it is time to implement some best practices. Here are some excellent recommendations that you can follow.
Engage with other developers in the industry to get an idea of the latest trends and technology dominating the niche. 
Connect with developers via social media handles like LinkedIn and Twitter and interact with their content. 
Build trust and develop a rapport among potential candidates by giving them a walk-through of the hiring process. 
Screening And Evaluating Candidates
Candidate screening and evaluation play a crucial role in any successful hiring process. Examining applications, doing interviews, and determining whether or not a candidate is a good cultural match are all parts of the hiring process.
Tips For Reviewing Resumes And Portfolios

Tailor your search:  When looking at portfolios and resumes, ensure you know exactly what you're looking for in a prospect and whether or not they meet your standards. You can zero down on the best applicants, saving time and effort.
Look for relevant experience: You should look for applicants with field experience. Finding candidates with relevant experience and the ability to integrate into your corporate culture swiftly is facilitated by this method.
Check for accomplishments: Seek out applicants who have proven successful in previous positions. Awards, promotions, or other notable achievements are good examples of this.
Check for soft skills: Seek people with strong interpersonal, problem-solving, analytical, and communication abilities. These intangible qualities are what separate a competent worker from a stellar one.
Check for relevant education and certifications: Verify that candidates' education and certifications are appropriate for the position. This is often crucial in technical fields where specialized training and education are essential for success.
Strategies For Conducting Effective Technical Interviews
Prepare a structured interview: Ensure that you structure the interview well and cover all the necessary knowledge and experience for the position. This way, you can evaluate your potential candidates fairly and consistently.
Use real-world scenarios: Putting your potential candidates under real-world scenarios gives you a great insight into their potential. So try testing your candidates' knowledge and abilities by putting them in situations that suit the working ethics of your company. This is a common practice of hiring professionals in the technical niche. 
Technical tests: Technical assessment is another unique factor in judging a professional's abilities. Once you put them through a test of skills and knowledge, you'll have your top candidates in no time. 
Allow time for questions: Allow the chosen candidates to ask a question. Give them the time to ask questions about the firm, their job responsibility, and expectations from the firm. This is a great way to gauge the enthusiasm of potential candidates. 
Best Practices For Evaluating Candidates' Fit For Your Startup's Culture & Values
Identify your startup's values: Every startup has a core USP, one that it aims to leverage to define the operations in its sector. So before you're all set to go on a hunt to find the perfect fit, determine the crucial aspects of your operations and leverage it to gain exposure in your industry. 
Look beyond technical skills: Apart from their understanding of your operations, evaluating a candidate's technical understanding of the project is important. So while you're at it, ensure that you check out their problem-solving abilities. These abilities are crucial for any job and can separate decent work from great one.
Conduct reference checks: Verify the candidate's experience, education, and character traits through reference checks to ensure they are a good fit for the startup. You can learn more about the pros and cons of each prospect, allowing you to make a better choice when hiring.
Making The Offer & Onboarding
Presenting a job offer to a prospective new developer is crucial to recruitment. A well-written offer letter can increase the likelihood that the applicant will be eager to join your company and pave the way for quick and painless onboarding.
Check out the offer and onboarding process in the following sections to help you hire software developers. 
Key Components Of A Developer Offer Letter
Job title and start date: Name the position, and specify when the individual is expected to begin working there. This clears up any misunderstandings about the job description and start date.
Salary and benefits: Provide the pay range and any additional compensation the candidate will receive. Health insurance, retirement plans, vacation time, and other benefits should all be listed here.
Equity: If your company does issue equity to its employees, be sure to detail the process and what is expected of them. This is a crucial requirement for many available IT jobs.
Non-disclosure agreement: A non-disclosure agreement (NDA) should be included to safeguard your company's proprietary information. Confidential information and the repercussions of sharing it improperly should be defined here.
Tips For Negotiating Salaries And Benefits
Do your research: To ensure your offer is competitive, investigate the going rate for jobs in your industry. Get a feel for the market by perusing sites like Glassdoor and LinkedIn.
Be flexible: Try to negotiate a higher wage and better perks. In addition to a larger income, you may offer the prospect other perks like extra time off or a more flexible schedule if they accept your offer.
Be transparent: Clearly state your capabilities and limitations. Please explain why you cannot provide the candidate with their desired wage and consider what the other person can provide.
Prioritize your must-haves: Determine which features and bonuses are necessary for your business and rank them accordingly, such as stock options and health coverage. It's important to set these expectations early on in the negotiation process.
Best Practices For Onboarding New Developers
Assign a mentor: Put the new developer in touch with an experienced developer who can help them learn the ropes quickly. The mentor should be an experienced employee willing to help the new hire however they can.
Provide lessons: Teach your employees about the ins and outs of the company's systems, practices, and ethos. The new employee will appreciate this because it will help them feel more at ease in their new position.
Set clear expectations: Provide clear instructions to the new hire regarding their expectations during their initial weeks and months. It is important to outline the specifics of their assignments, including their collaborators and the metrics used to evaluate their performance.
Schedule regular check-ins: Plan frequent meetings with the new employee to discuss progress, offer advice, and address any concerns they may have. If this is done, they will feel more encouraged and secure in their progress.
Managing & Retaining Developers
Startups and established businesses in the tech sector have significant issues in the management and retention of developers. Finding and keeping excellent developers can be challenging due to the competitive job market.
Strategies For Building A Positive And Supportive Work Environment For Developers
Encourage open communication: Maintain an open line of communication between your organization's developers and upper management. Provide an atmosphere where developers can freely share their thoughts and ideas.
Foster collaboration:  Encourage communication and cooperation between developers and other departments. Foster a sense of belonging among employees by encouraging them to work together on initiatives and teams that cut across departments.
Provide work-life balance: Facilitate a healthy work-life balance by providing alternatives to traditional office hours or location. This has the potential to lessen burnout and boost contentment in the workplace.
Recognize achievements: Accomplishments should be celebrated, and public acknowledgment and prizes should be given to those who have performed well. As a result, morale and drive may receive a boost.
Best Practices For Providing Ongoing Feedback And Professional Development Opportunities
Provide regular feedback: Feedback work wonders when done in the right amount and at regular intervals. When managing your team, ensure that you provide your developers with insightful feedback that they can leverage to make the most of their operations.  
Create a learning culture: Employees feel welcomed in a space open to teaching them without looking down at them. When employees get an opportunity to interact, engage, and learn from their co-workers, a stronger sense of community flourishes among teammates. 
Encourage personal growth: Motivate developers to flourish as individuals by enabling them to indulge their passions outside of work. As a result, they may be more content in their roles inside and outside the office.
Tips For Promoting Career Growth And Advancement Within Your Startup
Provide career advancement opportunities: Provide employees a chance to rise through the organization's ranks through promotions and leadership positions. Developers' morale and retention may benefit from this.
Offer competitive compensation and benefits: Provide attractive pay and perks to recruit and retain the best employees. Examples are equity, health coverage, and compensation structures tied to performance.
Encourage mentorship and coaching: Promote mentoring and coaching to help software engineers grow professionally and enhance their abilities. One strategy is to team up less-experienced programmers with seasoned experts.
Support side projects: Help with personal projects: Encourage developers to work on personal projects in their spare time. This can potentially recruit and retain the best employees while encouraging innovation and originality.
Working With Remote Developers
While working with an in-house team is a great idea, the struggle behind putting them together is as real as it gets! When hosting a team, you need to spend your resources on a lot of factors that could be saved with remote developers. 
Hiring remote developers not only helps you save on your expenses but also gives you the opportunity to tap into a larger skill pool at lower costs. However, it's easier said than done!
So here's an overview of how you could work with remote developers. But first, let's understand the necessary steps on how to hire a developer in the following section. 
Benefits & Challenges Of Working With Remote Developers
Benefits Associated With The Process
Access to a wider talent pool:  The best developers worldwide are at your fingertips when you work with remote devs. You can pick the best programmer for your project based on their skill set, portfolio, and availability.
Cost savings: Employing developers from a distance can help you save money because you won't have to cover the price of setting up an office and equipping a team to work there.
Increased flexibility: Remote developers can work from anywhere, which means you can get work done around the clock, allowing you to speed up your projects' delivery.
Challenges Associated With The Process
Communication: Working with remote developers presents a unique set of challenges, the most significant of which is communication. Establishing and maintaining a consistent strategy for communication is crucial for keeping everyone on the same page.
Collaboration: While working with distant developers, it can be difficult to have real-time talks due to differences in time zones.
Trust: Having faith in a remote development team can be challenging, especially if the team members come from different cultural backgrounds or employ different business methods.
Best Practices For Building & Maintaining Effective Communication And Collaboration With Remote Team Members
Establish clear communication channels: While dealing with distant developers, it is very important to set up clear communication channels. Establishing a communication strategy is crucial, which involves detailing the means and channels that will be used for various forms of communication.
Schedule regular meetings: Establish a regular meeting schedule to ensure everyone is on the same page and aware of any developments in the project. Meetings should be scheduled conveniently for all participants, which may need to consider various time zones.
Use collaborative tools: You can better manage projects and keep everyone apprised of progress using collaborative technologies like project management programs, problem trackers, and collaboration software.
Provide feedback: It's crucial to give remote devs regular feedback to ensure they're up to par with your standards. It's crucial to give both positive and negative feedback, but it should be done so constructively.
Strategies For Managing Time Zones & Cultural Differences
Schedule meetings at the right time: 
Having meetings convenient for all participants is essential when collaborating with remote developers in different time zones. You can find the most productive times to hold meetings with the help of tools like WorldTimeBuddy.
Respect cultural differences: 
While dealing with remote developers, being sensitive to cultural differences is essential. Learning about other people's customs can help you communicate more effectively and acquire their trust.
Be flexible: 
Adaptability is key when collaborating with remote developers. This necessitates flexibility about schedules, methods of contact, and overall approach to work.
In A Nutshell
Finding and hiring talented developers for your firm can be difficult, especially if you are not a technical entrepreneur. The chances of finding the right person for your team are slim, but you can improve them by utilizing the tactics and advice shown here. 
While hiring, remember the importance of clearly defining your requirements, using numerous channels to find candidates, and emphasizing communication and cultural fit. 
Build a robust and competent staff that will contribute to your startup's success by hiring engineers methodically and deliberately.
FAQs
What type of developers should I hire for my startup?
The type of developers you could hire depend on the requirements of your operations. If your business is focused on developing software, you might need all hands on deck. In such instances, you could hire front-end, back-end, and other sound engineers to get the job done.
How do I assess my startup's technical requirements?
To determine your startup's technical requirements, you must first define the features and capabilities of your product. Additionally, hiring a technical adviser or consultant is a good idea if you need help assessing your situation and determining the best action.
How do I make an offer and onboard new developers?
Create a detailed job offer, including salary, benefits, and expected responsibilities, to make an offer and bring on board new developers. Ensure new hires can access the necessary documents, training materials, and software and hardware.
How do I manage and retain developers?
To keep talented programmers on staff, it's important to offer them a pleasant place to work, plenty of chances to expand their knowledge, a fair salary, and public acknowledgment of their successes. Maintain open lines of communication with your staff and provide them with feedback and assistance as needed.
What are the benefits and challenges of working with remote developers?
Gaining access to a wider pool of expertise, reduced expenses, and increased flexibility are advantages of collaborating with developers elsewhere. But, it may also bring difficulties like language hurdles, different working hours, and cultural norms.
How can I build effective communication and collaboration with remote team members?
You may improve your team's ability to communicate and work together by utilizing video conferencing, chat, and project management software. Furthermore, provide a safe environment where people feel comfortable speaking up, and actively encourage openness, trust, and responsibility.
How do I manage time zones and cultural differences with remote developers?
When working with remote engineers, it is important to set clear expectations and norms for working hours, communication channels, and terminology to help manage time zone and cultural variances. Be accepting and encouraging of people of all backgrounds and beliefs.
What are some emerging trends in hiring developers for startups?
Using AI-powered recruitment tools, using gig platforms and talent marketplaces, and emphasizing soft skills and emotional intelligence in addition to technical talents are some of the growing trends in hiring developers for startups.
What is the best way to source potential developer candidates?
Using various methods, such as online job boards, social media, word of mouth, and in-person networking events, is optimal for finding qualified developers. You might work with a staffing firm or utilize one of the many websites that specialize in helping startups find freelance or remote developers.
What should I look for when screening and evaluating developer candidates?
Look for technical capabilities, experience, communication skills, cultural fit, and problem-solving ability when screening and evaluating developer prospects. Evaluate candidates' competence with evaluation instruments, programming challenges, or technical interviews.