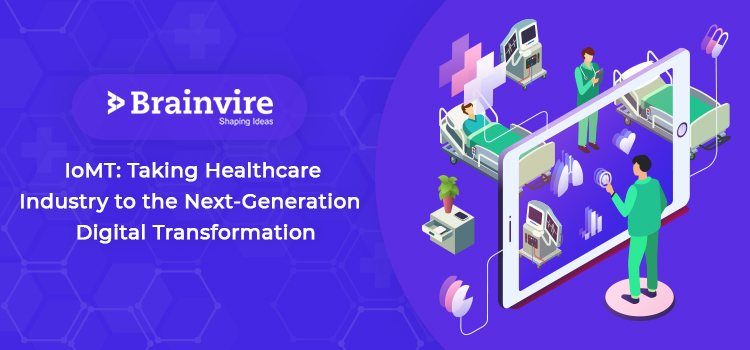 You are probably aware of what the Internet of Things is and how it has played a pivotal role in disrupting a wide range of industries. To just give you a quick brief, the Internet of Things or IoT is an innovative technology that connects the ever-growing networks of physical objects also known as smart devices via the internet to transfer and share data without any human interference.
The Internet of Medical Things (IoMT) is based on the same concept where hi-tech medical equipment and software for healthcare are connected to online computer networks. It helps in machine-to-machine interaction and sharing of vital data in a real-time environment. All these important data are stored in cloud platforms such as Amazon Web Services, which can be accessed from anywhere and anytime.
Before we proceed further to know how the IoMT has proven to be a blessing for the healthcare industry, let's peep into a few of its important statistics and numbers-
According to a report, the estimated market value of the Internet of Medical Things is going to reach around $158 billion by 20222.
According to Forbes, there are currently about 3.7 million medical devices connected to the computer systems, monitoring the various parts of the body. They inform about the health condition of the patient.
About 51% of healthcare providers have said they are ready to implement the IoMT to drive more sales and innovation.
Now, let's analyze why IoMT is being considered as the bright future of the healthcare industry and medical sector.
Remote Patient Monitoring and Promoting Telemedicine
One of the key changes that the Internet of Medical Things has brought is the introduction of telemedicine and Remote Patient Monitoring solutions. With the availability of telemedicine facilities, the patients can be treated with the help of telecommunications. It has incredibly helped in decreasing costs and time. With the emergence of Remote Patient Monitoring, which is also known as homecare telepath, the patient is able to conduct a routine medical checkup on his own using the smart body sensor technology that is available on his smartphone. He can then send the results of the test or real-time data to his doctor. The innovative technology is going to prove more than a blessing, particularly in extremely remote or rural areas where proper medical facilities are not accessible.
Secondly, RPM offers a new approach in diagnosing and monitoring the health care condition of the patient. It can also effectively treat chronic diseases with rapid timely action. Doctors can closely access the parameters of various health-related issues by taking spontaneous decisions in critical conditions. The National Broadband Plan has suggested that the use of RPM technology in combination with Electronic Health Records will save around $700 billion within the next 15 to 20 years.
Want to convert your idea into a successful app or website? Schedule your free call with our expert now.
Streamlining the Management of Data and Resources
Nowadays, Smartphone devices and other gadgets are getting enabled with smart sensors. These sensors in conjugation with Near Field Communication (NFC) and Radio Frequency Identification (RFID) tags help in simplifying the process of interaction with IoT-enabled devices.
Now, it is one next-generation technology that is helping the hospital administration to streamline the procedure of managing all data and resources. Earlier, the staff had to manually check the stock of medicines and other medical equipment. However, the IoMT solution has replaced this old system. Moreover, it has also allowed the hospital management to track the location of their goods and also comprehensively check the quality of drugs and medicines being supplied.
Medical staff such as nurses don't need to consult the doctor's prescription every time they have to give patients medicine. The smart IoT devices let them know and they can also know if the medicine is available in the stock or not.
RFID tags help in the management of resources. It can be used to accurately monitor the health progress of the patient, the number of doctor's visits, and hospital stays. It can rectify loopholes in the administrative system.
Reducing the Cost of Treatment
We all know how expensive medical treatment has become and people are searching for affordable health care services. However, the IoMT has brought the cost of treatment down without compromising on the quality of the healthcare facility offered.
Since the doctors receive accurate data of patient's health, they can prescribe the best treatment possible to cure the illness. It helps in faster recovery of the patients and as a result, they don't have to stay for long in the hospital.
It has also allowed it to reduce or avoid unplanned downtime. For example, if medical equipment has started to malfunction, the technical team can identify the faulty part in real-time due to IoT.
Even the patient's family gets up-to-date information such as how long the treatment will continue along with the time needed for complete recovery. If the patient is going through a complicated surgery, what are the precautionary measures that need to be taken, and much more?
The Use of Robotics and Automation in Healthcare
We have heard the term robotics may be in science fiction, but don't be surprised to find that robots are helping surgeons in performing surgery. Wait, their tasks are not just confined to simplifying operations but they also act as medical staff or helper in taking care of the patients. In fact, one of the researches has predicted that by next year, the robots are going to assist the surgeons in performing surgeries with improved control and precision. We can cite the example of Surgical System Da Vinci, which has been using the robotic surgical technology, which is enabled with a magnified 3D HD vision system. It has been further estimated that the robotic surgical industry will hit $6.4 billion by 2022.
Another example is that of Robot TUG, which is highly efficient and has the potential to carry more than 400 kgs of weight. What's interesting to note is that this robot, after completing its task, returns to the charging dock to get charged for the next set of work. It has reduced the cost of hiring human labor to a great extent. These robots can work 24×7 untiringly,
There is a third type of robot, which is known as Interactive Physical Assistance (IPA). The main job of these kinds of robots is to help patients, who are totally bed-ridden and cannot do a single movement without any assistance. The robots help them in lifting in or out of bed, wheelchair and other jobs. So, it won't be wrong to point out that medical robots have disrupted and revolutionized the healthcare industry.
IoMT To Take Care of Elderly People
The Internet of Medical Things will also be helping the healthcare sector by reducing certain pressures, which are expected to increase in the near future. We are talking about elderly people, whose numbers will grow to 1.2 billion by 2025. And you are aware that older people are more prone to health-related concerns, which can increase the cost of treatment.
However, an IoMT- enabled mobile application has helped in solving the problem. It offers round-the-clock medical assistance to senior citizens if he suffers a sudden cardiac arrest or stroke. The smart devices will also keep a track record of all health-based parameters such as heartbeat, blood pressure, sugar and cholesterol levels.
The aged people also forget to take their medicines on time and IoMT device will remind them regarding this.
IoMT: Still a Long Way to Go
We can say that the Internet of Medical Things has brought a major revolution in the medical and healthcare industry. But it still has to go a long distance. IoMT is a new technology, which needs to be adopted by more and more hospitals. The second concern is that of security. All medical data and information are very confidential and the risk of cyber threat is looming large. However, the experienced software companies that offer IoMT solutions do not leave any margin when it comes to securing IoT-based applications.