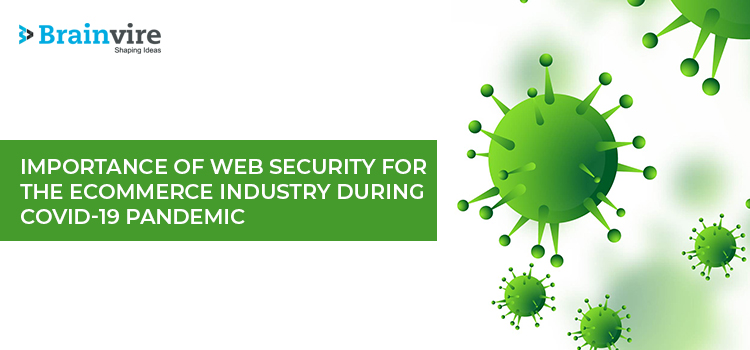 Industries have certainly strengthened their web security to steer clear of cyberattacks. But the truth is they are far from being immune to these online threats!
If this wasn't enough, the ongoing worldwide Coronavirus pandemic has become a helping hand for this opportunistic lot. As per several studies, these malicious practices increased by nearly 6 times in the initial weeks of this virus outbreak.
Reports suggest that phishing scams rose by 600% in the month of March. Here is a stat showing the number of phishing websites detected by Google:
Source: PCMag
With the eCommerce websites constantly increasing in number, it has resulted in more connected platforms. This has further exposed, though indirectly, the eCommerce industry to several cyberattacks.
[Also Read: The Ultimate Clash of eCommerce Giants: WooCommerce vs Magento vs Shopify]
So it is high time that eCommerce businesses make the security of their data the topmost priority. They must take up strict measures to keep the website secured.
This article helps you understand the significance of website security and how the eCommerce industry can overcome this challenge. Here is a gist of what we will be talking about:
The Rise of Online Threats on eCommerce Business
Top Two Ways Cyber Attackers Infiltrate the Website
Types of Cyber Threats

DDoS
Credit Card Fraudulence
E-skimming

Cyber Attack Challenges
Counter-Measures To Overcome The Challenges
The Final Verdict – Making Web Security The Top Priority
Before we take a look at the rise of online threats on eCommerce business, take a look at what's happening in the cyber security at present:
With the COVID-19 outbreak, the risk of cyber threats has increased
Amid this worldwide crisis, IT businesses have undergone a tremendous change. With the majority of professionals from the IT industry working from home and a massive surge in the demand of eCommerce companies, cyber attackers are using this situation to their advantage!
Below is a stat showing an upward shift in the number of cyberattacks during this pandemic:
Source: Check Point Blog
Almost every IT environment is created to offer unbreachable security to a business's core system. But an unexpected shift to remote working compelled IT firms to ease access to various systems.
Since every system isn't developed with in-built protection, it has resulted in an increase in the risk rate.
When it comes to eCommerce websites, not much has changed with their system's design. But the surge in demand has certainly made them a potential target. Cyber attackers are aware of the increase in volume, which puts smaller businesses and their data at risk too.
Want to convert your idea into a successful app or website? Schedule your free call with our expert now.
Cyber attackers are present in all shapes and sizes
These cyber attackers are usually individuals who are looking for money or fame. At times, they penetrate the website just to disrupt your systems. They either do their work alone or as a team targeting an organization or large-scale businesses.
The majority of trade takes place between these individuals. It also involves the productization of certain equipment that helps penetrate into essential data.
These security experts and cyber attackers are constantly involved in a contest of 'one-upmanship'. This is only to make sure that they are on top of their strategies when breaching a company's security.
Users working from home are at high risk
When it comes to cyber threats, users are the potential target for these attackers to infiltrate the system.
Given the present situation, the demand for phishing attacks and ransomware is expected to witness exponential growth. Cyber attackers using such equipment wait for individuals to make a mistake. Later, they use that to their advantage and set malware within the system.
This is how they gather your confidential data and use essential codes in the future. Several businesses have spent a lot of funds to recover from such cyber attacks.
Now that we've gone through some of the important facts, let's understand the cybersecurity risks.
The Rise of Online Threats on eCommerce Business
With the majority of countries around the world shutting their borders, putting cities under lockdown, and with eCommerce companies in hibernation mode, cyber attackers are using lockdown to their advantage.
Amid the rapidly increasing COVID-19 fears, hackers are expected to speed up their infiltration spread.
As per reports, over 42,000 sites with the domain name COVID have been built.
Here is a stat showing the same:
Source: Check Point Blog
Most of these sites have been in the limelight since the initial weeks of January and don't seem to be legal. This shows how cybercriminals are already exploiting the current pandemic. As a result, scams are being formulated on retailers users.
There has also been a flood of spam emails with links to various Coronavirus-related updates and ads are taking users to unauthorized websites.
Top Two Ways Cyber Attackers Infiltrate the Website
Here are the top two methods cyber criminals infiltrate your systems:
1. Phishing Scam
In phishing scams, emails are created in such a way that users easily fall in the trap of virtual sites trying to obtain their data. Whether it is unpublished research or confidential student information, these scams can easily penetrate those systems.
Also, it is the education sector that is almost every cybercriminals' potential target and this method is usually deployed to obtain their credentials.
Source: Menlo Security
2. Malware & Ransomware
Malware or ransomware is introduced in the network either through an attachment or a file that looks legal.
Normally, cybercriminals attack the system and make it difficult for users to access the network, which further leads to huge disruption. But an advanced version of the attack is when hackers use the files for a payoff.
Types of Cyber Threats
As per the latest cyber threat trends, the education industry is every hacker's top target!
But given the COVID-19 outbreak, eCommerce websites are equally vulnerable to these attacks. This is mainly because of the surge in demand and more customers turning to online retailers for essential supplies. The eCommerce industry has massive amounts of customer-related data which puts them at huge risk.
Source: SlideShare
Here we have mentioned the different types of cyber threats retail businesses are likely to face:
DDoS (Distributed Denial of Service) Threats
Through DDoS attacks, hackers flood the site's server with thousands of requests from IP addresses that are hard to trace.
But in today's time, with most of the attacks resulting due to IoT devices being manipulated, it can lead to your entire website going offline. This further opens it up for more threats like the introduction of malware in your system.
[Also Read: Simplify Ecommerce App's Checkout Process Will increase your revenue. Here's How!]
The regularity of such attacks on the eCommerce business's website is rapidly increasing. These threats are at a peak, especially during sales periods.
This type of attack can result in your business losing hefty cash reservoirs in terms of its revenue. But the most expensive damage faced due to DDoS threats is reputational – you end up losing the loyalty and trust of your valuable customers.
As per 69% of security experts, in a day websites experience at least one DDoS threat. So it's high time that eCommerce websites have strict measures in place.
Credit Card Fraudulence
Credit card fraudulence, an old classic, is still a common attack faced by most eCommerce websites. This is because of the intricacy in detecting it.
Tracing fraudulent transactions is an essential step. But it is not as easy as it sounds, particularly when websites process nearly thousands of deals each day. Here we have put together certain signs that can help companies identify credit card fraudulence:
When a particular order is set to be delivered to a different address than the one provided by the customer
When you receive a high-value order than what you usually receive
When an order is placed successfully but after several failed ones
When the location of the customer's IP address is different from their billing information
It is important to verify such threats before accepting the payment. Failing to do so will result in you losing your inventory. You will also have to repay the customer whose card was misused. This can end up in you losing a huge amount of money. It may also hamper your reputation in the market.
So stay on the lookout for such frauds, as it is important for you to safeguard your company while offering an exceptional user experience.
E-skimming
This is a method used by cyber attackers to steal people's personal information like credit card details from the order processing page of eCommerce websites.
It is a huge security threat in the eCommerce industry since customers can be easily misled via external portals and links to the payment page. Cybercriminals can also get access to the website through third-party apps, an approach commonly known as 'cross-site scripting'.
Source: Medium
To prevent this from happening, websites must have proper measures in place. They should also keep reminding their users not to provide their information to unauthorized websites.
Retailers should ask customers to verify the payment page before placing an order.
Cyber Attack Challenges
Every business consists of various departments and several employees are authorized to access the system from different locations.
A massive amount of information is passed through these networks and this has further raised the cyber-attack challenges faced by eCommerce businesses. Here are a few of them:
Absence of Centralized Infrastructure
Almost every department in an organization has an intra-departmental system. But the one thing they lack is – centralized IT infrastructure.
The systems of these departments are interconnected to local networks. Due to the absence of centralized infrastructure, businesses find it difficult to execute strict security measures throughout the company.
Internal Attacks
In every sector, internal attacks have become the biggest reason behind breach and loss of confidential information.
An attack on the internal network can occur either because of a phishing scam or transfer of essential data between unverified and personal devices. At times, even the credentials of employees can be hacked which results in businesses losing important data.
Source: Trend Micro
Counter-Measures To Overcome The Challenges
After identifying the above-mentioned cyber attacks and their mediums, here are a few counter-measures that you must deploy to protect essential data.
Recognize important assets and protect them by developing an unbreachable security solution.
Prepare an in-depth analysis of vulnerabilities and possible threats to reinforce your company's present security measures.
Execute a robust control system depending on the employees' authorization to prevent unofficial access.
Build unyielding cybersecurity strategies and improve the cognizance levels within your business.
The Final Verdict – Making Web Security The Top Priority
As the novel Coronavirus wears on, several eCommerce businesses are witnessing a tremendous surge in their online demand. This has pushed organizations to take up strict measures to safeguard their operations and revenue channels.
[Also Read: Experience an Exponential eCommerce Growth with WordPress Website]
By embracing the best security practices and using resources like SaaS-based networks alongside skilled professionals, companies can work towards supporting their business functions and customers.
Source: Interpol
If you're a part of the retail industry, it is extremely crucial to implement cybersecurity practices, especially during this COVID-19 outbreak.
You must remain equipped with the latest programs and technologies to make sure your business is fully prepared to walk on the path of recovery once this outbreak comes to an end!
Conclusion
Every business's initial step towards preventing cyber-attacks is understanding the common models of their business operation.
Once you're aware of the potential threats to your eCommerce business, you can implement the required measures to safeguard your confidential data from cyber-attacks and accordingly alleviate the damages.
Do what is right – not only for your organization, but for the customers too.
Take the necessary precautions to make sure your website is properly protected from cyber attackers and your customers receive a better shopping experience. If you need assistance with eCommerce website development for your business, Brainvire will help you with it. You can contact our team today!