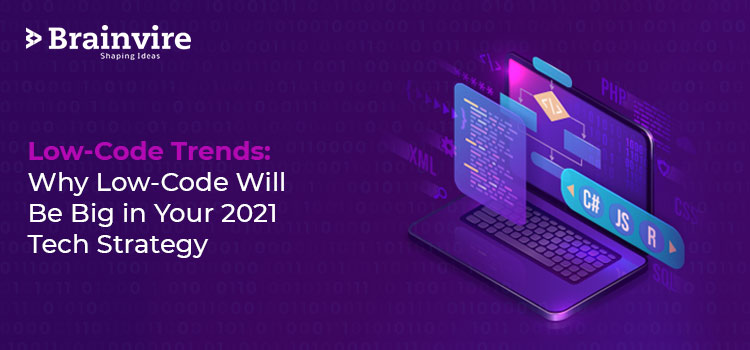 The year 2020 took everyone by surprise. It is no secret that the pandemic changed the way we live and work. Businesses faced a massive digital disruption. With the virus forcing people to sit in the comfort of their homes, remote working became a new reality. 
Be it an IT professional or someone working in a creative industry, most of the professionals worked remotely. Even those in the field, like healthcare providers, were forced to transform their pen and paper-based processes and adopt digital health solutions. 
The new way of doing business brought about challenges in day-to-day operations, as well as in serving customers. This propelled a fresh wave of demand for new apps. But, this time around the demand came from the need to reinvent business processes and make life convenient.
Since the sudden shift required quick solutions, low-code became the go-to choice to fulfill these requirements. With a long list of technological requirements, lack of enough code-first developers, and rising need for digitization, most organizations relied on low-code. Thanks to the fact that it empowers people regardless of their coding ability, low-code is trending. 
Here's a look at how low-code is going to play a big role in the 2021 technology strategy. But, first, let's understand low-code. 
Comprehending Low-Code Software Development
Need an easy-to-use application to streamline a specific business function, but don't know how to code? Low-code software development platforms are here to your rescue. Wondering what it is? 
Low-code is nothing but a visual approach for software development. It enables users to create full-stack, cross-platform applications visually. A low-code platform provides you with tools to help you make and deliver applications through models and a graphical interface. 
The drag and drop functionality is at the core of these platforms, but it enables rapid development and delivery of applications with pre-built user interfaces, business operation models, data models, data models, etc. Since it automates every step of the lifecycle of the software, it eliminates the need for lines and lines of code and syntax. This makes it easier for people with every kind of coding ability to quickly create apps. No wonder it is gaining popularity putting every powerapps development company to work! 
According to Gartner, low-code platforms will be over 65% of application development activity by 2024. And, why not? The technology comes with several benefits including:
Speedy application development and delivery
Simplicity of use allows technology enthusiasts at every level to build apps
Reduces the burden on skilled developers
Enables businesses to respond to dynamic market changes and customer demands with agility
With situations like the COVID-19 crisis triggering demand for agile digital health solutions, as well as software solutions to optimize business processes in the new reality, low-code is being widely adopted. And, it might play a huge role in business' tech strategy. 
Want to convert your idea into a successful app or website? Schedule your free call with our expert now.
Low-Code Trends For 2021 and Beyond
Low-Code x Collaborative Platforms: Improved Collaboration
Collaboration is essential to the smooth functioning of businesses, be it in the creative, IT, medical, or any other space. 
With most people working remotely, the need for collaboration platforms has increased ten folds to keep the business going. In specific, people require tools that enable them to get data-driven insights at any time and communicate the actionable steps. Low-code is merging with collaboration platforms to bring about easy ways to come together and communicate. 
Software like Microsoft Teams became popular to fulfill this requirement for collaboration during the pandemic. Large organizations, like American Red Cross, that have their workforce spread across regions can benefit from such applications that offer quick, clear communication. 
Plus, the combination of low-code development allows people to discover powerapps and build solutions without leaving the main application. The Microsoft Dataverse feature of Teams is one such low-code platform to build and edit custom apps using Power Platform. One doesn't need to be adept at coding and it can be published without switching between applications. 
Automation: Eliminating Hiccups In Business Functioning
Businesses seek to optimize their operations so that they can channel their efforts into productive tasks. This involves automating tasks that were previously performed manually such as configuring updates for servers, generating reports, or billing. 
One of the advantages of the low-code approach is the visual development of applications. You can evaluate a task by mapping and understanding the end-to-end lifecycle. While doing so, you can identify bottlenecks and take appropriate measures to optimize the process. Not only does this make life simpler but also helps save time and devote time to important jobs. 
Power Automate is an example of a tool that is helping businesses save hundreds of productive hours by automating certain activities. PharmScript, a pharmacy provider using Power Automate Desktop along with the recently introduced process advisor to remove hiccups and save time by automating tasks like billing and data validation. 
Low-Code: Enabling Developers at Every Level to Collaborate and Build Futuristic Apps
Have you heard of fusion developer teams? It is a new concept where code-first developers, a powerapps development company or IT developers, and people building low-code apps are coming together to develop solutions to business problems. 
Some organizations have fusion developer teams where the code-first developers write backend APIs and connectors and store them. Low-code developers then use them to create the apps they need. Other organizations place code-first developers as architects who create a foundation by planning the app-building work. Likewise, businesses are finding ways to harness low-code to their advantage. 
Conclusion
New normal is acting as a base for innovation, propelling businesses to think differently. Low-code is an increasingly important part that's assisting innovative abilities. If you wish to leverage the power of low-code, a powerapps development company can help you get started.