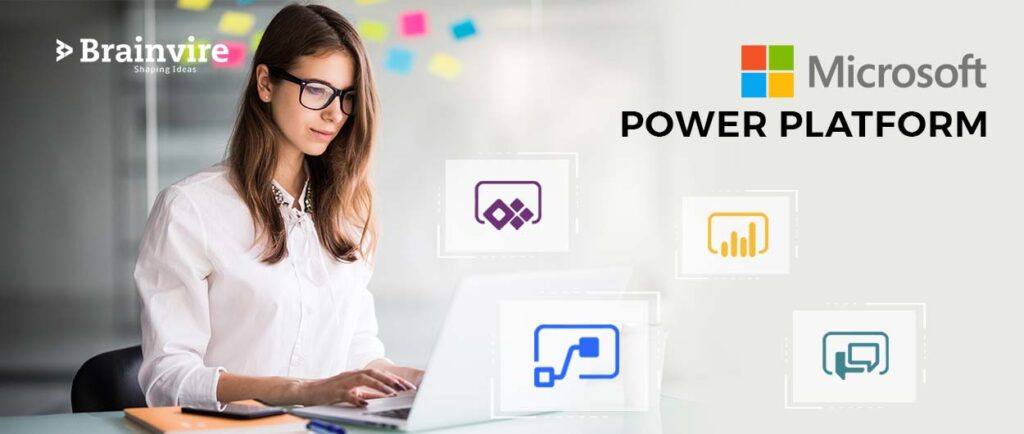 As organizations continue to grow and transform digitally, streamlining business processes has become a significant road to success. It gives users – within and around the IT industry – an ability to transform data into valuable insights and plans into actions.
Power Platform expands the way to generate customized business solutions in a straightforward platform. Employees closest to the process can now create applications, email workflows, data visualizations, reports, and chatbots – all with minimal code and no development skills.
Realize and utilize the potential of data and discover its effect when combined with other Microsoft solutions. All you need to know about and how to use Microsoft Power Platform.
In this blog, you'll come across various components of power platforms and how to leverage the potential of data to reduce cost and increase ROI. 
What is a Power Platform?
Microsoft Power Platform collects app development, business intelligence, and app connectivity software applications that enable you to analyze critical data, build solutions, create virtual agents, and automate necessary business processes.
Confused about where to start with Power Platforms?
Find out more about the Power Platform, discuss potential ideas, and know how it can benefit your organization. 
They enable you to manipulate, surface, and examine key data seamlessly, which can be used in conjunction with Dynamics 365, Office 365, third-party apps, and various other Microsoft services.
The Power Platform concept arose when organizations started dealing with an increasing data flow. Power Platform is based on the idea that organizations can leverage data and gain actionable insights to drive intelligent business processes and make informed decisions.
Why is Power Platform Important?
Data is expanding at the speed of light in this digital age. The quantity in which businesses produce information is increasing continuously, making everyone increasingly reliant on data. As all of this data is inevitable, it is pointless unless companies obtain insight and meaning from it – in other words, unless they gain material benefits.
Traditionally, IT/Development teams would handle data analysis, app creation, and automation. This would necessitate staff outlining their requirements and expectations, submitting these requests to their IT department, waiting to see if it was authorized, and then waiting for it to be developed. 
This process would be time-consuming and would utilize some significant internal resources, or it would be costly if accomplished externally. Moreover, those demanding solutions are prone to have an urgent need, and waiting for weeks may result in organizational delays.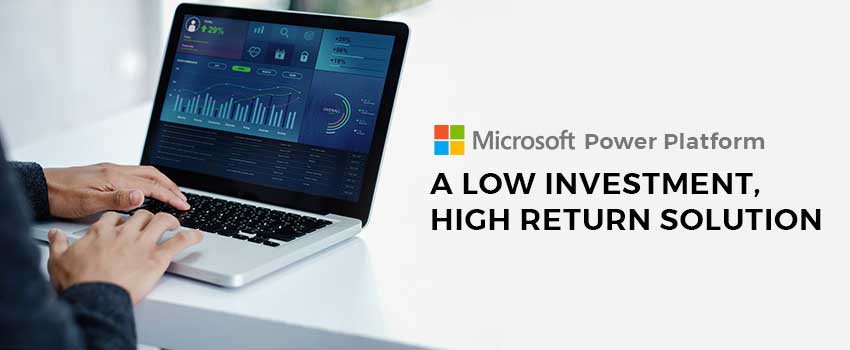 That's where Power Platform comes into play. The Power Platform allows data democratization, i.e., the knowledge to produce digital information available to the average non-technical end-user. It offers four technologies that provide employees the freedom to play with their data even if they don't have proper programming skills. While it lacks the complexities and versatility of custom coding, it does provide a simple method for most users for creation, automation, or analyzing data in a manner that the average employee finds challenging to work with.
The role of Power Platform in delivering the real business value using data and insights
Today, organizations have realized the importance of utilizing data to form business decisions in order to get desired results. As a result, large amounts of data from sources such as web traffic, social media, and systems like CRM and ERP are gathered, stored, and channeled more efficiently by organizations. Although, after the setup is in place, how can it run in the best way for them?
Here, employees capitalize on the easily accessible data from the cloud storage exactly when needed, which helps them make sound decisions and power strong outcomes. 
Power Platform is designed precisely for this purpose. To successfully take businesses ahead, businesses can take three essential steps regarding their data which are scrutinized, take measures and automate. Power BI, Power Apps, and Automate function hand in hand to process and examine data to fulfill the needs of everyone, from CEO to frontline staff.
Power platform is made up of these four products: 
Power Apps
Power Automate
Power BI
Power Virtual Agents

Power Apps
Instantly create custom business apps, connect data and across mobile and web platforms
Power Apps is a niche, low-code, easy-to-use framework that enables custom app development and allows developers to create applications using a drag-and-drop feature. Power Apps is more of a platform-as-a-service offered by Microsoft Power Platform. It allows you to: 
Build functional apps swiftly and without having enough programming knowledge, relieving pressure on overburdened IT teams.
It syncs with multiple data sources using Power Apps, and once it is developed, users need to release the app for consumption within the organization.
Allows users to choose fields and add user interface controls such as text boxes, checkboxes, Buttons, etc.
Enables users to incorporate media devices such as cameras, voice recorders, videos to build a modern mobile application.
Data from your business software, such as Dynamics 365 and Office 365, can be connected and cropped up.
Surface data into an intuitive app to aid data entry means users only see the information they need to complete a specific task.
Developers can readily create apps that can be run on every different browser, such as Chrome, Opera, Firefox, others, and native mobile apps for Android, iOS, and Windows.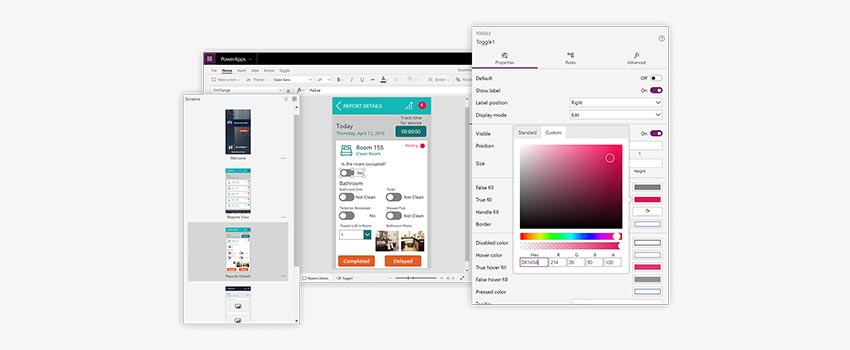 One thing to keep in mind is that we can only build mobile apps for internal purposes with Power Apps, not for customers across the globe. Also, since this framework is not code-based, developers will not control the UI elements or reconfigure the implicit HTML codes to make changes.
The Power Apps also include a community plan that can be used as a complementary development platform and train fresh talent. 

  Power Automate
Seamlessly integrate automation into web applications
Power Automate is also known as Microsoft Flow. Modern businesses are constantly preparing for a slightly quicker and efficient automated environment to handle and replace the majority of manual tasks. This Microsoft Power Platform element enables business users to effortlessly incorporate robust workflow automation into enterprise applications without having written any code, avoiding repetitive tasks, and conserving some time. 
Power Automate already includes numerous predefined layouts to select a workflow and begin working. In addition, it allows users to select workflows from the templates where they can start building workflow from scratch. 
Workflows can be classified into different categories based on the trigger of any workflow, as follows:
Automated  – Workflows are triggered based on various events. For example, an email is delivered once the task is completed.
Scheduled  – Workflows are scheduled to run at specific times of day, week, or month.
Button  – The click of the button sends out workflows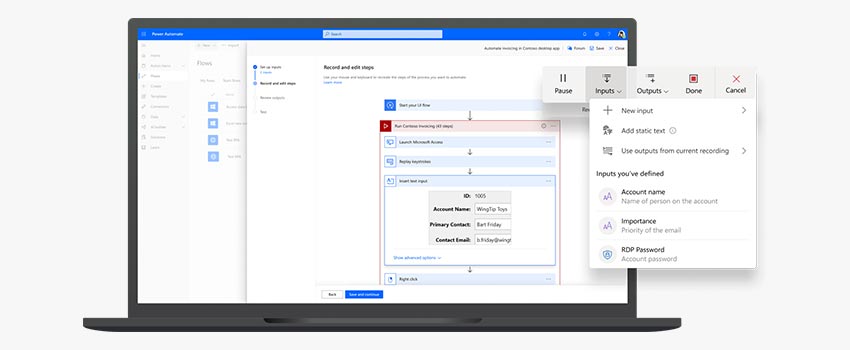 You can set up automated workflows between Microsoft services and third-party applications. It enables you to:
For standard automation, there are pre-defined automation templates that can be used. 
Create your automation by integrating different applications such as Outlook, office 365, SharePoint, or non-Microsoft apps such as Twitter, Airtable, Gmail, MailChimp, and so on.
You can create trigger points, alerts, automated email workflows, push notifications, and everything in minutes with no coding.
In a nutshell, it allows you to conserve time, minimize manual work and streamline business processes. 

Power BI
Analyze data from multiple sources and providing actionable insights business analytics tools. Microsoft Power BI is a business analytics tool. Power BI provides a desktop version of the cloud-hosted Power BI Service. It is typically used to connect to a wide range of data by creating dynamic reports, interactive dashboards, or stories that are accompanied by visually appealing visualizations.
It enables businesses to consolidate all of their streaming data and gain accessibility to a centralized dashboard with all the data sets. This will benefit business growth and facilitate companies that are supposed to adhere to regulatory or compliance norms.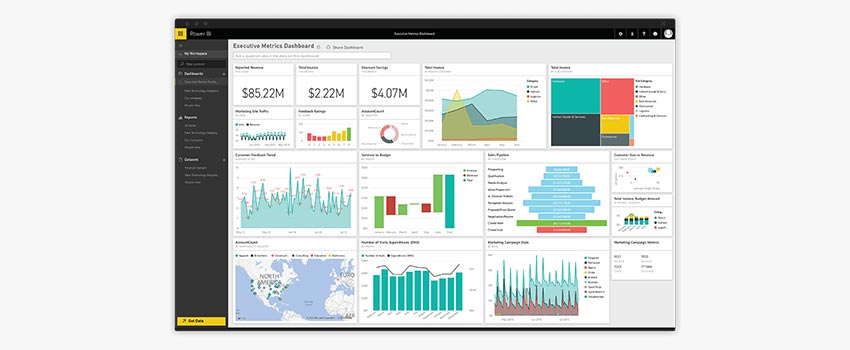 Power BI being a business analytics tool is very quick in its performance and enables you to:
Connect with multiple heterogeneous data and pull necessary data further into the Power BI data model.
Users can shape, alter, and transform data to suffice the reporting requirements. The transformed data can be visualized and represented in charts and graphs to make it insightful.
Power BI also includes a plethora of REST APIs that enable developers to automate multiple administrative works from refreshing datasets, adding or eliminating new users to a report, etc.
Use simple language to write a query and obtain results.
All in all, you'll be able to instantly analyze and understand complex data, enabling the scope of continuous improvement.
Power BI Desktop can be downloaded for free from the Microsoft Store, and that you can run on any Windows machine. In addition, the mobile application for Power BI can be installed on both Android and iOS devices. 
Power BI is available in three different editions. The power BI Desktop version is free of cost, but users must pay a monthly fee of 9.99 USD to use the Power BI Pro Service. Furthermore, the cost of Power BI Premium is determined by the number of users and the deployment capacity. 

Power Virtual Agent

Produce chatbots that engage with your customers and employees
This is a brand-new component launched in Microsoft Power Platform. Microsoft's bot building services for business users are formally referred to as Virtual Agents. 
Power virtual agents enable users to use this in order to develop a virtual chat agent from the start without getting into complicated coding. All collaborations and ideas can be put into action in the Power Virtual Agents portal's GUI.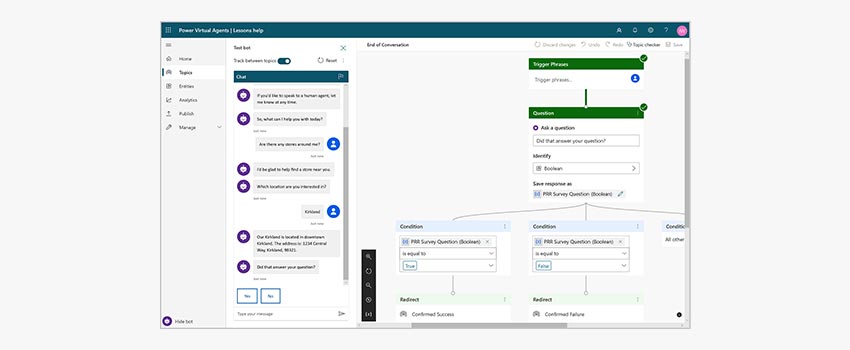 Power Virtual Agents can conduct a complete chatbot development process from scratch- creating dialogue for virtual agent deployment to a channel such as Skype, Slack, Teams, and so on. This service of Power Platform can also be integrated with other Microsoft Power Platform tools such as Power Automate. Based on the users' responses, the virtual agents can stimulate any workflow from Power Automate and complete the task as expected.

Finally, the Power Virtual Agents can utilize the Microsoft LUIS service to improve the user experience by incorporating natural language understanding functionalities into virtual agents. You can also use QnA Maker to create a FAQ bot and deploy it to your required channels.
How does the Power Platform align with Microsoft's overall strategy?
The Power Platform can interact with a wide range of data sources, such as third-party apps like Google Analytics and social media channel like Twitter. Microsoft promotes the Power Platform to unleash the capability of Dynamics 365 and Office 365 quicker than you have ever imagined. This allows you to extend, customize, and integrate these services easily. 
As the products grow, the Microsoft Power Platform will be updated and improved on a regular basis. Furthermore, as Microsoft continues to focus on drawing all of its technologies together, we can expect the Power Platform to play a key role in this. It easily connects Microsoft 365, Azure, and Dynamics 365 with less code or no-code approach.
Conclusion 
In this article, we provided a gist of the Microsoft Power Platform and the necessary tools included in this bundle. In a nutshell, the Power Platform is comprised of four different devices. Users can use Microsoft PowerApps to build enterprise solutions, while Microsoft Power Automate can be used to automate relevant business operations.
 We can analyze data and generate visualizations from a wide range of data sources using Microsoft Power BI. Finally, users could use Microsoft Power Virtual Agents to create a chatbot with no coding to cast a virtual agent for communication.