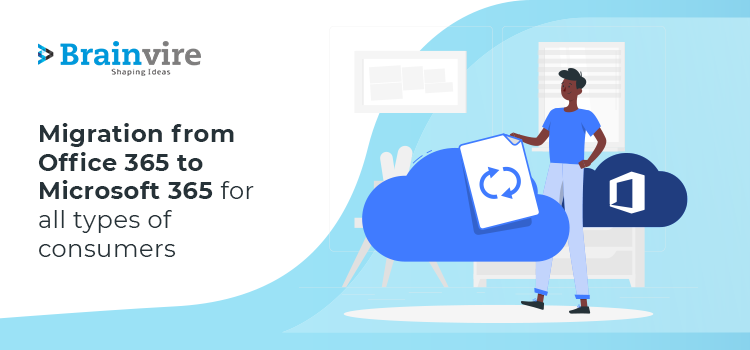 Microsoft has proven once again that it aims to give its consumers- people like You and I who can be entrepreneurs, executives, students, or even housewives the easy way to use the computers for their daily work such as making documents, presentations, data entry, spreadsheets and more.
Office 365 has now been re-established as Microsoft 365. The Office 365 services have been revamped by the company to include the upcoming products in with their subscription bundle.
Microsoft is taking a new direction towards replacing the Office 365 Subscription packages with the newer identity of Microsoft 365. Its wider direction taken by the company as part of large revamp and for starters the Office 365 services will be replaced by Microsoft 365. 
The first and the foremost important thing to know is that for people who already have the Office 365 services subscriptions, for you nothing changes except branding and inclusions of additional services. 
What comes next is that with Microsoft 365 you will get more choices in the subscription bundles. For starters, prominent things that can be of advantage are Microsoft Team's consumer version, a Microsoft Family Safety App, and Microsoft Editor service- an AI-powered.
The Tech Giant has updated its Office 365 services to ensure the safety of its consumer's personal and businesses across the digital and the physical world. 
Overview:
The new Microsoft 365 has Personal and Family plans that will include the Office desktop apps for Windows as well as macOS. 
It will also include:
Access to Outlook with 50 Gigabytes of email storage
One Drive Storage will come with 1 Terabyte storage per person.
The bundles will include Skype call recording, with 60 minutes of calling to Skype landline and mobile phone calls. 
It will keep introducing new experiences and features in the upcoming months.
The development of the Family Safety app is one example of how Microsoft is ensuring the safety and security of consumers given the state of affairs of the world as work from home and studying from home is the trend, preferable in the pandemic situation.
The Office 365 services have been calibrated to bring everything under one umbrella. The ease of using tools, services, and apps that you have already been accustomed to and with add on features and at same prices Microsoft 365 comes with advance security against phishing, malware, and continuous technical support availability.
Want to convert your idea into a successful app or website? Schedule your free call with our expert now.
Microsoft is previewing many of the new features for the Microsoft 365 subscriptions:
By adding a lot of Office-related features
Easing the transition of Office 365 services to Microsoft 365. 
Facing competition from Google's similar services, Microsoft has designed Microsoft 365 as always up to date Business Productivity online suite cloud service incorporated with Windows 10(OS) with a variety of management tools. 
The Microsoft 365 is: 
Office 365
Windows 10 (OS)
The Enterprise Mobility Suite is an app for Security and Management.
Users will be able to access the advanced proofing services Word knows as Editor. 
Editor: 
It is AI-based and is much more the regular grammar check and the spell check feature. The Editor will be able to help with sentence rewrite suggestions, furthermore will be able to check for plagiarism, and even make suggestions for inclusiveness, clarity, and conciseness. Editor is AI-powered and will also be an extension for the Google Chrome Web browser just like Microsoft's Edge.
PowerPoint too will be getting exclusive features with a presentation coach, AI feature, will help in the creation of presentation at same time help to avoid nos- nos such as the filler words.
Microsoft has partnered with other tech companies to provide add-on features and exclusive access. 
With the Plaid partnership, you will be able to link your bank accounts to Excel and it will help you to import the expenses in the form of spreadsheets. Accounting and maintaining the data will become a piece of cake. A feature called Money in Excel will be launched first in the US and thereafter across other countries. 
The subscribers will also get exclusive access to the more than 200 templates, and videos and images from Getty Images. It is said that some 2800 plus or so new icons are being made for usage across the Office services. A bundle of 300 new fonts will so be added to Office 365 services.
Microsoft is working with Experian, Blinklist, Adobe, and Bark to offer limited-time access to the premium subscription consumers.
Office 365 services update comes with a new feature of Password Monitor for Edge Browser. 
Password Monitor for Edge Browser: 
It will help the user to know if any password has been compromised or database breaches
Suggest appropriate actions the user can take. 
To elaborate further, users will be able to know if any of the passwords that they have saved for the online accounts on the Microsoft Edge Web Browser has been affected or compromised in the data breach. 
Under current scenario security of the data is of absolute importance. Many organizations have experienced a data breach, data loss, and phishing. Individuals have also been facing cyber-crimes and frauds. 
Customers are managing into complex environments and need extra tools, Office 365 services are now under single productivity suite or single platform. Without increasing the burden on the IT departments we offer support to the customers and their requirements. 
Though the name has changed the productivity remains to be the same rather more efficient and competent.
As a consumer, you will get to decide which package is right for you. As stated at the beginning of this article, Microsoft has thought of its customers, business as well as personal and brought about innovation in Office 365 services. The Microsoft 365 is available as
Microsoft Personal Subscription
Microsoft Family offers up to 6 members.