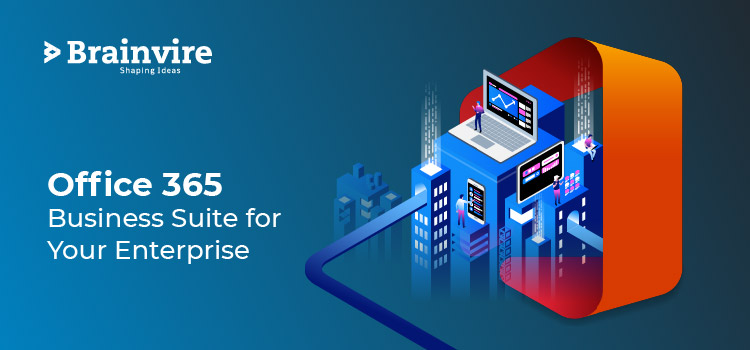 Millions of enterprises count on the Office 365 services to create documents, interact, and manage logs. Apart from these features, there are a lot more things that Microsoft Office offers, and with the launch of Office 365, new territories are formed.
Microsoft has been one of the premier makers of enterprise solutions. To be specific, Office 365, one of the many solutions from the tech giant, has become the most popular software suite by backing 1.5 billion users. We all are aware of Microsoft Excel, Word, Powerpoint, and also use them in our day-to-day lives.
If you want to indulge in Office 365, or just need a sneak peek at its functionalities, stick to this piece to uncover the explicit information on Office 365.
Microsoft Office 365 – What Is it?
Microsoft Office 365 is a cloud-oriented subscription model and an updated version of the popular suite Microsoft Office. Office 365 has the same core applications as the original version of Microsoft Office.
The apps include Powerpoint, Excel, Word, OneNote, Outlook, and apps based on your type of subscription. Other applications and services are included based on the subscription model. Applications that are included after the purchase – OneDrive, Skype, Sharepoint, Yammer, Exchange, Publisher, Access, Microsoft team, and Planner.
When licensing O365, you will find various packages entailing editions for personal use, students, non-profit organizations, educational institutions, and multi-user households. Microsoft office has online and mobile-only versions cited as Office Online. Through this, end-users can benefit from the feature-restricted version of Office apps free of cost.
Want to convert your idea into a successful app or website? Schedule your free call with our expert now.
What Online Services Does Microsoft 365 Offer?
Your subscription plan and edition are the base on which apps and services will be included in the package. Here, let's talk about some basic applications that are present in every version of Microsoft Office.
Earlier, SharePoint was difficult to manage and use. However, now the interface has become sleek, allowing teams to transmit files and sync data in file explorer using the same desktop client as OneDrive. Both Exchange Online and Sharepoint include administrative regulators to inhibit users from disseminating confidential business information to other organizations.
OneDrive for Enterprise
Every subscriber of Microsoft Office collects 1TB of OneDrive storage with sync options available for every desktop channel. Windows 10 uses the same sync client as OneDrive, storing data in an isolated location. By using File Explorer, users can view and manage cloud-based storage. Executive of enterprise plans can upgrade the storage space to unlimited if 1TB is not enough.
Microsoft Teams
Microsoft Teams supersedes the older version of Skype for business services. It extends undisputed communications, high-defined video calls, and direct messaging for the subscribers. It has the same feature set as Slack. The open version of Teams enables small enterprises to use the services without paying the license fees.
Exchange Online
This business-oriented email grant provides a 50GB mailbox to every subscriber of an organization. It enables the power to access emails via a web explorer or employing the Outlook app mobile, Mac, or Windows. The basic features include spam filtering, and for some Office, 365 services subscription, advanced features like e-discovery.
Which Desktop Applications are Offered in Office 365?
Microsoft Office 365 applications offer business solutions that can be tailored by any establishment. Prominent Microsoft applications involve PowerPoint, Excel, Word, Access, OneNote, Publisher, and Outlook. Some applications, like MyAnalytics, OneDrive, SharePoint, Yammer, Skype, Exchange Server, Power BI, and Microsoft Team, are often termed overrated and niche-specific and are often ignored by enterprises. However, these are very useful too.
On Windows PC, you will only find Publisher and Access. These applications are designed to perform auto-update with twice-annual feature update monthly security updates. Web versions of Powerpoint, Word, Outlook, and Excel provide strong tools that enable file editing that is stored in OneDrive for business purposes.
Key Benefits of Using Office 365 
A business requires to seamlessly collaborate, communicate, and create to become an efficient organization. With productivity tools, people can do their job without any error from remote locations. This work flexibility makes a business more agile and competitive in its respective sector.
Office 365 services provide various productivity tools that complement and work seamlessly with each other. So, it is a very important investment for every business owner.
Here are four key benefits of adopting Microsoft Office 365 for enterprises.
Enhanced Communication
Office 365 offers tools, like Skype, Team and Outlook, to incorporate an enriched communication process. These applications keep communication unified and precise. Skype for Business lets you keep meetings and conference calls with your teammates and clients across the globe. It helps in collaborating and interacting with people regardless of time, place, or distance.
Microsoft Teams offers an instant messaging feature where you can add comments and upload files simultaneously. This proves to be an advantage for inter-department collaborations.
Easy Access to Files
As discussed earlier, Office 365 is a cloud-enabled production suite. So it allows you to store all the files in the cloud. This means you can easily access all the files sitting at remote locations. For enterprise mobility services, where the majority of work is done on mobile phones, being able to access files is a crucial function while working from home.
Expected Expense
Microsoft Office 365 follows a pay-per-use model, where you pay for the subscription every month. The price of the license depends on the functions you choose for your enterprise. Many enterprise levels incorporate different tools and applications that dictate pricing. Paying per user per month helps to create a budget and provides you a proper insight on the expenses.
Auto Upgrades of Files
All the major applications can be used online and need no installation or upgrades. The upgrades are performed on the predefined time frame and are automatic. Feature updates are held twice a year and security updates are performed every month.
Conclusion
Office 365 services offer online applications and tools to enhance business efficiency. These tools help organizations work faster. Microsoft 365 is a one-stop destination for all your business solutions. It provides apps to support every business process and is cloud-based, which means you can access all your files from anywhere.