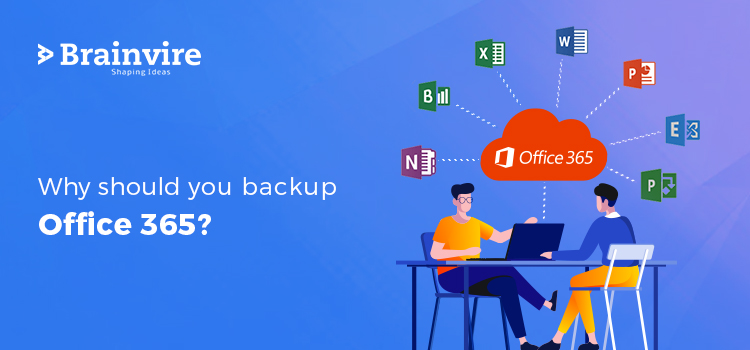 Many organizations moving to Office 365 services believe that data backup is no longer necessary. SaaS productivity apps like Microsoft 365 offer a plethora of benefits and convenience to the users in today's digital world. Although Office 365 enables you to access your data from any device, it does not do much to backup your data. In other words, Microsoft 365 does not guarantee that it would not lose your data. Office 365 offers some of the necessary protection features to safeguard it from some damages; the protection is not potent enough to shield your data altogether.
Does Microsoft Office 365 have backup features?
Open Office 365, and upon clicking on the 'terms of service,' you would see that Microsoft has a disclaimer explicitly meant to lose your data. Even if they promise data available via their backup and restore mechanisms, it is only applicable in case of natural calamities. However, data backup is not assured in case of ransomware attacks and accidental deletions. Your data is the core of your business, and it includes financial reports, sales contracts, and marketing plans. If it becomes damaged, somehow, the entire foundation of your business will get shaken.
Want to convert your idea into a successful app or website? Schedule your free call with our expert now.
Critical reasons to back up your Office 365 data
If you still think that the chances of losing your data seem very thin to you, then you need to understand the reasons behind the importance of backing your Office 365 data:
User error– Your Office 365 data would be accessible to employees of different departments, and they might delete a file due to:
Deleting accidentally– You would often receive notifications about lack of storage. You or other employees might then delete some files that are either large or seemed to be less critical. You might also delete emails containing necessary attachments. When you become aware that these data are lost, you cannot get it back unless you backup your Office 365 data.
Removing redundancy– Employees often create copies of a file to share it with their team or send it to the clients. As the duplicate files create confusion, employees often try to remove all the copies. While doing so, they might accidentally delete the original file, and this might affect your organization.
Malicious intention– There might be some employees in your organization who will intentionally sabotage or delete some of your critical files. By the time you will come to terms with the damage caused by such employees, you might not be able to revert the action caused ever.
Ransomware attacks– This perhaps does not need any introduction because it has the potency of putting a massive blow to your organization. It happens mostly when you click an attachment sent to you via mail by a trusted someone. However, it is a scammer posing as your contact to gain access to your files. After acquiring access to the data, the attackers would threaten you to pay the ransom, and if you don't, they will wipe it out. If you don't have another copy or backup of your data, a ransomware attack can clear out all your files permanently. A ransomware attack reported sometime back was designed in such a way to lead users through a webpage that resembled the Office 365 login page, so no matter how vigilant you are, it can happen with you as well.
Malware attack– A virus or malware attack is more common than you think it to be, and if it happens, you can lose access to all your Office 365 data. If you have used any of Microsoft's tools before then, you would know that you can download and sync your OneDrive data to your desktop with the help of OneDrive Sync Client. Even if it offers you a ton of perks and you can access your data from anywhere and with any device, it also makes your data more vulnerable. If you configure your OneDrive Sync Client to sync immediately, your desktop gets infected with malware, it will spread like wildfire, and all your files will be infected within a few seconds. You can avoid this mess from happening if you take the step of backing up your Office 365 files.
Limited storage features– Whenever your employee exits your organization, you would reuse the license and backup the Office 365 data. Now you can always manually backup your former employees' data, but you will have to save it in another location. Therefore, you cannot restore it to Office 365, and technically, that data is lost from the data center. Also, if your former employee has configured the settings in such a way to make themselves the sole owner of a file, you would not be able to retrieve it back ever once they resign. However, you can still access all the data even after the employees have left your organization if you consider backing it up.
Unavailability of data during the outage– No matter how technologically advanced our world is becoming with each passing day, an outage is not a phenomenon of the distant past, and it can happen to you when you least expect it. So are you going to sit back and wait until the situation is in control to access your data and mailbox? Not if you decide to a data backup of Office 365, and only then can you have unlimited access to your data even in shutdown cases because your data will be stored in the cloud.
Attacks by 3rd party applications- Do you know that the 3rd party apps you have downloaded on your Microsoft Office 365 account might steal your data? Once the installation of the apps is complete, the attackers will set bait for you to grant them access in managing your account. They can trick you by posting a criminal code of a website or follow other phishing schemes and, once you click on it, the attackers will encrypt your data. After that, it would be quite challenging to gain access to your account as the primary account recovery procedures will never work. But if the copy of your data is already stored, you would be in better shape after the phishing attack.
Leakage of business data– If your employees work from home or bring their laptops to work, your organization's chances of data phishing will increase exponentially. Though asking employees to use their laptops can save some of your expense, it makes your data more exposed to attackers. The situation will turn worst if an employee loses their laptop as it might lead to the maximal exploitation of your data. You might have to pay a considerable amount to retrieve your data because we all know the cost of data loss is pretty high, regardless of your business's size.
It is noteworthy to mention in this regard that Microsoft Office 365 can retain some of your lost data, but only for a short span. For the superfast restoration of all your files and email attachments, you should get the Veeam Backup for MS Office 365. You can even register for a 30 day free trial period to see how the backup benefits you before investing in the backup solutions.