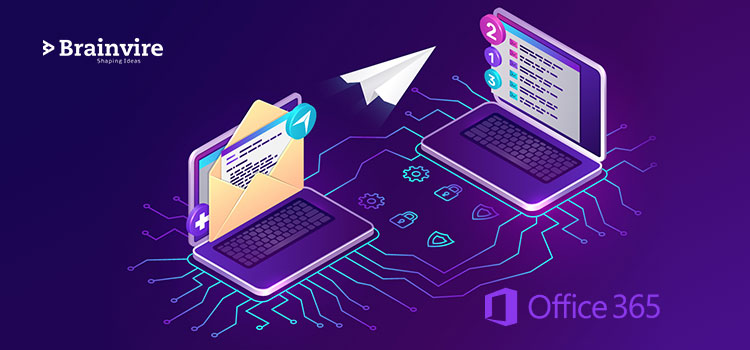 One of the most popular software suites in the world, Microsoft Office is used by 1.5 billion people worldwide.
We often feel overwhelmed when it comes to migration programs. We consider building an Office 365 migration strategy, we feel that we are introduced to a more complicated tale that's probably one of the most talked-about subjects in the cloud industry.
Fortunately, there are certain things you can do to protect yourself and increase the chances of a smooth transition.
What is Office 365?

Office 365 is a Cloud-based subscription plan that gives you access to Office applications like Word, Powerpoint, and Excel. The majority of Office 365 plans provide a desktop version of the most recent Office software that you can run on devices like laptops, PCs, Macs, Android tablets and phones, iPads, and iPhones.
Want to convert your idea into a successful app or website? Schedule your free call with our expert now.
Benefits of Migrating to Office 365

Scalability
Office 365 is a subscription-based plan that can be scaled to meet the business's needs. With the Business and Enterprise plans, small to medium-sized businesses will bind tens of thousands of users. 
Accessibility
One of the most appealing features of Office 365 is that it is cloud-based, allowing you to use the apps from anywhere with an internet connection. The workforce can benefit from this increased efficiency and flexibility. Even if you are working offline on a document, it will be automatically uploaded and synced with your Cloud storage the next time your computer is online so that you will always have the latest version.
Many businesses choose Office 365 because of its layered security measures, proactive data monitoring, privacy protection, and 99.9% uptime service level agreement.
Administration
Since it is managed by a web-based Admin console, Office 365 is very simple to use. This console has a dashboard and drop-down tools that allow system administrators to customize the user interface for all users to meet the company's needs. Your administrators would appreciate how simple it is to track operation, get help, and make changes when necessary using the console. 
The dashboard also includes a service summary that allows admins to monitor the health of Exchange, Office 365 Portal, Office Subscription, Rights management Service, and other services. Office 365 management is simplified by having everything you need in one web-based dashboard. 
Add-ons
Additional components for Office 365 can be purchased through the administration console. You can, for example, add online versions of Visio Pro, Project Pro, Project Lite, and Dynamics CRM. After you've purchased them, you can give additional licenses only to users who need them. 
Maintenance and Updates
You can run your on-premises Exchange and SharePoint servers yourself rather than hiring an administrator. Since Office 365 is hosted in the cloud, Microsoft handles all updates and patches. 
Price

Although another segment delves into individual Office 365 pricing choices, it's worth noting that the subscription plans are suitable for companies of all sizes. Paying for a monthly package would save money for small and medium-sized enterprises. 
Is Migrating to Office 365 Easy?
Well, in most buying decisions, 'ease of use' is a major factor. That's why Microsoft has put so much effort into making its cloud-based software, such as Office 365, appear simple. Log in, create an account and you're ready to go. Therefore, it's no surprise that so many small and medium businesses around the globe have considered taking advantage of the Office 365 services. 
But you should also know that Email migration doesn't come without its risks and since email is considered a 'business-critical' device by most SMEs, it's one you can't afford to make a mistake. It's better you have the whole process planned.
Step-by-step Plan for a Successful Office 365 Migration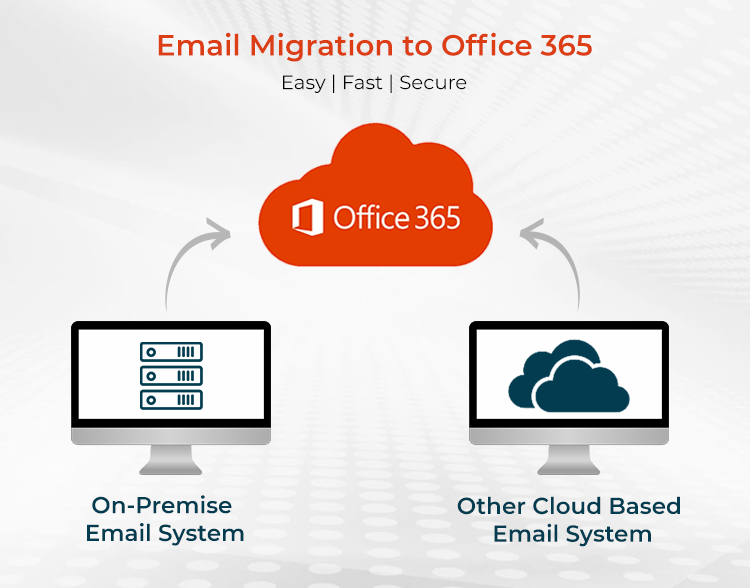 Step 1: Pre-Planning
Planning for the migration can begin with a launch meeting. You can also put together a roadmap for the infrastructure, decide how you want to improve the user experience, and create training and communication planning during the launch meeting. 
Preparing for and laying out the migration steps should also be included in the planning process. You'll need to find out how to set up mailboxes, Exchange, SharePoint, and client computers, among other things. 
Step 2: Plan for Infrastructure and Exchange
You should consider performing a bandwidth evaluation as part of your migration preparations. The number of concurrent client machines connected to the network at any given time will be determined by this review. This will help you figure out how many network segments and connections you'll need and the bandwidth requirements. 
You may also consider the hardware you'll need on-premises. Directory synchronization, SSo, and Exchange hybrid environment will also be involved in this step. You should also inventory your current Mail-enabled applications, SNTP relay sources, and third-party applications. 
Step 3: Leverage Deployment Tools
The Deployment Readiness Tool in Office 365 will assist you in planning your migration. This tool can help you analyze and collect information about your domain settings. It allows you to capture Exchange and Sharepoint for Business settings as well as network configurations and settings. 
Office 365 for Business includes SharePoint Online, a cloud-based service. This program allows businesses to collaborate and exchange information with their partners, associates, and customers. One of the primary advantages of SharePoint Online is that you can access internal documents and pages from the workplace, at home, or on a mobile device. 
Sites and user management should also be considered. You'll need to customize your site's permissions, functionality, collections, and overall appearance while avoiding complex customization. You should also include metadata, types, navigation, search, and social tagging when planning the content of your SharePoint pages.
Step 5: Plan your End-user Experience
When thinking about your end-user experience, keep in mind that there is a difference between a web and a rich user experience. The web experience includes the web browsers that users choose, such as Internet Explorer, Mozilla Firefox, and Google Chrome. Microsoft versions such as 2010, 2007 SP2, 2008 for Mac, Office Web Apps, and others have a rich end-user experience. 
Conclusion
It's vital to remember to schedule, prepare and move when migrating to Office 365. 
Many companies attempt Office 365 migrations without a detailed strategy or the necessary expertise. 
Give Brainvire a call if you don't have the time or money to make the transition to Office 365. Many of your infrastructure needs, like Office 365 migrations, can be done easily with our assistance.