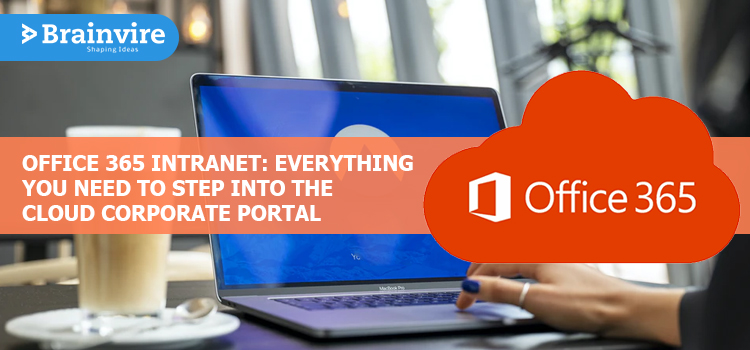 Today, firms don't follow stereotypical norms of work operations – they follow all the legal and mandatory norms of the workplace. However, there are certain business practices that can help you stand out of the clutter and create your own niche.
Several firms are adopting innovative tools and formats of working. Reinventing and designing digital infrastructure is one way to stay ahead in the competition.
Do you think your intranet can empower you to design the next-gen employee friendly workspace?
The answer lies in this blog. Here, we've included the following essential concepts that can help you enhance your knowledge about intranet-
Understanding Intranet
What's In-Store for Next Gen Intranets?
Essential Next Gen Features That You Must Concentrate On
Understanding Intranet
When a company utilizes a private network for work purposes it is known as the 'intranet'. The primary aim to invest in this network is that it helps employees to store information, collaborate, and communicate with each other seamlessly.
Customized and upgraded intranets consist of social features that allow employees to share and comment on posts. They can also create profiles and then share or submit it to another employee.
The first generation traces of intranets were visible during the 2000s. A majority of initial solutions were simple digitized bulletin boards that can be personalized as per the project requirements.
Want to convert your idea into a successful app or website? Schedule your free call with our expert now.
However, there were certain flaws in this format such as-
Increased overhead costs
Lengthy development process
Poor results
Constant need for a new structure
To compensate for these flaws, an out-of-the-box solution was designed, which comprised of the following features-
Easy to launch
Upgraded turnkey solutions
Preconfigured templates
Cost-effective
Over the years, this solution also had its shortcomings. There was a constant need for next-gen platforms with upgraded and smarter features. The new intranet solutions consisted of improved functionalities, flexibility, and features based on project requirements.
What's In-Store for Next Gen Intranets?
The main question that entrepreneurs have is how can you evolve this solution with changing business needs. There are multiple parameters that set the latest intranet apart from the previous one.
Next-gen intranet solutions can help you achieve goals and enhance the way you run your organization. These solutions can enrich your corporate culture as well as provide you with innovative features that offer you accurate analytics.
They're highly responsive and allow project owners to custom-built pages and sites as per the project requirements.
Essential Next Gen Features That You Must Concentrate On
What factors can signify whether you are utilizing the best intranet for your business? There several features that can notify you whether you are utilizing a futuristic intranet or not.
Some futuristic features of intranet are discussed here:
Improved Search Experience
Have you noticed how much time and resources your employees utilize in research? Almost 30% of the total working hours are spent in search of data and much-needed information.
An ideal way to optimize this process is to provide a refined search experience to your employees. An improved search experience will help employees save resources and complete their assigned tasks smoothly.
Some companies offer unified search tools and features that can accelerate the search experience. With this provision your employees can search for content and information on different sources and in different tabs.
Refine and filter options can also help to accelerate and improve search experience. Configurable templates provide you command over search results. With this feature, you can search for significant information in a few seconds.
Quick Installation
Gone are the days when you needed a floppy or pen drive to install an app in your smartphones. A single tap on Google Play Store/ Apple iStore, and post installation, it's ready to use.
The next-gen intranet also follows a similar approach.
The trending and contemporary solutions offer consumer delivery models for businesses. Modern solutions are more flexible and powerful in nature, so a functional store can help replace traditional solutions and features with the new ones.
You no longer have to follow a lengthy process to switch to a new solution. Simply introduce the latest apps and tools as per your business needs and enhance your intranet capabilities.
Customized Digital Space
Every member of your team has the potential scope to suggest a creative idea for your business. An intern's or a top-level manager's idea can bring a revolutionary change in your company.
With most companies working remotely, companies need digital homes that allow them to brainstorm and map innovative ideas.
An uninterruptible digital space collaboration allows smooth and effortless ideation process. There are certain solutions where every employee can share their idea and their peers can view it.
Team members can vote and also add their suggestions to enhance the idea. In case, you want this process to be restricted to a single department, then you can include members accordingly.
Increase Your Community
Restricting your community is likely to hinder the in-flow of ideas. So it is recommended to include an increasing number of members to build internal community and network.
Your intranet must make it convenient for you to connect with new hires, suppliers, and other members of your company. It can assist you to carry out daily functions smoothly.
Next-gen intranets are customizable and responsive and this makes it easy to enable third-party cloud integration and increase your reach.
Mobile-Friendly
Almost 3/4th of the global workforce prefers a desk-less work environment. Employees and employers as well prefer a responsive mobile intranet solution that is easily accessible.
Mobile connectivity helps reach out to employees working at different levels through a secure digital space.
Your mobile intranet app must provide integration to useful tools as this helps to upgrade business efficiency. Alerts and push notifications ensure that your employees don't miss-out on an important update.
Wrapping Up
With Office 365 Services, implementing new workplace technology has become convenient. Workplaces are constantly in search of next-gen intranet solutions that work in favor of their business. 
Brainvire's experts can guide you more about next-gen intranet solutions for your workplace. Get in touch now!