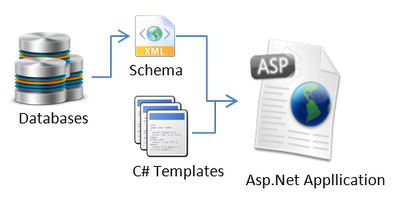 There is no denying that technological advancements has brought a wide range of platforms for web development and also has favored .net application developers and businesses with a wide range of programming languages, ASP.Net is one among them. The .Net Application Development allows businesses to build customized applications on the go and offers a whole host of benefits to businesses as well as the developers. This is the reason why more "n" more enterprises prefer dot net application development over others. ASP.Net as a server side web application framework is marvelously designed for web development to build dynamic web applications that run on the World Wide Web. ASP commonly known as Active Server Pages provides a well-structured model for the developers to build enterprise-class web applications. However, there are many misconceptions among people regarding .Net Application Development and
sharepoint development
which are just based on the rumors and ignorance.
Let us find out some of the common misconceptions and the true facts behind them.
Misconception#1 Too Expensive
You can today hear many developer and people saying that they are not preferring .Net application development because it's quite expensive as compared to the other platforms. Well this is one of the biggest misconceptions among the people. But when talking about the cost, it is important to know that the cost of development depends on numerous factors such as hosting as Window-based hosting is not so cheap. However, today it is quite affordable to host asp.net web applications due to many popular and reasonable hosting services available.
Misconception#2 Not Feasible for Building Small Business Websites
According to some rumors, Asp.net is not suitable for building small business websites but is feasible for creating only huge websites. In fact all the
.net development companies
knows Microsoft offers a class library in the .Net framework for creating different business solutions. Moreover, the software giant has released WebMatrix to help developers to create any kind of website in an easier and user-friendly way. Besides, this server-side framework is flexible enough to create small websites to fit according to your business needs.
Misconception#3 It's very complicated and Not Open Source
Being a world leader in software, Microsoft is very particular about its products source code. So, it is natural that one might think ASP.Net is a closed source and very complicated too. However, the source code of .net framework is available for free and you can easily access the resource for developing your own application. The most important thing is that you can even create your own version of the
.net application development
framework. Also, Microsoft offers ample access to the source code of the ASP.Net releases such as MVC, Web Forms and more through CodePlex. So, it's wrong to say that it is a Closed Source. Going through all these facts, we arrive at a conclusion that all these are myths or misconceptions about .net application development. ASP.NET is a technology suitable for enterprise capable robust and simple web application development. If you have more to share, then leave your replies in the comment box below…! Contact Brainvire a leading
Asp.net development company
for customize Asp.net development services.