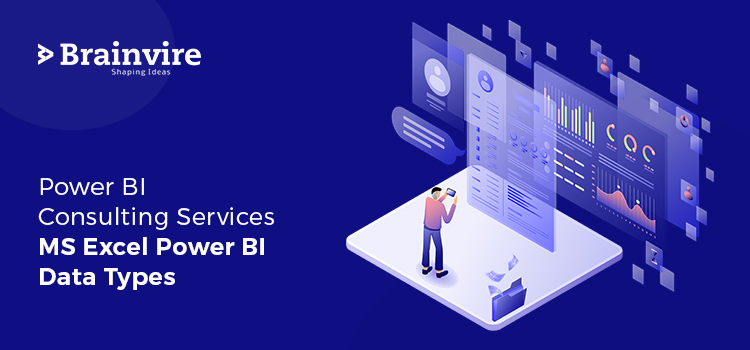 The Progress of Excel
There is no doubt that presently Excel has evolved to become the ultimate decision-making application. It allows to leverage the flexibility of the two-dimensional grid and capture various types of formulas. Still, it also facilitates collaboration and analysis of various forms and types of data.
To date, it was possible to have a couple-base data type that could be worked out, namely- numbers and texts. The journey so far has been related to an up-level data type that could be used within Excel. There have been two such examples. The first one happens to introduce array formulas and dynamic arrays wherein a single formula could give an array of values. While the second happens to be the introduction of the geography and stock types of data.
The connected data types indicate that it was possible for a cell in a grid to contain rich information, connected, and live for the first time. Examples of such data include details regarding countries, cities, currencies, and stocks. Such a single cell would also be intelligent enough to work with attributes like charts, filters, and formulas.
Currently, things are progressing to the next level of this journey. Excel would now allow its users to work things out on their data in a data type. For example, if there is a need to have a system to track the customers who require bringing in customer data in Excel for making an analysis. It can be imported in the form of customer data richly structured to match how it has been defined as a customer, either as an individual or a company.
Want to convert your idea into a successful app or website? Schedule your free call with our expert now.
In the case of Power BI, Excel will make an auto-connect, and it will be possible to discover any data that may have been published. Such data can now easily be managed through Excel in the form of a structured data type. The other way round, if there is data that needs to be worked out as a data type in Excel, merely publishing it into Power BI will be enough. The rest can be quickly taken care of by anyone having access.
In the case of Power BI is not available, the Power Query technology can still be leveraged into Excel by manually connecting with numerous types of data sources. All that needs to be done is to specify that the data needs to be structured as a data type.
Microsoft has also continued to expand the number of public data types so that it is possible for users to work using expanding geography and stock data types. A partnership has been established with Wolfram that allows hundreds of current data types to flow into excel. It has made it possible to compliment an analysis with linked data types like genetics, historical events, zip codes, nutrition, and chemistry.
Evolution Of Data Types
Before getting into the details of new data types connected with it, it would be better to understand why data types platforms are essential. Also, it needs to be understood how it can further improve the way things are done in Excel.
Data types are rich, and they extend well beyond just strings and numbers. A single cell can have a vast collection of hierarchical data, images, references, and smart actions. It implies that data types extend two significant advantages over the previous approach. The biggest advantage of Excel happens to be flexibility. Spreadsheets are always evolving to accommodate the changing requirements of the various business processes.
To date, it was possible to have just one value in a cell. It was either direct input or a value calculated through a formula. So, it was one cell one value. For another value, the action had to be repeated. But, with data types, everything changed. It is now possible for a cell to have a vibrant data type or several possibilities.
Therefore, data types allow having the data that matters the most and that, too, in its most natural form. It, therefore, unleashes the power of Excel to produce crucial insights. Data types allow a single cell to possess multiple sets of information to quickly pull the decision-making process. It eliminates the need to go back to the source. Leveraging the card view allows viewing more information related to the data type and navigating through concerned information. The additional information can be utilized in charts and formulas and can also be used for filter and sort functions. Overall, it is possible to come up with more dynamic spreadsheets as well as robust data. It drastically eliminates the possibility of errors.
Discovery of Data and Power BI Trust
Since the introduction of geography and stocks last year, it became evident that it was now possible to work with personal data in data types. Power BI played a crucial role and provided well-connected and wealthy data as well as data types. It was realized that Power BI is the ideal source. It was the best in its class to extend features such as sharing, control, and secured access. Data types connected with Power BI gave confidence and flexibility when working with business data using Excel.
Like Geography and Stocks, it was now possible to have Power BI tables available through data types. It became possible to convert cells into data types. Once the cells converted to linked data types, it became possible to extract extra information for working within the spreadsheet. For example, if the input was a product name or a code, it was possible to view associated information like price, description of the products, stock availability, etc. Using such additional information, it became easier for users to carry out a more in-depth analysis. It was also possible to create invoices using Excel using trusted and connected data and directly from Power BI.
Also, since the data types were connected to the Power BI's underlying source, it was possible to pull out Power BI data without having to flatten the data or lose any information. Power BI facilitates the most advanced control in terms of governance using datasets, including the cloud.
It further facilitates row-level security, the ability to apply protection levels, life cycle management application, permission-based access, and so forth. It ensures that you are getting the right information every time. Also, since Power BI is connected with live data sources, the workbook can be easily updated by a simple refresh.
Creation Of Data Types Using Own Data
At the time of publishing data into Power BI, it provides an easy way to discover and import data types into Excel. Also, it is possible to create personal data types connected to any data source of choice.
Wolfram Alpha Data Types
Several new data types are being previewed that will allow pulling out rich information into Excel. A new set of smart templates are also being built so that it is possible to go for activities like monitor stocks, keep track of nutritional data, research information, and much more. Currently, Power BI data types are present in Excel. Power Query data types are being gradually rolled out and will soon be available. Power BI Consulting Services aims to bring together all questions related to Power BI and Query Data Types and answer those in the most straightforward manner possible.