Marketing is all about how efficiently and capable you are selling your services and products to the customers and emerging as the most preferred choice of customers. The competition in the market is growing rapidly and to stand out from the competition one needs to have a USP (Unique Selling Proposition). Using this USP you can convince customers to switch over to your brand. There is a continuous need of building up new clients for your business and retain the old ones. To accomplish the same, a lot of digital channels such as search engines, social media, emails, mobiles, etc. are present for advertising your business. Among all marketing techniques that are used to advertise your business, PPC is on the boom! Implementing all of them along with the PPC campaign management services advertising technique will earn your visit in a large number.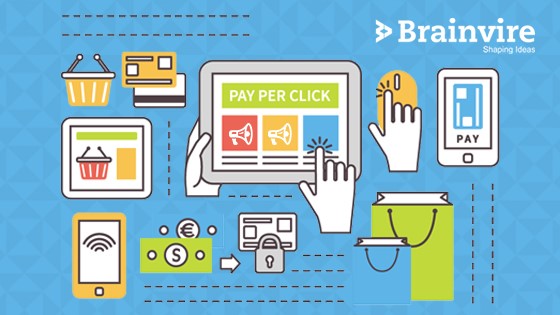 What is Pay Per Click Advertising?
PPC is a marketing tool in which advertisers pay a certain amount of fee whenever their ads get clicked. In more simple terms, it's a way of buying visits on your sites rather than trying to earn those visits organically. Search engine advertising is one of the most popular PPC advertising tools used by businesses today. For instance, everyone who has searched for some service or product on Google must have gone through the Google ads on the top and bottom of the page. That is known as Google AdWords, a form of PPC advertising.
 Understanding Google AdWords
Google Ads, a form of PPC advertising, is the most popular online advertising platform built by Google, which lets advertisers display their advertisements, offerings, services, products, video content, etc.  The system works partly on keywords and partly on cookies as chosen by the advertisers.
For Example – when someone searches for a particular service, item or product say, 'The Fort Apartments Indianapolis', Google shows up a list of searches for you including the relevant ads on the top.  It simply means the keyword you searched triggered your ad to be displayed on the top.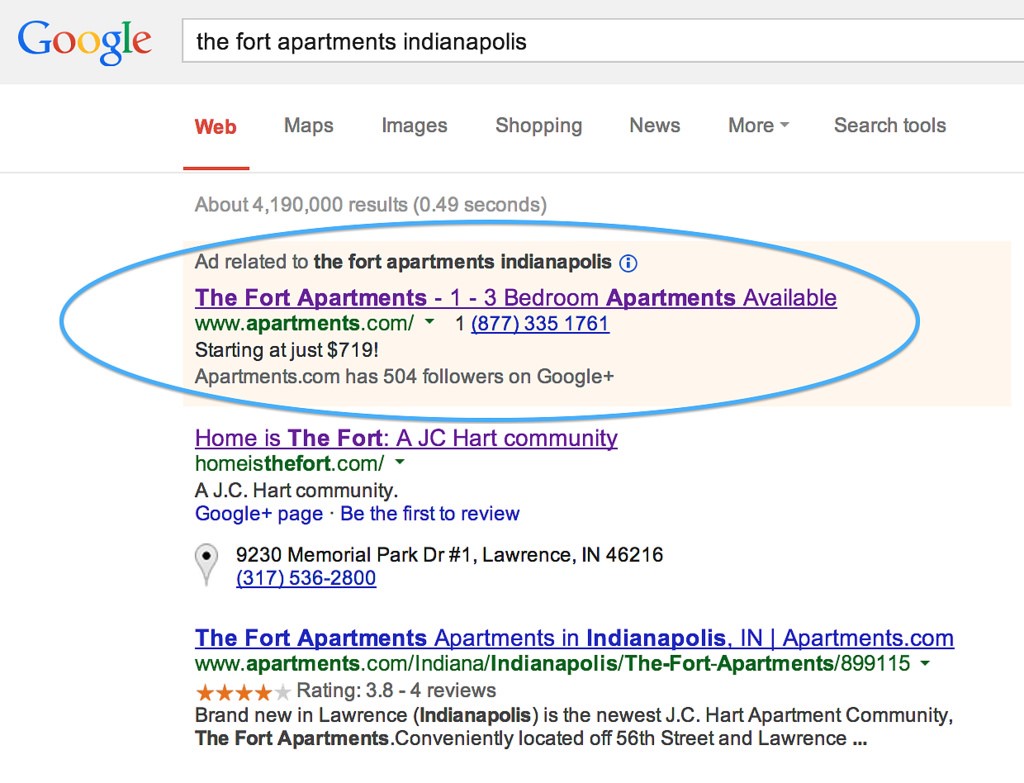 Every time when a search is made, Google searches in its database of ads and selects a few winners which appear on the valuable ad space on its search results page. The question that might cross your mind now is, how are these winners selected? The ad that gets to appear on the search result page is based on the advertiser's ad rank. The advertiser's ad rank is calculated based on two factors – CPC bid and Quality Score.
CPC Bid- it is the highest amount that an advertiser is willing to pay per click.
Quality Score– it contains a value that is measured on the basis of based on click-through rate, relevance and landing page quality. Therefore,
AdWords Rank= CPC Bid * Quality Score
Benefits of Implementing PPC Advertising Model 
Advertise Directly to Audience Searching for Similar Business
Similar to your business, PPC advertising is a highly flexible marketing platform as it can be used for marketing all types and sizes of businesses. It allows you to advertise in front of an audience who is searching for similar products or services that your social media marketing agency is providing. For instance, Google AdWords provides multifarious options to customize your campaigns and ads as per your needs. You can specify keywords that can help you display your ads directly to the people searching for exact keywords. Example-
| | | |
| --- | --- | --- |
| Keyword | Match Type | Potential Matches |
| Running Shoes | Exact Match | Running Shoes |
It allows your target audience that has already expressed interest in your offerings through remarketing and generates great results.
Ensure Higher Return on Investment (ROI)
The main reason behind using PPC Advertising for marketing your ecommerce development business is to endure a positive ROI. PPC advertising models like Google AdWords has built-in features that let you track and analyze your ROI. To paint a clear picture of how this point stands true, we would like you to go through a case study of our client below.
Case Study- Brainvire Implements Google AdWords Campaign for a Client
A leading online retailer of high quality remanufactured toners and inks approached us seeking digital marketing support. The client was concerned about stagnating traffic on the website and dropping ROI. He wanted to enhance their brand's visibility at the top of the SERPs (Search Engine Result Pages) and hence increase relevant organic traffic. Overall the intention was to improve customer engagement by increasing brand awareness.
Our digital marketing agency ran a customized Google AdWords campaign for our client that contained specific SEO-friendly keywords and Ad Extensions. The result of which was
Increased organic traffic of the website to 08%.
Top 5 organic keywords usage increased by 34%.
The bounce rate decreased by 93%.
Increase in relevant leads by 11%.
Increase in the number of visitors from June 2018 to September 2018.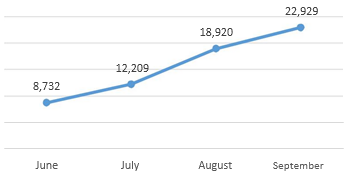 Figure: 1
Increase in Organic Keywords Ranking from August 2018 to September 2018.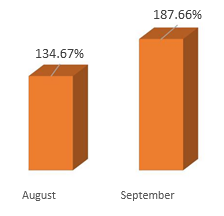 Figure: 2
Growth in Revenue in one month in 2018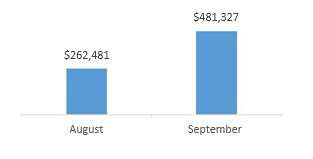 Figure: 3
OUTCOME- The client himself noticed and appreciated the growth difference in return on investment of their business. That is why we believe that running Google's paid advertising campaigns will allow you to gain a high conversion rate.
Realize Brand Exposure
This is the most fast-forward way of exposing your brand and its message to a large number of relevant audiences who can potentially convert into loyal customers of your business. For example, Google AdWords puts your brand's advertisement at the top of the search result page exposing your brand to a large number of audiences.
Works Well with Other Marketing Model
PPC and SEO work well together and create more impact on your brand presence on the targeted audience. It offers you the benefit of building more and more relevant organic plus paid traffic giving an impression of strong brand presence. You can run both the techniques together and later on reduce PPC efforts once a search term starts ranking higher.
Experience Immediate Results
SEO is undoubtedly an amazing marketing strategy that helps businesses make their presence count on the web. It takes time to build organic traffic using SEO practices, but some businesses cannot bear to patiently wait for their name to arrive on top of SERPs. In such situations, implementing Google AdWords along with SEO techniques can boost up your ranking faster and you can notice an increment in ROI.  Although PPC seeks investment and SEO doesn't, but applying both the techniques can convert more potential customers and find new audiences in a short span of time.
In a Nutshell
PPC advertising helps you reach potential customers based on their location, search history, and style, preferences, etc. But in order to seek advantage of the above-discussed benefits, you need to ascertain that you don't invest more on PPC than the return you get. Therefore, utilizing PPC and SEO together can work wonders for your business by generating the best possible results.
If you want to realize these two important components of digital marketing for your business, connect with Brainvire a leading PPC Agency at info@brainvire.com and our professionals will guide you with further details.