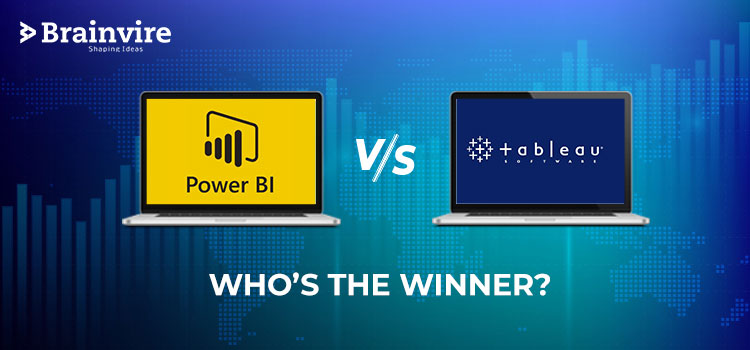 Data is the clandestine tool for almost every business. Appropriate interpretation of data can help discover the right business capabilities. You no longer enter random passcodes instead, enter the right one and can make optimal use of data.
Today, you don't need a data expert necessarily that works manually for you. Instead, use data and analytics tools to obtain, churn, and analyze, and use data wisely. Your employees can enhance their data literacy and demonstrate data analytics strategies.
You can use data to increase business value. For instance, the use of a data analytics tool for your OTT platform can help understand the audience's interests and improve reach.
Tableau has been a leader for 8 years now and Power BI for 13 years. Further in the article, we have discussed several parameters that can make it convenient for you to choose the best option.
As you search about data analytics tools, you are bound to discover the ongoing race between Tableau and Power BI consulting services.
Predominantly, we have highlighted the following in this article:
Understanding PowerBI
Understanding Tableau
Significant Comparative Parameters to Choose the Right Tool
Understanding PowerBI
PowerBI is a popular Business Intelligence and data visualization tool that collects data from varied sources and transforms it into interactive dashboards and BI reports.
Multiple software connectivity and additional services make PowerBI the best option.
This BI tool manages the plethora of data from multiple sources, crunches data, and enables the integration process. It also facilitates the advanced report generation feature that improves data analysis.
Want to convert your idea into a successful app or website? Schedule your free call with our expert now.
Fundamental Features of PowerBI:
Datasets
Reports
Personalized dashboards
Q&A question box
Navigation pane
Ad Hoc analysis and reporting
Trend indicators
Feedback and Help options
Interactive reports authoring
Real-time updates on dashboards
Understanding Tableau
Tableau is a strong and evolving data visualization tool and is the most preferred option for the BI industry. This tool can refine complex data to an easy-to-understandable format.
Tableau is very quick with data analysis and visuals are easily available in the form of dashboards and worksheets. Employees at different levels in the company can view the data created in Tableau.
Fundamental Features of Tableau:
Real-time analysis
Data blending
Data notification and collaboration
Filters and highlights data
Mobile-friendly dashboards
No mandatory need for technical knowledge
Easy-to-share dashboards
Customized Tableau reader to view data
Quick imports of data from all sizes and ranges
Drag-and-drop facilities
Significant Comparative Parameters to Choose the Right Tool
Power BI and Tableau are market leaders in the BI and data visualization software industry.
Tableau facilitates visualization tools so that data is accessible and understandable to all users. It allows users to pick data from diverse resources and conduct analysis for them.
Budding businesses have made dynamic use of PowerBI as it is pocket-friendly as well as innovative features. It also possesses an easy-to-use interface that can craft powerful dashboards.
Both Tableau and Power BI provide advanced visualization and reporting capabilities.
Discussed here are a few comparable parameters that you must consider:
Data Sources
PowerBI:
Microsoft Power BI has profound capabilities to unite the user's external sources such as JSON, SAP HANA, and MySQL to name a few. Users can add data from different sources and PowerBI can determine the relationship automatically.
You can also connect your PowerBI tool with third-party databases, files, Microsoft Azure databases, and other online services such as:
Google Analytics
Salesforce
Tableau:
Tableau facilitates support for innumerable data connectors inclusive of Big Data options, online analytical processing, and cloud options.
Users can insert data from multiple sources, determine the relationship between the data automatically. Users can create data links manually and modify them based on your enterprise's needs.
Both PowerBI and Tableau have improved connectivity and can link to multiple sources. The major difference is that PowerBI is exclusively integrated with Microsoft's portfolio inclusive of Azure Cloud Platform.
On the contrary, Tableau enables robust support to link to a distinctive data warehouse.
Product Overviews
PowerBI:
Power BI- a cloud-based analytics BI platform shares a comprehensive view of a company's critical data. It quickens and eases data sharing and evaluation for users. This Microsoft platform binds data sources.
Simultaneously, it provides high-tech dashboards with appealing visualizations so that your team can interpret data accurately. The drag-and-drop feature smoothens the navigation process and a quick visual is available to you.
Tableau:
Tableau empowers your business to explore business data and convert it into a visual form to draw a precise conclusion. Tableau also possesses a drag-and-drop feature to review and analyze specific data.
Dynamic reports and visualizations can bring key insights to the vision which can be skipped otherwise.
Tableau also permits you to embed dashboards into business applications such as SharePoint for a sneak –peek at accurate analytics.
Visualizations
PowerBI:
It takes seconds to upload data in Microsoft PowerBI. Users have the flexibility to select a visual representation of their choice to understand the data. A quick pick of data from the sidebar and your visual representation is ready.
This tool also asks queries with natural language to the user and then demonstrates visuals. PowerBI has placed a 3,500 data point limit to mine datasets and conducts analysis.
Tableau:
This innovative tool allows you to create varied kinds of baseline visuals inclusive of line charts, heat maps, and scatter plots. It is based on an interface that doesn't necessarily need coding knowledge to design complex and clear visuals.
Users have the liberty to ask queries and resolve all doubts related to data, analysis, and visuals.
Both PowerBI and Tableau have the potential to set up elite and sharp visualizations required for businesses. Visuals that can help trace patterns, accelerate processes, reduce expenses, and generate consensus.
The notable distinction is that Tableau allows you to conduct countless analyses. However, when it comes to data quality is more significant than quantity.
Pricing
PowerBI:
You can invest in a Desktop, Pro, or Premium PowerBI subscription. The desktop version is free for individual users. Pro comprises additional features such as content packaging, distribution, and data governance. You can also opt for a 60-day free trial.
Premium subscription consists of cloud compute and storage facilities.
Tableau:
Tableau offers a need-based subscription to users. For instance, the Creator plan comprises all functionalities and can be purchased on a monthly or yearly basis. On the other hand, the Explorer plan is dedicated to self-service analytics and is exclusive of data cleaning and prepping.
You can opt for a 14-day free trial to understand this tool.
Customer Support
PowerBI:
This functionality is offered to all PowerBI users. Users can raise a support ticket and an expert will reach out to you. Users with a paid account experience rapid support.
PowerBI also provides strong support documentation and resources inclusive of a user community forum, guided learning, and examples of how to use the tool appropriately for business purposes.
Tableau:
Once you submit a ticket, an assistant will connect to you either through mail or phone.
Users obtain support based on their subscriptions. To enable the best support, you can invest in the best subscription. You can attend training and other Tableau sessions to get better access to the Tableau community.
Customer support for both these tools largely depends on your subscription model.
Send us a mail to know more about these tools.