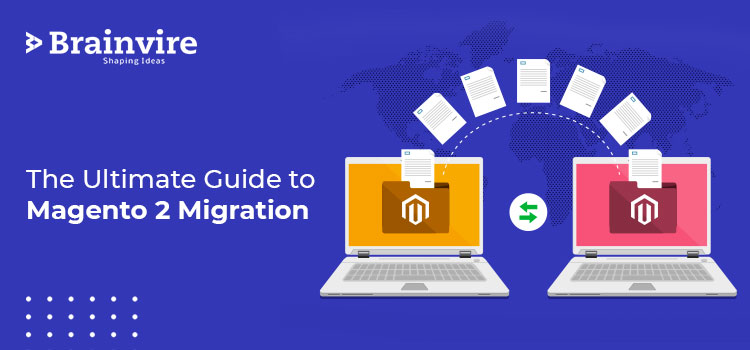 Have you made plans to protect your company from the risks of Magento 1's End of Life? Many businesses were caught off guard when tech support ended. Just 62,384 companies out of 185,158 Magento websites have upgraded to Magento 2. It means that over 130 thousand websites around the world are continuously placing companies and consumers at risk of being hacked.  
Thousands of stores have stopped providing security updates, leaving their customers vulnerable to cyber-attacks. The consequences for your company and customer trust can be long-term and devastating.
You'll learn how to migrate from Magento 1 to Magento 2 while ensuring the safety of both your company and your customers in this article:
what risks you'll have to face after M1 End of Life
key benefits of Magento 2 migration
Magento 1 to Magento 2 migration steps
main dangers of Magento 1 to Magento 2 migration + how to sidestep them
Magento 2 migration cost
Let's get straight to the guide.
The Risks of Ignoring Magento 2 Migration
Many businesses ignore Magento 1 End of Life, despite the fact that the repercussions may be disastrous for their operations. If you plan to remain on Magento 1, you will face the constant threat of cyberattacks, data breaches, and local regulations violations, to name a few issues.
Want to convert your idea into a successful app or website? Schedule your free call with our expert now.
Let's take a look at what Magento 1 stores can expect after June 2020.
PCI Compliance
The Payment Card Industry Data Security Standard (PCI) governs how businesses can safeguard their online stores' security. At least once a year, every merchant should have their PCI compliance reviewed. These tests are carried out every three months on average.
Failure to follow the rules will result in severe penalties as well as the inability to use the most popular payment gateways.
If an organization fails to address security problems within 1-3 months, it faces a monthly penalty of $5,000 for small businesses and up to $10,000 for large corporations.
Small companies will be fined $25,000 per month for breaching the legislation for 4-6 months, while large eCommerce businesses will be fined $50,000 per month.
If a company ignores the requirements of the regulation for over 7 months, it will be charged $50,000 for a small business and $100,000 for a big business a month.
As you can see, penalties for PCI non-compliance vary significantly depending on the size of the company and the number of customers it serves. You could be fined anywhere from $5,000 to $100,000 a month in either case. As a result, Magento 2 migration is a much more cost-effective business practice, as you just have to pay once for Magento 1 to Magento 2 migration services.
Magento 2 development services provides merchants with built-in features that simplify the process of passing PCI compliance checks:
Direct post method – allows customers' payment details to be sent directly to the payment gateway. As a consequence, a Magento website does not process or save any data on its servers. As a result, it cannot be held liable for PCI non-compliance.
Hosted payments – Hosted payments are supported by Magento. All payment processing takes place on the payment solution's servers.
SaaS PCI compliant payment application – To secure payments, you can use apps like CRE Secure. Customers are routed to a different website where they can enter their payment information. You can customize the style of this page to match the style of your business.

[Also read: 4 Actionable Ways to Improve Your E-Commerce Business Strategy]
Scalability
When choosing an eCommerce business, look for one that has scalability. You may find yourself in desperate need of scaling your website as the number of customers, orders, and products grow. It's not possible with Magento 1. This system, which is already outdated, lacks certain capabilities.
Magento 2, on the other hand, was developed with the aim of better meeting the needs of dynamic businesses. Layered architecture, multiple database masters, and MySQL cluster support are all designed to make scaling as easy as possible, even though you need to go from hundreds to thousands of products in a short period of time.
Here are some of the reasons why Magento 2 is better for businesses that need scalability:
It is designed to process over 10 million views per hour.
As compared to Magento 1, Magento 2 scalability is 50% better.
You can add multiple master databases and assign a few slave databases to each.
The layered architecture allows scaling different components independently, e.g. clients, products, databases, etc.
Performance and Speed
The key drawback of Magento 1 is its slow loading speed and long page load time. This was the primary motivation behind Magento's decision to build an entirely new platform with updated architecture out of the box.
Magento 2 provides unrivaled pace and performance, which was never possible with Magento 1.
The platform's most recent version provides improved server response, faster loading times, and streamlined backend operations. Magento 2 can handle 135,000 more orders per hour than Magento 1, making it a great choice for even the largest businesses.
Integrations
Magento is a highly adaptable platform that relies heavily on third-party integrations. A simple store usually has at least ten integrations, including payment gateways, delivery options, a CMS, a search solution, and so on. You can lose access to any of these integrations if Magento 1 is retired. Furthermore, as time passes, an increasing number of businesses will cease to provide M1 solutions. The same is true for add-ons and extensions.
In no time, your Magento 1 store will be obsolete. You will struggle to keep your company afloat as your rivals on M2 provide users with an excellent user experience. As a result, Magento 2 migration is the best option for your business.
Lost Conversions
Do you believe your company converts a sufficient number of customers? Consider upgrading it to a more powerful conversion platform. That's what Magento 2 helps you to do.
According to recent studies, the average Magento 1 conversion rate is 1.1 percent, while the average eCommerce conversion rate in 2020 is projected to be 3.0 percent. There are also more reasons to move from Magento 1 to Magento 2. The conversion rate of M2 is about 2%.
According to our experience, Magento 2 migration results in an x2 rise in online revenue on average for our clients. As a result, migration can boost a variety of metrics, including website speed, business performance, conversions, competitiveness, and so on.

[Also read: Why Magento E-Commerce Is A Growing Trend Among Developers?]
The Upsides of Migration from Magento 1 to Magento 2
Magento 2 migration will make a huge difference to your eCommerce business. If you have any doubts about it, just take a look at all the advantages offered by the latest versions of the platform.
Performance
Websites benefit from the Varnish cache, HTTP, and other technologies. Migration to Magento 2 increases page load time by x2 times on average. You can also benefit from Magento 2 migration in the following ways:
enhanced web pages loading
improved server response time
faster backend operations
high scalability to withstand any loads
Security
The security mechanism was updated with the release of Magento 2 to ensure the highest degree of protection. It protects user information provided during checkout and prevents data breaches, allowing you to easily pass GDPR checks. Here are some of the benefits of Magento 2 migration:
The SHA-256 hashing algorithm improves the password management system's stability.
The password management system can be made more reliable by using two-factor authentication.
By uploading Magento files with an FTP client, robust Magento backups assist in the development of hourly offsite backups.
The unique admin URL ensures better protection of your admin panel and prevents hackers from guessing the right URL path to it.
Checkout process
Customers do not want a lengthy checkout process. They would rather spend as little time as possible on it. Fortunately, Magento 2 has a better checkout process, including the option to make transactions as a guest. Customers can make transactions without having to create accounts, which saves time.
Integrated payment engines like Braintree and PayPal can save previously used payment information and reduce the time for recurring purchases.
mCommerce
Mobile accounted for 63.5 percent of eCommerce revenues in the United States in 2019, and this figure is projected to increase in the future. Magento 2 is mobile-friendly and provides a positive customer experience on all platforms.
Reporting
Making the best strategic choices necessitates advanced reporting. You'll gain access to an innovative reporting framework with over 20 report templates if you migrate to Magento 2. Orders, customers, products, and other related eCommerce metrics can all be tracked.
Marketing automation
Magento 2 has a range of marketing automation features. You can automate the sending of emails, SMS, and updates, among other things. As a result, you can spend less time planning marketing campaigns and achieve better results.
These are just a few of the advantages of upgrading to Magento 2. After you upgrade Magento 1 to 2, you'll find even more of them.
Four Deliverables of Magento Migration Process
During Magento 2 migration, you need to transfer all the data from M1 to M2. Thus, the migration process is divided into a few stages that all the information is transferred without losing a bit of data.
Let's take a look at all Magento 1 to Magento 2 migration steps.
Data Migration
Data migration is often the first step in Magento 2 migration. Magento has a Data Migration Tool that makes the process go faster. However, you can't simply copy all of your data from one place to another. The Magento 1 to Magento 2 migration tool's capabilities is limited to the migration of specific data forms. The tool is useful for the transfer of products, customers, basic website settings, promotions, and some configurations.
Big online stores that rely on heavy customizations won't benefit much from Data Migration Tool. A large eCommerce website would take longer for Magento 2 data migration because there is a lot of manual work involved. To ensure that no data is lost during the migration, this phase necessitates a detailed understanding of the platform and processes.
Extensions
The Data Migration Tool lacks the features needed for their migration. In addition, M2 does not accept the M1 extension. As a result, you'll need to update the versions of the extensions you're using for Magento 2 or look for alternatives.
You do not need to install any of the plugins that you previously had on your old store because the new version of the Magento platform provides a wider range of features.
Themes and Storefront Design
The themes of M1 and M2 are incompatible. While an M1 theme can be installed on a new website with a lot of custom coding, it is recommended that you find a new M2. As a result, you'll be able to take advantage of all of Magento 2's features in your store.
If your design was customized, you'll need to optimize CSS, JavaScript, XML, and templates to make them compatible with Magento 2. It may take the same amount of time to move an old template to a new one as it does to build a new website design from scratch. As a result, it is the suggested course of action.
Media Files
Your store most likely has a number of media files that should be moved to the new platform as well. Images, videos, categories, the WYSIWYG editor, and other things should all be manually transferred to Magento 2. This is where Magento developers would most likely come in handy.
10 Steps for Magento 1 to Magento 2 Migration
As mentioned, Magento 2 migration is a process divided into ten major steps. Let's investigate each of them in more detail.
Step 1: Extensions analysis
Begin by analyzing M1 modules, as they are incompatible with Magento 2. Are all of the extensions you've built on your store really necessary? You might also discover some plugins that you don't need anymore. After you've done your research, make a list of all the extra features that Magento 2 doesn't come out of the box.
Step 2: Database replication
Build a replica of your M2 database during this stage. This data can have data redundancy in the event of data migration problems. This data would also be used to create the new online store's raw data.
Step 3: Data migration
It's time to switch all of your data over to your new shop. The Magento Data Migration Tool is used to complete this stage. Only keep in mind that admin privileges, media files, and technical customizations will not be migrated.
Step 4: Change the migrated data
This is an optional move that is dependent on your product catalog decision. You can skip this step if you want a new store with the exact same catalog. Otherwise, you can change the rationale behind your product catalog, add new sales rules, and make other required adjustments. This is a totally manual method that requires a detailed understanding of the platform and its architect.
Step 5: Transfer theme and images
The conversion of a design from Magento 1 to Magento 2 takes almost the same amount of time as creating a new design. Consider this a wonderful time to make all of the visual improvements to the style you've always wanted. Create your store using the most updated industry standards and best practices.
Step 6: Find new extensions
You might need to find alternatives for already used extensions or even develop a new extension from scratch if your store relies on some specific extensions that are not available for M2.
Step 7: Testing and quality assurance
You should have a completely working new website at this point in the Magento 2 migration process. QA developers must be involved because they must review every feature and perform cross-browser and cross-device testing to ensure that everything works as it should. If any issues are identified, they are forwarded to developers for improvement.
Step 8: Incremental data transfer
Since your Magento 1 store was operational during the Magento 1 to Magento 2 migration, you must migrate all new data produced during that time.
Step 9: Magento 2 store launch
Check the layout of URLs to avoid SEO issues, activate payment gateways, and perform final testing on the live domain before launching your store. Congratulations, your Magento 1 store has been successfully migrated.
Step 10: Ongoing development and support
The work on your website doesn't end until you've completed the Magento 2 migration. Collect customer reviews on a regular basis and use the information to improve your website's UX, UI, and functionality. The development of an eCommerce website is a continuous process that lasts as long as your site is up and running.
Key Pitfalls of Magento 2 Migration
When someone with little experience with the platform performs Magento 2 migration, things don't always go as planned. You can experience a slew of issues after migrating your store. The best alternative is to hire a professional eCommerce website development company to handle it for you. Otherwise, you might experience any or all of the issues mentioned below.
Database loss
The most critical stage is data migration from Magento 1 to Magento 2. Even a slight blunder can result in data loss or failure. You might find yourself without details about clients, goods, sales, and other items after migrating to Magento 2. Make a copy of your database so you can restore it in the event of an emergency.
SEO damage
The architectures of Magento 1 and Magento 2 are vastly different. If the migration process goes awry, your store can face serious issues. Duplicate content, an incorrect canonical URL, modified URLs, broken links, and other issues can wreak havoc on your store's SERP rankings.
No timeline
If you want to work with a freelance Magento developer or a company, you will find yourself in the middle of migration with no clear end in sight. Magento 2 migration takes about 3 months on average. The process can take up to 6 months, depending on the number of customizations.
Before the migration begins, professional Magento development firms have an outline of all the tasks that must be completed as well as a timeline as part of their Magento 2 migration services. This way, you'll know how long it'll take and can plan other activities for a new store's launch, such as sales, publicity, SMM paid advertising, and so on.

[Also read: Tips for Magento Ecommerce Development – How to Improve Your Online Magento Store for Better Sales?]
Slow M1 store
Your Magento 1 website's overall speed can be affected by the migration process. However, such issues only impact M1 stores, which suffer from poor performance and other problems. You won't notice any variations in the speed of your store if it was designed professionally.
In any case, it's a good idea to inform the customers about the migration process and alert them about any potential inconveniences. You can also mention that you'll be launching a new website that will have a better customer experience, and you can pique their interest by showing them sneak peeks at the new store design.
Magento 1 to Magento 2 Migration Cost and Timeline
The cost of migrating to Magento 2 is highly dependent on the complexity of your store, as well as the number of features, products, extensions, and customizations installed. Each of these factors has a significant impact on how much time Magento ecommerce developers devote to your store.
Let's take a look at the various stages of Magento 2 migration and the timeframes needed for each.
Based on the above timeline, a Magento 1 to Magento 2 migration cost estimate can be made, with an average development cost of $25-$150 per hour. The final cost is determined by the place that you choose to outsource the development process and the vendor level you decide. 
Thus, it's possible to calculate the development cost for a small, medium, and a large store with an average hourly development rate of $50.
$4,000-7,000 for a small website
$8,000-15,000 for a medium website
$20,000+ for a large website
The overall migration time is often unique for each project and is determined by the scope of work. The amount of time it takes to migrate Magento 1 to Magento 2 depends on the number of custom modules and custom code you have, whether you want to build a new custom design, slightly update an existing one, or create a design based on a ready-made theme, the location you outsource migration to, and other factors.
Final Words: Why Pursue Magento 1 to Magento 2 Migration
Magento 2 migration is a sensible move for online retailers that want to keep their stores and customers secure. Companies are running out of time as the M1 End of Life approaches.
Here is your plan of action for the Magento 2 upgrade:
Choose the best Magento 2 migration service provider. Choose an eCommerce website development company with experience, a track record of success, and a portfolio.
Take a look at the hourly development rates. Find the best value for your money.
Create a migration strategy. Determine migration extensions and receive a strict timetable.
Stay updated on the migration process. Participate in the process, offer input, and share knowledge in order to produce the best results.
Launch and market your new store.