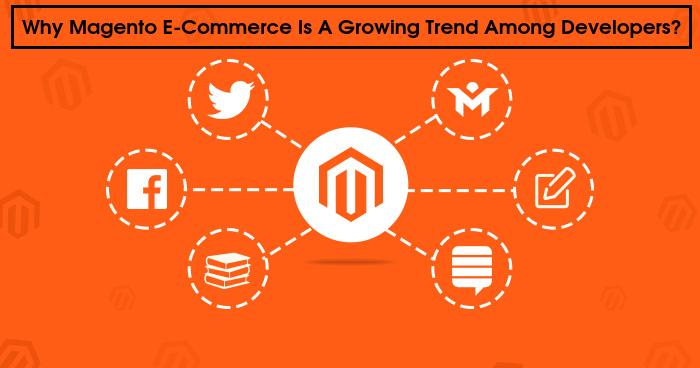 Nowadays, startup e-commerce retailers are facing huge issues in maintaining the standard set by big brands like Amazon, Flipkart, Walmart, and eBay. With the availability of the latest tools and technology like magento 2 migration, the competition in the e-commerce sector is soaring at a rapid speed. Whether you own a small or large scale business, establishing your brand presence is one of the most challenging tasks faced by entrepreneurs. In such a case, the development of a web store or your e-commerce portal on some reliable, cost-effective and user-friendly framework will not only increase conversions but also improves customer engagement for your business. Today, a lot of startups make use of Magento 2 development service due to its abundant benefits.
Despite being an open source, Magento e-commerce development has a lot more to offer for the success of your business. Let's find out why Magento is one of the most approached platforms for e-commerce app development.
What Makes Magento One Of The Most Approached Platforms For Ecommerce Development?
1. Enticing and Striking Features:
Magento includes a wide range of features like advanced search, layered navigation, product comparison, multi-store feature, and a lot more. These features not only help you to increase customer satisfaction but also helps you to deliver the best User experience.
2. Multi-Store Management:
Magento helps you to manage different stores from the single administrative panel. Moreover, it also allows you to set up each store with a unique product catalog.
3. Multi-language and Currency Support:
Magento supports multiple languages and currencies that help you to target a wide range of audiences.
4. SEO Edge:
Magento contains various SEO tools that help you to manage page traffic, landing page, indexing, and duplicate content. Moreover, it also helps to identify and fix various SEO errors and thus helps you to maintain your website visibility in the eyes of search engines.
5. Mobile Optimized:
As a majority of online shopping is conducted by mobile, it is quite inevitable for merchants to choose a platform that offers mobile-friendly configurations. Magento is one such shopping cart solution that is seamlessly visible on all mobile devices.
What Makes Magento Standout in the E-commerce Market?
1. Magento v/s WordPress:
• Though WordPress allows you to add multiple plugins still you cannot deny the fact that WordPress was intended to develop as a blogging platform.
• If you wish to go for customization as per client's business needs and demands, Magento e-commerce development service is the best solution.
2. Magento v/s Shopify:
• Shopify offers merely 200 templates while Magento offers hundreds of extensions and templates.
• Additionally, Magento provides you with a wide range of extension and customization options which is hard to find in Shopify.
• If you are looking for a small scale e-commerce site for a shorter time frame Shopify is the solution and if you want to build a robust and scalable solution, custom Magento development is the solution.
Which Are Some Of The Good Magento Extensions For Your E-Commerce Startup Store?
As Magento provides a wide range of extensions to integrate into the business website, below is the list of some extensions that you can use to expand your website features.
1. Social Login Extensions:
It allows users to log in through various social media accounts.
2. Check out Extension:
It optimizes and boosts your Magento store up to 90%.
3. Reward Point Extension:
By arranging various reward programs, it boosts customer satisfaction and increases the user base by 25%.
Well, every e-commerce platform has its own advantages and limitations. All you need to do is consider your business requirements and priorities while choosing the best development platform. Planning to start your own e-commerce store? Want to hire Magento 2 developers Just drop us your requirements and we will get back to you soon. Contact us now for Ecommerce Development.