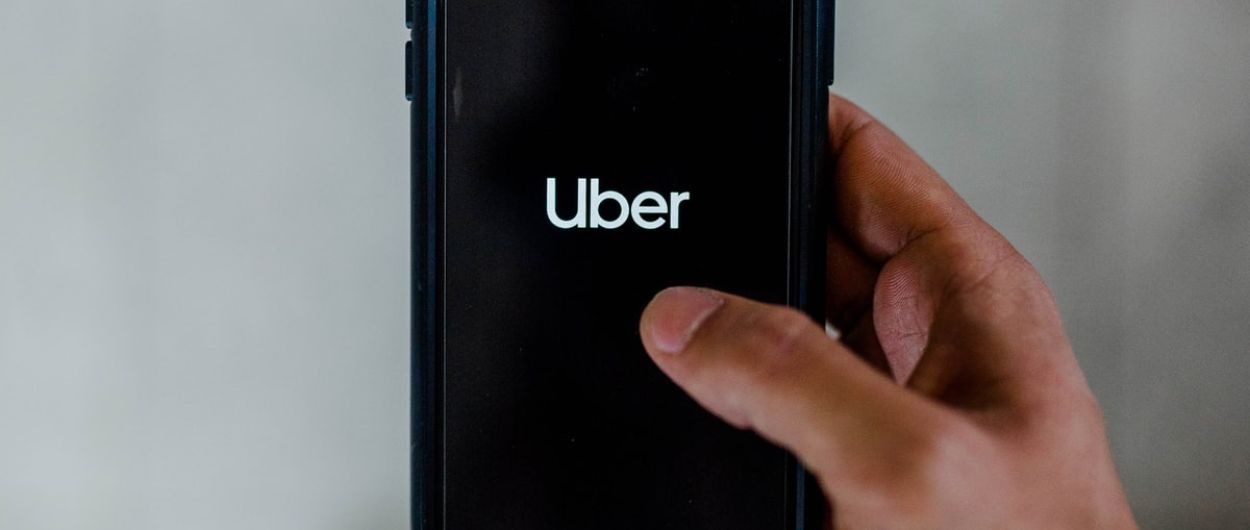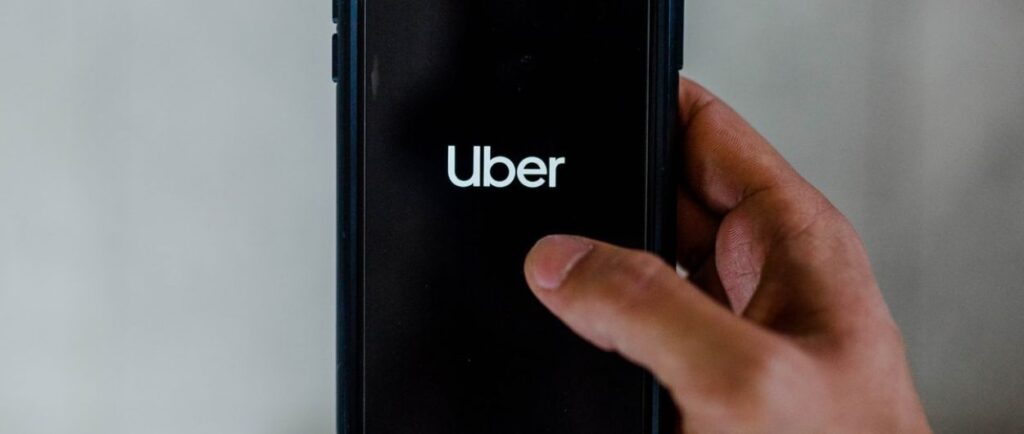 Uber is revolutionizing our journeys. This rideshare app connects passengers to drivers by simply clicking and automatically charging the driver's account. No money can be traded. Uber offers more comfortable travel options than traditional taxicabs. Plus, drivers can earn some money from driving cars. Uber operates very efficiently. The network connects drivers to riders and takes up 2% of all transactions. 
Uber Technologies, Inc. provides services like peer-to-peer ridesharing, hailing an Uber ride with your phone, renting bikes & cars, and ordering food for delivery. It's based on the On-demand app development model.
Uber is best known for its ridesharing service and has changed the way people use transportation in general. Before Uber, it used to be difficult for people to find a cab when they needed it; however, now they can order one with a click.
Isn't it awesome that we live in a world where we can get a ride home from our phone whenever we need one?
Uber has announced that they are expanding their service line to include Uber Air, which will allow for on-demand helicopter flights. 
We now know that Uber is up against a slew of rivals in the same area. So, how can we know which option is the best? 
We've compiled legitimate Uber statistics for 2021 to demonstrate Uber's ever-increasing popularity and demand.
Uber Statistics – Uber Facts, Stats, Trends & Data (2023)
1. Uber generated $11.1 billion in net annual revenue in 2020
According to the Uber 2020-2021 report, they generated $11.1 billion in revenue in 2020- a 21% decrease from last year. The reason for this drop is because of the coronavirus pandemic shutting down their operations for most of the year. In 2019, the company made $14.14 billion.
2. The company completes an average of 1.44 billion trips each quarter
Uber completes 1.44 billion trips per quarter. However, according to our aggregated data, the number of Uber trips has decreased by 24.21 % since 2020. The pandemic could be one reason for this decrease in travel.
3. Gross bookings for 2020 were $57 billion
The Gross bookings for Uber in 2020 were noted to be $12 57 billion, a decrease from $65 billion in 2019. 
4. Uber is currently worth $46 billion
As of April 2020, Uber was valued at around $46 billion.
This figure illustrates the quick yet steady growth of Uber's ride-sharing and ride-hailing services.
Over the past few years, Uber's market share has changed every year. As of June 2021, 68% of Americans use Uber, while its second-biggest competitor Lyft has 32%.
Many drivers work for both Uber and Lyft, so it isn't accurate to estimate market share.
6. Uber Eats generated $4.8 billion in revenue in 2018
As per the latest statistics, UberEats was started in 2014 and has since generated $4.8 billion in 2020. That's up 152% from 2018.
7. Uber has a top-rated service that works across the world.
Recent Uber stats show that the company has 93 million monthly active users worldwide. With Uber's continuous expansion to new countries, this number will eventually grow even more.
8. Uber is one of the world's largest car-hailing companies and has 3.9 million drivers on its platform.
Uber has 3.9 million drivers globally, and due to the pay, benefits, & opportunities they provide- more people are registering with Uber every day. 
9. Uber is currently available in 71 countries and in 890 cities worldwide.
If we were to ask you the number of countries where Uber operates, we would tell you that Uber has now been deployed in 79 countries worldwide. Of course, being an internationally respected service provider, we can be sure this will expand to other countries. 
10. The average cost for a 5.5-mile ride with Uber is less than its competitors in five states.
As you can see in the graph above, the margin of Uber estimates is cheaper for most trips and significantly less expensive than other services in some cities.
Keep in mind that this information is only relevant to UberX, which is cheaper than other options like Uber Black. All other Uber services offer a more expensive service than UberX, which is the least expensive transport option of them all.
We can see from this map that Boston, Chicago, Dallas, Los Angeles are all between $5-20 per ride. But in NY, the cost is at $30, with competitors also being at that level.
One reason why Uber has been so successful is that it offers better services than the competition and at a cheaper rate.
11. Uber has a large app that was downloaded 95 million times in 2020
The Uber app was downloaded 95 million times in 2020, and it seems like this number will keep on increasing. Lyft, on the other hand, has only been downloaded 25 million times.
12. Uber Eats, the most popular food delivery app in the US
UberEats is the most popular food delivery service in the United States, according to a source published in April 2021. In Miami, Uber Eats account for 55% of all food delivered and is greater than the share of other meal delivery services.
13. Uber's workforce consists of 40.9% females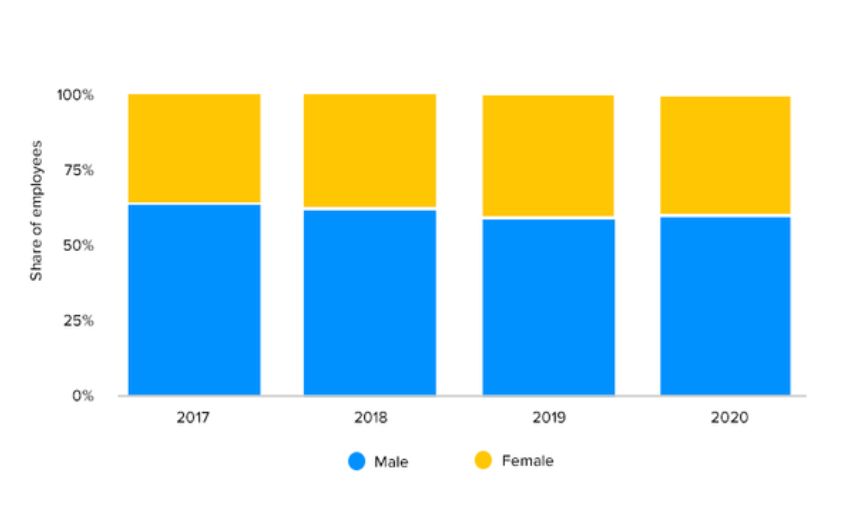 According to Statista, Uber has been increasing the gender diversity of its workforce. Of all employees, 59.3% are male, and 40.9% are female. The above figures only refer to staff employed directly by Uber and do not include drivers.
This increase in the percentage is due to Uber being inclusive of both genders. This proves that opportunities are being made available for everyone.
14. Of all Uber drivers, 27% are female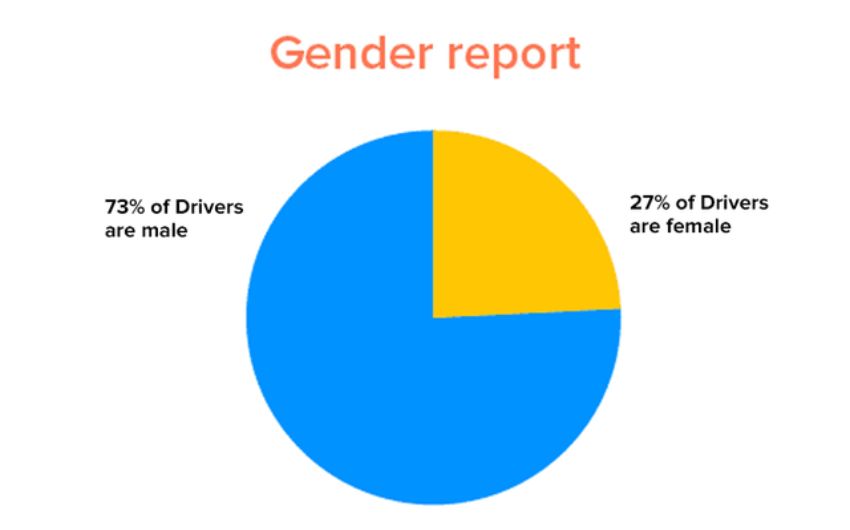 An analysis of Uber data has shown that 27% of drivers are female instead of the 17% figure for employees. Though it may not seem like much, Uber is an opportunity for all genders. It's currently available to everyone and will continue to be available in the future.
15. Each day, 18.7 million Uber trips are completed globally
Uber is present globally, which means that many people worldwide use it. This is because it provides a very simple and efficient service. Uber already has more than 18 million daily trips, and its annual revenue is huge. Out of all ridesharing apps, Uber is the most successful one.
16. 58.7% of drivers use Uber exclusively while driving
Uber is a company that is about giving people rides and giving drivers a chance to make money. They need to listen to the needs of both customers and drivers for their business model and revenue source to be successful. A recent study has found that 58.7% of drivers in the US prefer Uber over other services. This is because Uber has made significant steps in understanding and addressing their needs.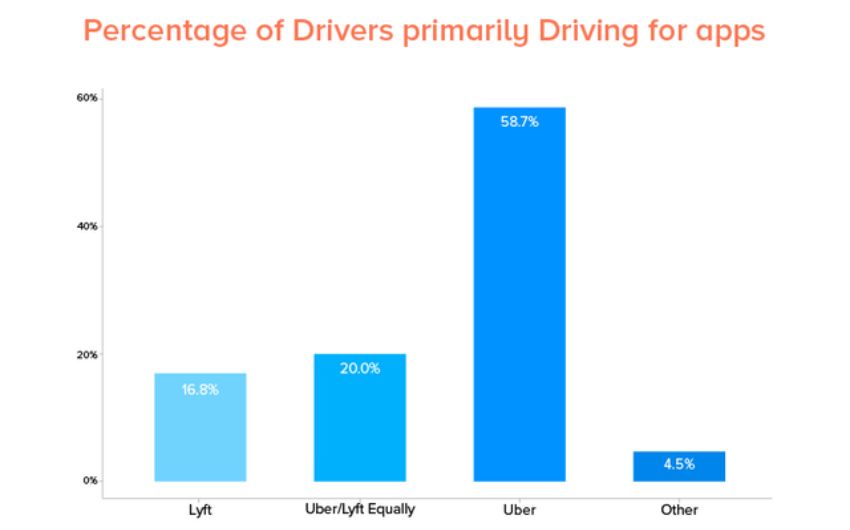 17. 46% of drivers at Uber have been driving for less than 1 year
46% of Uber drivers have been with the company for less than a year, demonstrating the high demand for this type of work.
18. 11% of Uber drivers have been there for more than 3 years
The average Uber driver joins the workforce after three years.
19. Uber drivers earned $600 million in tips during the first six months of 2018
Driver tips have increased by 600 million dollars since the addition of this tipping feature. So it's clear that it's working out for drivers.
Uber passengers have been very generous, giving a lot of money to drivers for their services. This is because more and more people have started tipping them. 
What aspects of Uber's business model can you apply to your own app?
Get in touch with us today!
20. Uber drivers come from all different age ranges
Uber driver demographic ranges from 18 to 61+ years. The average hourly earnings rate may vary depending on many conditions. Our conversation here is not to dismiss this reality but rather to address the standard rate.
21. The average hourly wage for 18-30-year-old Uber drivers is $17.98
It is clear from the graph below that drivers in the age group 18-30 earn the most, amounting to $17.98 per hour, followed by those in the 31-40 age group at $17.17 p/h. The median 40-49 age group earns $16.45 per hour. The drivers that are of the age of 61+ make an average of $14.57 per hour. Uber continues to grow in popularity, which means the revenue is also increasing.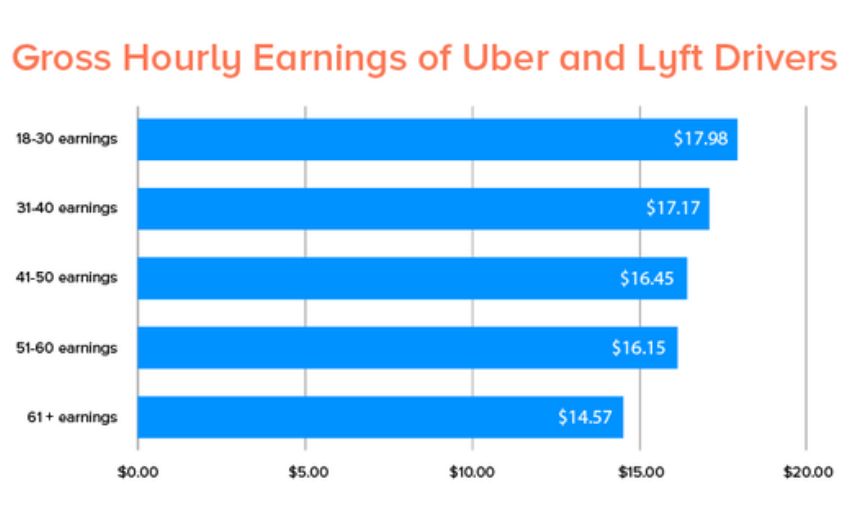 23. Uber processes 22% of its gross mobility bookings in just 5 metropolitan areas
Uber is quite popular in 5 metropolitan areas: Chicago, Los Angeles, New York City, São Paulo, and London. They deal with 22% of their gross mobility booking in these cities alone. In 2020 these five markets made up a total of $5.85 billion in bookings.
24. Uber users are expected to reach 539 billion by 2021
As per Uber user statistics, demand for Uber is likely to reach 539 billion by the year 2021. This increase in demand is being accounted for by its growing customer demographics.
25. Uber Eats gross bookings surpassed $30 billion
According to the latest reports, Uber Eats gross bookings reached more than $30 billion in 2020. The information in the statistic gives evidence to the statement that UberEats will continue to grow in popularity in the coming years.
26. Uber has the backing of 63% of US citizens
Uber's 2021 US market demographics show that 63% of their customers exclusively use Uber. 27% of consumers only use Lyft, and 10% of US customers use both Uber and Lyft.
27. The most forgotten item during an Uber ride is the Phone
When people use Uber, their most forgotten item is often a phone! However, they have many different ways of solving this problem because it's crucial to keep customer trust high.
28. The average cost of an Uber is $1 per mile across the world
On average, Uber charges approx. $1 for every thousand miles. This is the standard rate and applies to countries where Uber operates. On observing, this price is low when compared to Uber's competitors.
29. 8% of online adults use Uber at least once a month.
It is noted that 8% of the online adult demographic use Uber at least once a month. Usage statistics for on-demand transportation services from Uber show that demand has increased annually. There's never been a better time to get an Uber.
30. Uber currently has 26,900 employees
Uber is the largest tech company to date, with around 27,000 employees. As Uber's popularity and profit continue to grow, their percentage of passengers is too. Eventually, the statistic will likely rise.
31. Toyota invested $500 million in Uber
You may have heard that Toyota invested $500 million into Uber, the new way of getting around town.
32. 25% of Americans use Uber at least once a month
Now that the US is the home country of Uber, many users have a strong preference for their service. This is why there are so many users of Uber, to the point that 25% of Americans use it once a month or more.
33. Uber Freights made $359 million in gross bookings in 2018
Uber Freight's total gross revenue is estimated at US$359 million, and this number will most likely increase as the service becomes more popular.
34. 84.8% of Uber drivers are over the age of 41
After inspecting the Uber driver statistics mentioned above, we all know that Uber drivers are very diverse regarding demographics. Furthermore, 84.8% of drivers are aged 41+, which means many people depend on Uber for their livelihoods.