Talking About Why Give MEAN Stack A Shot For Your Next Web/Mobile App Development? In the world surrounded by cutting-edge technologies, web app development is far more than the word "modern". Batching multiple web technologies together to develop a top-notch and elegant web application is a common phenomenon adopted by developers to gain prominence in the web development. One such web stack named LAMP is a combination of four power packed technologies that help developers to build a powerful and performance oriented web application. But over years, the emergence of more sophisticated technology allows enterprise to focus on solving business-oriented problems.
It was only a few years ago that wordpress development services, MongoDB, Express.js, AngularJS, and Node.js has started gaining traction in the market. Now they have developed and ganged up, and together they are doing an amazing job that is stealing a huge number of web app developers from the loyal LAMP camp? But how exactly does mean stack up against LAMP? When would it be a wise decision to choose JavaScript-centric technologies against a conventional LAMP?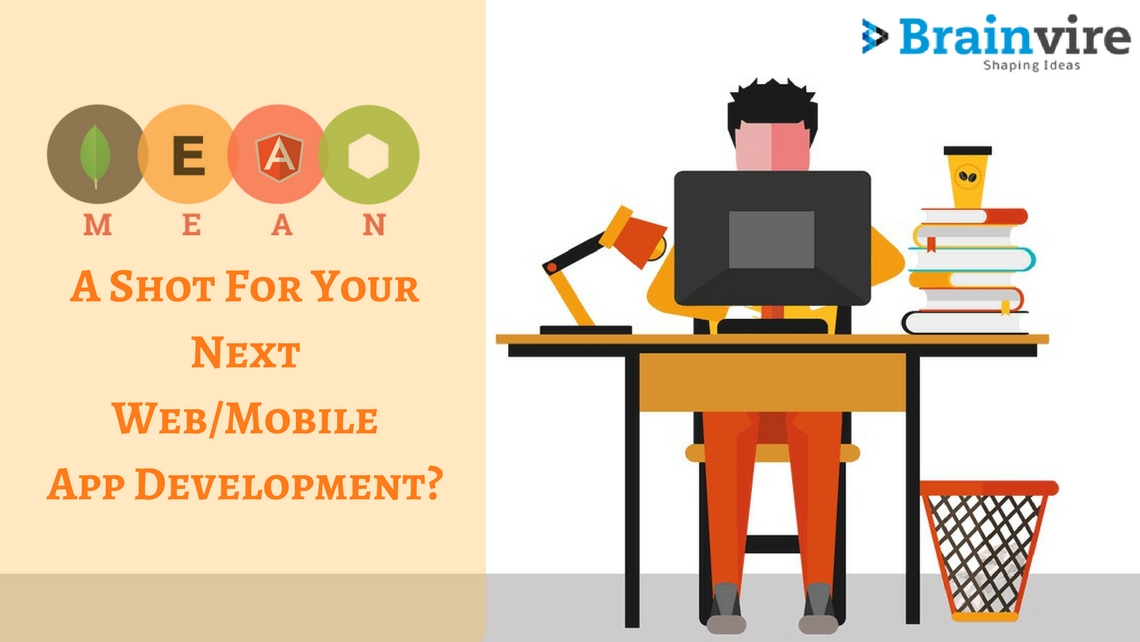 The answer is when simplicity and flexible structure streamlines the development process. MongoDB offers a flexible data storage layer while Node.js leverages strong connection to run your servers. On the other hand, Express.JS helps to standardize your website while on the client side, AngularJS offers a clean way to add interactive and Ajax-driven functions and components. Bundling them all together forms a clean and cohesive mechanism for moving data from user to disk in fractions of seconds. Though MEAN's fast, scalable, and robust architecture is mature enough to handle enterprise demands, still you have doubts?
If it is yes, scroll down a little to get the answers.
Why Is Mean Ahead As Compared To Other Frameworks?
The power of these four technologies can enable a full-stack JavaScript framework for rapid web application development. Below pointers will showcase how MEAN can prove to be the best decision for your next project.
As JavaScript is the common denominator amongst all the four technologies, the most important features can be covered across any code which makes it quite easy to switch between client and server.
Mean Stack is irresistibly amazing. It is compatible with every operating system running under Node.JS, which includes macOS, MS Windows, and Linux.
What's more exciting than building a high-performing real-time application using JavaScript! Yes, Node.JS has a lot to offer to build a highly scalable and integrated real-time web applications due to pushing technology over web sockets.
Mean also includes a non-relational database named MongoDB in its stack, which not only executes queries in a faster way but also helps to retrieve results quite swiftly and efficiently.
Also read more about our Node js development services 
Mean Stack Development – Best Suited For Real-Time App Development!
Talking About Why Give MEAN Stack A Shot For Your Next Web/Mobile App Development? There are multiple companies that move forward with Mean Web Development without conducting proper market research. They simply believe it because as Mean Stack is gaining strong traction in the market, it will be a great choice to empower the next project. But, that's wrong! If you are involved in a business where real-time updates are inevitable, Mean Stack development is the best thing to go with.
According to leading research, chat applications like WhatsApp, Snapchat, and Line hold strong records for real-time updates. Some other domains like healthcare, trading, video streaming are the areas where real-time updates are irresistible. So, if you are targeting such applications where real-time updates and information is the need of an hour, you can go with app/web development backed by the Mean stack.
How Will Mean Stack App/Web Development

Add Value To Your Business?
One of the most common reasons why an enterprise fails to succeed with their business mobile app is – The application built is nothing but the updated versions of their website. They fail to study how building a mobile app would change customers approach to interact with their brand. As a result, no added value is offered to the business and their strategy to get more conversions by drawing users through mobile app medium literally fails.
This is why you need to be sure about the outcomes of the solution before you begin with the development of web/mobile app. If your goal is to leverage high-performing, scalable, and agile business application that not only promotes your business products or services but leverage customers with the swift result and best user experience, Mean Stack will be the best option to go with.
Leading Examples Of Successful Businesses Using Mean Stack To Carry Out Smoother Experience!
Some of the leading business brands making effective use of Mean Stack to leverage a smoother experience are:
• PayPal • UBER • Yahoo • Netflix • LinkedIn
Want To Hire Best Mean Stack Developers For Your Next Project?
Talking About Why Give MEAN Stack A Shot For Your Next Web/Mobile App Development? Planning to power your next web/mobile application with Mean Stack? If yes, then what are you waiting for? Take a chance and go ahead with the development!
Hire Mean Stack developers, then Brainvire is the best mean stack development company with an excellent choice to address your needs. Drop us your lines on info@brainvire.com and our team will get in touch with you soon. Contact us now.