Mobile POS has revolutionized the transaction system in the global retail market. The mPOS business values in billion dollars and will climb many folds soon.
So why are retailers so adherent to the technology? The answer would be better sales. Every retailer wants customers to be happy with the services and even bring more.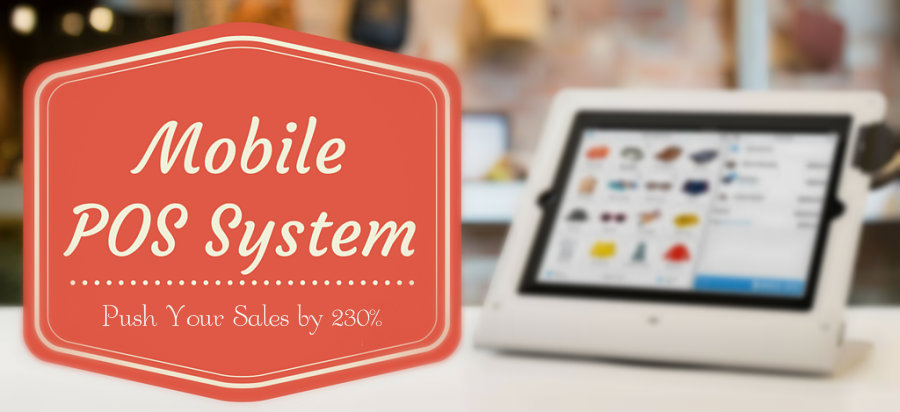 Let's see how mPOS can help better your sales stats.
Mobile POS is easy, flexible, and secure
The technology is so much smooth and spontaneous. What can win you more customers is the ease, efficiency, and security of your services. That is what mPOS is all about.
mPOS uses EMV technology. If retailer machine doesn't support EMV, he is responsible for security breaches. With rising number of cyber frauds, security is the prime concern for the buyers.
Another plus with the technology is its flexibility. A handheld device usable whenever and wherever required. Would you not want that? You also can easily modify email templates, alter product info and prices, and even track your sales.
Mobile POS gives the shoppers a liberty to use an ample range of digital cards. They love to pay from their easy buy credit cards. This elevates the volume of your sales by a large margin. With adapting the Mobile POS technology, you give your sales team a chance to work better on customer services.
Although mPOS proximity payments add up merely 0.01 percent of 2012's total retail point-of-sale volume, mobile devices have transformed the in-store shopping experience for forever, acting as both a channel and payment option for purchasing. It's projected that over the span of upcoming six years, a massive industry-wide force for mobile technology will aid boost mobile payments to tremendous growth and will allow mPOS proximity payments climb up to $5.4 billion by the year 2018.
As per Grand View Research's reports, the Global Mobile POS Terminals Market is projected to reach US$42.99 billion by the year 2022.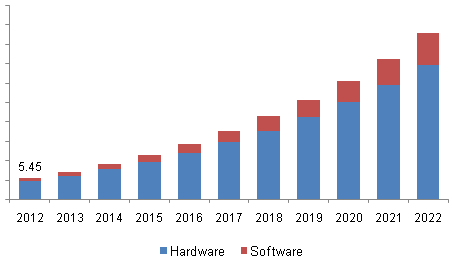 Global mobile POS terminals market by component, 2012 - 2022
You can monetize increased sales at lesser costs
Another huge advantage of using Mobile POS is its potential to raise your sales many folds along with cutting costs for you. Conventional checkouts do not promote consumer relationships and are even expensive.
A retailer would spend around $20,000 to get five stationary registers while he can get 5 POS devices for just $2,500. Also, traditional checkout counters take a lot of your space. The more stores a retailer has, the more space he wastes and the less profit he makes. Reports state that using Mobile POS can get you 25 percent higher sales per customer.
More consultative sales
Getting mPOS checkout counters in your store lets your sales team be free for other operations. Standing in a queue to pay, a customer has much time to change his mind or act against some of his purchases.
With mPOS, you provide quick service, and even your salespeople are free to confront the customers. They can leverage via cross-selling, upselling, recommending, answering queries, and price comparisons. You can also showcase your inventory even what's not currently available in the store but is online.
Mobile POS also lets you get more out of your marketing. You can present your advertisements, take customer inputs in iPad wall mounts or even launch other promotional campaigns.
Mobile POS produces better customer service
Mobile POS can just change the face of your customer service. It also makes easy out of stock product orders, custom orders, line busting, and assisted buying. Better customer involvement in checkout process gives them a way to store inventories, and you can run different handouts among them. You also get to cut down your labor density.
Enclosed checkout junctions reduce the threat of device damages, and you don't have to keep an eye on your customers. Customers also feel free to fill feedback or other forms with honesty when unsupervised. They then can check themselves out and track their gift card status or may sign up for your programs.
It's your competitive lead
You are not the only store around, and people have many choices. So why would someone come up to you? You will have to stand apart to make that possible. In this cutthroat, competition customers migrate to the one that provides a better sense of satisfaction, convenience, and security. Mobile POS is the technology you need to achieve this height of customer service.
Along with providing quick on the go checkouts mPOS benefits you with other value added services as well. This technology is your way of being ahead of your peers.
Wrapping up
So Mobile POS is inevitable in current retail business. You cannot ignore it, but you will love to embrace it.