Brainvire's latest customer engagement settles us in a collaboration with one of the global leaders in the acquisition and trading of used machinery, assembling equipment, and other integrated manufacturing facilities. Our latest client is one of the major players in the market, renowned to maintain stockpiles of over 1000 recent-made machine tools at any given time.
The client specializes in acquiring all sorts of industrial machinery, industrial real estate and even purchasing entire facilities. With an aim to ease business operations for manufacturing companies, the industrialist focuses its core operations on offering competent solutions, to help businesses downsize operations. With an array of solutions and used machinery from various industries at competitive prices, the client has gained expertise in warehousing services.
Hurdles in the Operation
The client was in need of a solution that not only reduces their costs but also enhances the speed of their operations. On further inquiry, we learn that the entire data set from their end was present over an on-premise solution. Because of which they had to incur more cost for maintaining the on-premise solution. Our first suggestion to them was to migrate to a cloud platform.
The first question was which variant of cloud computing is best suitable for the industrialist? Is it the public variant delivered through the internet and shared across organizations? Or, the private cloud that is solely dedicated to the client's organization? Another choice was the hybrid cloud that uses both public and private clouds.

So the client decided to go with the public cloud as it is more cost-effective as compared to the other variants.
The next question was which cloud service to opt for? The options available to the global leader were Azure, AWS, and Google Cloud.  As all the internal applications present in their operations were already based on ASP.NET or any other Microsoft partner services. This familiarity with Microsoft fueled their decision to stick with the family and opt for Azure Cloud services.
Brainvire Cloud Expert's Recommendation
Initially, the client reached us for Customer Relationship Management software. Looking at their base of operations that were majorly backed by Windows systems, our team of experts decided to create a CRM solution using ASP.NET development. Together, with an experienced team and a cooperative client, Brainvire was able to engineer a solution that helped our client discover new and potential markets while retaining and enhancing business relations with existing customers.
However, the CRM solution was initially hosted on-premise, pushing our latest collaboration with a few minute drawbacks, such as lack of control and visibility of data. On the other hand, the client also experienced a hefty cost of incurring operations.
Here comes the second stage of our development, where due to repetitive hurdles, the client ultimately decided that the fan has hit the ceiling. The next step, migration to cloud services. Brainvire's next collaboration resulted in the integration of cloud services that would ensure easy scalability and remote accessibility while keeping up with seamless business processes. Since these were just the qualities and capabilities the client needed, here was our second successful collaboration to help the market leader in growing and running its operations smoothly.
Under our expertise, you are less likely to face issues like video playback was aborted, improper play video stream type, or playback was aborted due to an unknown issue on the Cloud.
Our Azure migrate experts can offer an-all inclusive Microsoft Azure community support required for your company.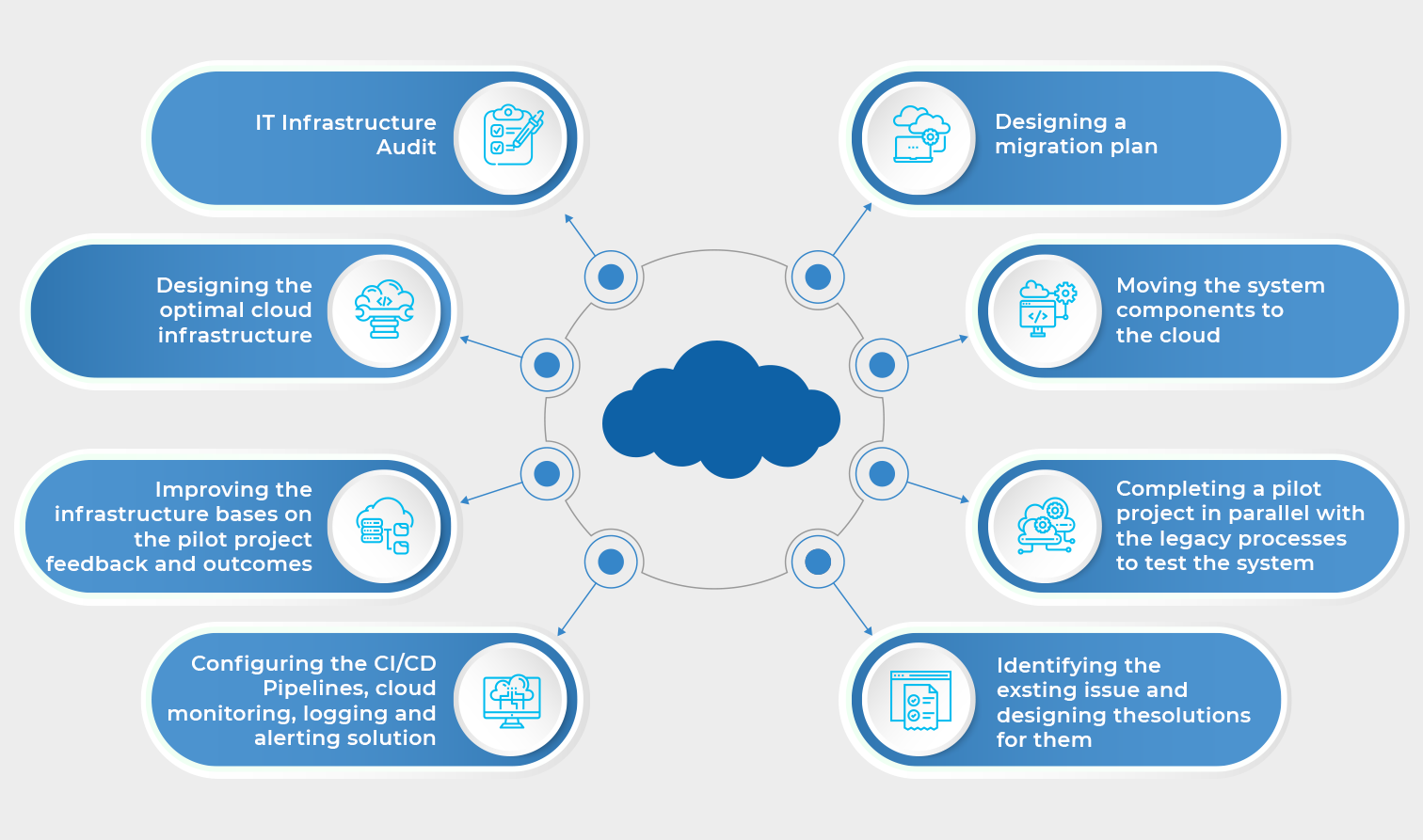 However, over time, the cloud interface started assembling tons of unwanted junk files, occupying a lot of space over the cloud. This resulted in the increase of unwanted and unnecessary files, leading to increased server payments by the clients. Since the operator knew they could cut on such overhead expenses, they reached out to Brainvire for our third collaboration.
The results? A cloud cost optimization process, where Brainvire identified the mismanaged resources, recalibrating computer services to scale, and minimizing wastage of the storage.
All About The Complexities
As the client was facing various problems with their existing on-premise solution. The solution often ran out of space, and the maintenance was very costly compared to the cloud solution. The team addressed all the complexities competently, and these issues are listed below:
Batch Processing for Data: The web application is used by various departments such as sales, accounts, marketing, HR, and manufacturing. This meant that every department needed a different type of reporting format based on their requirements.
Solution by Brainvire: Cloud consultants optimized the search query formats to fetch the results much faster. An efficient reporting module was developed that represents data in a graphical format. Moreover, a custom report design tool was integrated into the system, allowing technical users to create new reports for their end-users.

Migrating CRM to Cloud: Our client needed a sturdy solution to simplify the management process of tasks related to CRM with the utmost accuracy.
Solution by Brainvire: We integrated the web application to facilitate seamless management of invoices, clear outstanding dues automatically, and generate sales cycles and marketing activities.

Azure Cloud Optimization: The client needed a web application as they were facing various issues with data clarity and synchronization in the existing desktop application.
Solution by Brainvire: The team at Brainvire created a new web application based on an MNC architecture. We also designed a database that facilitates seamless synchronization with both the website and the mobile app.
Our Azure migration journeys are custom-designed to ease your business environment without compromising on the security aspect.

Cloud Transformation Outcomes
Real-time Reporting in Different Formats: Brainvire's solution-centered approach to our client's business, now allows them to produce reports in several formats. Further, it also allows them to customize these reports to meet the distinctive requirements of the end-user.
Quicker Data Synchronization: Our web application now allows the client to retrieve data from a centralized database and synchronize it with both the mobile app and the web application in real-time.
Enhanced End-To-End Client Communications: Real-time view of all the data consisting of the communication between them and their customers on Outlook. The client can further use the said data to manage the inventory of the client.
Simplified Advertising on Third Party Websites: Web application that enables the client to place relevant advertisements and plan auctions on third-party applications without any complications.
Brainvire's Azure migration and Cloud services have empowered businesses to fly high irrespective of the circumstances. Our Microsoft Gold partnership plays an integral role in optimizing the Azure migration journeys for companies. 
It's time to rise high with Azure migration solutions! Get in touch with Brainvire.