Bay Alarm strives to protect its clients with industry-leading medical alert technology and backed by one of the country's most reliable, USA-based, 24-hour medical alarm emergency call centers.
The company offers different devices for residences where the elderly and aging family members can trigger an alert in case of a medical emergency. Their fall detection tools are connected to the 24/7 call center and 911 operators that will provide immediate help in case an alert has been sound. 
The enterprise provides various packages for their devices offering a mix and match of different gadgets to ensure complete connectivity. 
The biggest challenge for Bay Alarm was the scattered nature of their workforce systems where the company was using multiple tools and software for different functions. They were using Salesforce for CRM and FinancialForce for ERP to manage their accounts and finances. Moreover, they were relying on multiple excel sheets, a hybrid mobile application, and other custom solutions to take care of business affairs. For eCommerce, they were dependent on Magento along with other third-party tools for additional operations. 
"The biggest challenge for Bay Alarm Medical was its scattered system. Brainvire's Odoo consultants assisted us with a unified Odoo solution for improved scalability, workflow management, accounting, and E-Commerce functionalities," said Andy Ginjupalli, President of Bay Alarm Medical. 
Since Bay Alarm primarily functions on a subscription-based model, it was difficult for them to track recurring businesses, payments, and subscriptions with this haphazard setup. Bay Alarm primarily caters to the elderly where they install security alarm systems to ensure safety. Many times subscriptions are handled by children, grandchildren, or relatives of the primary customer. In such cases, the shipping and billing addresses are different. This required an efficient system to manage payments, installation, and customer services properly.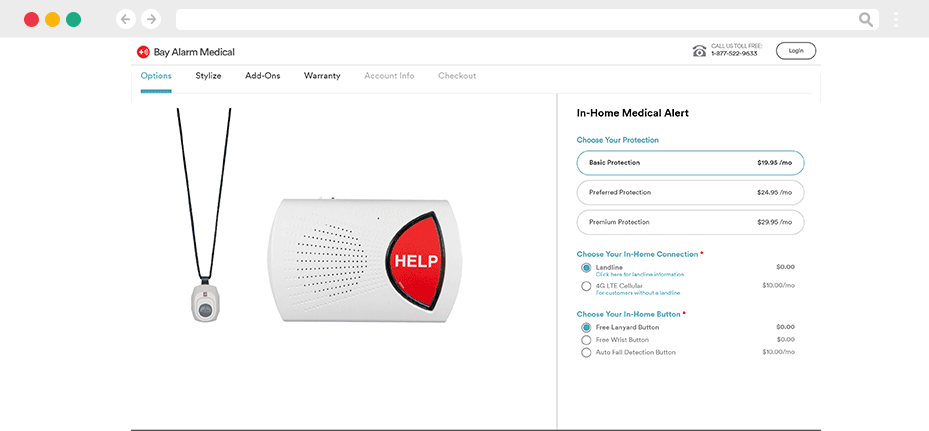 These obstacles ultimately compelled them to start searching for alternative options. That's when Bay Alarm approached Brainvire. Brainvire is an Odoo Gold Partner and offers fully tailored Odoo ERP development services for clients across industry verticals. Our team took heed of Bay Alarm's requirements and gave them multiple demonstrations for Odoo. They were quick to show them that Odoo would be the perfect platform that could sustain and manage their data easily while simultaneously proffering scope for customizations and scaling. 
Overall, it is obvious that what Bay Alarm lacked was an omnichannel experience. They were unable to offer an integrated service to customers across platforms and channels. 
In light of these difficulties, Bay Alarm finally decided to opt for Odoo. Brainvire suggested the use of the Odoo Enterprise Version. Brainvire implemented multiple modules that were fully customized to suit Bay Alarm's needs. Let's take a look at some of them-
Subscription & Workflow Management
The workflow management module in Odoo is connected to the CRM system where the system will generate leads. Once those leads are converted, Bay Alarm can generate a sales order.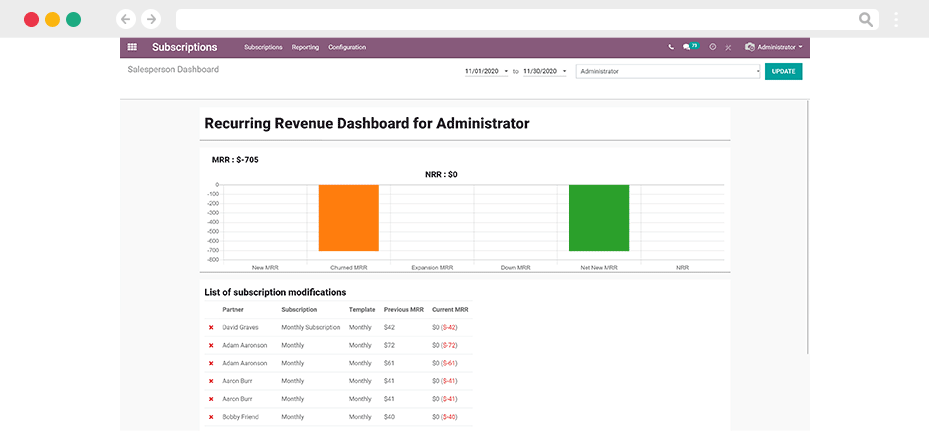 The sales and invoicing functions are directly connected to the subscription model. Leads generation and lead nurturing are other aspects where Salesforce falls short since it does not provide scope for leads tracking through visited pages along with events and blogging to communicate with those leads.
Customer and Sim Card registration
The system is further integrated with the Avant Guard to register the details of each customer and facilitate device activation or deactivation.  Jasper, a third-party application is also integrated with sim card registration. These are required to trigger the alert that will be sent to the 24/7 emergency services. 
Invoicing And Recurring Billing
Odoo wins extra brownie points when it comes to recurring business in contrast with Salesforce. The Odoo ERP system has been fitted with a high-performing recurring billing system that generates up to 1000-1500 invoices per day. This is in line with the deferred revenue system where the system will automatically calculate the total revenue and profit earned by the company after taking into account subscriptions, recurring bills, and prorated invoices. 
To ensure safe and secure payment, Odoo has been integrated with Authorize. Net and CyberSource.
Warehouse And Inventory Management
For Bay Alarm, Odoo ERP has been integrated with DHL, a third-party party inventory and warehouse management system for stock storage and deliveries. DHL will provide regular and real-time inventory updates to the Odoo system. This will keep Bay Alarm in the loop about the status of stock, orders, and deliveries to ensure smooth and transparent service. 
Mobile Application for Instant Updates
To take its digital transformation a notch higher, Bay Alarm leveraged Brainvire's expertise in the IoT domain through an advanced and user-friendly mobile application.
The app has been fitted with the latest features. It allows users to configure the security codes of Lockbox and the location of the 'Vial of Life. Parents' and elders' profile information can be managed through a dashboard and their current medical conditions can be updated regularly.
A live chat functionality enables users to get in touch with a dedicated customer support portal that operates 24/7. An e-commerce module is also a part of this app. 
Odoo ERP managed subscription services and revamped the service by adding various features like upgrade downgrade, prorated invoice, and integrated Sharpen VoIP with the system replacing Salesforce.
The user-friendly mobile application will ensure that the elderly are not left unattended during emergency medical situations. An e-commerce module is also a part of this app that simplifies the shopping of useful add-on products and services.
Conclusion
With Odoo, Bay Alarm completely transformed their subscription management and invoicing of the company.  Brainvire's Odoo ERP Consulting services will play an integral role in helping the company seamlessly transition to Odoo.
Additionally, the mobile application bridges the mobility gap for caretakers and family members as they get instant updates while on the go.