Digital formats are becoming increasingly common for media consumption around the world. Consumers now have the ability to access media content of their choosing, whether it's information, entertainment, or social activity, at any time and from any place, thanks to a rise in the number of devices capable of supporting digital media and faster internet access speeds. 
Before you read more, it is important to understand this new platform.
What is OTT?
Over-the-top platforms are streaming services where television and film content are broadcasted over the internet as per the user's request and convenience. Video streaming services on OTT platforms such as Netflix, Amazon Prime Video, and others on mobile devices is a modern practice. The main idea behind an OTT app development is to go over-the-top of existing internet services and provide content to users.
In the United States, media consumption has risen dramatically, with a massive shift from conventional to modern (digital) media. The emergence of OTT app development and digital media players such as Netflix, Hulu, Amazon Prime Video, Apple TV, Roku, and Boxee, among others, is challenging the television's long-held dominance as the primary source of entertainment.
Global Digital Media consumption is driven by Audio and Video.
The majority of this data growth can be attributed to various digital media, especially entertainment services such as video and audio. For some time now, video and audio traffic has dominated internet data consumption globally.
Is OTT at Dominance?
Audio and video content from on-demand entertainment platforms are on the verge of a breakthrough. Though the momentum for both on-demand download and streaming services of the content has just started, a very promising supply side ecosystem is emerging for streaming services with multiple players launching their digital streaming platforms.
Content providers (content aggregators, labels, and content right holders) and technology platform providers that allow the digital distribution of content are critical components of the music and video streaming ecosystem.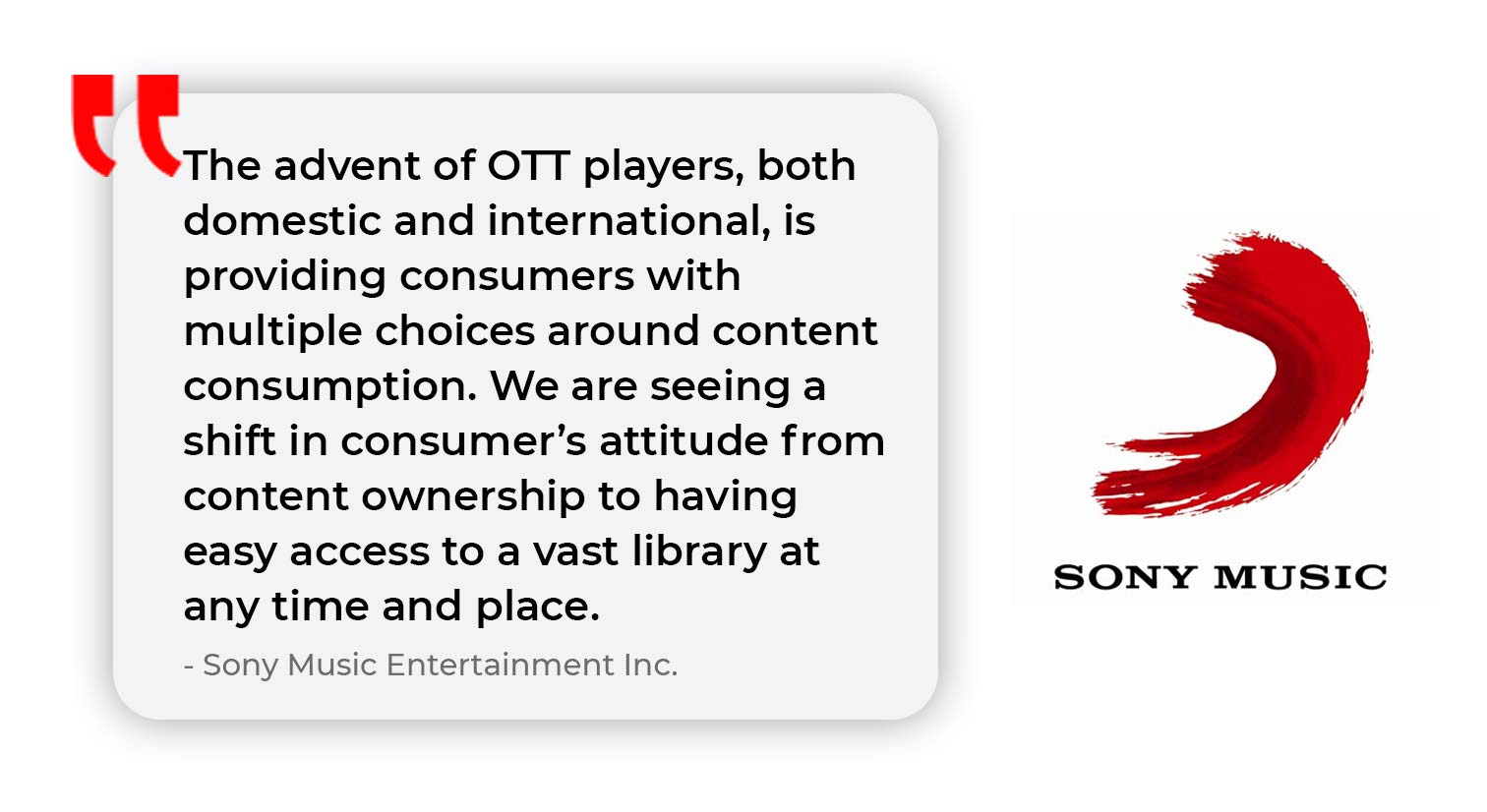 Similarly, although players invest in conventional marketing platforms to raise service awareness, there is a growing preference for social media and search engine marketing. Payment channels, processes, and ad-mediation networks are critical for service monetization. Many brands have begun to reach out to on-demand content service providers for targeted advertisements.
On-Demand Content: The Growth of Video Streaming on OTT Platform
The video industry is also undergoing a transition to digital formats. The traditional form of TV viewership is giving way to the new segment of consumers who are choosing to consume multimedia content on-demand.
Leading players on
OTT Platforms
are leveraging targeted video content and multi-screen offerings
On the internet, consumers enjoy both long and short-form videos. Movies are the most popular entertainment category, regardless of age, gender, or country, and have a high willingness to pay subscription fees. Furthermore, new video streaming content, especially recent movies, is prioritized over other types of content. 
Live Sports Streaming and Updates
on the OTT Platform
for Sports Fans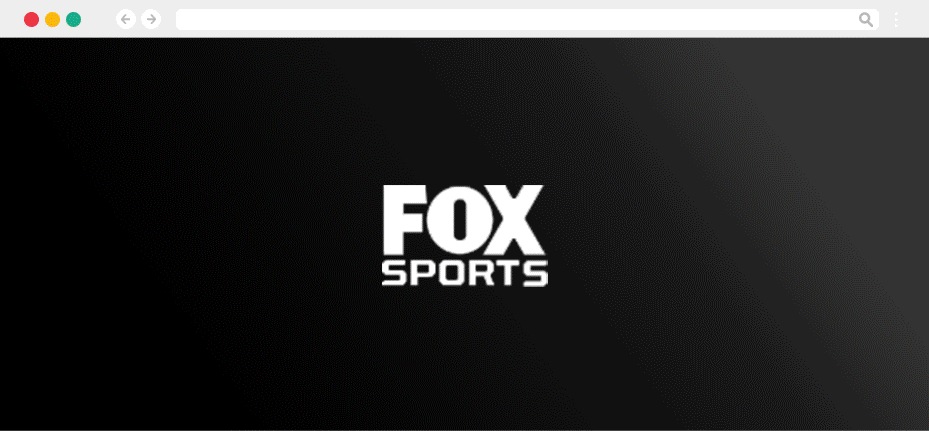 Fox Sports is a network of regional sports channels in the United States acquired by The Walt Disney Company. They approached Brainvire to enhance the viewers experience with revamping the website designs. Along with enhancing the performance, streaming services and design, we built a filter focused on live/repeat events, as well as the inclusion of a dynamic weekly calendar, to show all the live/repeat events with the time and date. The improved streaming services and eventually served the purpose of OTT app development.
Millennials have a higher rate of Online Video Consumption on OTT Platform
The popularity of online video streaming is higher among young internet users. The Digital Video subscription market is estimated to be around `35-40 billion by 2020 at a monthly ARPU of`60 with ~10% paid penetration among online video users. Further, online video services would garner around 5-7% of the overall digital ad spend by 2020.
Video On-Demand Growth and Trends
VoD was initially popular for movie viewing, evolving consumer tastes increased demand for TV shows and other content, forcing VoD service providers to broaden their services to include other content providers.
This market's growth is also influenced by the rising demand for OTT platforms. According to comSe, about 50 million households in the world have access to OTT content, which they watch at the same time of day as conventional TV viewers. The main reason behind the surge in the popularity of OTT streaming platforms is the growing demand for unlimited access to original and high-quality content.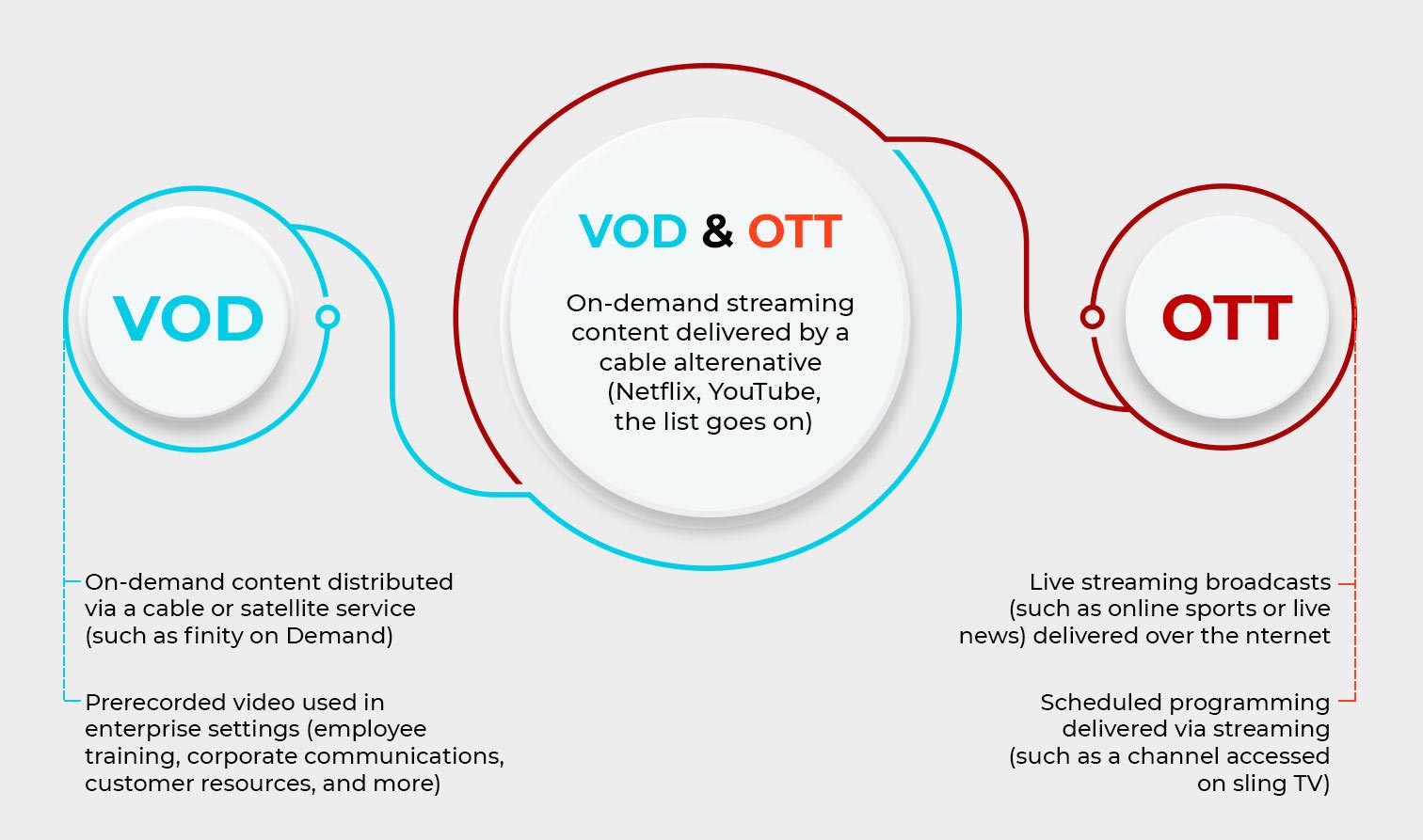 Furthermore, the expanding film and media industry, especially in countries such as the United States, China, and India, is expected to provide massive growth opportunities for market vendors. Following Netflix and Amazon Prime Video, Disney and Apple all launched streaming services in 2019 to capitalize on the market's immense potential.
The current COVID 19 pandemic has resulted in worldwide lockdowns. Because of the constraints on people's travel during the pandemic, this lockdown has had a positive effect on the video-on-demand industry, with many users around the world downloading content more and more. This has resulted in an increased demand for OTT app development across countries. According to Rapid TV News' figures, the number of global SVoD users will increase by 5% and amount to 949 million owing to the COVID-19 pandemic situation.
OTT Platform's Customer Viewing Experience Drives the Growth
The main benefit of viewing video content is that it enables many viewers to view different programs on different screens at the same time on their mobile devices. The popularity of binge-watching has improved the viewing experience for customers.
Customers can keep up to date with the modern world thanks to the widespread use of mobile devices, OTT app development, and increased internet connectivity, which eliminates the need for waiting. The need for immediate gratification is becoming a dominant force in the consumer world, with consumers increasingly turning to online channels for entertainment on devices such as smartphones, tablets, and PCs.
Sorted and Collaborated Playlist - The advanced discovery feature is Spotify facilitates customized playlists to listeners based on their location, genre, mood, trending, and relevant albums.
AI-Powered With Favorite Shows -

The AI and augmented advertisement in Hulu offers personalized content recommendations to subscribers. The user language dialog makes it convenient to predict contextual information.

Trending  and Relevant Videos -

This tech ninja offers flawless user experience to users with high-definition videos. YouTube is one of the most recommended video browsers for impeccable visual experience.

Impeccable Artistic Vision -

Users have a cutting-edge UX and recommendations due to the perfect combination of algorithm and curation. Users enjoy quick search experiences.
With the presence of major players such as Netflix, Inc., Amazon Inc., ZTE Corporation, Muvi LLC, and others, the global video on demand market is expected to be highly concentrated. Additionally, the industry has experienced several market development activities such as new product launches, partnerships, and acquisitions in recent years.
Media and Entertainment During Pandemic
OTT revenue has been steadily increasing over the last decade, according to data from Digital TV Research. Although real estimates for 2020 will not be available until the end of the year. It appears that the lockdown and the OTT app developments have led to improvements in customer behavior and lifestyle, has resulted in increased sales.

As a result of the global pandemic, which has resulted in lockdowns and work-from-home routines, content consumption on OTT channels has increased, despite the fact that box office and conventional media have suffered. 
Opportunities and Challenges
The OTT entertainment industry now has a plethora of options thanks to the high demand for subscription services and the enormous opportunity for business growth. The Star network's subscription service, Hotstar, was rebranded as Disney+ Hotstar in March 2020 and launched in early April 2020. The partnership has added several Disney brands such as Marvel Cinematic Universe, Pixar, Star Wars, and National Geographic to its array of content. 
Meanwhile, HBO has released HBO Max, a larger and more powerful streaming services app. The game will debut in the United States this summer, followed by localized versions in other regions by 2021. Due to the pandemic, Warner Brothers, the parent company of HBO Max, is looking to release movies on the OTT website.
Partnerships with telecom firms such as Airtel and Vodafone, which sell Amazon Prime Video and Netflix subscriptions in conjunction with some plans, have also proven to be a viable model for expanding the customer base. Reliance Jio offers Disney+Hotstar VIP subscriptions as part of a range of data plans. In addition, Jio offers a postpaid plan that includes a Netflix subscription.  In addition to this, Jio has a postpaid plan that comes with a Netflix offer. 

With the increase in subscribers and total usage, OTT platforms have faced some common challenges. The bottleneck effect is one of them. Limitations on the internet have resulted in bottlenecks and latency choke points, necessitating the use of better solutions such as dynamic adaptive scanning over DASH or HTTP. 
More processing power is also needed since OTT platforms must deliver high-resolution content that must be compressed. This necessitates more fiber ability, which in turn necessitates more energy. As a result, OTT platforms must resolve these issues in order to continue providing the best experience to their ever-growing subscriber base.
Striking Impact of OTT Platforms
In recent years, OTT platforms have revolutionized the media and entertainment industry with dynamic content, audio, and video streaming services. The round-the-clock connectivity with mobile devices has changed the content consumption capabilities of subscribers.
Here's a glimpse of the remarkable impact of OTT platforms:
Transformed Media and Entertainment Industry:
OTT platforms have turned out to be the go-to-option for subscribers with multiple preferences. New opportunities, consolidation, and advertising-based models have embarked on the next-generation media consumption practices.
The media and entertainment companies have always prioritized content but now data appears to be a driving force to accelerate business growth. 
67% of all interviewees shared data to be crucial for OTT platforms. This makes it necessary to use data efficiently to encourage healthy competition.
2 Out of 3 OTT Players Reach Basic Data Maturity:
Despite realizing the significance of data, only a handful of OTT platforms use it optimally. OTT players must have a thorough vision and culture-centric approach to accelerate data usage skillfully and with utmost precision.
Best Leadership Practices
Use an algorithm-centric approach to set data at the core and address users appropriately. This will help align data, integrate it, and build trust within subscribers.
A data-powered media and entertainment company can stay relevant, retain and attract subscribers with the right use of data. 
Four Key Tenets for OTT Providers
Hyper-segment Your Content Or Go Mass
OTT players would have to decide whether they want to focus on ultra-niche, super-specialty content, or mass-market content. Any hazy thought on this subject will result in a subpar product. To maintain their grip on a loyal customer base, consumer technology companies will increasingly concentrate on original content in the future. Hence, it is imperative for current OTT players to understand their consumers and create content based on their needs.
Partner To Onboard, Not To Syndicate
For OTT players, partnerships will continue to be a key source of development. This structure creates a win-win situation for both players and customers. However, it is important for the players to strategically exploit these alliances. Partnerships can be used to allow for sampling rather than for short-term syndication benefits. Ensuring that the service owns the consumer should be the initial objective, with an intent to monetize this acquired user base in the long run.
Be Innovation-led
The growth of OTT streaming services has been aided by an enabling climate, but the next phase of growth will require innovation. Experiential technology such as Extended Reality and human-computer interactions such as gesture recognition and multi-persona suggestions would be needed by businesses to develop new engagement developments. 
Pricing innovations like sachet pricing and Transaction Video on Demand can also expand the experience and improve customer engagement. The main challenge will be to the cross-engage new generation and conventional audiences in order to create a monetizable base for subscription or advertising-based models.
Focus On The Now, And The New
Although OTT streaming services prepare for the next wave of expansion, they must also strategically invest in their current collection of services. This will enable them to enhance and expand their core competencies while also accelerating investments and adopting new technologies. This strategy would ensure that the core company generates income that can be reinvested in the future.
This strategy would ensure that the core business generates income that can be reinvested in the company's future. It's important to strike a balance between the present and the future. As organizations race to get to the New, the core business can falter, robbing them of the revenue and resources they need to compete while undergoing transformation.
The Road Ahead
These four tenets will take bold thinking and strong concentration to prioritize and deliver. It will prepare OTT players to succeed in the New if done correctly. Adapting to emerging technology and ways of doing business would be the first step, followed by developing skills to deliver services at speed and scale. 
Every content, interaction, development, and monetization initiative must be guided by customer and business needs.
Advances in technology, such as the transition to 5G and immersive technology, would only increase consumer interest in video streaming. Other channels, such as eGaming and online education, can also help OTT services develop their customer base.
OTT services have exhibited one of the most impressive growth curves in recent times and the pandemic has only accelerated this growth. All trends point towards a brighter future for the on-demand video streaming industry. The winners of this exciting shake-up will be the OTT providers who can build and maintain customer relevance in this dynamic, hyper-competitive market.
Brainvire's developers have expertise to implement customized OTT platforms based on the existing trends and demands across industries such as education, media and entertainment, and others. 
Our OTT and video streaming services are framed based on creative, analytical content,  user-friendly subscription and advertising modules that give you better reach.
Share your OTT platform idea with our experts and we will develop it for you.