AmiViz is the first B2B enterprise marketplace focussed on Cybersecurity business in the Middle East and Africa, designed specially to serve the interests of enterprise resellers and vendors. Driven by innovation and AI-powered technology, AmiViz provides a unique collaborative self-service tool – in the form of a mobile app on iOS and Android, as well as a web-based Portal - to enterprise resellers, consultants, systems integrators, channel partners, and vendors. 
AmiViz has a rich experience in evangelizing leading cybersecurity technologies and offers one of its kind consumer-style e-commerce platform with a fusion of human touch, offering products and services catering to localized market conditions and regulations across the MEA region. 
AmiViz represents over 40 leading and niche vendors covering the entire spectrum of cybersecurity, including End Point Protection & Identity Management, Threat Intelligence, Cloud Security, Network & Data Analytics, and Risk & Compliance, enabling customers to protect their critical Information Assets and Infrastructure.
An ideal blend of channel empowerment and a deep-rooted ethos of attaining excellent customer experiences has helped AmiViz build a substantial customer capital across industries like Government, BFSI, Oil & Gas, Telcos, and large enterprises. 
AmiViz's core philosophy is based on four key pillars of its platform – Collaboration, Automation, CEC Lab, and Data Intelligence. The collaboration tool, along with automation in order-processing, empowers AmiViz to support reseller partners and vendors with a central repository of all information pertaining to the life span of the deal data. 
Cyber-Security Business Challenges
To provide basic system access, the client kept reseller-specific information on their portal. However, with insufficient customer assistance, they ran into problems with more customizing options. It was a challenge to manage AmiViz's commissions, rebates to resellers, incentives to reseller sales reps, and redemption of loyalty points, to name a few. 
Separating general requests from opportunity-specific demands proved to be a challenge. It was challenging to give suppliers complete visibility into every lead/opportunity they had for their products, as well as the total revenues they generated, and to maintain track of all their orders and payments.
Abstract
AmiViz is connected to Spectrami's network. They are a global Value-Added Distributor of Cyber Security Solutions. First, via the sale of Vendor Incubation Packages, and later through the promotion of those goods through an extensive network of resellers, they execute their company. A full-fledged Odoo solution was then developed by Brainvire's professionals in the field of development.
Odoo Implementation Journey
Due to a significant experience with Odoo, our professionals at Brainvire have constructed the backend system for the distributor to a high level. To make backend processes easier, you can use the following Odoo modules.
CRM Module
Lead generation: Emails and VoIP discussions can generate automated leads, and it's now easy to submit quotes in a few clicks.
Leads: Using consumer segments and behaviors, they can develop customized emails for each client's needs. In Odoo, they may also create a range of activities based on lead score and team assignment constraints. In addition, it is possible to swiftly import prospect files into Odoo by using the column matching tool.
Live Chat: As part of AmiViz's website, Brainvire implemented a live chat feature to engage with customers and convert them into leads. Odoo and Firebase were used to create it.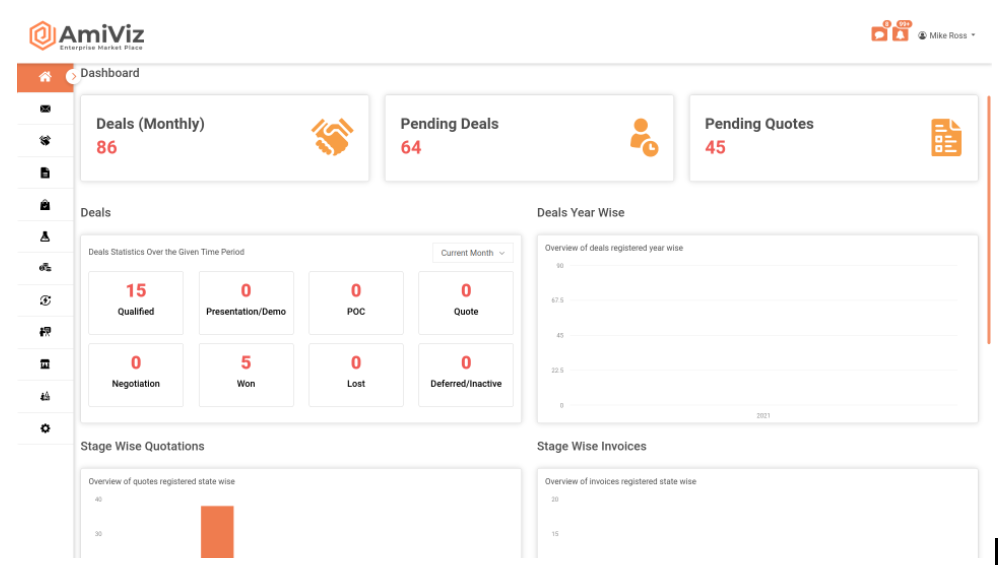 Sales Module
Due to the system's integration with the Odoo back-end, the salesperson can access data effortlessly. The system will send quotes in a few clicks and can generate orders and invoices from one screen. When it comes to managing their sales pipeline, Brainvire has incorporated Odoo CRM. Before sending their specialists to specific end-users or clients, they receive a sales alert.
Create Quotations
AmiViz's salespeople can generate a professional quotation in seconds using predetermined items, templates, and pricing lists. If you're a reseller or a vendor with an incubator package, you can customize AmiViz's quotations to sell more by offering extra options, closing triggers, and discounts, new goods, etc.
Order Management
Sales Orders:

Amiviz can convert quotations into sales orders with a single click, or customers can do it themselves using online quotations and Odoo eSign. Changing sales orders, selling product kits, and shipping partial orders now take less time.

Invoice Management:

It includes reimbursement based on time and materials ordered or delivered quantities, managing customer, and invoice payment terms. They can also keep track of invoices and follow up on them in a simple and straightforward manner. 

Reseller and Vendor Portal:

We created a portal for resellers and vendors to view their quotes, sales orders and track the status of delivery orders in real-time.

Order-Specific Routes:

Apply special routes from order lines: dropshipping, replenish on order, etc.

Contracts:

This means that every step of a deal can be tracked by Amiviz, from billing to renewal and up-selling to up-selling to renewal. There is complete integration between subscription management and Odoo Subscriptions, including the ability to manage recurring invoices such as memberships or service contracts.

Streamline Communication:

Their business processes were streamlined by using a customized collaboration platform.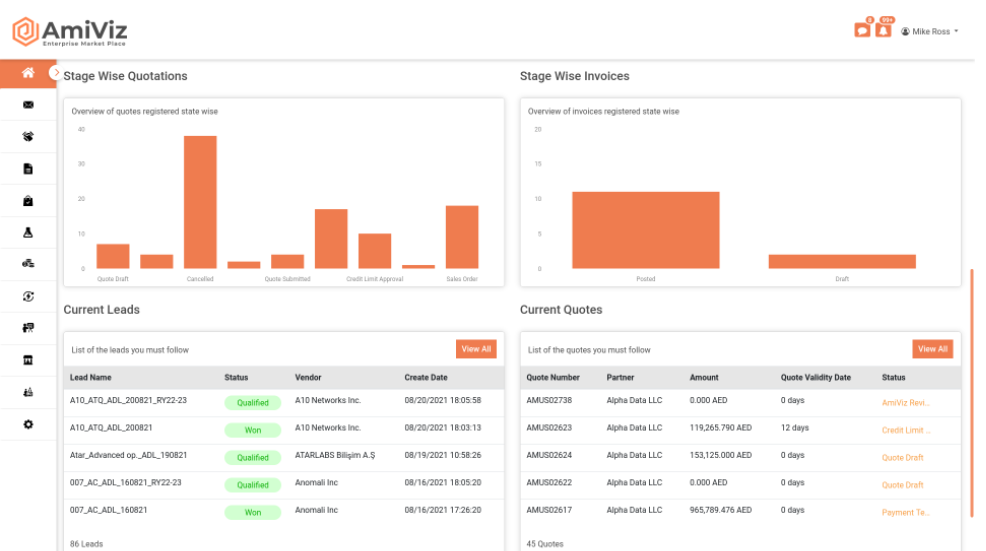 Products and Pricing Management
Product Variation:

Products can be built and customized with various characteristics, such as size, color, and finish.
Discounts:

 AmiViz can utilize a discount to affect the price of a quoted product, and they have the option of whether or not to disclose it.

Types of Products:

They can now handle any product, including services, stackable items, delivery fees, electronic goods, or consumables.

Product Customization:

It is quick and straightforward to set up their items and sell them by selecting settings and optional goods.

Pricelists:

AmiViz can provide customers with an accurate estimate of the price. Depending on the client segment, AmiViz can add price lists to individual items and automatically apply the appropriate price list based on order criteria such as quantity or date.
Analytical Reporting
Dashboard:

Brainvire provided a customized dashboard to each user with the sophisticated reporting engine.

Opportunity Analysis:

With the help of advanced tools, AmiViz can sort their possibilities pipeline based on date, project type, or other criteria. They can also use filters such as grouping and drill down to examine it in greater detail and discuss the lead analysis.

CRM Dashboard:

Our CRM dashboard displayed their sales team's KPIs in a matter of seconds.
Purchase Module
Vendor Bill Handling:

By comparing the data on the Purchase Order, Vendor Bill, and Receipt, Amiviz and their vendors can ensure that they paid the correct bill.

Tenders Purchasing:

Amiviz can launch purchase tenders, link vendor responses throughout the process, and evaluate alternative solutions to the purchase tender process. Decide on the best deal and place your order quickly. After that, you can use reporting to assess the quality of your suppliers.

Blanket Order Agreement:

Customers purchase goods from a vendor at a negotiated price on an ongoing basis (during a predetermined time period) under the terms of a blanket purchase agreement in Amiviz.
Requests for Quotations
RFQ for Vendors:

AmiViz has customized the "Requests for Quotations" option to its customers and vendors to send out RFQs for each product.

Send requests by Email or Post:

Users can submit RFQs immediately from the app or by mail, both in one click.

Personalized Message:

For each of the RFQs sent, AmiViz can include a bespoke message from their vendors or resellers.

Process Automation:

The user can put up limits to automatically transmit RFQs to a vendor based on inventory levels.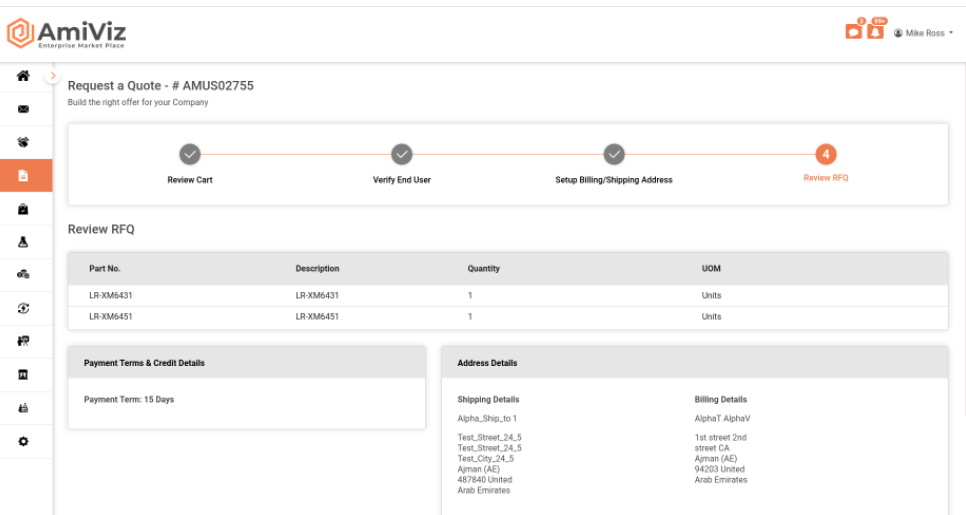 Order Management
RFQs and Order Monitoring:

Amiviz can keep track of the progress of bids and purchases, as well as order amounts and expected delivery dates. There will be no more draft PO to create. When creating a draft invoice, auto-complete is enabled.

Manage Incoming Stocks:

They can keep track of inventory and figure out how much and where each batch of goods is coming from.

Automated Ordering:

This module enables Amiviz to establish procurement rules that automatically order the necessary items based on stock levels, minimum quantities per location or per supplier, sales, or other criteria.
Invoice Management
Easy to create Drafts:

Design drafts of invoices that you can easily modify or cancel later.

Future Orders:

Keep track of orders that have been created for a date in the future.

Internal Movement:

Organize the movement of items between two locations you own.
Product Handling
Product Creation:

AmiViz can easily define sale price, type, barcode, and reference to differentiate similar products.

Distributor References:

AmiViz can add the reference used by each supplier for the item to make it easier to find.

Product Variants:

They can add color, memory capacity, etc., to allow for a cleaner list of products.

Define Procurement Rules:

Reference all the suppliers distributing the item, order them by priority, and record their delivery time and minimum quantity to save time on new orders.

Ideal Search Filters:

The users can search products with the supplier reference on the purchase order.

Units of Measurement:

Purchase in different units of measurement and let Odoo manage the conversion.

Stock Availability:

AmiViz can keep track of inventory, incoming orders, and product availability.

Specify Storage Location:

Define the product's exact position within your warehouse.

Create Sale Conditions:

AmiViz can define the warranty length and specify customer and manufacturer lead times.

Include Accounting Rules:

They can specify their accounting category and define customer and Reseller accounts and taxes.
Events Module
Drag and Drop Editor:

AmiViz can structure its event pages with Odoo's premade building blocks and create landing pages, agendas, speakers bios, CTAs, images, links in just a few clicks. 

Building Blocks System:

AmiViz can edit their events by adding the text and graphics directly within the editable content of their building blocks. 

Talk Proposal Management:

AmiViz can allow visitors to submit talks and speakers on their event websites and organize the validation process.

Tracks Management:

They can follow every step from issuing speakers' calls to managing submissions, content, and speakers. 

Attendees Management:

They can manage classes and resources, create a group of attendees, set capacities, and add custom questions at subscriptions, per attendee, or subscription. 

Mobile Registration:

Use your smartphone to see the list of attendees, or simply use your phone's camera to scan badges and update the list of attendees.

Event Organization:

They can manage a calendar of events, multiple locations, and organizers. 

Event Budget:

They can do the administration of resources allocation and automated purchases. 

Event Collateral Management:

They can obtain an accurate attendees list and print badges.

Follow-Ups:

They can send automated follow-up emails or satisfaction surveys and allow reviews.

Social Media Integration:

They can set a Twitter Hashtag for each of their events.

SEO Integration:

They can get keyword suggestions according to Google's most searched terms and improve your SEO.

Manage Sales and Increase Revenues:

Brainvire configured automated invoicing, cancellation policies, specific prices for AmiViz's members, and sale conditions like an early bird for their event.

Dashboards and Reporting-

Real-time information and data on your event.
Marketing Module
Simplified Segmentation:

AmiViz can quickly segment its database with a simple widget that integrates demographic and behavioral information. Their contacts will be enrolled automatically in the campaign when they match the criteria.

Advanced Stats:

They have access to key performance indicators such as bounce rate, open rate, deliverability, and click-throughs.

Testing Mode:

AmiViz can execute its process on a test contact to observe the sequence of events in the course before launching campaigns.

Better Workflows:

Brainvire created and customized workflows with a visual interface to better envision AmiViz's customer journey. So now they can get their contacts following one path or another based on an action in your workflow. 

Tracking of Visitors:

They can manage UTMs to track visitors from a visit to the website to the sale order or invoices.
Conditions that are run on a Schedule:

They can schedule the execution of their workflows.
Accounting Module
Multi Invoice Payment Option:

AmiViz can save time by combining payment with several invoices and utilizing a button on the payment form.

Easy Configuration:

With a configuration progress bar, Brainvire made their initial setup easier.
Accounts Receivables
Customer Invoices:

Brainvire assisted them in Odoo accounting, which allowed them to produce simple, attractive, and complete invoices. 

Terms of Advance Payment:

They can handle several transactions for the same invoice, cash discounts, and prepayment invoices.

Draft Propositions of Invoices-

Odoo is popular open-source accounting software. To help you manage sales and invoicing, AmiViz can create bills based on sales orders, timesheets, or delivery orders generated automatically by Odoo.
Account Payables
Vendor Billing:

To ensure that they pay the correct invoice, AmiViz can compare the information on the purchase order, the vendor bill, and the receipt to verify accuracy.
Multiple Currencies
Multi-Currency Support:

It has a feature where AmiViz's currency rates are updated automatically every day.

Multi Companies:

AmiViz can integrate all of their suppliers and resellers into a single system, with consolidation reports in real-time. In addition, with inter-company regulations, they can automate business processes.

Multiple Users:

AmiViz is a marketplace that allows the resellers and vendors to create as many users as they want with varying access permissions on the same marketplace.
Simple Reconciliation
Real-Time Reconciliation Tool:

They can rapidly receive reconciliation suggestions, add new journal entries on the go, and conduct effective searches. Both free and paid versions of manually reconcilable accounts are available, and learning account numbers are based on the initial manual reconciliation. Due to sophisticated matching technology, Odoo can produce accurate invoices and payments.
Performance 
Customized KPIs:

AmiViz can define its own KPIs using formulae, such as gross margin, customer acquisition costs, and product growth rate.

Country-Specific Statements:

As their vendors and resellers can choose the different countries, they can have currencies and Intrastat reports, VAT statements, P&L/BS of the country, the listing of VAT subject customers, etc.

Tax Audit Report:

The tax audit report allows AmiViz to check how the tax report is computed for audit purposes. The tax report can select a line and click on the "audit" button to audit the journal items.

Invoicing:

With contracts and automating recurring invoices, payments, and renewal alerts, AmiViz makes it easy to handle subscription and recurring revenue. Their salespeople receive automated notifications when contracts have to be renewed.
Collaboration Portal for Resellers
We created a collaboration tool that allows users to start and record a lead-specific discussion and add and remove people as needed. In addition, this collaboration platform's attachment-sharing feature is used to communicate and exchange files, similar to other messaging platforms for resellers, distributors, and AmiViz users. Each chat has its own set of stages, such as the initial inquiry stage, a potential opportunity, confirmed order, estimated scheduled delivery stage, shipment tracking, as well as reviews and ratings.
Odoo Reseller Portal
Using Odoo multi-vendor marketplace, Brainvire set up a marketplace for AmiViz. The module makes it possible for AmiViz to collaborate with a wide range of suppliers and sell their products on the internet. AmiViz, as a marketplace owner, has complete control over products, orders, sellers, and more.
For AmiViz, Brainvire developed a reseller portal that enables resellers to publish contracts, sign them online, and return them to the distributor. In addition, resellers and distributors can give purchasing quotes from the vendor and leads, respectively.
To help our resellers, we've created a section on the reseller portal with flash promotional specials and rebate offers. In addition, AmiViz has made products for resellers to add to their sales portfolio and give them the possibility to share any lead through a web portal.
Odoo Vendor Portal
Emails and replies will be sent on time, saving you time and effort. With the elimination of human tracking of emails and mail conversations, traveling through lengthy independent threads on mailing systems to find information and data is no longer necessary.
We were able to help AmiViz, and its vendors establish precise communication mechanisms so that AmiViz could control and track their suppliers in Odoo.
AmiViz can respond to vendor quotes and update their status in Odoo's dedicated Vendor Menu. Brainvire's collaborative platform handled the conversation flawlessly.
When it comes to keeping track of purchase orders, RFQs are a useful tool for business owners. Vendors can keep tabs on their sent RFOs from their portal, Send RFQs to the admin of the Odoo system, and see what response they have received. - Approved, pending, refused, or checked.
Summing Up
This dashboard was created by dividing reseller user roles like sales representative, stock manager, marketing, and accountant into separate tabs in Odoo using Brainvire as a platform. Brainvire customized Odoo's backend to display reseller-specific information on the reseller's site based on the terms of their contract with the customer.
To handle incentives for reseller sales reps and commissions for salespeople in Odoo, Brainvire Odoo specialists implemented logic separately.
Brainvire created a communication system that was both efficient and transparent, allowing all stakeholders to work together productively. In addition, this gateway will enable them to see all of the available goods and orders from vendors. As a result, Brainvire's Odoo ERP development service will be critical in assisting the company's smooth transition to Odoo.