E-commerce sales amidst the pandemic have surpassed the numbers we see in holiday sales, whereas physical stores had suffered disappointment, so an online store with streamlined inventory is the need of the hour"
The Covid-19 pandemic has hit the e-commerce sector differently! Retail digital transformation is at its peak now and changes anticipated in the next five years took just a few weeks to conclude. Increasing online purchases is indeed positive news for alcohol retail, especially for those who are already digitally advanced. However, other retailers in the business might take some time to score higher.
As pandemic restrictions are easing, bars and restaurants are slowly coming back to business, and alcohol retailers and suppliers are looking for unique approaches to recover their last year's losses. Some basic efforts include geo-fencing to facilitate curbside pick-up, proof-based recommendations to restock prominent products,  and turning distribution outlets into delivery nodes. 
"Coronavirus has had a Severe Impact on Consumer Behavior."
These new segments that always had an offline experience, now acquainted with the functions of e-commerce. So, it's high time to cater to their needs and for people who always wanted e-commerce as their business partner. 
"Vendors harnessing omnichannel power are winning the current alcohol market."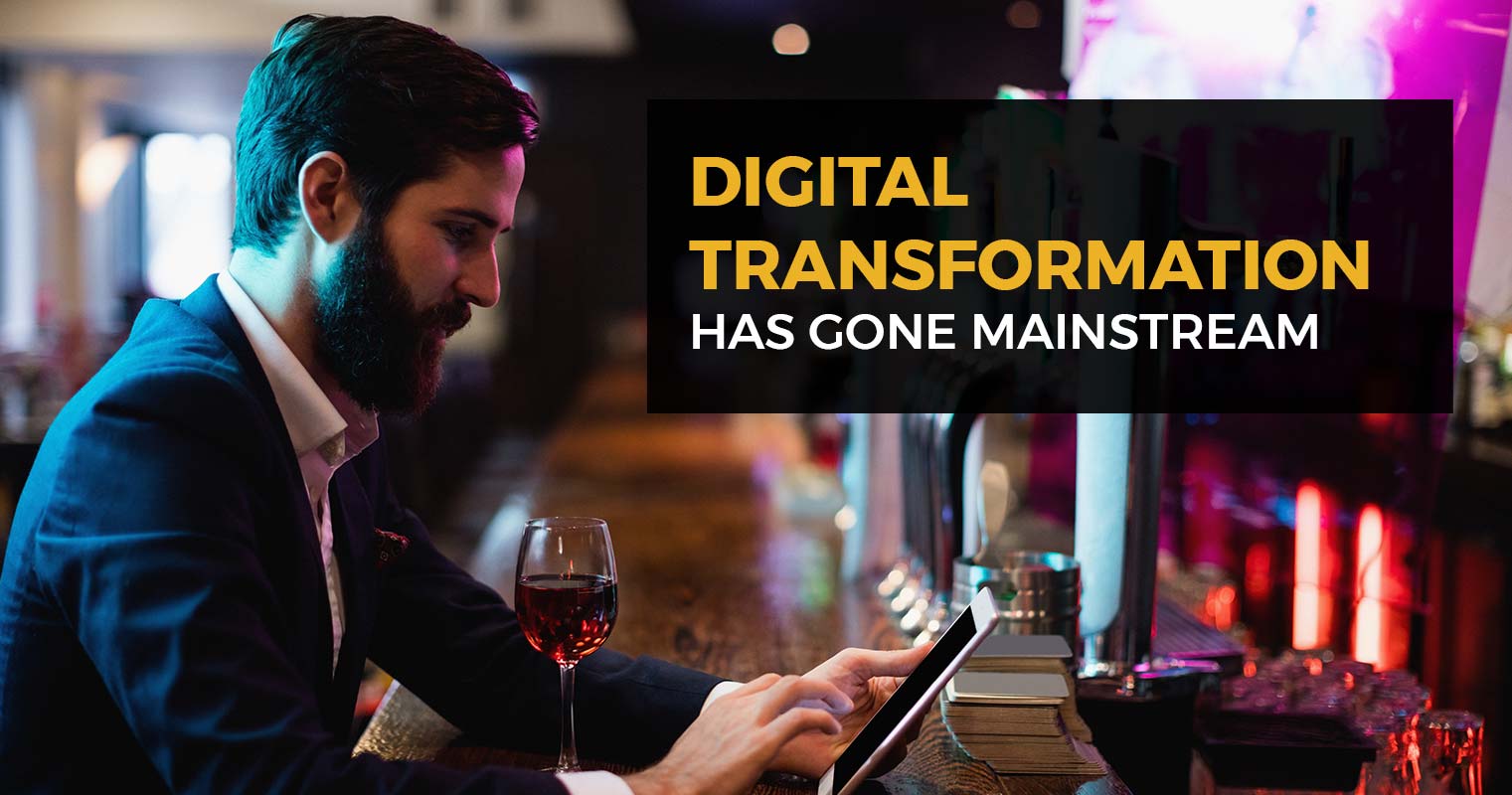 This blog focuses entirely on digitization for alcohol retailers and how consumers are adapting to the change and discovering, buying alcohol in 2021, and how they can serve client requirements to boost sales.
Just two years back, we were debating about the need for digital and physical shelf space, and today it is the only way out to function. 
Alcohol vendors must: 
Administer a health inspection on their omnichannel skills and experience 

Allocate budget for content production for better product description

Comply with a personalized mechanism 

Simplify OMS and ERPs to receive orders throughout the supply chain.
But, the biggest question that arises here is: What marketing or technology strategy will suit your business type and how can you utilize all the tools your company already got? 
Explore Your Customers Preferences as per Trusted Research
During this pandemic, an eCommerce solution for alcohol retailers is the best way out. Now, people are loving comfort brands. The fastest-growing wind brand is Beatbox beverages, which comes bag in box wine pinch that hiked to 84.3%. 
The biggest trend this year remains convenience and safety over traditions. Apart from this trend, the adoption of digitalization will overrule every other trend.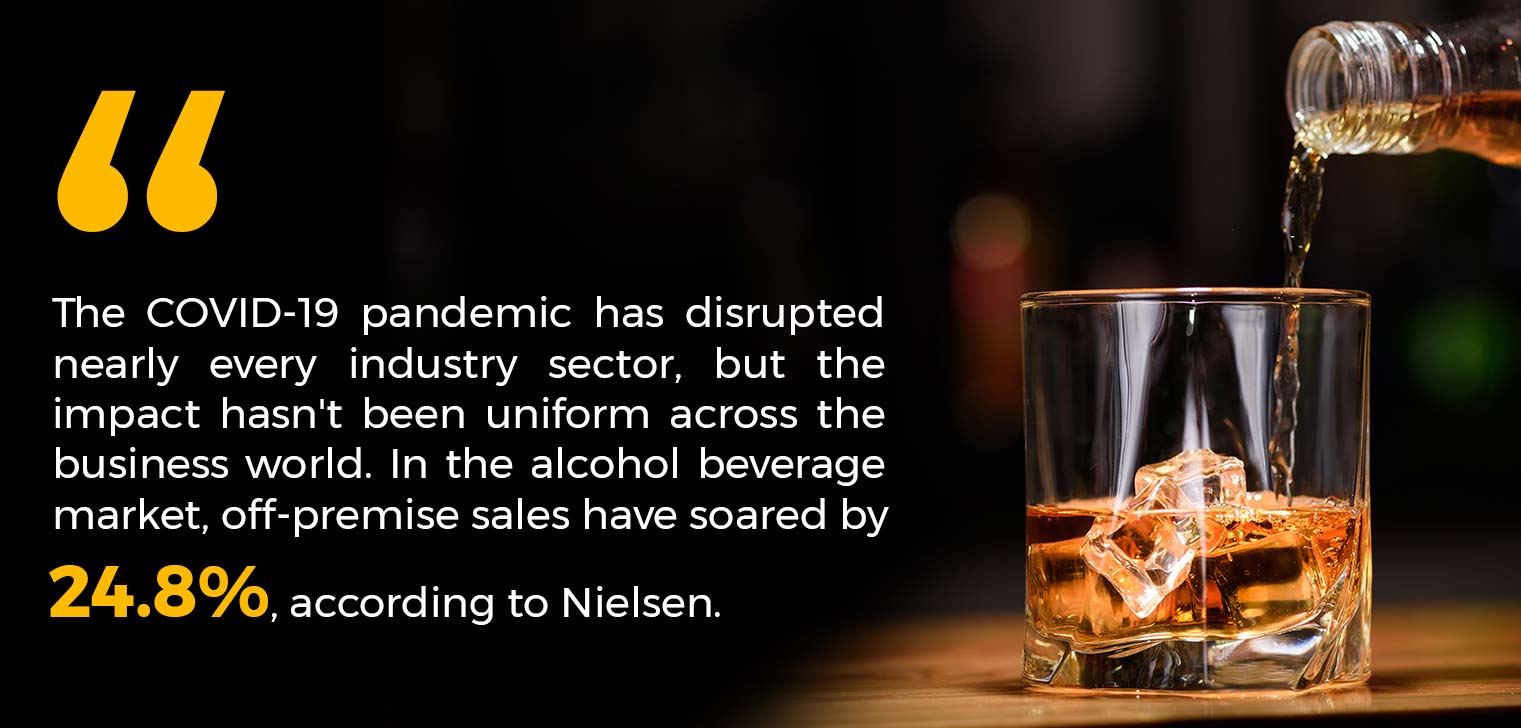 Digital Transformation is the Need of the Hour
The pandemic has turned online shopping into a necessity which was previously a luxury. Even the elderly have understood the need of the hour and joined different platforms as digital consumers. This sudden shift is testing the capability of current inventory management and digital infrastructure. Few things remain the same while others change. 
Convenience 
Convenience is a differentiator that won't be changing in the coming years. Streamline the product selection and purchase, consumers will follow your brand for the long term. For new consumers, added features will come in the scenario like talking to a customer representative to offer extra details about the company, installment processes, and more.  
Omni-channel Experience 
This counts a lot in the alcohol industry. Prominent alcohol brands have started off giving subscription-based models to attract consumers. Plus, they offer in-depth and creative product descriptions and promote their inventive attributes about the wine. The websites have high-quality images that are IG-worthy. 
The members can also connect with a regular newsletter. The experience here simply means as a retailer how are you presenting your product to boost sales. 
Fulfillment and Delivery 
The terms of fulfillment and delivery have changed today. Earlier, online delivery was not an option for many countries, but to deal with pandemic restrictions, online delivery has now come into the race. Turning sale outlets to delivery pick-up points is the first change towards the shift. Retailers working with ERP systems and OEMs have an upper hand here. 
The last part of the delivery phase remains unchanged like next-day delivery, shipping prices, and transparent inventory update. 
Customer Experience 
Like a wine brand's expertise in offering the product attracts consumers, so should your website's user experience. An interactive and well-checked user experience entices your consumers, even the ones who are new and less tech-savvy to stay on your website for a bit longer and explore more things. 
The phases from product discovery to purchase and even re-ordering must be clear and intuitive to navigate. 
Product SKUs Management 
When we talk specifically about the alcohol beverage industry, consumers require a ton of details like the origin of the liquor, alcohol content, varietal ingredient, what food items are best to have with it, a label image, a v, video, and a product description that too in different prominent languages. Product Information Management helps assure that details are centralized and uniform across all platforms driving consumers' decision-making strategy.
Inventory Management
Consumers get disappointed when their favorite liquor brand is out of stock or online liquor delivery has passed the due time. They will also not consider a brand if the shipping costs are higher or not free and take days to reach.
Live updates on available inventory, real-time delivery tracking, and included shipping prices can offer the best user experience and attract more clients.
Unrestricted shelf space leads to unlimited product offerings. To help your customer find the product easily, a robust search capability is vital. Otherwise, consumers will not find what they want and leave your site.
Alcohol Retail Market Holistic Digital Ecosystem 
Currently, you might not possess each of these systems and for real you even don't need all of them. The points included here are, 
The developed e-commerce websites have around 15-20 integrations. When order flow is high you are as strong as your weakest connection.

Optimize all the available systems and make sure they are well connected, for a full omnichannel experience, building connections is the key. 

Your infrastructure must comply with automation 

Formulate strategic plans from the data outset. It will help in understanding the current trend.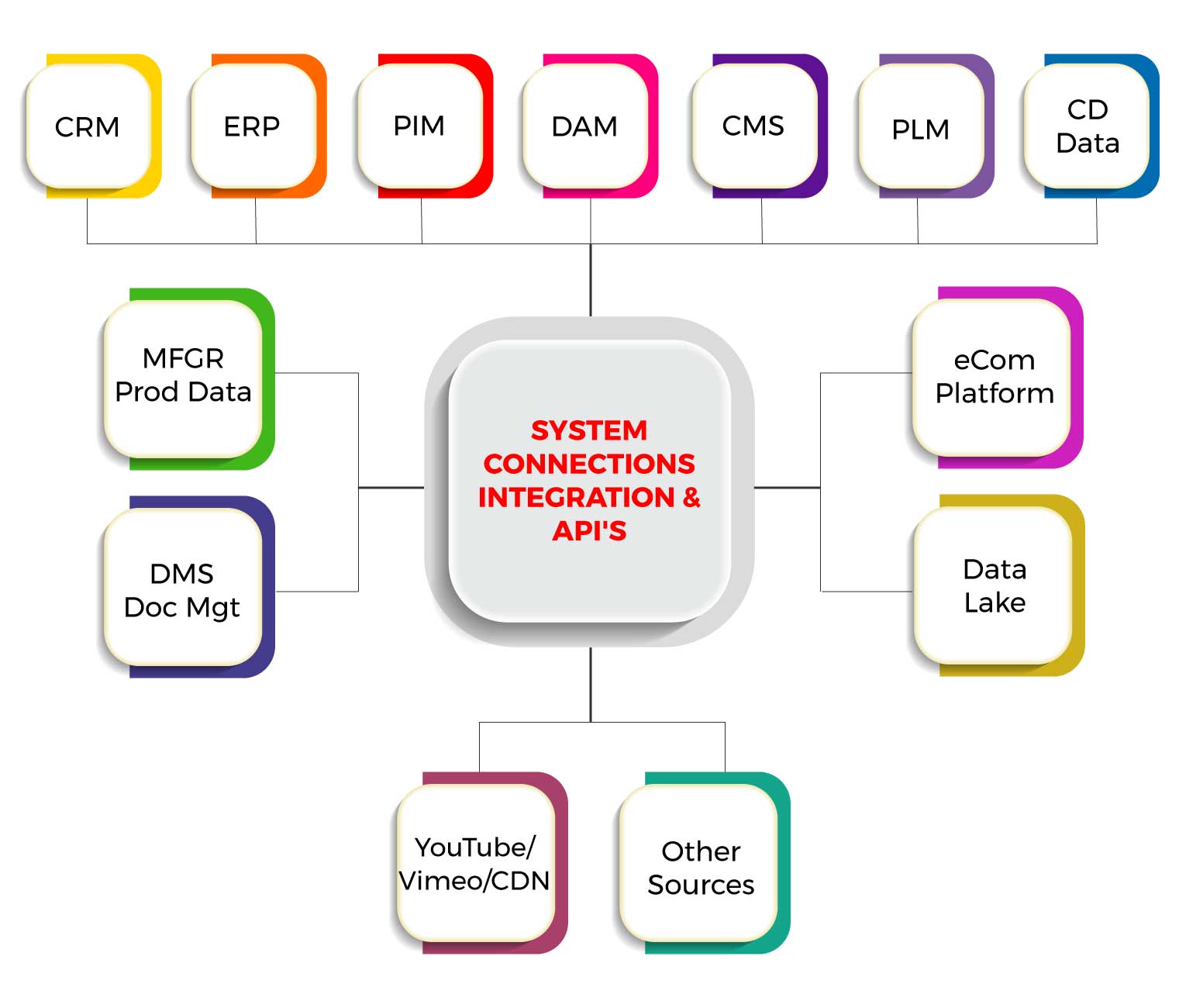 Connecting the team across a shared ledger and processes is another major work shift needed to suit e-commerce needs. 
ERP- This software integrates and manages a firm's operation, supply chain, manufacturing, monetary, and HR activities.  
CRM- Customer Relationship Management is a system that manages client communications, dealing with existing consumers and probable prospects. 
PIM-  Product Information Management is a system to store product information and channel it to multiple parties across devices. 
DAM- DAM stands for describing everything related to image files. From the second you start downloading it from a memory card or device.
eCommerce platforms - Systems where static websites, their transaction and related functions operate-providing functionality to client's for discovering products, transact and services. 
CMS - Content Management System. An app or software that employs a centralized database to store all the content. The stored things can be used while developing a site or channeling info to partners and writers. 
PLM - Product Lifecycle Management is an information management system that can combine data, business systems processes, and workers in a large enterprise.
DC Data - Distribution Center Data is the data from the DC that comprises timely data releases on inventory, shipped products, out-of-stock products, parts substitution, returns, and other data that is precise with DC.
Data Lake - A centralized software employed for stocking enterprise data and filtering it with time/date format with full data mapping and standardized definitions to make sure data is employed correctly. 
DMS - Document Management System is utilized to track, receive, manage, and store documents. Plus, capable of an accurate record of various versions formed and modified by different users. 
Manufacturing - The product info data comes from a variety of sources. The available data needs to be assembled into a centralized list available across all the products and timelines.
Youtube/Vimeo - To connect with your audience over the social media, also running the campaigns with influencers
Other Data sources- Data channel manages independent data stores, assembled for product information management.
The Optimistic Approach of Brainvire
Brainvire helped Alcohol retail brands surged dynamically during the start of the lockdown. The majority of the clients wanted the digital transformation to suit current requirements as consumers preferred online shopping. Alcohol retailers during the 3rd quarter anticipated a huge growth. Wine.com and botlerocket.com are the retailers we worked with to simplify the adoption and functionality. 
How we achieved it: Brainvire's team of experts connected with wine.com and botlerock.com's board of directors and suggested a roadmap for digital transformation. After a thorough assessment and brainstorming sessions, Brainvire offered personalized solutions to both clients. 
Wine.com- Brainvire understood the requirement for their unlimited inventory. They added several filters for easy search and navigation. They include the categorization of alcoholic beverages as per region, variety. Plus, a filter of new products and gifts made the website interactive and attracted consumers. 
Our team developed features for various categories, to choose them and place orders hassle-free. 
Bottlerocket.com-  Bottlerocket.com especially curates its wine collection based on different themes. The website endorses next-gen eco-friendly materials that are safe for use and human consumption. 
This alcohol retailer dealt with the same issues and wanted a solution that supported the digital transformation and benefits the website's sales. As they have a wide range of customized products, using PIM product storing is centralized and transmitted to different parties in the supply chain.
The Omnichannel Capability Enhances Consumer Journey 
When deciding on the edibles, consumers have a long list for decision-making like timing, experience, convenience, mood, and more. 
This is where an omnichannel solution for alcoholic retailers shapes opportunities for people who know the consumer behavior trend and cater to their needs. 
Consider the below-mentioned customer journey, 
Consumers see the procedures online. She notices a well-described advertisement for wine that is positioned nicely and is somewhat relevant.

While exploring they got to the landing page with lots of recommendations as per her past searches. The goal of trying something new yet safe can be achieved by offering a product description that will help them find liquor as per their requirements, and taste palette. 

The customer uses the alcohol retailer's online store map to find outlets near him and place the order. 

She checked the estimated delivery time and kept noticing where products reached through real-time product tracking. 

While devouring the beverage, they took an IG-worthy image and posted it. 

The consumer will receive an email, asking her to review the platform. Here they can leave feedback and help others to know more about the product and steer sales.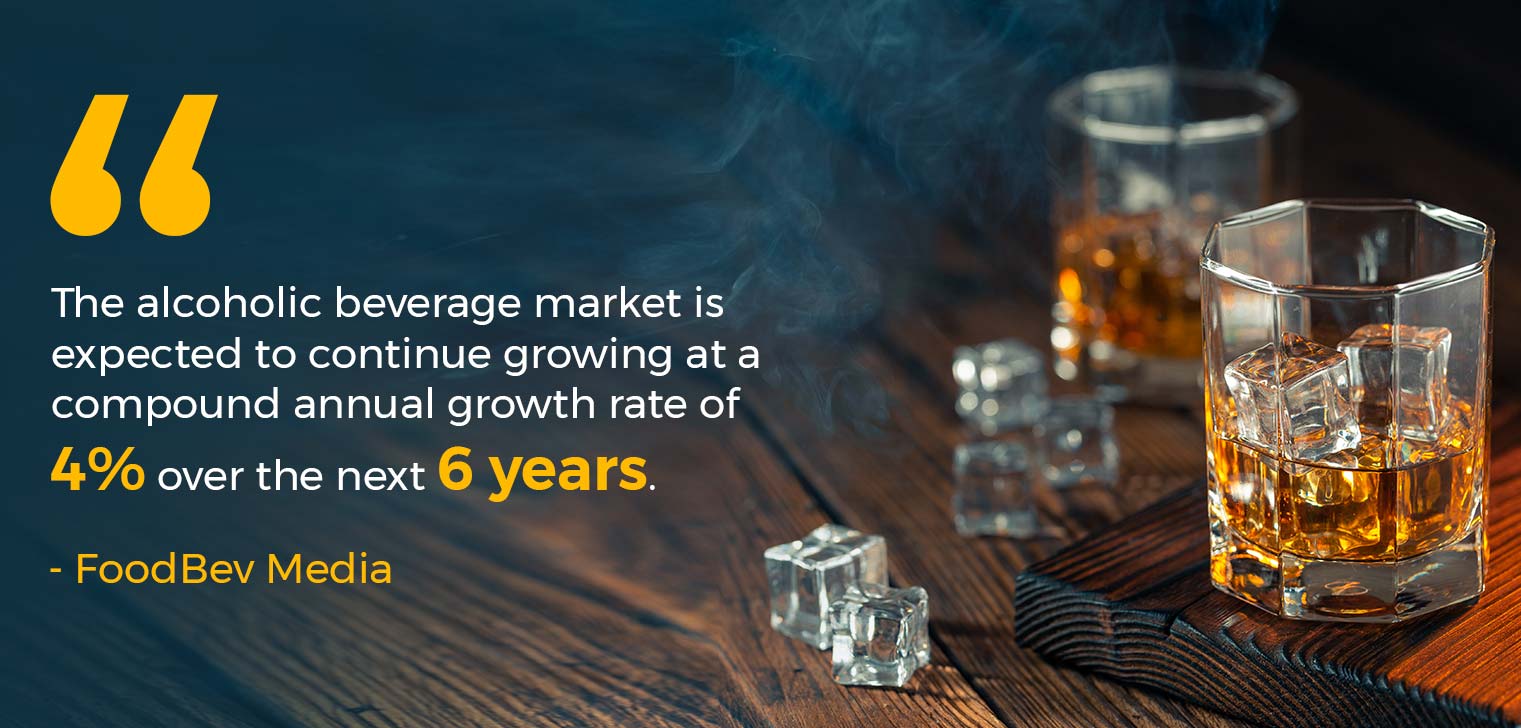 When e-commerce requires convenience and experience this much, alcohol vendors have to be offering quality and value across the customer journey. 
B2B Sales are Thriving like Never Before
Yes, with an increasing number of restaurants, hotels, and bars reopening, alcohol retailers are also heavily empowering the B2B sector, as they offer wine, beer, and other alcoholic beverages in bulk to large corporations and firms. So, now is the correct time for the Brewing Industry digitization!
Here are a few things that you will need to do to help your partner company to boost alcohol sales.
APIs to link to your backend, so the partner company can share the posts on their websites too.

Consumers ability to place orders easily and accept instant updates on order status 

Offering alcohol retailers and distributors to work with you to buy their physical and digital framework. 

You can also build micro websites that entirely focus on driving conversion employing a basic backend, enabling consumers to have the online experience they aspire to. 

Re-order and order procedures should not include many steps as it will increase the downtime 

Post pandemic bars and restaurants can benefit from the data on what is currently selling the most.
Best B2B practices entail the formation of a consumer outlet to streamline decision-making via consumer-side workflows. Fortunately, e-commerce has invented such advanced capabilities for achieving all this and even more. 
Harnessing the capabilities of Personalization
Almost 91% of consumers are more likely to initiate a purchase with brands that offer related offers and recommendations. Brand loyalty among millennials rises by 28% on average if they get personalized marketing interactions.    
Alcohol retailers should design personalized programs that offer members with: 
Product suggestions 

earn loyalty points with purchase

Get early access to new stock 

Attend brand events and participate in quizzes and games

Access all the perks via the mobile application 

Build a list of most used or favorite products

Discover previous purchases

And use the in-store outlets and cards to get tailored recommendations.

Ready for Radical Disruption?
Keep the basics of eCommerce in mind like search capability, product description, relevant results, faster delivery, and inventory status to create a frictionless shopping experience.

Offer personalized interactions and custom-tailored platforms that will make the process easier for the consumer. 

Harness omnichannel capability that includes continual product description especially curated by keeping the needs of every platform in mind. 

Incorporate your physical store into your order fulfillment and management strategy with a tap and take policy 
To make sure you are relevant, it's time to see your physical outlet as an online business. Digitalization is essential in fulfilling current consumer needs, steering sales, and increasing profits. 
This approach will be awarded via reordering sales and consumer loyalty. 
The initial step
Always sync your organizational leadership with digital vision. There are high chances with the current alterations it's already done 
The consequent one  
Your following step will include finding a partner that not only understands the consumer and related issues but also offers expertise in digital solutions and strategies to bridge the online vending gap. 
How will Brainvire help? 
If you have gone through the whole piece, there are high chances you want to adopt digital infrastructure. Brainvire has successfully completed over 2000 projects and is one of the best development partners. 
We help retailers employ digital solutions to shift from merchandising, understand their consumer needs and regulate processes with better insights. 
To help businesses thrive, we offer high-quality innovative, and cost-efficient solutions on numerous platforms.