Latzio is a European lifestyle brand that creates unique and sustainable home decor. Latzio's goal is to balance sustainability and quality, believing in both natural resources and human ingenuity. 
The business's company culture is deeply rooted in a belief that they should always have the best interests of their employees and partners at heart. They make sure to hand-pick ethical partnerships that are aligned with their values from day one, ensuring long-lasting relationships throughout.
The company takes pride in designing an easy-to-use system that delivers excellent customer service. They work with the best interior design experts to create your dream living by product, brand, or trend!
The team believes that to be a successful company you need great design, quality craftsmanship, and an outstanding customer experience. The staff strives to provide their clients with the information they need during all stages of purchasing so as not to leave any questions unanswered or needs unmet when it comes time for them to use one of their products.
Challenges
Latzio has been in the decor industry for years, but with increasing demands and their ever-growing product catalog, they needed better inventory management. To solve this problem, Latzio partnered up with Diamond Logistics to provide both drop shipping and cross-docking services while still marketing their products under a single brand.
Latzio already had a Magento website, but they needed Brainvire to get the backend side of things going. The tight coupling between Odoo and Magento provided seamless integration, making shipping more efficient for both customers and merchants.
Brainvire-Odoo Customization Expertise
3PL- Odoo Integration
The logistics company was in dire need of a new way to handle their shipment and customer relationship management procedures, so they turned to integration with Diamond Logistics.
The Diamond Logistic and Odoo integration will provide a more efficient and real-time data analysis. Brainvire integrated their formerly fragmented 3PL with Odoo to provide the perfect platform for tracking orders, shipping processes, inventory management, and sales. 
Latzio has always been at the forefront of their industry, and now they can stay ahead by following orders as well. They have a brand new order management system that tracks all information about what products are in supply for each vendor, making it easy to plan deliveries more efficiently.
Magento-Odoo Connector
The Latzio team was worried that their usual routine would need to be disrupted when they decided it was time for a website update. They were relieved to find Magento Connector, which allowed them to sync orders among all of the websites and their Odoo system with ease so there's no confusion about anything between any point during production or delivery processes.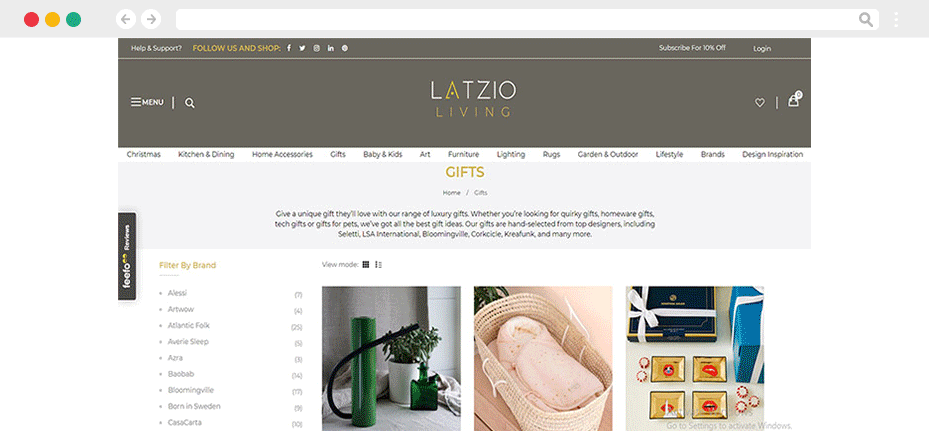 Xero-Odoo Customization
In the competitive world of e-commerce, Latzio has to be able to meet customers' demands for order fulfillment and splitting quickly. They found a solution in Xero Accounting that allowed them to do just this without moving away from Odoo accounting as well! With Brainvire's help, they were even able to integrate reports generated by both apps so their orders are tracked on one platform seamlessly.
Latzio has been able to provide a more personalized shopping experience for their customers by using Odoo's drop shipping modules. The company had previously struggled with inventory management, warehouse space, and dropshipping, but now they can focus on growing the business.
Latzio's search for a third-party logistics provider for shipping ended with Diamond Logistics. The 3PL was able to save time, money, and resources while fulfilling customer demands on their behalf by taking over the shipping and fulfillment operations. This helped Latzio focus more on strategic product development and marketing tasks. The service providers also transport goods to their destinations and ensure customers receive orders on time.
Odoo ERP implementation is an effective and efficient way to manage an enterprise. It provides the ability to run all aspects of inventory, order management, sales management under a single dashboard- enabling clear visibility into everything that's going on in terms of managing products. 
If you use any 3PL company for fulfillment then Odoo can integrate with them automatically so there is no need to worry about manual data input or reporting from multiple sources! This system also provides real-time visibility into how orders are being fulfilled which makes streamlining logistics easier while still maintaining accountability across departments.
Inventory Management
Our experts helped them customize the inventory dashboard and the management of their stock-keeping units, which are modularized for dropship fulfillment from a 3PL company on multiple levels to track all current products.
Order Management
In order to maintain high levels of customer satisfaction in your company, you need to make sure that there are no delays or errors while processing and delivering orders. Latzio can create an order based on 3PL shipments with the latest tracking info integrated within their system so customers have a clear view of where they're at in terms of delivery times. The platform also has an option for importing shipment data through CSV files which streamlines this process even more!
Sales Management
Sales management is a powerful tool in any business. The Odoo sales module offers Latzio the opportunity to manage their invoices and keep track of outstanding payments, as well as monitor stocks for various brands. This way they can avoid oversights such as running out of stock or missing tax obligations with customers.
Latzio's customer invoice details are managed through taxes, payments, discounts, and much more when using Odoo's Sales Module - an important investment that will help them stay on top of all aspects relating to inventory control because it manages not only how many products need replenishing but also what those items cost altogether.
Analytical Reports
Latzio has found an easy way to ensure that invoices are accurately sent out by using Odoo. The reports will show their sales team shipments details, billing amounts, shipping costs, and inventory they have at any given time while making sure each invoice is accurate before sending it off.
The procurement dashboard is a powerful management tool for businesses to keep tabs on their inventory. It keeps track of how many quantities are being purchased, the number currently in transit, when they will be delivered, and what needs to be fulfilled before it arrives at the warehouse. Each brand should have an individualized section with its own dedicated tab so that all information is easily accessible without having to look through multiple pages or screens within one screen.
Latzio didn't want to deal with any products that are less than top-notch. Therefore, everything you purchase is brand-specific and registered on the procurement dashboard according to each brands' information.
Odoo's dynamic inventory dashboard updates with real-time data and can be customized to suit the needs of any retailer.
Odoo provides a customizable, easy-to-use interface that dynamically displays current inventories in relation to critical thresholds for each product category. This lets you know when it is time to order more supplies or if there are problems with your supplier's availability on any item.
Sales Management Dashboard 
The Sales Management dashboard is a great tool for managing customer transactions. Latzio can quickly input the transaction history, create invoices as well as make notes about each customer in an easy-to-read format. It helps them add discounts or tax amounts when necessary, then send it via email with one click!
Billing and Customer Information
Latzio has a module in their Odoo software that allows them to store customer information. Customers can be searched and viewed with billing, shipping, payment details such as notes or account balances, among other things. Latzio's system will allow multiple users of the same company access for any purpose like order management or invoice creation without compromising personal data on individual customers between employees, which is really convenient!
Summing Up
Brainvire has helped Latzio by providing a module for better dropshipping and order fulfillment tracking. With this customized module, the client can now track their orders more effectively than ever before with the Odoo solution.
Brainvire has integrated two things that were already present before: the 3PL and the Xero accounting software. 
In a world where the marketplace for furniture collections and other lifestyle products is constantly evolving, it's important to stay up-to-date with what people are buying in order to serve them better.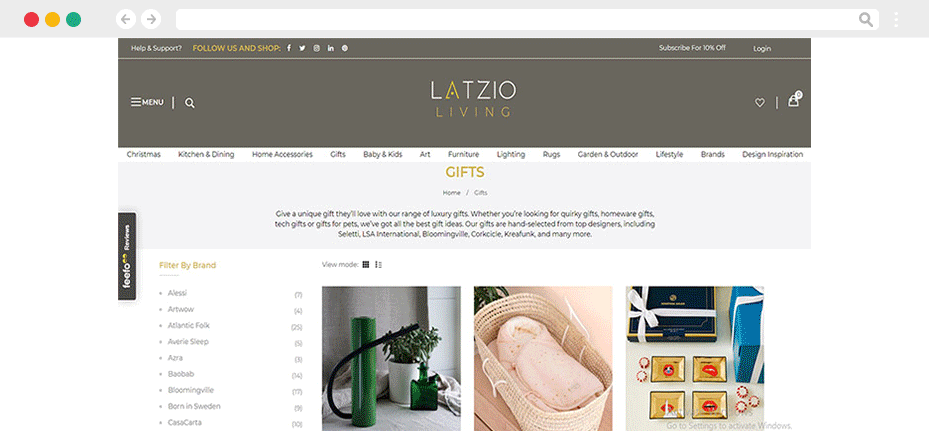 The company reports provide analysis on all of this data so they can see which needs need meeting immediately, how much more stock they require, or if there are pre-existing problems that could be solved by introducing new inventory. Orders will also be sorted according to the time frame as well as most recent transactions carried out through their sales staffs' help via dashboard functionality.
Brainvire-Latzio Partnership
The integration of all their functionalities into Odoo left the business with an accurate overview on how orders are fulfilled at each stage from sale until shipment. This new system improved processes greatly for both retailers using Latzio as well as stores away from its location because it allowed them access to data remotely-- something they couldn't do before due to lack of technology or poor design by previous systems providers. Review Odoo customer story.
With the help of Odoo, Latzio was able to improve their inventory management system immensely which greatly improved overall business operations. They are now anticipating seeing more benefits from using Odoo as we continue working together again.