Brainvire drives Ajmal Perfumes' software environment with its expertise. Brainvire created an interactive system in which SAP ERP, Odoo CRM, and Odoo POS continually communicate, enabling businesses to boost their marketing and sales more effectively than ever.
In 1950, Ajmal Perfumes began its adventure in Assam, India, as a tiny maker of perfumes in the Arabic style. They quickly expanded to Dubai, where it built its primary headquarters.
Ajmal Perfumes grew to become a top maker, distributor, and retailer of oil-based perfumes. Ajmal operates over 180 retail locations in six countries with over 10,000 people. Their products are sold in-store and online. In addition, they make perfumes, test combinations, and ship them to neighboring Gulf Cooperation Council countries.
Odoo POS is utilized in every Ajmal Perfumes location worldwide. Ajmal chooses Odoo POS due to the smooth experience it offers in-store customers. It also provides a personalized omnichannel experience for online and offline shoppers via loyalty programs and unique promotions.
Ajmal Perfumes has traditionally focused on direct-to-consumer sales (D2C). However, the company is constantly expanding its B2B operations and providing users with a personalized omnichannel experience.
Ajmal Perfumes redesigned its software infrastructure to accommodate this substantial commercial demand. The company's exquisite use of technology enables its dispersed personnel to function as one, precisely anticipating (and frequently achieving) their yearly objectives at a high-speed rate.
"Ajmal Perfumes wants to change the way they work, and we want to be the partner of choice for reimagining their businesses with robust software," says Chintan Shah, Brainvire CEO.
Opt For Scalable Software Solutions
Ajmal Perfumes has relied on Orion's ERP and MRP software for the past 27 years to handle its procurement, accounting, manufacturing, and sales requirements. However, the software's inability to serve more than 500 users caused a bottleneck, forcing the Ajmal team to hunt for a new, and more capable solution.
Ajmal possessed a POS system called "3i-infotech" linked to Orion. This assisted the Ajmal team in supplying energy to its stores. They also utilized Capillary, mainly as a retail CRM and loyalty program software.
Brainvire, through its comprehensive SAP ERP/Odoo POS integration, presented Ajmal Perfumes with a thriving ecosystem, enabling them to accomplish the significant digital expansion of their retail operation. In addition, the Brainvire team pushed Ajmal to integrate Odoo POS and SAP's ERP to control sales operations and financial results.
Reconnecting Software Framework For Better Reliability
"A good software ecosystem is a dynamic, interconnected network that allows a retailer to communicate with its customers securely. When a software ecosystem is integrated, businesses can use new and old technologies to grow their businesses, while also building automated processes around them" - Chintan Shah, Brainvire CEO.
To overcome the constraints of their current software, Ajmal Perfumes had to implement new and adaptable solutions.
Empowering Sales Through CRM
Ajmal Perfumes had Capillary loyalty program and CRM administration before Brainvire deployed Odoo CRM. Many leading organizations in Asia and the United States use Capillary as their CRM of choice.
Capillary handled Marketing Automation and all CRM duties for Ajmal. In addition, capillary also conducted email marketing and SMS.
Ajmal Perfumes sought a flexible, adaptable, and user-friendly customer relationship management (CRM) system that could connect to their principal source of revenue (their stores) via the point-of-sale system (POS).
In addition, an automated system was required to unify all processes onto a single platform. This will offer the Ajmal team valuable real-time data, enhancing their overall efficiency. Fortunately, Brainvire was more than capable of substituting Capillary with Odoo CRM.
This CRM served as a centralized database for all client information, including name, address, birthday, anniversary, etc. Additionally, behavioral data, such as Purchase History, would be maintained.
Ajmal would be able to retain more customers and expand its audience if it could evaluate past transactions to generate targeted and tailored marketing campaigns and pertinent product offerings.
Ajmal launches automated programs (e.g., SMS and email campaigns) with a comprehensive customer perspective. Moreover, the Ajmal team implements engaging social media advertising and discount programs.
In addition, everything is easily tracked using analytics, and all social media-generated leads are instantly logged.
Ajmal Perfumes has a renowned customer loyalty program called "Ajmal 1." Brainvire personalized every facet of their loyalty program and linked it flawlessly with Odoo CRM and Odoo POS.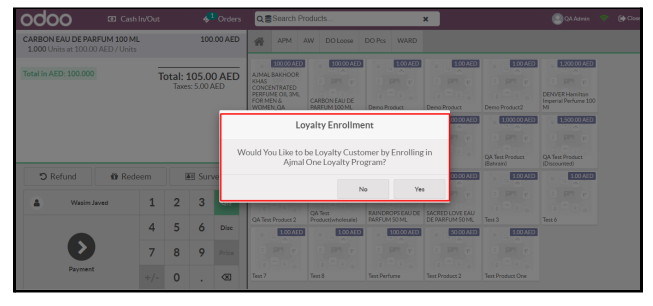 The amazing Brainvire team worked on a substantial upgrade to the loyalty programs, now POS-based. Additionally, they accomplished considerable CRM-related work.
For Ajmal's marketing automation plan to be strong, the Brainvire team assisted with an extensive extension of their automated SMS activities and responsibilities. The project isn't quite finished yet, but things have been moving smoothly since the beginning and show no slowing down.
POS To Boost Customer Loyalty And Satisfaction
As indicated previously, Ajmal Perfumes required a comprehensive POS solution that could be coupled with their CRM software and back-end ERP system (SAP).
Brainvire created a loyalty management system in Odoo POS. They modified it to satisfy their "Ajmal 1" loyalty criterion. This program consists of three tiers: silver, gold, and platinum. In addition, Brainvire designed a system that permits Ajmal Perfumes to upgrade customers based on the distributed points.
Brainvire made the redemption of points more adaptable. Now, it is easy for users as they can easily do it across various product categories, billing categories, and customer categories.
Additionally, Brainvire has enhanced the concept of discounts. This scheme is available in Odoo and enables Ajmal to combine various discounts with meeting their specific business needs.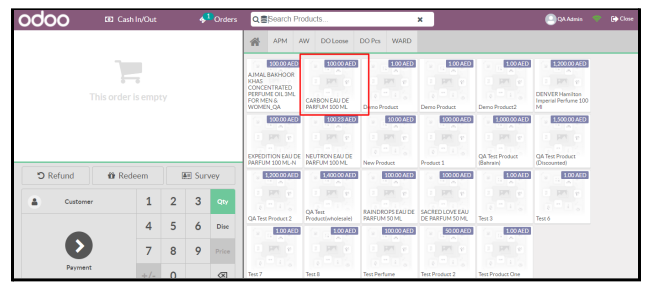 This system also enables different payment modes, customer management on a large scale, accounting, and customer-specific management, among other features.
Seamless Magento-Odoo Integration
Brainvire implemented an Odoo-Magento connection for Ajmal Perfumes to increase customer engagement across physical stores, marketplaces, and online. Ajmal Perfumes sought an Omnichannel retail solution and a solution provider as a result.
As far as Brainvire's digital and retail expertise is concerned, Magento is the best solution for retail businesses. As a result of the seamless integration of Magento with their CRM and point of sale systems, the entire organization can run smoothly.
All processes (omnichannel, online, and offline) in a single system may be tracked. In part, Ajmal Perfumes' success as a market leader can be attributed to the flawless business model that Odoo and Brainvire have helped create.
About Brainvire Infotech Inc.
Brainvire Infotech Inc. is a notable Odoo Gold Partner that has implemented Odoo in the jewelry, manufacturing, retail, transportation, automotive, and real estate industries.
Over the past two decades, Brainvire's growth strategy has effectively accelerated project deployment thanks to its professional in-house team. Brainvire offers comprehensive migration, customized core Odoo modules, retail omnichannel ERP systems, industry-specific solutions, gap analysis and consultation, third-party app integration, quality assurance, deployment and rollout services, and much more.