Brainvire's Odoo development team has provided its client based out of the USA with personalized reports. None of these reports is native to Odoo, while some had to be custom-built to meet the customer's specific business needs.
The client is from the jewelry industry and maintains a large collection of rings, bands, customization options, designs, and engravings. Customers can purchase jewelry based on any of these criteria at any time. As a result, they must have a reliable way of storing all of this information.
Brainvire added response analysis of all of these aspects and others to help understand what their finest products are, how much inventory they need, and what the capacity demand for their jewelry is. Their sales team will also form orders based on time or recent orders. Customizations that may attract ratings include engravings, settings, and personalized products.
"Brainvire is one of the rare IT firms that has a vast Odoo exposure. They considered our varied challenges and then implemented Odoo with smooth integration and configuration. With successful Odoo implementation, Brainvire has exceeded our expectations," said James Kao, CEO - Larson Jewelry.
About Larson Jewelers
Larson Jewelers is named for its unique array of wedding bands and rings, and it has more than a decade of experience offering the finest and most sophisticated collections of exquisite wedding bands to over 100,000 loyal customers. Larson is a one-stop shop for the ideal wedding ring in every price range, from tungsten rings and palladium wedding bands, diamonds to white gold.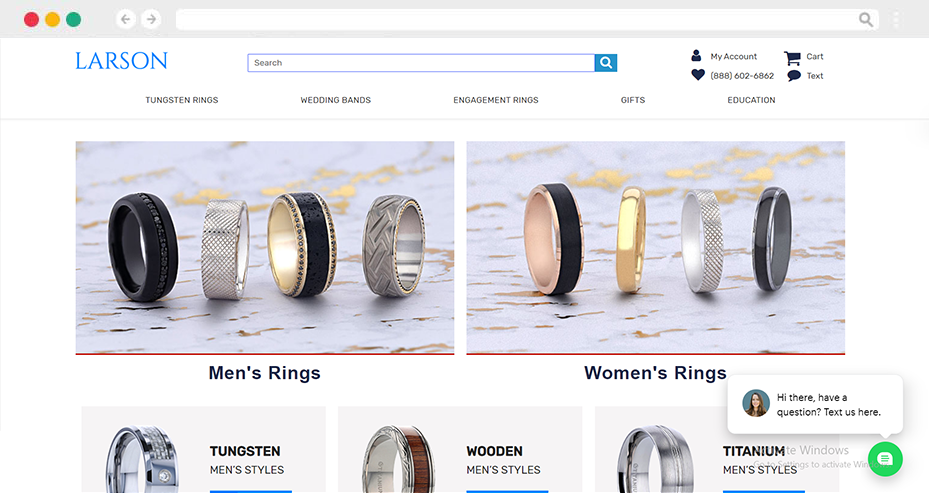 There are several styles available, including wire-brushed, polished, quilted, engraved, sandblasted, and brushed jewelry. Their LASER engraving technique is often used to create personalized messages on rings. Their eCommerce website is easy to access, and they have professional wedding band experts with great expertise in this field.
Challenges & Pre-requisites
The most significant aspect of Larson Jewelers was to maintain and migrate their multi-approach businesses, which required the use of several sources and applications to complete distinct functionality. They used Quickbook to help them properly plan their finances and budgets. However, it didn't work as a full-fledged optimized software like Odoo ERP.
Their existing e-commerce site was integrated and developed alongside other third-party deliverable tools. This dysfunctional and decentralized structure could no longer completely manage Larson Jewelers' complex business activities.
Larson Jewelers' offerings are highly personalized, making it impossible for this dysfunctional mechanism to keep track of revenue, costs, and customization preferences. Larson Jewelers required a strong infrastructure to assist and maintain their operation, as many considerations went into the implementation of one of their products.
Brainvire's Implementation of Odoo ERP
Odoo's multi-company accounting configuration allows their companies to share supply chain workflows under the same Odoo database (sales and purchases). It also organizes documents into a few journals to assign positions among several users, making multiple entries simpler.
Account Reconciliation Functionality
This functionality includes an automated reconciliation system, the ability to record additional journal items when on the go, and the ability to easily window-shop. Each free and paid invoice has its manual reconciliation interface. Account numbers are identified by general reconciliation at the start, and Odoo then pairs over 95% of their invoices and bills, with the smart matching app assisting them to do the remaining 5% in report time.
Sales Commission
This module allows you to learn about suppliers and their commissions, as well as assign them to buyers and sales orders. Following that, you can settle these commissions and generate the corresponding supplier invoices to pay their commission payments. Users have the choice of deciding whether the base range should be net (percentage) or gross (annualized).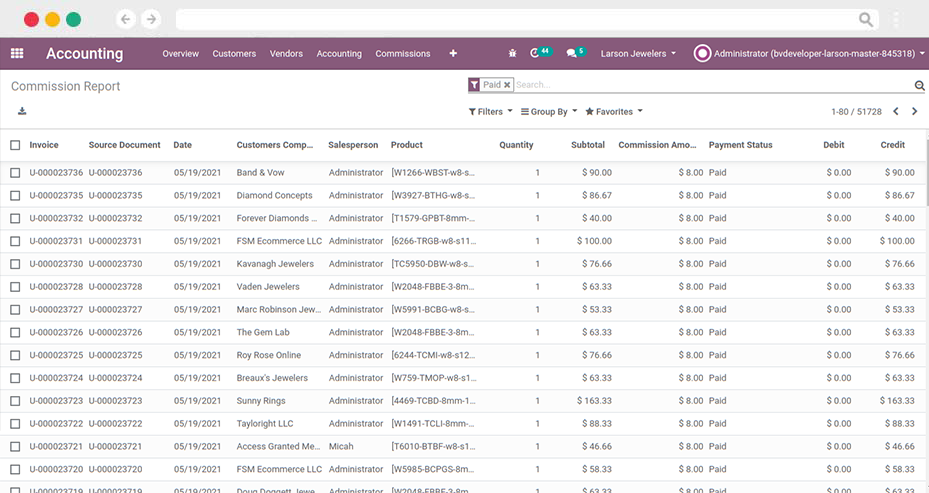 Discount Capabilities
You can enable or disable the discount feature in the sales module configuration settings. Odoo allows you to handle discounts on - order line of sale, the whole order of sale, and the customer invoice. The discount could be a percentage or a fixed amount. Start creating an inventory quotation or place an order right now.
Cart-to-Quote
Larson Jewelers takes orders for their products using the 'Cart-to-Quote' feature. These orders are driven by leads generated by the company's websites, in which potential buyers enter their specifications in the form of charges in their digital cart.
These prices will cover a wide range of wedding bands and rings. These leads (or quotes) are captured and processed as orders in Odoo. The order may be filtered through the website before the quotation is standard in the backend by the Larson Jewelers team. Order control in Odoo can be tracked in real-time to ensure on-time orders and operations. The order continues through several stages.
Sales Management
Larson Jewelers can be able to effectively automate their purchasing workflow by using the Odoo ERP. Purchasing rules based on income orders, inventory fees, projected manufacturing orders, logistic rules, and other considerations may aid in improving purchasing and inventory efficiency. Based on the manufacturing and delivery techniques for each product, they will use excellent replenishment approaches to meet their needs.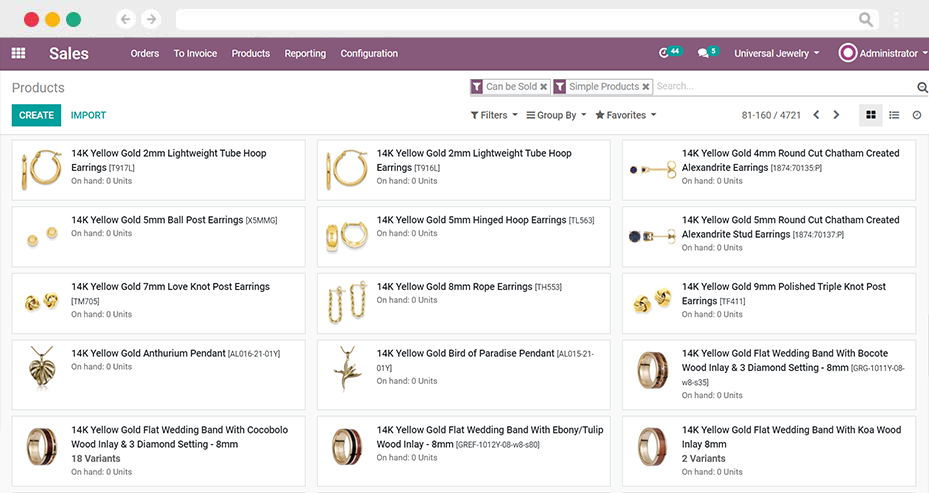 They will be able to conveniently import price lists and references from suppliers to make informed purchasing decisions based on discounts, statistics, and exclusive offers. From inside the app, they can view the status of an order and the arrival of an item in their dealer's inventory. They can also set the income fee based on the expense of the supplier.
Sales Order Revision
When the customer seems to be doing a new revision, we've added a button to the quotation view that allows them to amend the Sales order. Customers may update quotes that are in the draft or canceled states. Quotations that have been updated will also be available in the Quotations menu. If the sales order is changed, the selling order supply may be identified on the revised form.
Odoo-Magento Integration
Larson Jewelers is leveraging both these systems by integrating Odoo and the existing eCommerce store, Magento, to simplify and maximize data management. Odoo Erp software integration with the most recent version of Magento enables store owners to access Odoo-Magento to standardize customers, sales orders, stock catalog, invoices, and other data.
Product Bundling
The Odoo Product bundle Modules, often known as the combination Product Module, enable you to include several items with competitive pricing. Bundling products or creating a Subscription bundle can assist in increasing revenues by providing one-of-a-kind discounts.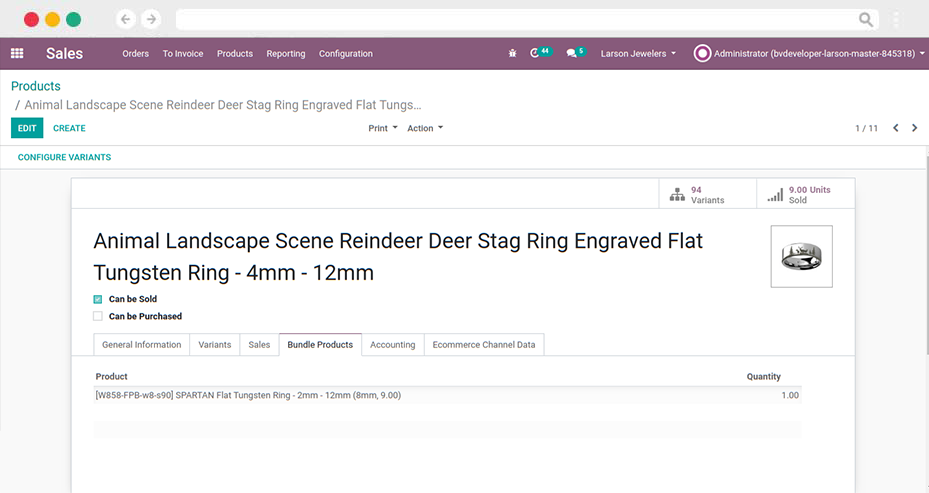 Since we all understand, product bundling is the combination of two or more products or services in addition to enabling analysis and better value, thus advancing the offering to the purchaser at standard pricing. Product bundling is entirely focused on the idea that customers prefer the bundled product over the individual items when purchased separately.
Brainvire Simplifies Larson Jewelers' Customer Journey with Odoo ERP
Larson Jewelers used Odoo to centralize their multi-business approaches. They are now anticipating a strong partnership with Odoo, and they have seen the results of Odoo and how it does much better than most Marketing automation.
Odoo was good at handling omnichannel, providing several pricing options for a single product, and aligned Odoo with the e-commerce site, thanks to Brainvire. Furthermore, Quickbooks was replaced with Odoo Accounting, which strengthened the company's productivity and Larson Jewelers' ROI. Managed ring engraving customization and Amazon marketplace integration.
Larson Jewelers' accounting, reporting, billing and fees, and customizations were all combined into Odoo to have a complete and concise picture of all existing company operations, resulting in the genius duties performed with the help of Brainvire's dedicated team. The aim was to significantly improve buyer journeys, which Odoo more than fulfilled. Brainvire's Odoo ERP Consulting services will be critical in empowering the company's migration to Odoo.