Shurhold produces high-quality detailing tools, including brushes, machine polishers, waxes, and more. They aim to provide customers with high-quality equipment and expert methods to make their vehicle shine as if it belongs in a showroom.
In July of 1973, William E. Peach, who honestly knew nothing about the design or production of cleaning materials, launched Shurhold out of his garage. Yet, he was well-versed in quality and ensured that each brush and handle sold by his business met his exacting standards. In August 1974, the company expanded into a 1,000-square-foot location in Stuart, Florida's B & An Industrial Park. 
Over the following two decades, Shurhold expanded to fill a 10,000-square-foot building in Palm City. Then, in 1998, Barry Berhoff bought the business. Mr. Berhoff then built a 20,000-square-foot factory that uses cutting-edge technology. Next, he and his colleagues expanded the company into a global powerhouse by enhancing product offerings and client bases.
Shurhold is the industry leader because of its cutting-edge designs, premium materials, and meticulous craftsmanship. Customers all across the globe seek out and utilize Shurhold products to protect and preserve their most prized belongings. Shurhold is "Clean-N-Simple!" in their eyes.
Our customer is a leading company in the USA that manufactures car cleaning products. However, QuickBooks, Quick Stock WMs (an SQL database), Daylight CRM, and Freshdesk were the four platforms the business utilized to handle the whole process. Juggling data across so many channels made this system very challenging for them.
However, with time, it became tiresome to manage many systems. Thus a better blueprint was required to assist them in setting up a foolproof strategy. 
Business Operations at Brainvire Were Modernized Using Cutting-edge Software
Customers browsing or making purchases from physical and online establishments all around the globe are rapidly turning to e-commerce. By 2025, it is predicted that online sales will make up about 22% of all retail sales in the United States.
Since its humble beginnings in a garage factory, Shurhold Industries has grown to become a leading manufacturer of cutting-edge specialist care and accessory products for the automobile, marine, and recreational vehicle markets. Shurhold has pioneered the "One Handle Does It All" method, and is committed to providing goods and services of the most excellent possible quality and customer satisfaction.
The customer's goal was to centralize the company's functions on one system. A recommendation for Odoo came from Brainvire. Because we are an Odoo Gold Partner, they were able to examine the RFP document provided by the client's team and map each flow inside Odoo to determine what tweaks would be required. CRM, Sales, Purchase, Inventory, Manufacturing, Quality, Maintenance, Barcode, Accounting, Studio, Approval, and Helpdesk are just a few of the modules available in Odoo ERP.
A customer requested that we develop a mobile app for their pickers. We recommended that selectors use the Odoo Mobile app. A second need was for the Odoo ERP to integrate with the Shopify ecommerce platform so that orders could be managed centrally. We integrated Odoo with Shopify and used Electronic Data Interchange (EDI) to collect orders from several channels. Finally, we implemented a dispatch system in which office workers may reserve or unreserve stock to optimize inventory utilization in light of detailed human knowledge of customer demands.
Let's delve headfirst into the process of improving the company's results.
Streamlining Business Operations in Centralized System
Odoo ERP is one of the leading open-source systems available to help manage several business processes in a unified environment. Shopify is a well-known e-commerce platform providing online storefront space where successful businesses flourish. We've also developed omnichannel marketing to provide a consistent and satisfying experience for customers across all touchpoints of the brand's existence, whether they occur online (through the website, app, social media, email, and SMS) or offline (via a physical shop, an event, or aaa contact center).
Hundreds of payment processing businesses are supported, offering a wide variety of managed operations. Shopify's payment processing capability is one of the platform's most valuable features. To boost sales, this advocates for a multifaceted social and online storefront.
EDI Solution Deployment
In order to alleviate the problems that our client was experiencing with their supply chain, we integrated SPS Commerce Solutions. This retail system streamlines the sharing of information related to goods, stock, orders, shipments, payments, and sales.
With SPS Assortment, we can help them address customers' rising need for access to more product information across all purchasing channels by transforming and delivering product data to the client's trade partners.
We considered the following Odoo Enterprise version modules for this first development round.
CRM (Customer Relationship Management)
The Odoo platform has a Customer Relationship Management module known as Odoo CRM. As a result, leads and prospects may be seen in one place, progressed through several stages, and the outcomes analyzed in one convenient area.
The system's many processes have been simplified thanks to these features we've included.
Customer Master Management
Professionals have adopted Customer MDM because it aims to provide a uniform, accurate, and permanent collection of identifiers and characteristics that characterize a customer and may be used to integrate customer data across numerous organizational silos, as well as business processes and units. This mastered data may then be supplied into operational and analytical systems, which in turn can generate business results.
The client may now enter their name, phone number, and email address for the company into the system. Tags will be used by various client segments, including dealers, wholesalers, and retailers. There should also be a "Sales Rep" section for customers, with a pull-down menu of available options (considered as one type of customer).
Postal Code for Shipment to a Customer
Customer addresses, including all mandatory data and selections, may be added in bulk by users. They can save each customer's unique address information in the contacts and addresses section. The user may save multiple addresses for the same consumer.
Coverage Warranty Record Tab
Only business-to-consumer transactions will have access to this warranty section. The warranty section will populate itself with line items the moment the user clicks the warranty button, complete with all mandatory information. From Jotform, they may collect information (Polisher warranty & registration form). And all of that descriptive information will be included under the warranty tab (Text field).
In-Depth Customer Analytics
We have crafted a customer-centric dashboard with full context and adequate pagination for seeing all accounts. Everything from website visits to emails to meetings to next steps to previous directives should go straight into the opportunity.
Particulars of an Order Placed by a Customer:
Day one of a purchase

Date of last purchase

Earnings in Full

Sum of Items Bought so far
Following up with the client is much easier now that they can monitor their every move.
Sales Administration
Using the Customer 360-degree dashboard, users will have access to comprehensive Customer Insights. In addition, Odoo will be used to store Product Master data, which will lead to the creation of the essential fields in Odoo. 
The Product Form View will be pre-filled with the user's vital information whenever a new order is created, and a client is chosen.
Picking Notes: This is a free-form text area for users to write notes about their picks.
Managing Stocks
It's essential that the system's admin can control where the warehouses and stores are located. For example, a user can set up several Bin locations in the system by including the following data points.
Bin Position
There are three different types of bins that clients may choose from in the corresponding number field.
Picking bins, first and foremost

Think of it as a digital trash can

Thirdly, they may be used as containers.
Describe - a space for descriptive text
Sequence - Numeric input for assigning a unique sequence to each container.
The zone is used when determining the "parent" location for each Bin. The various zones are as follows:
A:

Normal Forward Picking zone for orders

W:

Storage zone

Z:

Special picking zone 

R:

Scrap Zone
Internal Transfer
With the use of transfer logic, the system may automatically create internal transfers. For example, stocks may be moved from the warehouse to the picker's own bins. An automatic internal transfer will be generated if the "Send to picking" action is taken from the dispatch screen.
Additionally, when the system initiates an automated internal transfer, the picker will be able to observe the following:
Product

Home base storage unit

Depending on the market, a product may have a limited supply

The number of items to be transferred is defined as the difference between the amount on order and the number of items currently stored in the bin
Priority for creating an internal transfer will always go to the dispatch order, followed by the automated creation of an internal transfer through scheduler action.
Mobile Application
In order to cut down on time spent walking and increase time spent choosing, our team also developed an app that assigns sequential numbers to bin locations. Pickers can use the system to control BOM variation by selecting additional components as needed throughout the production and approval procedures.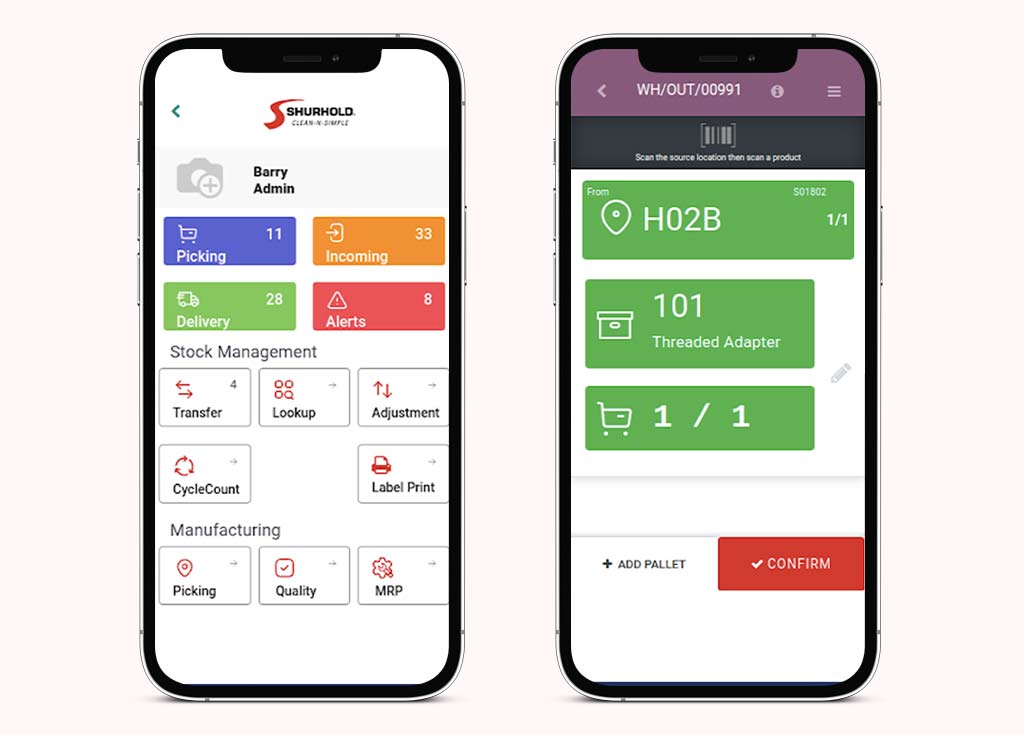 The Mobile Screen will allow Pickers to log in. Picker's functionality expands after authentication. In order to use the mobile app, they will need to provide their Email Id (Username) and Password. In addition, they will be able to sign in by scanning barcodes that are assigned to their badges.
Given the appropriate permissions, the Picker will be able to see the dashboard on the main menu and do the tasks listed below:
Operations
By Choosing an Internal Transfer

Delivery

Consignment Arriving
Administration of Stocks
Corrections to Stock Inventories

The number of cycles

Checking Stocks
On Delivery orders, we may make special comments. Likewise, which will be filled in when receiving delivery orders.
The gray box will become green when you scan the location, product, and amount into the app. The bin sequence number will determine the order of the pick orders. Pickers may hear the Beep if they have entered or scanned the right location, product, or amount.
Selecting picking from the main menu will take the user to a page that lists all open pick orders. The order source may be used as a filter in Picker. In addition, a user may examine demands that have been filtered by order source after a filter has been applied.
With the click of a button, the Picker will begin working on the order. As soon as the selector begins processing, a pop-up with further information will appear (if any). Sifters will check their notes and keep working. The gray box will provide the selectors with information about the location, the item, and the amount.
The Picker may now scan or enter the Bin location, product, and quantity. The gray box will become green when they scan the location, product, and amount into the app. With a Retail/ground order, they may split scanned items among numerous packages with a click of the "Put in pack" button, and a new line item will appear for the unscannable items.
The picking process is complete once the Picker acknowledges the picking in a pop-up window, at which point the system displays notes and requests confirmation. 
Users may accept either an excess or a shortage of goods from an incoming cargo. Pickers can receive less than the required amount and submit backorders for the difference. They will have opportunities to conduct quality checks prior to product delivery (if any). The goods may be placed in various storage areas once the Picker has received them.
The Picker may keep track of cycle times by scanning and recording the Bin's coordinates. When that's done, they may scan the item and its amount. Then, the Picker updates the amount by clicking on the line item in the product list. The cycle count record is sent to the desktop manager for approval after the Picker is done counting.
Techniques of Production
The user will have the capability to create manufacturing orders and organize production schedules. Production orders are made when a Plant Manager chooses which products to make and how many of each. The system will hold the required quantity and generate a pick ticket once the manager approves the manufacturing order. Next, a picker will gather components, who will check the tickets to ensure their accuracy.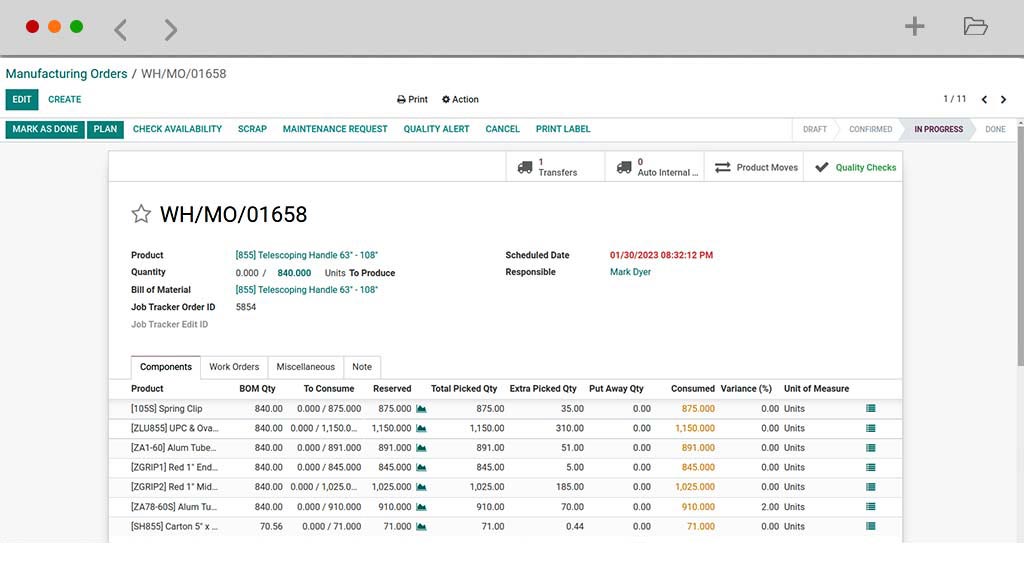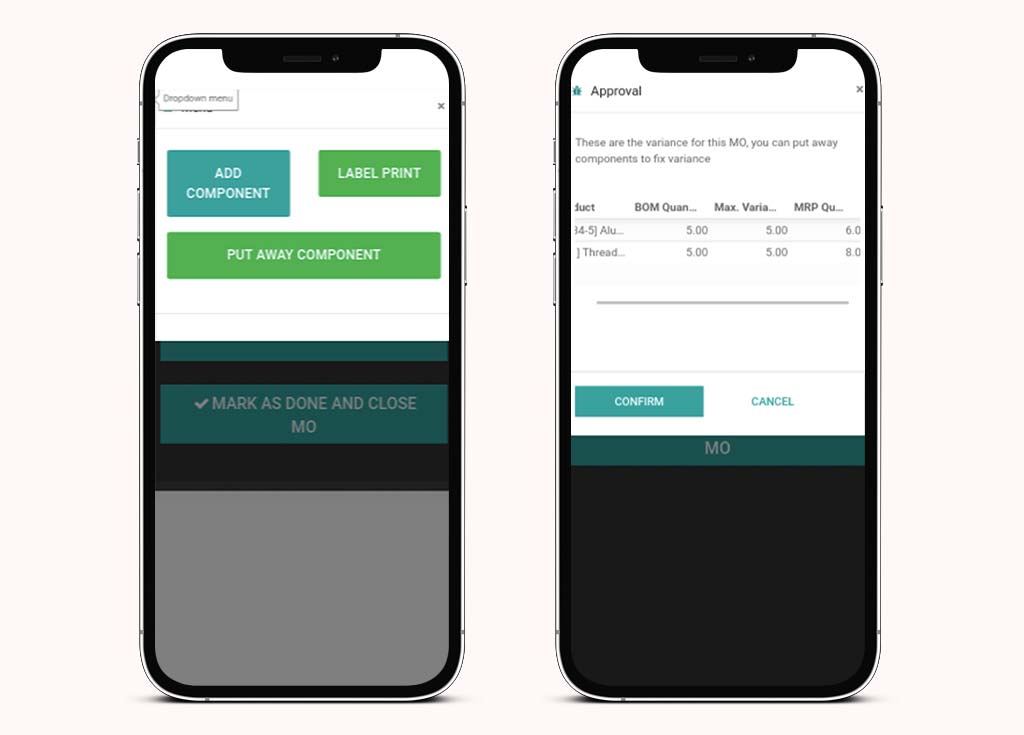 With the Picker's approval of the pick tickets, the raw materials will be moved from storage to the virtual manufacturing site. Now that picking is complete, the operator may see the manufacturing order, make a selection, and begin processing the order. If more parts are needed during manufacturing, the operator may get them from the work center and continue working.
Inventory Adjustment 
After the pickers have finished their cycle count, a manager should review and either accept or reject the record of their inventory adjustments. As soon as the pickers have completed the cycle count, the manager will be able to accept or reject the record of inventory adjustments.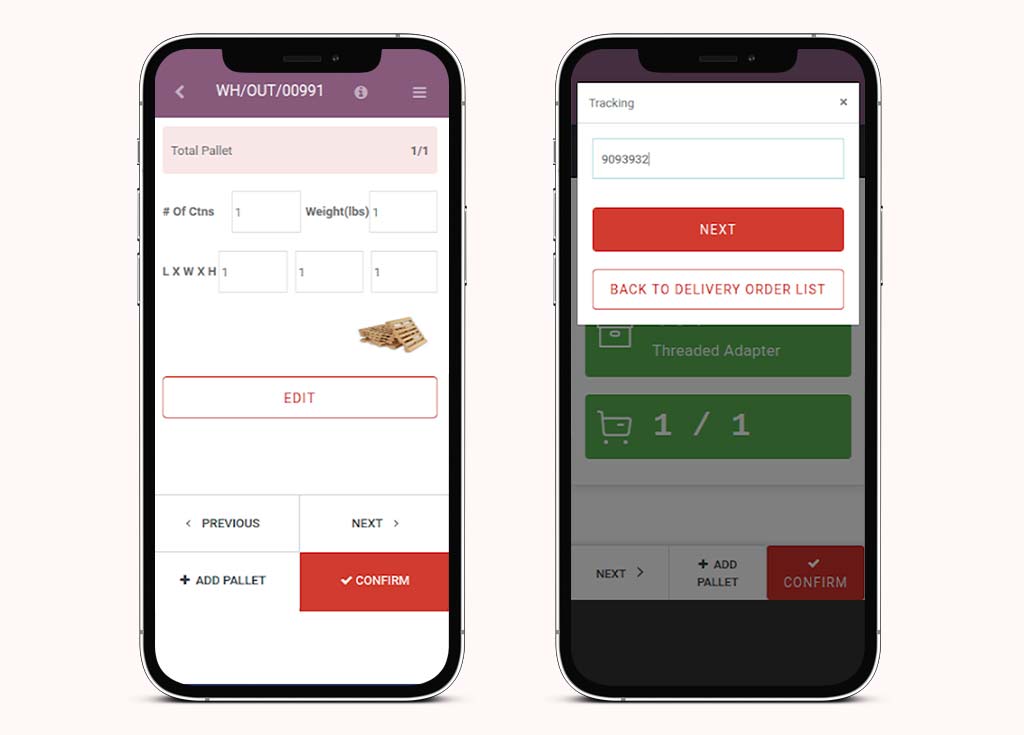 When a picker completes a zone's cycle count, the system will automatically submit an adjustment record to the manager for review. The manager has the option to either accept or reject documents of inventory rebalancing.
Organization of a Help Desk Service
Details from the JOT forms will be used to create the RMA ticket, which will then be processed. A person may process RMA and create credit notes in the system based on tickets received. After a user submits a Jot Form for returns and exchanges, RMA tickets are automatically generated. Extending the RMA ticket procedure is planned.
Task Flows for Dispatching
The office personnel can exercise discretion over which orders are reserved in stock thanks to the dispatch process. This allows for simple inventory management and the initiation of fresh shipments. Orders will be picked and sent according to the user's instructions. All reservations for orders coming in from various channels will initially have an "Unallocated" status. The Order summary page will allow the user to choose several orders at once, allowing for the following operations to be carried out:
Efficiently divide up the funds

Unallocated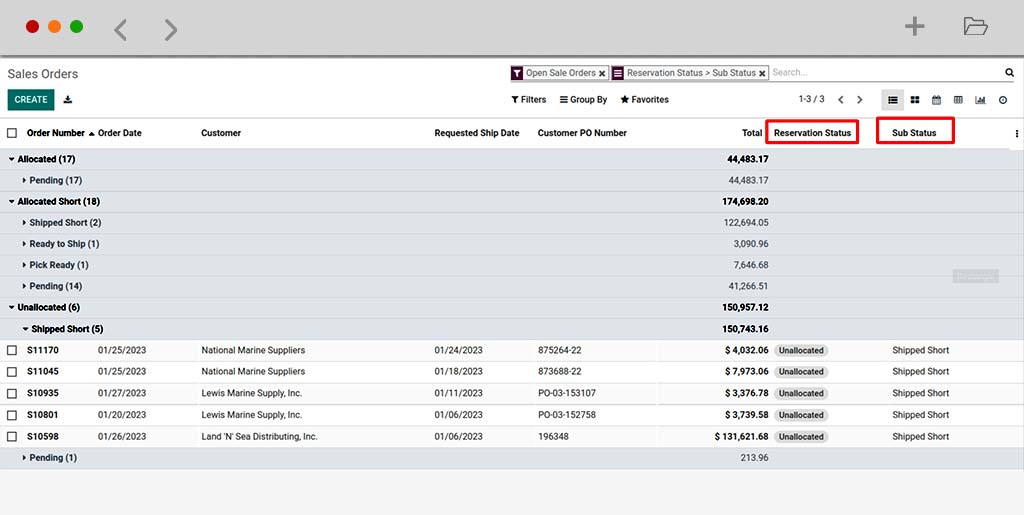 If the user clicks "Try to allocate," the system will pull the necessary stock from the central warehouse (Home bin + Backward Bin) to fulfill the order, and it will also update the reservation status and the sub status of all of the orders in the following ways: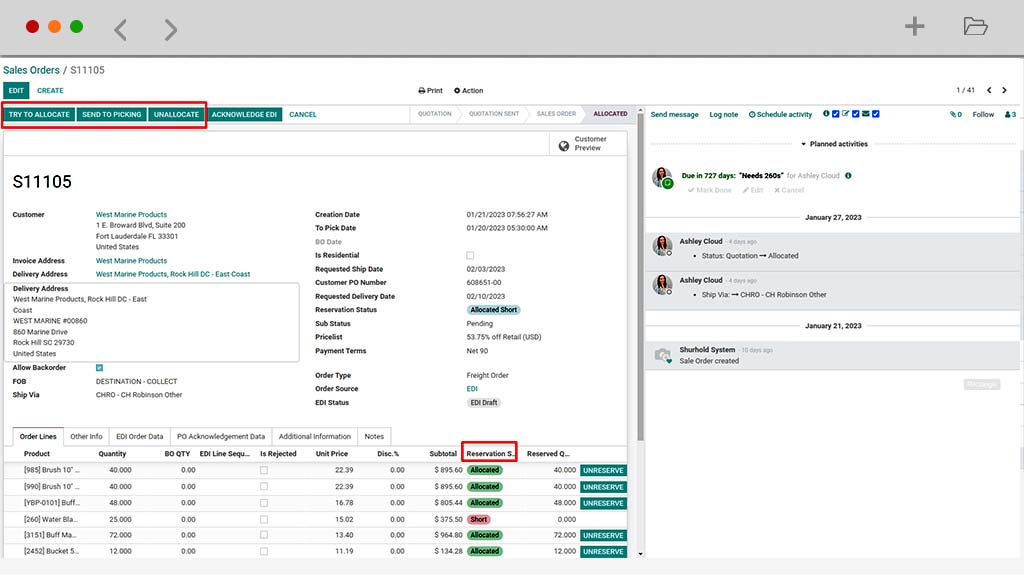 If all of the quantities for an order line have been reserved, the reservation status will change to "Allocated," and the sub status will change to "Pending."

Reservation status will be "Allocated-short," and the status of any sub will be "Pending" if just a portion of the requested quantity was reserved for any given line item in the order.

If no quantities have been booked for any part of an order, the reservation status will be "Short," and the sub status will be "Pending."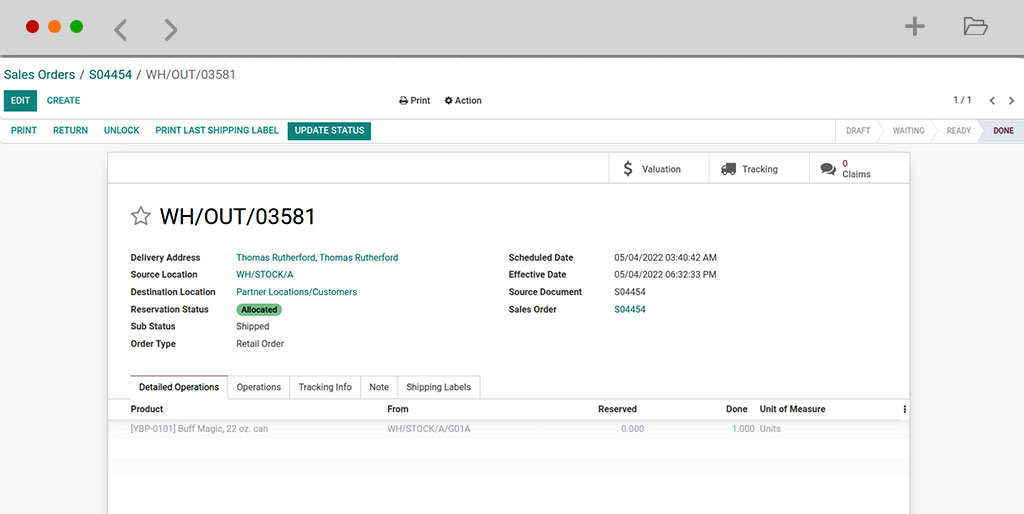 A "Send to Picking" button will become available upon a successful reservation, with further steps depending on the reservation's status.
The Odoo Platform Is Now Fully Integrated With The Shopify Platform
When the engine is this efficient, the rest of the car should be just as well-designed. It's what you get when you connect Shopify with Odoo. You can create a robust online storefront with Shopify and then use Odoo to manage your business's inner workings like human resources, inventories, and the supply chain, as well as produce a plethora of crucial reports based on the information imported from Shopify via the Odoo interface.
Several different connectors (bridges) may be used to link Shopify with Odoo. Also, Odoo and Shopify may be integrated with the use of a dedicated connection. An excellent example of such a connector is Odoo Shopify, which enables bidirectional communication and represents a significant step forward in automating business processes on the web. This Connector's notable capabilities include, but are not limited to, support for managing numerous storefronts, returns and refunds, and inventory.
We have ensured that all their orders and master data from their eCommerce platform are synced through the Shopify and Odoo Integration. The extension has been used for synchronization:
Odoo is an excellent tool for managing product and customer master data.

Odoo will handle all of our product and customer master data.

Commerce platform switch: from Odoo to Shopify

Incorporate Odoo's product catalog into Shopify and all of its information

Transfer product data (quantity, pricing, and photos) from Odoo to Shopify.

Synchronize product data between Odoo and Shopify and publish/unpublish as needed

Transfer order status from Odoo to Shopify (completed/canceled)

Kit Odoo Shopify product synchronization

Syncing customer data from Odoo to Shopify
Odoo's product return management and Shopify's credit note export are both possible thanks to this integration.
Switching from Shopify to Odoo
Take Shopify orders and put them in Odoo.

Move your Shopify clientele and their information over to Odoo with ease.

Bring your Shopify inventory into your Odoo database.

Transfer data, including Shopify product stock, pricing, and images, to Odoo.

Bring your Shopify discount coupons, coupon codes, and gift card discounts over to Odoo.

Bring over Shopify's unfilled orders to Odoo.
Closing Remarks
Brainers have ensured customers can manage their e-commerce operations thanks to the Shopify and Odoo connectivity. Orders and master data in Odoo were synchronized successfully. In addition, the mobile software can direct pickers around the warehouse efficiently, reducing the amount of time spent walking and increasing the time spent picking. This resulted in a more streamlined and rapid method of fulfilling orders.
We've been working on making it such that everything from label design to label printing is handled in Odoo. As a result, it is possible to automate LTL freight shipments in Phase 2 using Odoo's standard default functionality.
The location of a customer's shop will not be synchronized with the Shopify website. However, the Google Sheet with the Customer's Store Location Information will be updated.
This synced all order lines, the Discount line, and the shipping and handling costs via the Connector, a function that is considered typical.