Brainvire's Odoo team delivered tailor-made reports to the door security specialists in the United States. Unfortunately, none of these reports were inherent to Odoo, and others had to be created from scratch to meet the client's requirements.
The client maintains a large inventory of various types of door security devices, and their clients may choose the service based on any of these needs at any moment. As a result, the customer requested an efficient way to keep track of all of this data.
Brainvire included reports evaluating all of these distinctive traits and more to justify their best-selling products, inventory requirements, and prospective market for their Door Security. It will also sort orders by time or by the most recent rankings by their sales personnel. Customizations such as configurations and customized products are instances of which can generate reports.
About Armor Concepts:
It is a North American company that provides the world's most promising door security services. Their most effective services include door maintenance, protection, and personal security measures, and their anti-theft products have been calibrated since 2004.
In the previous 15 years, they've reinforced 400,000 doors across the Us region, and they've seen and heard more reports about break-ins and suspected thefts than they can remember. They are all reminiscent of the fear and helplessness they felt when they stepped inside their damaged properties.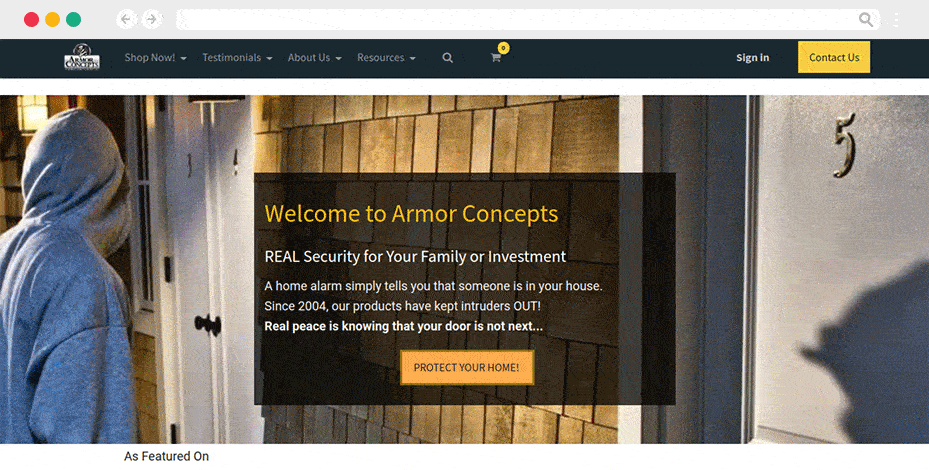 Obstacles and Prerequisites
As the client's products are highly specialized, keeping track of sales, invoices, and change requirements was tricky in this volatile situation. In addition, they required a secured package for both B2B and B2C clients to effectively operate their business, with many variables driving the development.
They were experiencing several issues with their old systems, including errors and other buyer engagement issues. As a result, they inquired Brainvire to create an eCommerce interface that would work with an Odoo backend. Brainvire smartly built an Odoo eCommerce enterprise system with an Odoo backing in this case.
Odoo Upgradation
We migrated the client from Odoo 12 to Odoo 14 due to the apparent performance, as well as the decision to upgrade to higher versions was solely the client's just because they want a higher performance with more features and advancements.
Amazon-Odoo Integration
We integrated Amazon Connector to assist the client in synchronizing orders throughout Amazon and their Odoo ERP, significantly decreasing hours spent on their checkout panel and simplifying their schedule.
● FBA Stock Adjustment - We built an FBA stock management system wherein Amazon reports stock adjustments when changing their FBA Stock inventory level. This functionality transmits the data to the Odoo back seamlessly and guarantees stock improvements in their store.
● Manage Catalog: By syncing their products and variations with Odoo and Amazon, we managed pricing, pictures, sections, and more successfully. Furthermore, we effortlessly integrated their Product Listings with Odoo.
● Stock synchronization: Our client inevitably led to selling and distributing issues. Our specialized Odoo solution aided them in actively syncing their inventory levels between Amazon and Odoo, ensuring that their online stores present accurate and up-to-date sales volumes.
● Order Processing and Fulfillment: Brainvire integrated, evaluated, and executed all of their Amazon Orders (FBA) from Odoo platforms with ease. They can send shipping and tracking information from Odoo Erp to Amazon Marketplace.
Brainvire's Odoo Implementation
Odoo Ecommerce Implementation
By integrating Odoo apps with the Odoo eCommerce system, our client benefits from both systems, streamlining and enhancing data storage. They can use Odoo Ecommerce Integration to synchronize customers, stock levels, stock catalog, payments, and other data.
Ecommerce with multiple locations
We developed an integrated eCommerce functionality that enables the client to set up many eCommerce enterprises, each with its theme, languages, currencies, and pricing list.
Themes
We evaluated Odoo's selection of primed themes available in the Odoo app store and altered themes with a few clicks of the mouse.
Pricing, products, and retail stores
Our experts created flexible price lists, variants to expand product options, and several storefronts with one setup to reflect inventory levels.
Web Form
We built aesthetically attractive custom online forms and snippets to swiftly capture user input.
Odoo Customer Journey
Simplified Search Process
By allocating products, we created a search strategy to make it easier for clients to discover anything.
Simplified Checkout Process
To win back clients, we created a simple checkout process in Odoo 14.
Onboarding of new customers
Our specialists developed procedural guidelines to help customers complete the checkout process without any hassle.
Wishlist
Using the wishlist function, users may add items to their wishlist. Regular customers would therefore utilize it to purchase their favorite items immediately.
Odoo Payment & Shipping Methods
Payment Options
We merged payment gateways like Stripe and PayPal to allow customers to pay, and the digital payment choices were forwarded to the client's 'Thank you' page. Furthermore, we have created payment options, including bank transfers and cheques, to give their customers additional alternatives.
Methods of Shipment
Our client utilizes the UPS and USPS shipment connectors that we created to speed up their delivery process and generate Odoo reports.
Shipping rules
Brainvire created shipping rules that describe how to calculate delivery prices, weighting, and other factors.
Billing & Accounting Functionality
Chart of accounts
We used the customized bundle to create their chart of accounts.
Integrated accounting package
Odoo's chart of accounts was utilized, which included federal taxes, fiscal statuses, and statistics.
Calculate & bill shipping costs
Odoo's chart of accounts, which contained federal taxes, fiscal statuses, and data, was used.
Reconciliation Functionality
Interface for manual reconciliation of both paid and free billing. This functionality includes automated reconciliation, the option to track new journal goods while on the road, and the capacity to window-shop successfully.
Reporting Functionality
Dashboards and Reports
Dashboard functions such as recovering visitors, accepting payments, invoicing orders, and so on were introduced.
Analyzing sales data
We built a sales report option that determines the best product in terms of quantity sold and the best buyer in terms of sales. It also adds a chart to the client's User interfaces that displays the client's sales data by product.
Key Performance Indicators
We introduced a new KPI tool to assist them in tracking their eCommerce Metrics, including conversion rate, online stores, average cart amount, etc.
Brainvire's implementation for a USA based No.1 Door Security Expert
Our approach drew the client through the guidance on how to improve its system performance. We enabled them to successfully upgrade to the most current updates, Odoo 14 Enterprise and resolved all of the bugs they were having with their previous system.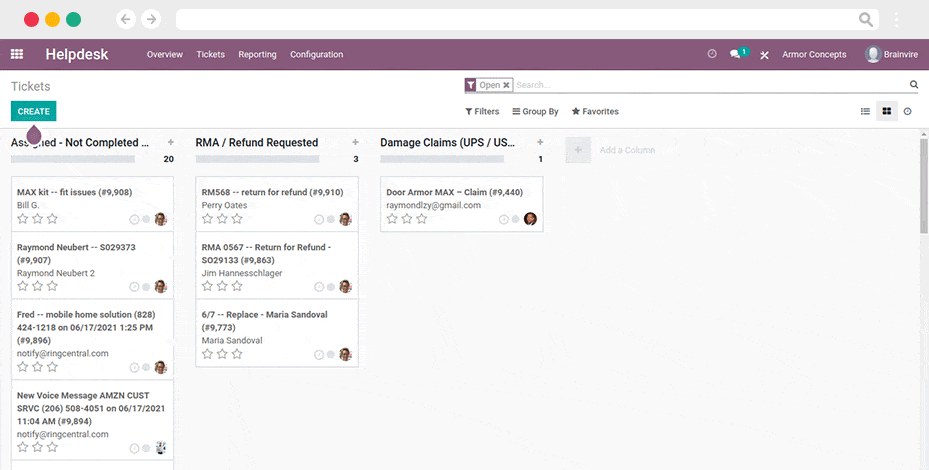 Along with the code migration to the most recent system, we also moved all of the prior year's dataset. After the relocation, we continued working on optimization; however, because multiple partners worked on it, the code became disorganized and did not agree to the Odoo Standards.
In other words, we aided them in optimizing the code, organizing the system, finding the underlying source of the challenges, and addressing them, all while delivering a working system that previously took so long for customers to use, and we have addressed that issue.
"With the help of our Odoo expertise, we successfully ARMORED their business processes, and this prompted them to consider a strong partnership with us for Odoo after experiencing a value-adding Odoo implementation that eased their business process," said Chintan Shah, CEO of Brainvire Infotech.
As a result, Brainvire's Odoo ERP Consulting services will best equip the business's seamless transition to Odoo.