Companies in the freight and logistics (F&L) industry face a significant challenge in transforming their current technologies into a more interactive, modern, and "linked" environment. These businesses usually have legacy mainframe systems that are 20 to 30 years old, based on obsolete technologies, and interconnected by a tangle of spaghetti code that is difficult to decipher. 
These legacy systems are unable to support the most recent technological developments, such as cloud data storage, cybersecurity advancements, and the use of application program interfaces (APIs) for efficient software deployment.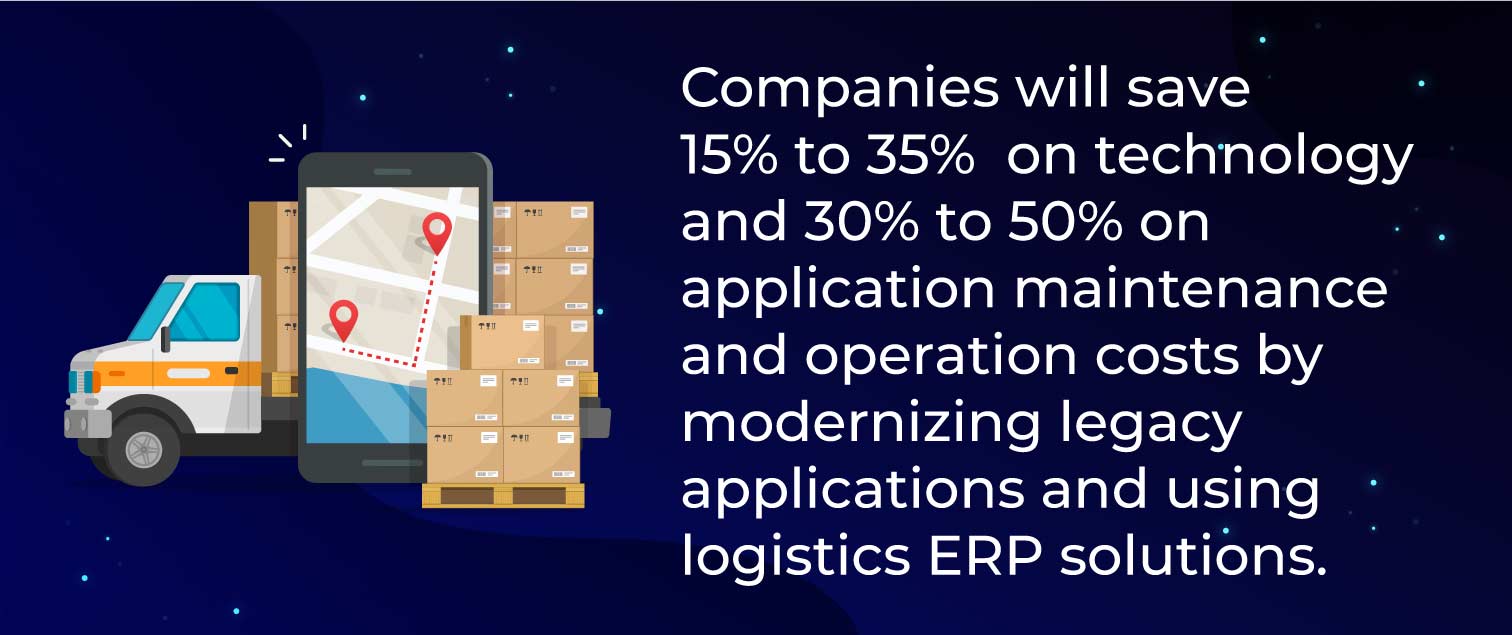 Challenges In Providing A Digital Experience
F&L businesses have embraced digital transformation and integrated emerging technology into all facets of their operations over the last decade. In today's market, dynamic routing, smart container sensors, improved GPS systems, chatbots, and cloud services are all commonplace. They haven't lost their significance. However, they are no longer a strategic advantage.
The industry's rush to embrace all things digital mirrored what was going on in people's personal lives. People have embraced technology at a breakneck pace. Their aspirations are now rising. And it's evolving. People don't want to be plugged into a digital experience any longer. They want emerging technology to enhance and connect with their own human experiences.
Unfortunately, several F&L businesses are unable to meet the need for human-centered solutions that exist today. As a result, they run the risk of losing clients, as well as sales. They will keep both by aligning technology with the changing desires of their workers and customers for a more human experience.
Employees at F&L, and customers have lost the ability to differentiate between their "digital" and "physical" lives. They also have no patience with employers or F&L service providers who ignore the convergence.
Modernize Instead of Replace
Most F&L corporations' IT strategy for modernizing their IT environments over the last 10-15 years has been to purchase commercial off-the-shelf (COTS) software solutions. The concept is that these products would be able to easily unlock new capabilities. Companies also discovered that this route has not been easy.
These products often lack the customized and feature-rich capabilities required by multinational, asset-heavy freight companies, resulting in a lengthy implementation process. In reality, some implementation journeys have proven to be so difficult that businesses only execute a fraction of what was originally planned.
With implementation complexities and costs looming with COTS solutions, a new concept is gaining traction: Modernize rather than replace.
Brainvire collaborates with clients to develop new and creative methods for moving existing systems to modern application architecture technologies, including cloud migration. The applications reside on modified code bases after they've been migrated, allowing for quicker implementation of new capabilities, improved integration connectivity, and a smoother cloud transition.  F&L companies are then able to reduce both development and maintenance costs while also supporting new digital capabilities that customers expect.
Why modernize your legacy applications?
15-35% infrastructure year-over-year savings

30-50% lower application maintenance and running costs

Provide new technology and business channels

Support regulations and compliance requirements

Increase customer satisfaction
Freight Industry during COVID-19
Since the beginning of the COVID-19 crisis, freight and logistics companies have been on the front lines, keeping shelves stocked and vital production lines going. However, the year began with global retail trade growth already below trend – and the industry is now experiencing global disruption. No company has been spared from the crisis, which has had a major effect on the Freight and Logistics industries. 
Supply chains are affected, and leaders must make fast, well-informed decisions to protect and help their employees, as well as ensure that vital business operations meet immediate and long-term community needs.
Logistics, like many other industries, has had a remarkable and difficult year. Companies and supply chains all over the world have been affected by the COVID-19 pandemic, and freight and logistics companies are scrambling to respond to high market volatility and economic uncertainty.
These issues have arisen at a crucial juncture in the industry's history. After years of gradual and incremental transition, the effect of digital technology was slowly beginning to bite before the pandemic struck. Established logistics providers were finding that new digital entrants were posing a significant threat to their business models.
Moving From Reaction To Action
Smart business leaders will seize this opportunity to move quickly to place their organizations for greater resiliency and competitiveness in a world where "business as normal" is no longer possible.
When it comes to retooling, there are three main factors that freight and logistics companies must bear in mind:
1. eCommerce is surging
eCommerce and last-mile service providers are quickly expanding their market share and logistics capabilities. Customers' expectations for online orders and home delivery of food and supplies have risen sharply, and potential quality expectations will change.
2. Customer supply chains will change
Supply chain practitioners are rethinking their procurement and logistics networks to reduce potential risk as a result of the lockdown.
3. Global economic growth will slow down
All signs point to a significant drop in economic growth, possibly the worst since WWII. Since logistic services are derived from the transportation of physical goods, the sector will almost certainly suffer long after the current health crisis has passed.
New players raise the bar for logistics
The global e-commerce behemoths – Amazon, Alibaba, and others – are expanding into logistics in a big way, competing with incumbent suppliers while dramatically raising consumer expectations, leveraging their digital knowledge, distribution experience, and high standards of customer support.
At the same time, new digital service providers have noticed a growing gap between logistics requirements and the experience provided. Consider how digital networks like Flexport1, FreightHub, Convoy, Uber Freight, and others are disrupting freight forwarding and truck brokerage by providing shippers with more user-friendly services. With so much latent value to be released, it's no wonder these digital disruptors have their sights firmly set on the logistics market.
As a result of the COVID-19 pandemic, digital adoption is on the rise, and this knowledge and expertise in digital service delivery are well placed to meet changing consumer needs and expectations. As a result, incumbents can be tempted to regard newcomers with skepticism. However, they provide far more possibilities than dangers. Indeed, the vast majority of new technology-oriented logistics startups are offering innovative Logistics ERP solutions rather than attempting to displace entire value chains or legacy service providers.
Digital Disruption in Freight and Logistics 
Traditional freight and logistics partnerships are being transformed by new digital entrants. Their services, which are based on big data, cloud, and connected network technology, provide customers with the same seamless experience they get as consumers: easy access, price transparency, and fast, near real-time integrated service. Still mired in largely manual and heterogeneous processes, supported by a variety of different tools, most of the industry's incumbents simply can't compete.
As digital disruptors continue to infiltrate the value chain with customer-centric services that consolidate logistics operations, incumbents must step up their game—using digital technology to alter pricing models and push insurgents out of the market.
Brainvire believes that eight digital technologies, at varying stages of maturity, are especially disruptive. 
Blockchain
Secure data delivery and validation technology that increases shipment visibility and instills confidence in foreign cargo sales and movement.
Augmented Reality
In warehouses and cross-docking areas, augmented reality can revolutionize the picking, packaging, and commissioning processes. If the technology is not used, handling costs would be uncompetitive, resulting in a reduction in margin.
Robotics
Robotic Process Automation would raise the level of automation in the transportation planning and customer invoicing processes to nearly 100%, requiring humans to perform almost no tasks.
Autonomous Logistics
By minimizing reliance on the human element, a driverless mode of transporting goods from point A to point B would revolutionize the industry. Data collected via sensors, RFID, barcode, and remote devices along the entire value chain will be a make or break capability.
Digital Platforms
Digital platforms alter the revenue mix by allowing both physical and virtual product offerings that not only transport goods from one location to another but also allow the optimization of other sections of the company by providing clients with insights along the supply chain.
Big Data Analytics
Big Data Analytics with data from the entire ecosystem will provide a whole new set of information that enable 3PLs to strongly drive operational efficiencies through higher utilization of assets.
SaaS Core Solutions
Monolithic bespoke core applications have been used in Freight & Logistics for a long time, and standardized and simple to deploy and parametrize applications have replaced them, driving operational agility into the market.
3D Printing
3D printing would greatly accelerate the decentralization of finished product manufacturing, allowing for the horizontal incorporation of additional supply chain operations, thus expanding the product range.
New Business Models for the New Normal
1. Digital Sales
To gain access to new clients and the spot market, actively engage and exploit emerging freight online networks with differentiated service offerings. Analyze current clients' shipping behavior and create strategic sales strategies using internal sales and consumer analytics.
2. Customer Specific Platforms
Customer-specific websites serve as a one-stop shop for all customer data and interactions, including quoting, shipping details, ordering, monitoring and tracking, and billing. The platform offers customized reporting features to help clients enhance logistics preparation by incorporating analytics.
3. 3D Print Farm
Set up 3D printing centers in strategic locations to provide clients with finished/semi-finished components printed by the LSP as a contract manufacturer.
4. Matchmaker
Establish and expand an online freight platform based on personal knowledge and global experience, allowing for a many-to-many buyer-seller partnership - either by in-house growth or through partnering with established platforms.
5. Holistic Supply Chain Management
Increase service offerings for LSP clients across the entire value chain – upstream and downstream. Provide proactive strategies focused on big data and analytics, as well as external data, to provide actionable information for strategic business planning, forecasting, and proactive risk management for clients.
6. Forwarding Execution Specialist
Consolidation, packaging, labeling, pre-carriage, on-carriage, reporting, and other "physical" transport execution (consolidation, packing, labeling, pre-carriage, on-carriage, etc.) on online platforms. LSPs must use automation extensively to allow competitive pricing on such platforms – both physically, inside warehouses/yards, and electronically, along with business processes to optimize operating costs.
7. Smart Capacity Optimization
Make own assets smart containers, ships, trucks, planes, trains to allow IoT services for logistics ecosystems as a new service offering, and drastically improve own capacity planning and management.
Shifting focus from short-term to long-term growth
In the short term, F&L businesses want to outmaneuver volatility. They need to step into stabilization and development in the long run.

This necessitates a rethinking of what they do and how they do it. Here are five ideas to get them started:
Use AI and Me thinking to empower the post-digital employee
Container, pallet, and package damage can be detected using AI-enabled video analytics. Customer quote requests can be handled by AI-enabled chatbots. Connected railcar or port solutions may combine AI-enabled components like sensors with big data analytics to achieve unparalleled visibility, optimize maintenance and usage, and increase workforce performance.
Engage with the post-digital customer by putting "I" inexperience
Customers may benefit from digital systems that control storage and transportation space, as well as automated processes. For meeting consumer demand, logistics demand forecasting has a lot of potential. Customer relationships could be transformed by cloud-based applications that combine logistics and port functions.
Extend Robots in the Wild, to uncontrolled environments
Human-centered value is delivered in new ways with integrated solutions, such as linking autonomous vehicles transporting goods to a warehouse with robots that can unload, unpack, sort, and reload items with minimal human interaction.
Ensure that data and services are secure
AI and machine learning can be used in cyber dashboards to track the threat environment in real-time. Attack simulations using augmented reality will aid in determining a company's resiliency and identifying unique weaknesses that could endanger the company, its staff, or customers
Strengthen the innovation DNA
In the field of green shipping, collaborating with industry peers is important. There are also ways to use new technology for workforce preparation, such as virtual reality.
The Road Ahead
F&L businesses can increase customer loyalty, company resiliency, and versatility by leveraging the power of deeper, better human-technology experiences and logistics ERP solutions. They will not only be able to rebuild during the industry's recovery, but they will also be able to lay the groundwork for long-term growth and emerge stronger than ever.
Companies who act and change now will lead the charge in supply chain recovery and will be better prepared for the post-COVID-19 world of the new normal.