Northridge Learning Center (NLC) is a renowned US-based tutoring institute that has been providing quality education services to students of all ages and backgrounds since 1993. Their unique approach to education focuses on individualized instruction, hands-on learning, and personalized attention. 
As the institute continued to expand its offerings, managing data across multiple systems became challenging. To address this challenge, NLC turned to Odoo, an all-in-one business management software that allowed them to streamline their data management processes.
Brainvire, an Odoo implementation partner, was brought on board to help NLC customize and integrate the software with its existing systems. The project's first phase involved migrating data from the old systems to Odoo and setting up the basic modules for managing student and parent data. This included a customer relationship management (CRM) system, a platform for managing online tutoring services and materials, and a learning management system (LMS) for delivering and tracking educational content.
As NLC grew, it realized the need for more advanced features to manage its operations efficiently. This led to the project's second phase, where Brainvire customized the Odoo system to include a chat module that enabled students and teachers to communicate and an AI-powered online examination module that allowed students to take exams online.
The development team worked closely with NLC's counselors to revamp and implement the curriculum in the LMS system. This ensured a smoother process and a seamless experience for all stakeholders.
Unified Learning: How Northridge Learning Center Streamlined Its Education System
The Northridge Learning Center is a premier educational institution that faced the challenge of managing multiple systems for various operations, which caused inefficiencies over time. In search of a solution, they turned to Brainvire, a leading technology company specializing in creating custom software solutions to help businesses streamline their operations.
Brainvire proposed a unique and innovative solution called Unified Learning, which centralizes all the academy's systems into a single platform. This platform allows the academy to manage data better, improve communication, and streamline operations. The Unified Learning platform is built on two main components: Shopify and Odoo.
Shopify is an e-commerce platform that enables the academy to manage and sell its educational products and services online. Shopify's integration with Odoo, an all-in-one management software, allows seamless transactions across four platforms. This integration has saved the Northridge Learning Centre's team time and effort.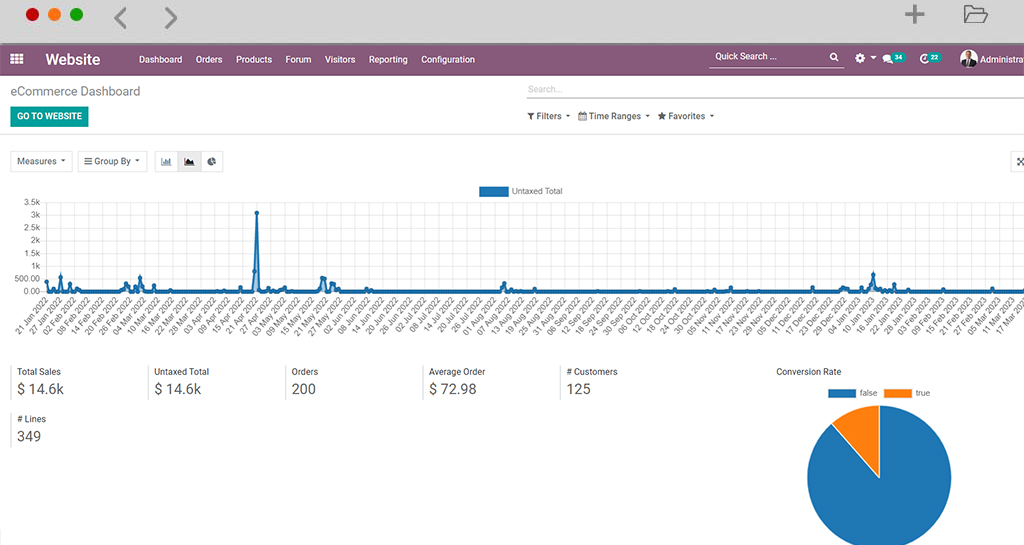 Odoo is a versatile software that provides a complete suite of business applications that streamline operations and enhance productivity. For example, the Northridge Learning Center used Odoo to integrate all its systems into a single platform. With Odoo, the academy can manage student information, scheduling, and billing, among other things.
Brainvire's expertise in creating custom software solutions has helped the Northridge Learning Center achieve its goal of centralizing its systems and improving operations. As a result, the academy can now focus on providing high-quality education while enhancing the student and family experience. In addition, with the Unified Learning platform, the academy has streamlined its operations, improved communication, and provided better data management, all in one place.
Centralizing Operations with Odoo
Odoo is an all-in-one business management software offering a range of features and functionalities to help streamline and centralize business operations. It is a unique platform that combines various modules into a single system, making it a powerful tool for managing different aspects of a business. Odoo's modules include CRM, project management, inventory management, eCommerce, accounting, and more, all integrated into a single system.
One company that benefited from Odoo's capabilities is the Northridge Learning Center (NLC). The NLC faced the challenge of centralizing its systems, and it needed a solution that would help them manage student and parent data in a single platform. With Odoo's integrated modules, NLC could consolidate multiple systems into a single platform, providing a centralized hub for managing student and parent data.
One of the primary modules that NLC used was the CRM module. It helped NLC manage student and parent communications, crucial for any educational institution. In addition, the platform also had a learning management system (LMS) module that enabled NLC to deliver and track educational content, which is essential in the digital age, where remote learning has become more prevalent.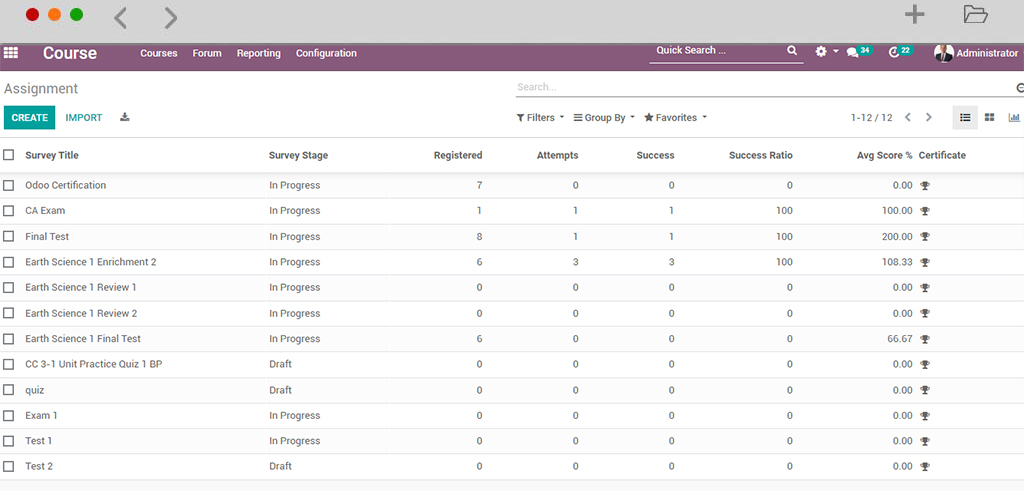 Another module NLC found useful was the platform for managing online tutoring services and materials. With this feature, NLC could offer online tutoring services to their students and efficiently manage the materials used during tutoring sessions.
Brainvire, an expert in Odoo implementation, played a significant role in helping NLC centralize its operations using Odoo. In addition, Brainvire's expertise in Odoo implementation helped NLC streamline its processes, enabling them to manage student and parent data efficiently. Brainvire also provided support and training to NLC's staff to ensure they could maximize the benefits of Odoo's features.
Streamlining Student Registration and Coursework Management with Clover and Odoo
It can be difficult and time-consuming for schools to handle course registration and management. The Northridge Learning Center (NLC) was no exception; they had a hard time juggling all the tools they needed to keep track of student enrollment, course completion, and credit evaluation.
NLC combined Clover and Odoo to overcome these obstacles. These two powerful programs are designed to function harmoniously, streamlining enrollment and consolidating pupil data management. Clover was originally designed to handle walk-in applications, streamlining the process for students who decide to participate in a class after arriving on campus. Odoo, on the other hand, was used as a hub for handling communications with students and their families.
The first step in enrolling is the student's arrival, either online or in person. Shopify handles the enrollment procedure for website visitors, and the data is automatically synced with Odoo. Next, Odoo creates the student's schedule once the enrollment is complete. This study time usually lasts three months and consists of lectures, homework, and tests.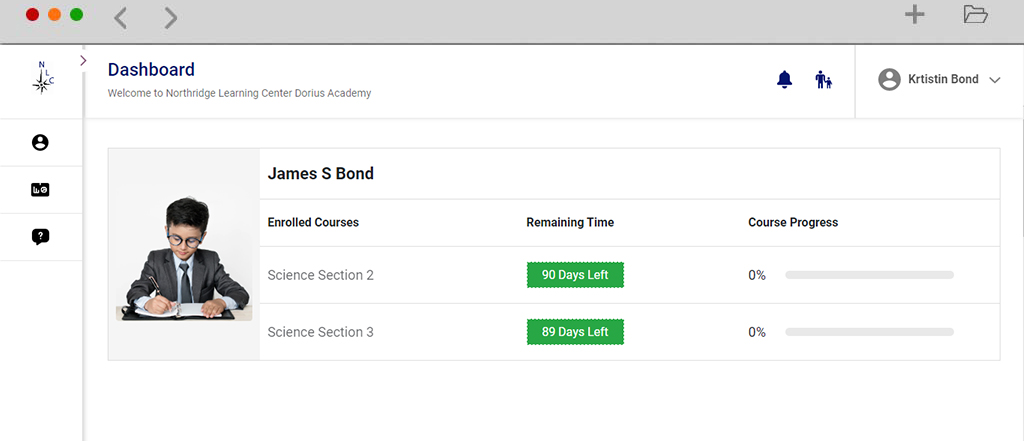 NLC was able to centralize the registration process, handle students' attendance, and automatically produce papers with credit ratings by combining Shopify and Odoo with the Clover system for walk-in registers. The merging of these two systems also allowed for the smooth exchange of information without any interruptions or mistakes in data transmission.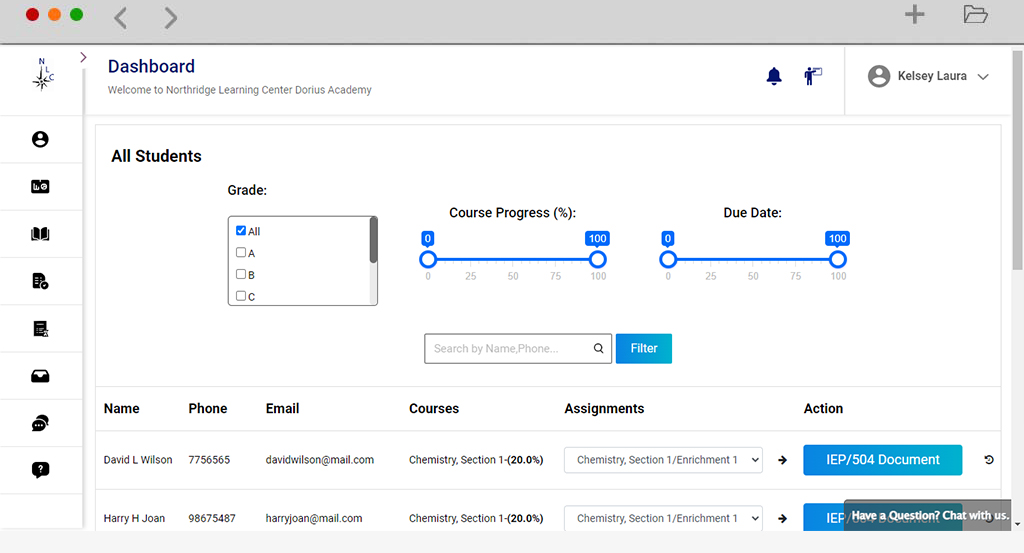 Thanks to Brainvire's Odoo knowledge, NLC now has a streamlined pupil enrollment and course management system. Brainvire has equipped NLC with Odoo's comprehensive business management software to streamline operations, integrate disparate systems, and create a singular repository for all student and adult information. The combination of Clover and Shopify with Odoo has also simplified the enrollment procedure and improved the efficiency of the course administration system. As a result, NLC has increased productivity, decreased expenses, and boosted learning results thanks to Brainvire's involvement.
Odoo Modules Tailored to NLC's Needs to Improve Efficiency
The experts at Brainvire modified the sales, bookkeeping, website, and data replication components of Odoo to put them into use. In addition, Clover now has all of the POS records. They merged the data and cleaned it to guarantee its accuracy and consistency.
Odoo's sales feature simplified the tracking and billing of products for NLC. The feature made it simple for them to create and manage sales orders, send bills, and accept payments. In addition to handling client data, the section allowed for generating estimates and requests for care delivery.
NLC's financial operations were easier to handle thanks to the bookkeeping section. This feature would allow the school to easily produce and handle bills, payments, bank reconciliations, and statistics on the institution's financial status.
NLC was able to build its website and administer its content, including its online teaching services and resources, with the help of the website management tool. In addition, they improved their SEO (search engine optimization) by writing and publishing blog entries and landing sites with the help of this tool.
NLC could handle redundant data and avoid system errors thanks to the data replication tool. The tool also helped them spot and combine identical data points, guaranteeing a reliable and up-to-date database.
NLC was able to simplify its business processes and increase productivity with the help of these modified Odoo components. In addition, they could devote more time and energy to what they do best—providing excellent instruction to their students—thanks to the modules' improved sales, bookkeeping, website, and data management.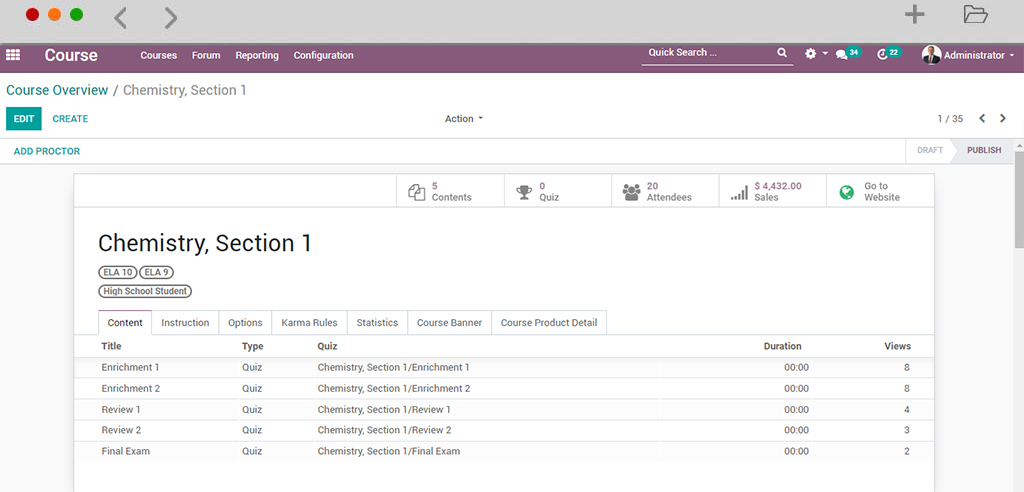 Brainvire's expertise in customizing and implementing Odoo modules played a significant role in helping NLC achieve its goal of centralizing its systems and streamlining its operations. Brainvire's team worked closely with NLC to understand their unique requirements and develop customized solutions that met their needs. The collaboration resulted in a successful implementation of Odoo, which helped NLC improve its overall business performance and deliver better student services.
Odoo 13 at NLC: Boosting Student-Teacher Communication and Exams Powered by AI
Brainers added several intriguing new functions to Odoo during its second deployment phase at Northridge Learning Center. The conversation feature streamlines student-teacher contact while allowing instructors to keep an eye on what's happening in the conversation rooms. With the help of AI and ML, the Online Examination feature makes it simpler for students, especially those with difficulty in school, to take examinations online and receive valid course points.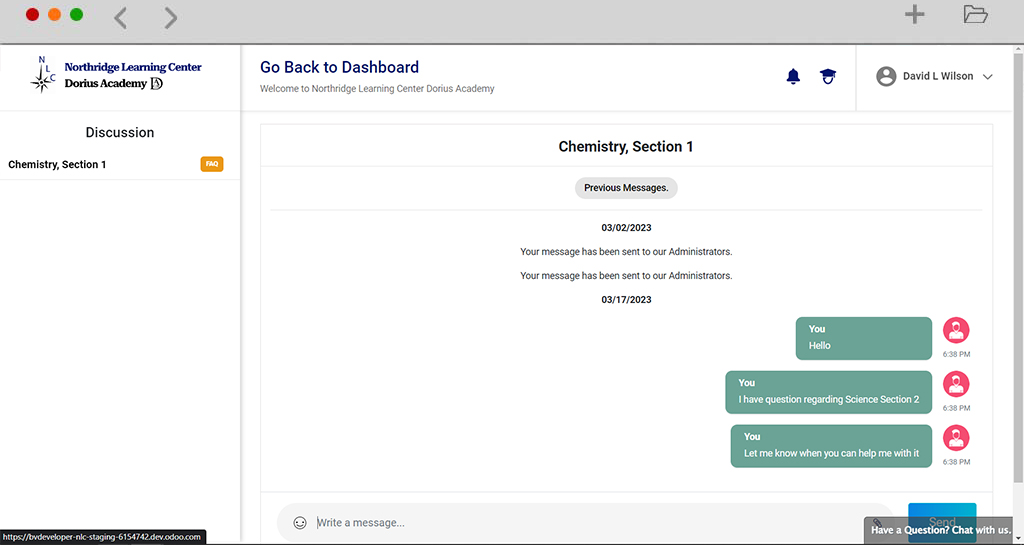 The development team at Brainvire developed custom software and collaborated closely with the customer to overhaul the complete program, making the process smooth for everyone involved. High school, Crossroads, RTC, trimester, Adult Education, home school, and proctored pupils are all catered to by this initiative. In addition, every student can access an advisor who will tailor course suggestions to their needs.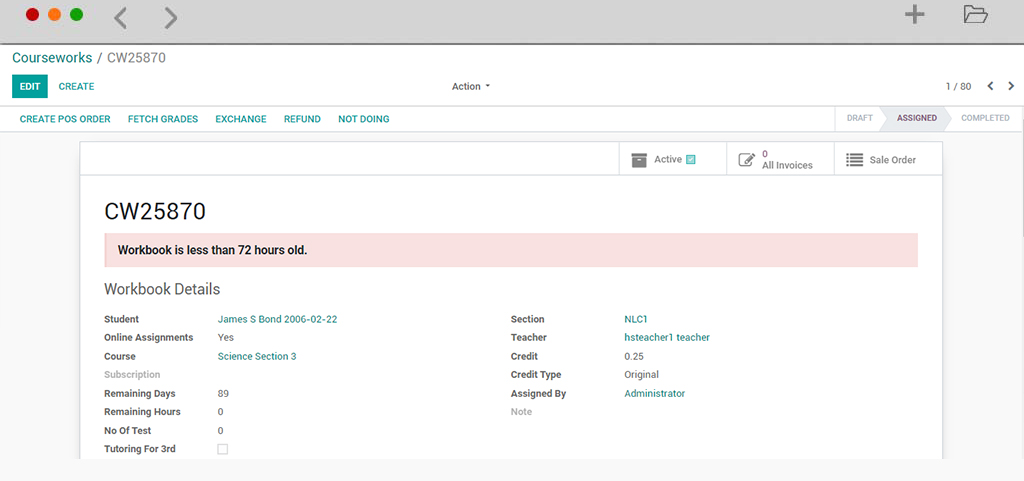 Odoo 13's bespoke modules and artificial intelligence (AI) driven features have greatly simplified NLC's administrative procedures, facilitating student enrollment, course progress, and faculty-student dialogue.
Streamlining Business Operations with Odoo
In conclusion, the Northridge Learning Center faced the significant challenge of centralizing its systems to streamline its business operations. However, with the help of Brainvire's expertise, they overcame this challenge by implementing Odoo, an all-in-one business management software. The customized Odoo modules, including sales, accounting, website, and data duplication, helped to streamline their operations and manage all student and parent interactions in a centralized system. 
The integration of Clover and Shopify with Odoo further facilitated seamless data transfer and eliminated the need for manual data entry, reducing the risk of errors. So, this successful implementation of technology has enabled the Northridge Learning Center to streamline its business operations and enhance its overall efficiency, allowing it to focus on providing quality education to its students.