Having your products delivered in a fraction of hours was long but never really achievable. Its rapid delivery disrupts the current market and creates a new sector – q-commerce. Can Qcommerce be compared to ecommerce, and why? Q- Commerce or Quick Commerce is an ecommerce business model based on quick online ordering, which means the business usually delivers the ordered item within ten business days of the ordering process. Quick-trade business model.
Quick Commerce Markets exploded in 2019 due to the pandemics and a shift in consumer preference toward home delivery. The European market currently consists of more than 20 companies specializing in immediate needs, like GoPuff, JKR, and Zapp.

In some areas, the incumbent retail giant has responded with investments in its e-commerce products, such as Cole's in the United States and Abka in Poland. In addition, they work with delivery experts. For example, Walmart worked with Glovo Spanish supermarkets to develop Carréfour Sprint.
What Is Q-Commerce?
Have you ever waited weeks on delivery? The last decade has seen many company deliveries blow our minds with one-hour deliveries, and now you can buy groceries in 15 minutes at the doorstep.
This results from rapid growth — a trend already sweeping consumers' imaginations. Quick business is not a new concept, but fast commodity prices have moved in response to the pandemic. Q-commerce stands for quick commerce, sometimes called on-demand or rapid deliveries. Generally speaking, the delivery is a short time or 10 minutes or even less, depending on the delivery method.
Globaldata says this trend is driven by changing consumer attitudes that have caused the pandemics and rising expectations from consumers. The customer loyalty of the online shopping community is shifting, and consumers are willing to buy at various retailers. Andrew Norman, managing director at Shipstation, said the changes were very rapid.

Quick Commerce Business Models
On-premise, rapid commerce businesses compete purely in the speed of delivery, some focusing on 10 to 15 minutes of operation compared to others. Several companies differentiate themselves by offering a wide range of product categories and also offer exceptional products, such as premium groceries manufactured in a local area.
The industry follows a rapid-commerce business model: Margins in the grocery industry are essentially thin, and fast commerce has not been a big exception. As a result, company profit can come through the sales of products and the sales profit margins.
Q-commerce Examples
Other major players are Delivery Hero and Gorillas. The former reported 400% growth in the year and last raised $245 million for the company. Glovo, another q-commerce company, raised $530 million.
By 2023 global commerce sales are projected to reach 6.542 trillion dollars.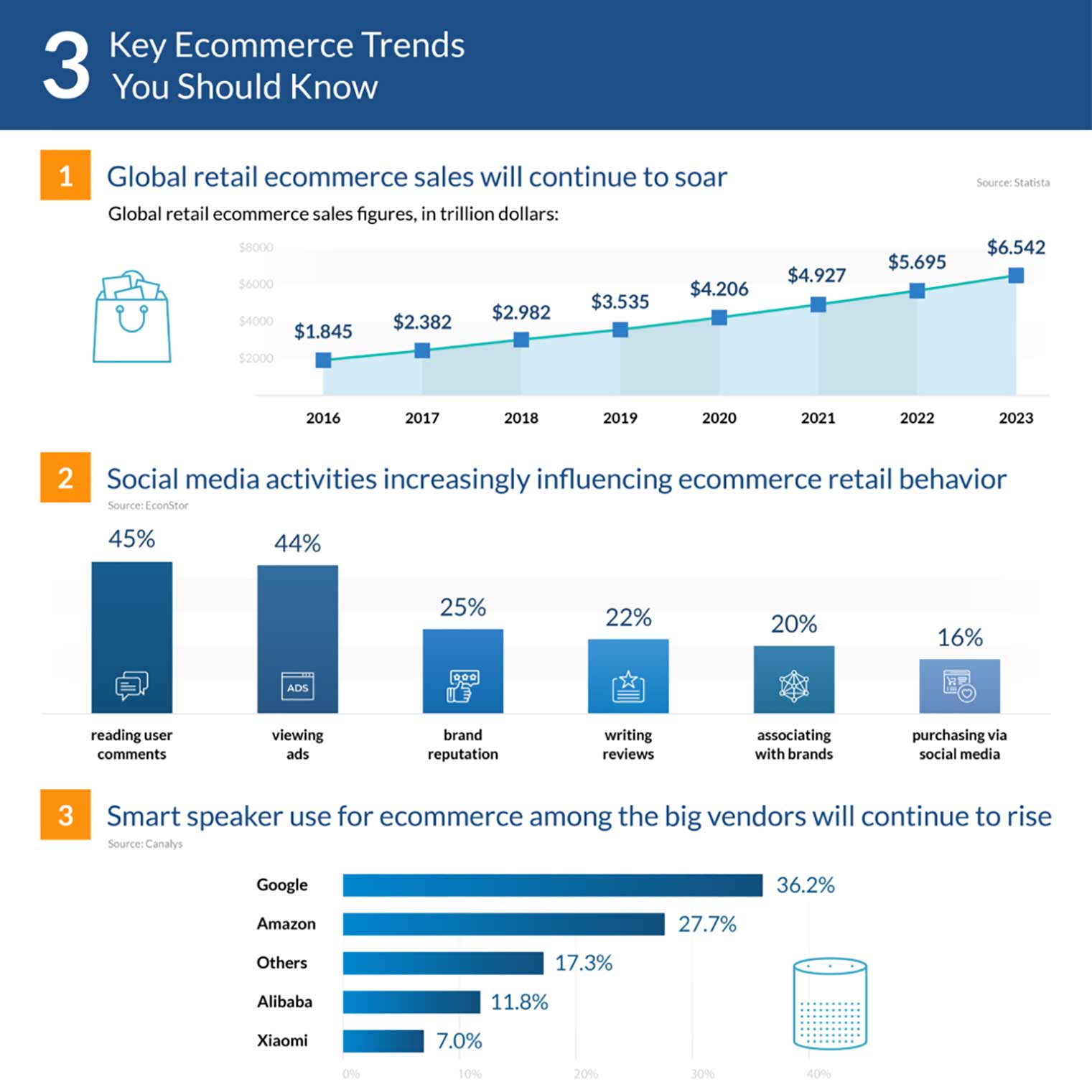 Companies have streamlined every aspect of their delivery to optimize speed and efficiency. Technology advancement has enabled improvement in logistic solutions and simpler automated processes. Additionally, machine learning enables intelligent operations like optimizing routes or enabling driver delivery for various orders at once.
Many businesses also utilize strategic micro filling centers or dark stores with a few relatively small products to satisfy their requirements in an economically viable area.
Top 4 Benefits You Will Get From Quick Commerce
Let's look at the four best aspects of Q-Commerce that stand apart from traditional retailers to consumers.
Speed
When it comes to delivering goods to customers, q-commerce companies fulfill it within a fraction of the time; on the other hand, traditional retailers take 2-3 business days to complete the order delivery.
And the reason is that hyper-local micro-fulfillment centers ('dark stores') are located around immensely populated streets of cities and based near those making orders - generally within 3km. It simply means they can fulfill orders 25% faster than traditional in-store fulfillment.
With every step taken to optimize for efficiency, dark stores do not need to sacrifice precious square footage to adapt to shoppers browsing through aisles. In addition, once orders are ready, carriers can fast zip go to the dark stores and customers' locations.
Availability Of Curated And Relevant Products
It is more than faster delivery on request. Still, objects can be available due to acquisition in AI and technologies that observe needs and accommodate inventory in real-time. Moreover, competent software recognizes demand customs, and the companies can react by guaranteeing things are provided accordingly.
They also utilize mobile technologies to support their brigade of carriers - who play a key role at the front of the brand - reported, upskilled, and delivering a high class of service to customers.
24-hour Operation
Dark stores are open 24 hours a day, 365 days a year - they are not restricted to fixing regular opening hours as brick and mortar retailers do.
This 24/7 availability resounds with the 'always-on' culture of mobile technology- people are watchful at all hours with phones within arm's distance.
Comfort Of Service
If people can select between preventing their current activities such as searching for keys and cards, wearing shoes, walking through different stores in search for your items, and maybe not finding them to convincing the store's staff member to help, queuing, paying, getting things, and lastly going back to their place. Or simply staying where they are, going through an app, and with just a few clicks, your items are at your place - which would they opt for?
Comfort is the elementary - and extremely enticing - value proposal that q-commerce companies present to time-scarce consumers.
What Is The Future Of Q-Commerce?
Digital natives set a new tone for shoppers. "AsaP Convenience has been an industry leader for a decade. Technological advances have impacted consumer expectations irreparably. So what can you do to make yourself feel better by entering a query on Google to get an accurate response in seconds?
Users find the page loads longer than two seconds inefficient to isolate a typical example of technological impossibility. Therefore, the search engine will target page loading at 0.35 seconds per page. These numbers prove why we need q-commerce more than anything right now.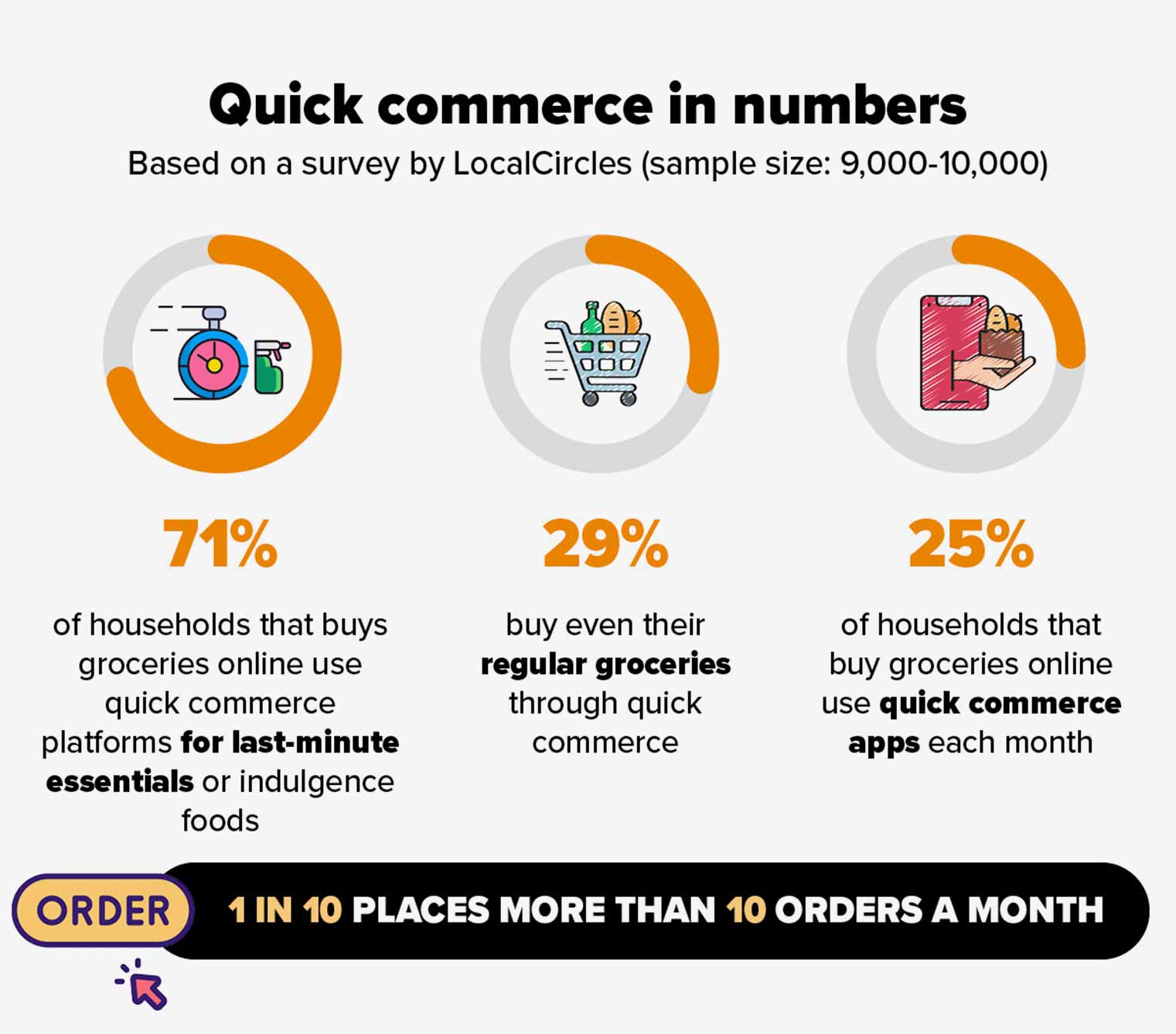 Q-Commerce Business Model Features
The q-commerce business model distinguishes itself from further business models by delivering these features:
● Faster Delivery Duration: The introductory direction of q-commerce is to deliver more rapid delivery, completing purchasing through this medium easy and time-saving.
● Convenience: Convenience is the crucial element of q-commerce, which lets customers purchase at any point of the time, anywhere, by an app on their smartphones.
● Anytime Delivery: Q-commerce offers consumers the opportunity of delivering their demands at any time convenient to them. It does not restrict consumers to designated business hours.
● Trustworthiness: These are respected brands; you can ensure consumers of the delivery and rate.
● Cost-Effective: The q-commerce companies usually purchase inventory in proportions, which lowers the moderate price per product and allows them to deliver lucrative deals.
● Order Tracking: Order tracking is one of the most influential features of q-commerce that lets consumers follow their orders.
● 'One stop shop': The quick commerce brands create their apps via which the users can deliver numerous products from one place.
A Complimentary Solution
Is it true that q-commerce has declined? Both fates are still unclear, but it's commonly agreed that Q-commerce offers an alternative solution, not an entire replacement. The issue is that it has waited for years now that it happens exceptionally suddenly and leaves traditional retailers unable and unprepared for the new demand. Moreover, it's huge companies, very frequently carrying large operations, making their movements less agile at the moment.
The Infrastructure Of Cities
It is documented that ride-sharing harms city-oriented transport; more cars on the street increase congestion in metropolitan areas. Existing roads, especially in Newark, currently lack sufficient support systems for this surge. Local officials may consider creating congestion zones with associated taxes or entirely restricting vehicles' entry into specific zones to remedy the situation.
Critical KPIs To Ensure Success
Given the high competitiveness in the market and low earnings margin, companies must focus on improving the business. The most critical metric for companies is the average delivery time. Similarly, it would help if you achieved a strong balance of customer demand with the supply of riders. The company should ensure they can accommodate enough riders to accommodate peak demand and maintain riders on standby to meet low demand.
Final Thoughts
With most the q-commerce companies partnering with third-party brands to facilitate the final mile, profit is not the priority with on-demand delivery. Instead, they evolve as a new factor for customer loyalty and investment as digital adoption resumes. Customer request is essential, of course. However, with super-fast delivery predominantly confined to some populated places – not to cite customer demeanor still somewhat in fluctuation since the pandemic – it could be a bit before q-commerce emerges as a confirmed front-runner.
Still, it will become the most significant marketing factor in most industries.