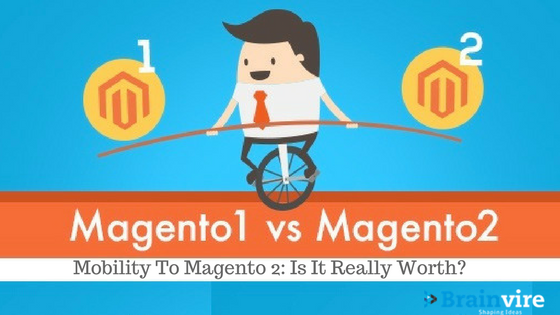 The Lyrics Of The Clash Depict This Situation Very Nicely: "If I Go There Will Be Trouble… And If I Stay It Will Be Double."
So, do these lyrics hold true for the e-commerce merchants that are planning to move towards Magento 2 migration service?
What's involved in Magento 2 and how to make a good decision? When is the right time to plan a shift towards the newer version? We understand your dilemma and so we bring out some important questions that business entrepreneurs and merchants frequently asks and Answers of course.
Migrating to Magento 2 doesn't end up just with customization and integrations. It is beyond simple customizations and huge data migrations. So, before getting deep into the ocean, let's answer the questions that can be summed up as:
Does My Business Require A Lot Of Customization?
When Should I Be Looking Forward To Upgrading To Magento 2?
The Move – Smooth or Painful?
Okay, So What Will I Get?
Well, Is It Really Worth Investing?
So, What Should Be My Next Step?
Does My Business Require A Lot Of Customization?
If your business plans and strategies involve frequent customizations and integrations in the current platform, then migrating to Magento or Magento 2 extension development is surely the best solution. Some crucial themes, customization, integrations and third-party extensions are not possible in Magento 1 or even if possible, it's not a futuristic solution. In such scenario, moving to Magento 2 is the best decision.
When Should I Be Looking Forward To Upgrading To Magento 2?
This depends highly on your current site and its condition – bottom line is if your website is ensuring peak performance and you're using a version that's really not outdated, there isn't any necessity to switch to another platform. But I'd rather suggest you explore Magento 2 and its features for further enhancements.
If you're using an older version and facing serious performance issue, and on the top of that, you have a number of third-party extensions installed, it's time to get your website revamped. If you're keen to do some serious performance improvement in your online store, you should definitely plan new investments in Magento.
The Move – Smooth or Painful?
Let's prepare for something less-than-smooth. Smooth is something you cannot expect from any platform – Yeah! There is a migration tool available that will help you out with the data shifting between platforms (like products, store setup, orders, promo codes etc.) But certain things like theme and code customization, third-party extensions will not be transferable and so it needs to be build up again on Magento 2. So, be prepared to make some extra investments in visual and functional terms.
Okay, So What Will I Get?
To begin with, let's face the fact that there's no way back for Magento. Sooner or later, the community will lay more focus on version 2.0 till the time Magento 3.0 is not on the table. However, instead of talking about indefinite benefits that you may get in future development, let's focus on some key features that you'll get by upgrading to Magento 2.0.
1. Full Page Caching
It is one of an essential element that not only reduces server load but also boosts page load speed by 50%. Eventually a positive impact on SEO perspective which leads to seamless shopping experience for customers.
2. Streamlined Checkout Process
It not only reduces shopping cart abandonment rates by bringing significant changes to checkout page but it also improves conversion rates to a great extent.
3. Redesigned Admin Panel
Along with easing the learning curve, it decreases day-t-day operation time along with giving a modern touch.
Well, Is It Really Worth Investing?
Yes, it is! The main reason is the change itself and for Magento, there's no going back. Yeah, it does supports the older versions for certain years and that's why you need to jump to the latest version in order to be a pioneer in the market. So, if you're making active plans and don't want to go lag behind the market, even if you're staying with Magento 1.x, consider the below things:
What Would You Like To Improve The Existing Website?
Make List of Those Extensions That You Aren't Using
Open Up A Conversation With Your Business Partner And Discuss Your Plans For Magento 2.
So, What Should Be My Next Step?
For all the Magento store owners, the year 2017 is going to make some good decisions for your business. Though it appears like you've plenty time until November 2018 still the clock is ticking fast. So, planning to migrate your existing store to Magento 2.X? If it's Yes, Brainvire is the best development partner to consider. For any assistance to plan your next business steps, checkout Migrate 2 Magento service and get in touch with us with your concerns. Thanks!