Of course, mobile application development is booming these days. Mobile platforms like iPhone, Android, BlackBerry, Symbian, Windows and more are one of the obvious choices among the individuals and businesses willing to develop mobile app, but what if someone wishes to build a single application that run smoothly over all the major mobile platforms and operating systems? This is where the role of a cross platform mobile framework comes into the picture, and when we talk about cross platform mobile application framework, PhoneGap is the first name that will strike in our minds!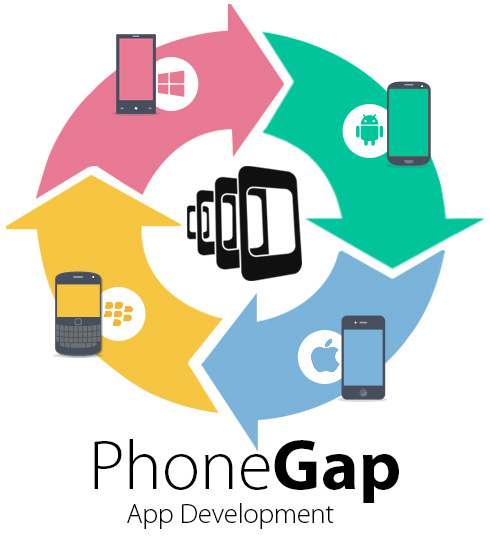 What is PhoneGap?
PhoneGap is one of the most popular and extensively used open source frameworks for creating cross-platform mobile applications, which is developed by "Nitobi" and later companies like IBM, RIM and Microsoft contributed. Instead of using any native language, PhoneGap application development enables developers to utilize existing scripting languages like HTML5, CSS3 and JavaScript for creating unique and engaging mobile applications.
With this amazing framework, it is possible to provide different architectures for different platforms and to enable the mobile app to use various inbuilt features like GPS, Accelerometer, Camera, Contacts, media access and data storage mechanism. PhoneGap application development can serve for application solutions for a wide range of mobile platforms, such as iOS, Android, Windows Phone, BlackBerry OS, Symbian, HP WebOS and Bada. It can add enormous features to the cross-platform mobile app.
PhoneGap SDk (Software Development Kit) comprises of a huge number of application interfaces to the developer to deal with the specific features of the mobile devices. It supports some of the typical mobile hardware APIs, such as Accelerometer API, Compass sensor API, Geolocation API, Media API, Storage API, Globalization API, Connection API and a few others.
What it brings for the developers and the users?
PhoneGap application development brings many benefits for the developers as well as for the users of the mobile devices. One of the most important benefits of PhoneGap is that it helps businesses reduce the overall cost of developing mobile apps as they've to build a single app for multiple operating systems rather than creating different apps for different operating systems. Apart from this, you can also leverage from other benefits mentioned below:
The PhoneGap applications use web technology, which enables the web developer to create mobile applications using HTML5, JavaScript and CSS3 for UI/UX development.
Ease of developing hybrid applications using native functionalities and rich UI using web technologies.
Make it easy for the developers to create a cross platform mobile application.
Ease of reusing the code.
Mobile native feature integration with the web is made possible through a plug-in. A plug-in can be developed and used in the PhoneGap based on the mobile application requirements.
Deployment framework for multiple platforms.
Cloud based build creation facility for multiple platforms.
Ease of using tools, which are contributed by a huge community and also receive help from the PhoneGap community and other forums available over the internet.
From the above discussion, it is clear that PhoneGap application development can help businesses and individuals create a single application for the multiple platforms while reducing overall cost of developing a mobile app. What's your take on this? Share your views in the comments..!