So how big is your social media marketing budget? Any idea?
There are companies that flush gazillions on their marketing budget while there are the others who spend absolutely nothing! Regardless of the amount you're planning to pitch in, your main agenda should focus on spending the resources well.
Anyone who owns a business is most likely to wonder about social media marketing and its budget. After all, social media is the new gateway to success for brands as it's the most powerful approach to interact and appeal consumers with your brand. Estimated, Facebook has 1.18 billion and Twitter has 313 million users worldwide. With figures like this, apparently, it's too tough to ignore social media in your marketing plans.
Take a look at the platform with highest reach.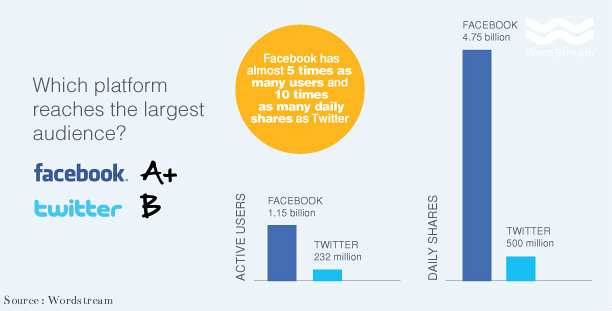 Having said that, it's also true that not every business is filthy rich enough to flush cash in social media marketing like the behemoths namely Starbucks, Nike, Netflix, etc., do. This is why a hypothetical situation comes into existence – how to plan your social media marketing budget? Eventually, it can be an extremely valuable form of exercise for you, too!
However, the answer to the question here, how much to spend is that the number may vary from media to media. Sure, if you could come across some newer social media sites, their prices will be much lower compared to that of Facebook and Twitter. But, be careful! This step will lead you to lower outreach, too!
So, without wasting much of your time, let's jump at quick points that will give you better insights to plan your social media marketing budget.
Whome Are You Planning To Reach?
You need to start with making your presence visible in the space where your audience is. In simple words, be where your audience is. You can find out the social network demographics by taking a look at the Social Networking Fact Sheet provided by the Pew Research Center.
Here is the full report which you need to check out.
Find out the volume of audience you want to reach and plan accordingly. In case you're not sure, start with creating a test ad on any network of your preference. Set different targeting levels and a daily budget in order to seek a rough estimate.
What's The Overall Variations in Total Marketing Budget?
First, a look at how marketing budgets are changing.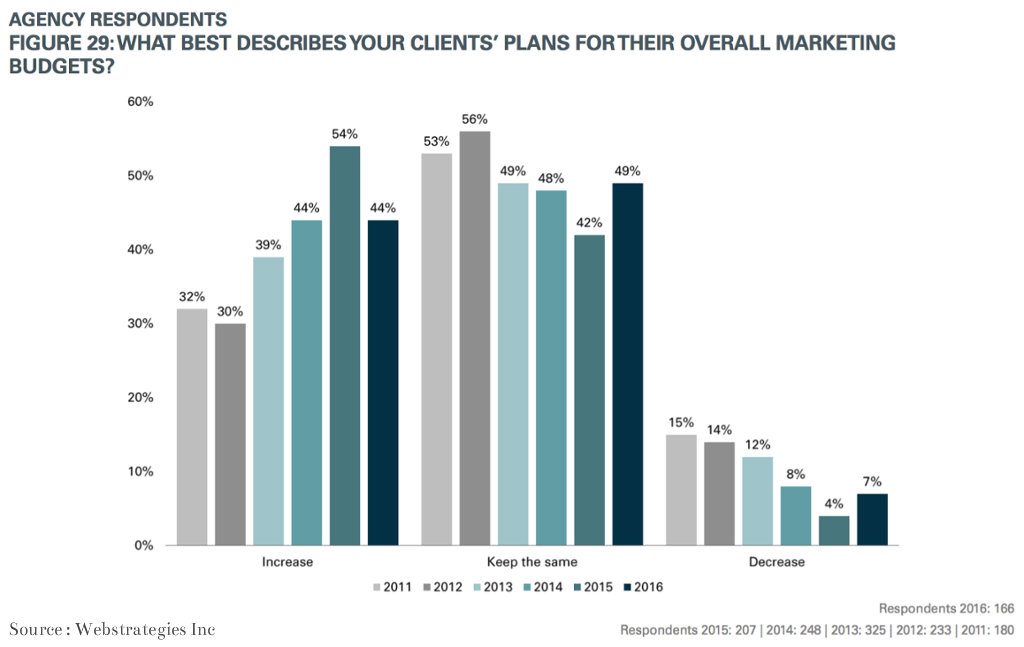 It has been noticed that traditional channels failed to fare as much as digital channels. In total marketing investments, print, television, and radio have seen a net decrease in past few years.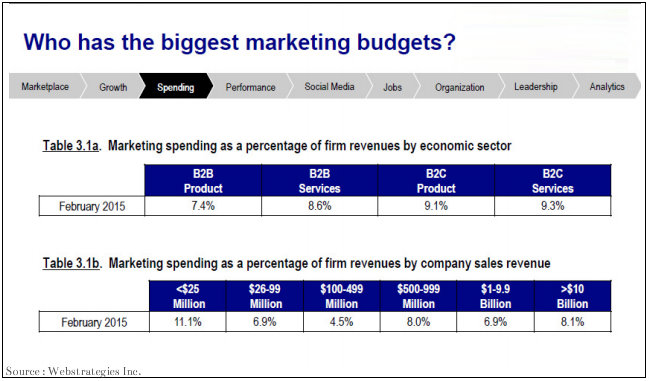 A report suggested by Forrester Research showcases the estimated allocation of market funds across the digital channels and offline vs. online. Let's take a look at the conclusions gathered from the report.
 1. The average firm was projected to allot 30 percent of their marketing budget to online mediums in 2016. It's is expected that this rate will hike to 35 percent by 2019.
2. SEO marketing will have the lion's portion of online expenditure while online display like online video, banner ads, etc., will take the second largest share.
3. Social media investments will eventually continue to hike as an overall share of the online expenditure but it will only represent around 15 percent of the total online expenditure.
4. The mobile market has hiked up to a point where it's no longer being tracked in the forecast. In fact, it's evident across all the channels.
Which Marketing Tactics and Strategies Should One Opt For To Get The Best Results?
As per the leading market surveys, activities like marketing automation and technologies have proven to be effective at combining the most effective marketing tactics such as content marketing, email marketing, and organic search to achieve the better results and ROIs.
Which Social Media Channels Should I Invest In?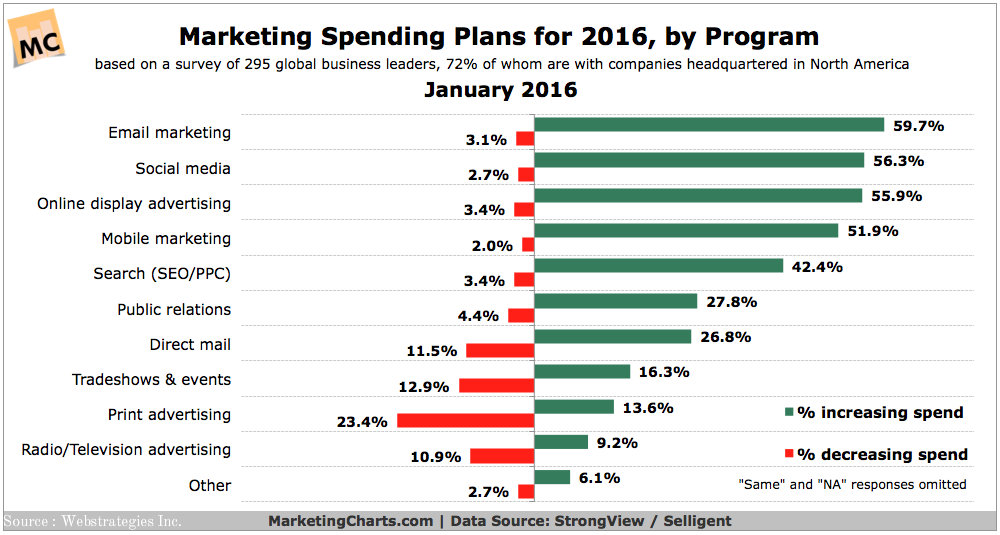 Facebook is considered as the king and it will remain the same for the years to come. It contains the lion's share of social media users, i.e. 90 percent. Following the league, second is Facebook's subsidiary – Instagram. It's expected to hike from 32 percent to 47 percent by 2020. Other leading social channels that arrive with baked in ad features are Twitter and Pinterest. These will continue to have a low penetration, which will eventually suggest 33 percent of users by 2020. This suggests that you must emphasis on Facebook and Instagram channels when it comes to social advertising.
Here's An Extra Point to Consider
In case you're seeking for hard numbers to crunch, below-listed are the initial budgets for the top three social networking giants. These figures are based on the small businesses looking to capture targeted audience with average competition in two or more metropolitan areas.
You need to run your ads at a time when your potential audience is most likely to be present on the social media channel. To serve this purpose, it's highly recommended to continue advertising for 365 days a year as it will give the greatest impact. However, in case you're B2B, you must opt to advertise only on working days in order to stretch your dollars.
Marketing & Digital Budget Summary
Winding up the above-mentioned points we learn that:
1. Marketing budgets are growing at a tremendous pace.
2. More money is being cashed on digital channel
3. The total social media budget lie between 7 – 12 percent of overall revenue.
4. Search and Display marketing are covering a giant share of the digital marketing budget.
Now, you can see how affordable social media marketing is as compared to traditional media outlets. Keep these estimates in mind before you start planning your social media budget. You're the one who knows your business better than anyone else. So, set your budget with the help of these set of points mentioned above.
Social media promotion is a brilliant approach to reach a specific set of audience in an interactive way with a relevant message (of course, without breaking the bank!). Use this strategy to strengthen your brand, reach new customers, and nurture customer relationships.
Our aim of bringing these data together from reliable sources is to help you determine the amount of resources that needs to be spent on marketing followed by where to apply these investments.
TIPS FOR A SUCCESSFUL 2017
- Start with always setting a measurable goal which supports your business strategy.
- Focus on the networks you've already established yourself on.
- Be flexible and keep reviewing the figures to keep a tab on what's working and what's not.
That's all for now. Do you think we've missed out on something? Feel free to talk about your concerns!
Happy New Year!