Gartner revealed that in the upcoming time, 42% organizations would increase their expenditure in mobile app development by 31%.
E-commerce is taking a shape of m-commerce now. Customer retention is a key factor nowadays. Development of mobile app is now CEO's prime focus and sometimes pain area. The decision between an in-house team and outsourcing demands a good amount of mind work.
In this article, we will view the benefits, challenges, and solutions for outsourcing, in-house team and off the shelf products. Further, we will look at the cost of development involved in all the approaches. At last, we will take a glance at hybrid app development approach.
As stated above, mobile apps have captured e-commerce market. Custom made mobile apps have an edge over websites.Let's look at why is it so.
- Custom apps provide ease of functions, better communication, and productivity at its best.
- Distant employees are monitored in better ways through such apps.
- Knowing the user, these custom apps add a fun element to the solution.
[caption id="attachment_24923" align="aligncenter" width="500"]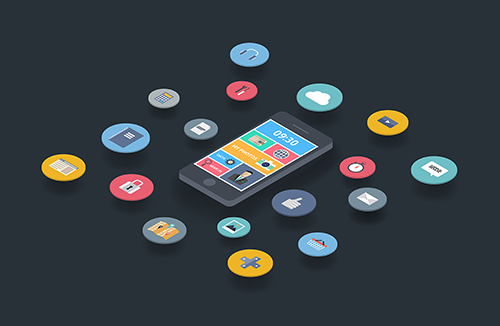 Flat design modern vector illustration isometric concept of variety using of smartphone with lots of multimedia icons and stylish mobile user interface on the phone. Isolated on dark colored background.[/caption]
Commercial Off the shelf(COTS) mobile app development is good to buy for small scale companies.
Mobile apps have become a necessity than a luxury. While going for mobile apps, the first question can be asked is - Are there any built in apps available which fit most of my needs? Many companies have generalized requirements and for that COTS can be thought of.
COTS apps are quick deployable, low cost and maintenance incorporated ones. These apps have passed through many successful development and deployment phases. So these apps are handy. They catered many clients. So definitely, cost effective and reliable. And also, these apps' provider may provide a free maintenance or establish a maintenance contract.
COTS apps lack customization, ownership, future scalability or device compatibility.
So COTS app is to be opted for only if the requirements are generic and not scalable. If you are lucky then you may find a best-suited app for your requirement.
In-house app development is a welcoming idea but it should be well researched.
In-house app development means you are the boss. You have to fetch the developers, set up a team and create an environment for the development.
Benefits:
Resources management is done as per the convenience. A developer who is offered a job is also offered an idea of a product which he/she can carry forward. An in-house developer is aware of the product very well and he/she can give priority to important module than the current one going on.Business key areas like sales and marketing are directly benefited from this system.
Security is always the biggest concern. The in-house team knows the current threats, future threats, future enhancements, the impact of the change of one module to another.
Project delivery can be achieved on time through in-house development team. This developer doesn't have to take the time to understand whole business logic as they are aware of most of the part from the beginning. The client would also feel secure because of on-time project delivery.
Challenges
The cost to build an infrastructure right from desktops, laptops to extra office spaces is a significant amount initially. Hiring full-fledged developers and set up a team are not an easy part of the process. The cost to hire and keep a very good team is the cost essential and difficult to bare.
Time to find right skilled developers, provide an infrastructure to make them efficiently work with the business idea and fetch the desired work from them is a time-consuming process. Setting up a QA team is again one more area to work on. Acquiring license of software and copyrights have also to be taken care off.
The solution for challenges:
The fix for time and cost problem is that sufficient research and finance strategies. Before going for in-house app development, one has to take out a research regarding the cost and time involved in the initial phases. Also to hire potential developers is a worthy investment. One has to also dig out for financial possibilities and return on investments carefully.
Cost involved with in-house development team
Deloitte conducted a research in U.S and it revealed that most of the U.S companies take 52 days approximately to fill out open job positions and spends around $4,000 on job posting, interviews conduction, background checks and training company staff to hire an individual.
As per Indeed.com research, app developer earns 77% more than an average worker. In U.S., Mobile app developer's approximate pay scale is $102,000. A company has to be ready to give minimum 5 digit salary to a developer. And for the potential skilled and experienced developer, this number can go to 6 digits also.
In addition to salary, taxation, healthcare insurance, unemployment cost etc. has to be paid by companies.
Software license cost, hardware cost and office space and procuration cost are also to be bare by the companies.
Outsourcing mobile app development is much easier than in-house one.
Naturally, challenges of in-house development are very well handled in outsourcing area. Because of strong benefits provided by outsourcing approach, Gartner forecasted that enterprise mobile app development demand will grow 5 times speedier than in-house IT solutions. Let's look at its benefits.
Benefits
The cost to pay developer of in-house team is lesser in outsourcing. If the criticality is not more than a solution can be outsourced to a different province, the different country as well. There are some portals available in the market which can give you the average cost for in-house as well as outsourcing approach. Same like, the cost for licensing, infrastructure and maintenance is also saved significantly in this case.
Short term contracts between outsourcing firm and an organization save the time and energy involved in setting up an infrastructure. A special skill set developer hired for one client's project can be utilized for other projects and long term relationship can be obtained to the outsource firm.
Office distraction is less. This seems weird but the productivity at full-fledged outsourcing firm tend to be more. In in-house approach, people related to all the departments – marketing, manufacturing, sales, and clients- all are under one roof. So hassle in one department affects others. In outsourcing firm, things are pretty much cool.
Challenges
Quality is a big concern while outsourcing app development. The developers and testers hired by the firm - are they certified? Many companies put only their best developer's portfolio. So the quality assurance cannot be measured sometimes. Further, quality control is developed for a project but these tasters are not ended, customers. So they cannot think that much rigorously like organization employees do.
Code compatibility with the client's site and developer's code is a huge task. The solution developed in one technical environment sometimes doesn't fit at the client site. The client would not pay for overhead. Further, sometimes there are many and big mismatches with client's requirement and the development. Context to see the same thing would be different at both the end. This would result in a delay of project delivery and overhead cost.
Communication with the developers is much time crucial because a developer may stay in different time zone and in a remote area. Setting up night shift like uncomfortable time doesn't ensure their best efforts.
Solution
When communication is required, only a project manager can do that. The project manager can act as a buffer between the developer and a client. So the manager can pass on client's requirement and understanding to developers.
The solution for compatibility and collaboration is Scrum. This technology empowers project for self-organizing, transparency into the project and communication requirements amongst the team.
For the quality of developers, the problem can be solved with technical interviews.Through some common FAQs, the interview can be conducted and assured. Some websites like eLance and oDeskprovide tests to check developer's qualification.
Cost involved with outsourcing mobile app development
Clutch conducted some review for 12 leading mobile apps development companies and figured out that the cost for outsources mobile apps development varies from $37,000 to $171,000. This cost can reach to $500,000, too.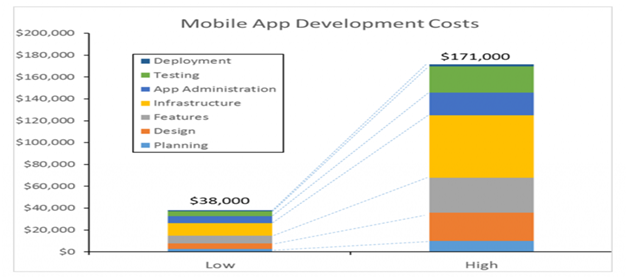 Image:mindsea.com
The outsourcing firm would charge depending on their experience and expertise in the business. If a firm is new and wants to penetrate in the market, it would offer its service for low prices. But if the firm is an established and popular one, it will ask money for the value.
Some project requires the big size of the team and some require small. The development cost varies this way also.
Many apps require integration with other apps or complex technologies. For example, integration with GPS, or integration with payment gateways involves more efforts and cost by thus.
Development for the future design requires more hardware and soft skills. Future scalability requires a broad and efficient architecture. The solution for Single server system is different from the multi-server system. Nowadays cloud-based systems are in place. So the cost would vary according to the scalability imagination.
Hybrid approach - best of both - in-house and outsourcing
When your in-house developer team skillset is not sufficient enough, outsourcing some technical part to other firm is a good idea. Different viewpoints of different IT developers can make it a good and deadly combination. It is the win-win situation for both the outsourcing firm and in-house development team. The in-house team gets an exposure of a different set of skill set whereas outsourcing firm gets an exposure to different market and by thus generating more revenues.
Sometimes for a particular project, the in-house team requires more resources for a short time span. In this case, an organization hires an offshore team which works like an in-house team if needed. The cost saving of in-house development and expertise and familiarity with offshore development brings the rocking benefits of the hybrid approach.
So what to choose finally?
Creating your own in-house development team requires right selection for right kind of developers and well-equipped infrastructure. At another side, outsourcing firm comes with more costing and more efforts for requirement fulfillment assurance. A hybrid approach is also an option but not always. An organization has to research so much on requirements and affordability in order to choose the correct mobile app development strategy.