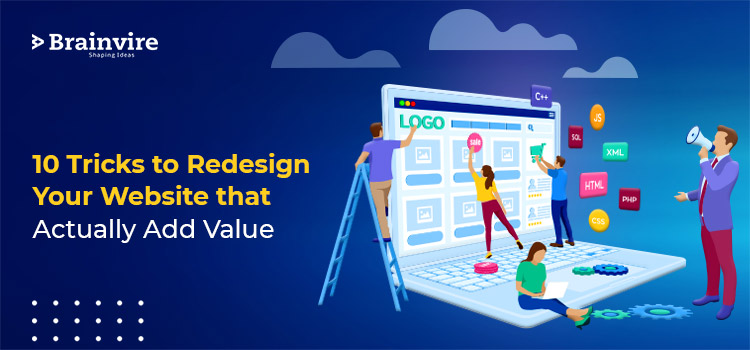 Is your website still running with the age-old theme, colors, and design? If yes, then it is time to revamp it to appeal to the discerning customers of today. But wait; take a sneak-peak at all the vital elements you must consider before redesigning your website. 
Customer behavior inspires all activities on digital platforms. The COVID-19 pandemic has driven people of all age groups to use the digital medium, enabling them to act smarter and faster than before. They have tools in their hands to process their needs with only a click like a mobile or a tablet, through which they can access multiple options for a specific requirement. This means that brands need to up their game to catch the attention of these customers who need instant gratification. With increasing competition, it is imperative to start with an eye-catching website since it is the first point of contact.
Website design is an important aspect that contributes to a customer's decision-making. The way information is presented through design is critical in gaining traffic, conversions, and customer trust. For instance, higher loading time and complex navigation are attributed to a loss of about 95% of visitors. User-friendly web design is critical to your digital presence. 
If your website is not garnering enough attention, it is time to reinvent it. Redesign website to make it user-friendly and aesthetically pleasing to your visitors.
Concept of Website Redesigning and its significance to optimize your Business
Businesses redesign websites for various purposes. While some want to optimize their website for mobile apps, others take up website revamping to alter their default WordPress themes. Whatever be the purpose, the goal is to garner user attention and compel them to take action. 
If you aim to improve your website performance, here are some tips to consider to achieve your goals. 
Want to convert your idea into a successful app or website? Schedule your free call with our expert now.
1. Revisit and Analyze your Current Website
The first step to website redesign is to review your website and list down the problem areas. Also, see what your customers think about your website. Whether your users face navigation issues or slow loading speed, evaluate and map out a redesign plan.
[Also Read: 11 Steps to Create an Easily Accessible WordPress Website]
The best way to conglomerate your ideas into reality for your website design is to hire an expert team. Find an experienced website redesign service provider who can understand your business needs and suggest the right solutions.
2. Analyze Competitor's Website
It is always better to know your competitors. Conduct a thorough analysis of your competitors' websites to gain insights. Visit their website as a customer and compare it with yours. Note down the appealing aspects, specific areas where you lag, and redefine your objectives for the website redesigning process.
3. Identify your Target Audience and their Preferences
Understanding your target audience is critical to your website redesign process. Know your customers' browsing patterns, keywords they are searching for likes, and dislikes to get an idea of their requirements. Different demographics have different choices and preferences, so it is important to consider your target audience's age, interests, etc. for better results. Include these findings in your website optimization strategy for a great outcome. 
4. Relook at Website SEO
You are redesigning your website to boost your marketing efforts. It is crucial to optimize SEO for your website. Your website redesign process must include content creation for readability with body tags and headers, keyword optimization, page titles, permalinks, and Meta descriptions.
Incorporating SEO while reinventing your website can help you increase website traffic, leads, sales, etc. SEO is a never-ending process, so you might want to hire website redesign service to keep your website optimized for the search engine.
5. Concentrate on Functionality
People seek information as fast as they can get. Your website is expected to give your potential customers results that they want in a minimal time. The smoother experience it provides, the faster it will generate conversions and the better ROI you will receive. Check your site speed, browsing functions, and readability across devices. Functionality and design work hand in hand, making it a crucial part of your website revamping plan.
6. Evaluate CMS
The content management system is a vital component of your website redesign project since it limits your website build and design modifications. The changes you want to make to your website and your CMS platform's available options should match each other.
The most recommended website and CMS solution are WordPress. It offers free plug-ins to extend the features and functionality of a website. Hire WordPress developers and get the best design for your website. 
7. Use Google Analytics
When you publish content on the website, it is essential to know what type of content is working and what isn't. A result-oriented analysis is necessary for a powerful content strategy. Google Analytics is the best tool to audit any website. From broken links to content errors, the tool gives you insights into numerous aspects.  
Your website redesign project plan must include website analytics to understand more about the performance of the website. This will better define the requirements of redesigning a website for your web developer team.
More than 90% of the consumers look for websites that offer easy navigation. Your website navigation is an integral factor to consider while planning website revamping. Poor navigation leads to higher bounce rates and lower conversation rates. A website will lag leads if visitors find navigation complex and confusing around the site. 
You can check the time spent by the visitors on your website. If they are spending only a few seconds, then it's time to improve your navigation. WordPress designers plan navigation while designing a website, so your website redesign proposal must highlight this factor to generate more traffic.
Also Read: 12 Ways to Accelerate your WordPress Speed and Performance in 2021
9. Make it Mobile-Friendly and Responsive
You might have the best website design, but if the same does not work for mobile, it will put a dent in your performance online. Mobile website views surpassed desktop views for the first time in 2016. This is a clear indication that mobile friendliness is an essential aspect of any website. 
Having responsive web design for mobile users has become today's need. It includes radio buttons or touch buttons, faster downloading speed, easy navigation, compressed images, legible text, and much more. Plus, Google has announced mobile-first indexing. Optimize your website for mobile and other devices to bank on growth opportunities by hiring a website redesign service.  
10. Work on Credibility of your Brand Image
People today gauge brand credibility from website appearance is critical for businesses to have a powerful and appealing online presence.  While redesigning your website, prioritize portraying a strong brand image that correctly reflects your company's personality and maintains the essence of your brand. It helps to stand out in the crowded business field. Security is also a growing concern among small businesses as they are susceptible to cyber threats like hacking, virus, or malware attacks. Make sure to add SSL and firewalls to your current design to ensure security for users.
Way forward
If you are redesigning your website, you will most likely need to coordinate with a website redesign service or WordPress services to get the best possible result. Make sure you plan your website redesigning after considering future business goals. Choose the right development tools and the team to translate your business values into a robust website. These ten points are the epitome of your website redesign project. Considering them will take you a long way.