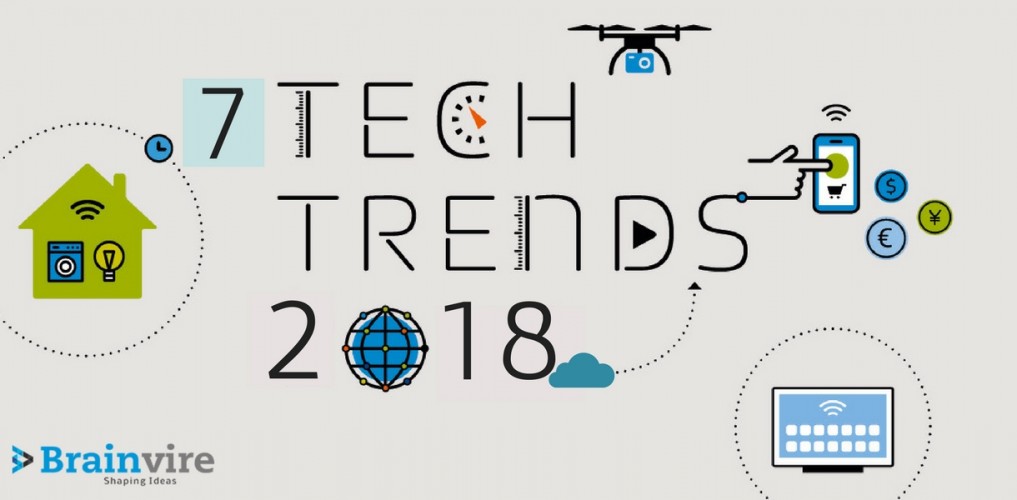 Talking About 7 Strategic Technology Trends That Will Blow Your Mind Away In 2018, Trends, do we care little about this?
No, we tend to follow trends irrespective of industry and market. Trends have a last-long effect and wider reflection. We're witnessing the influence of the trends across many segments. Trends are likely to be found in your surroundings and even in your mobile too! With the thousands of apps and web platforms, IT industry has the obsession of staying in trend with the expanded vision of automation and digital transformation.
Well, trends are not only important to the IT professionals but every business and industry segment are highly affected by trends and creating a significant impact on the processes and transactions.
In this article, we would like to draw your attention towards super 7 technology trends which will change the entire picture of the industry.
Let's explore those without any further ado.
Mobile Is Synonym Of Digital Revolution
It's true. Mobile has taken a dominant position in every business segment. Starting from mobile-friendly search and mobile payments, businesses are already leveraging the mobile economy to accelerate more business opportunities.

The usage of mobile has already surpassed the desktop usage and mobile economy is flooded with inventive technologies. 2018 will set some benchmarks for small business owners that will encourage newest Mobile App Development ventures along with innovative ideas.
Internet Of Things To Take Forefront Position
Well, having a mobile-friendly website is indeed a basic requirement nowadays. Along with that, the 2017 year is already passing through the revolution of IoT in almost every business industry such as health, education, smart homes, security, automobiles, and so on.

Those who're adopting changes are able to see notable changes in growth factors. Location-based service and on-demand economy have changed the way one think whether it is a consumer or service provider. In this digital-oriented era, the rise of IoT and connected environment will change the way how devices operate and interconnect with each other.
AR And VR Are Not Only Definitions
The year of 2017 has set some benchmarks for Augmented Reality and Virtual Reality based applications. Establishing impressive grounds for AR and VR together, businesses are embracing the power of the advanced virtual world to create the seamless user experience.

Talking About 7 Strategic Technology Trends That Will Blow Your Mind Away In 2018, The advanced technological innovations such as AR & VR and its implementation is expected to grow at a CAGR of 15.18% from 2013 to 2018. These thriving technologies involve the connection of digital world with the real world.
Wearables: Do You Already Own It?
It is not surprising that one of those whois reading this post experiencing the impact of wearable. It is something beyond expectations, isn't it? Renowned tech giants like Apple, Google, and Samsung have already designed the futuristic wearable models to leverage the technological advancement.

Whether it is a smartwatch, fitness tracker device, or sensor-packed shoes, the wearable world has earned ground-breaking success in diversified business segments. Real-time data processing and complex algorithms made wearable popular in many sectors such as social, shopping, geo-location, voice, health and weather management.
Artificial Intelligence: Bound To Make An Impact
Starting from the measurements of your daily activities to the classroom and conversational commerce, AI has taken human interaction to the next level. Voice assistance, AI bots, automated business processes will undoubtedly bring major effects to the business economy and digitalization.

Allowing machine language to interact and perform automated tasks, the tech-giants like Amazon, Alphabets, IBM, Microsoft, and Facebook has already powered machine learning context in order to expand the technology horizons. It is not only about expansion, the motto behind the AI is a human-like conversation with a significant reduction in cost and time.
You Can't Ignore The Power Of Big Data
The data-driven economy demands the gathering, managing, and storing of data as a crucial aspect to drive digital transformation. Data is an asset for every organization and it has the primary focus to result in a driven decision based on insights, analysis, and real-time reporting.

In order to attain 'customer satisfaction' that is vital to any organization, Big Data's role is much bigger and more strategic for the growth of the organization. Gathering customer analysis, actions, and behavioral data of customers, organizations are trying to optimize the data monetization.
Marketing Automation To Say Hi
Marketing automation, this buzzing term isn't a passing trend. With the help of AI and business process automation, marketing and advertising industries will continue to evolve with the touch of automation.


The software will automate repetitive tasks and manage all the advanced-level marketing aspects by thoroughly understanding of your brand and customer engagement. The automation of email marketing, campaigns, and other WordPress website development functions will save your lot of time, costs, and efforts.
Talking About 7 Strategic Technology Trends That Will Blow Your Mind Away In 2018, To enrich your capabilities and to enhance the scope of business, it is crucial to adopt the changes. Changes are coming from latest trends that focus more on optimization and efficiency. Whether you remain unchanged or see how the world is moving at the speed of digital transformation or, embrace those trends and experience the leading position in your market niche.