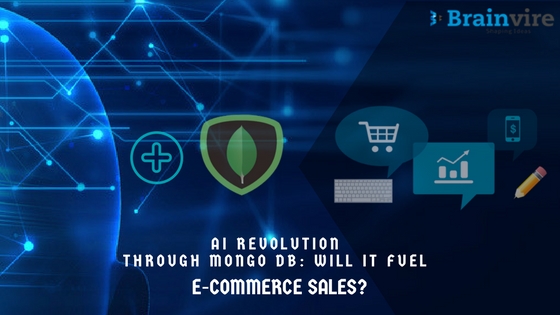 A few years ago when online business was not much reliant on technology, it was enough to have a website with static data on few pages; without having much need for analytics and data mining. However, the changing market scenario and implementation of cutting-edge technology in various websites and application demands today's website and mobile apps to be visually rich and interactive stuffed with a variety of appealing fonts, visuals, audios and images along with social media integrations to drive more users attention. So, in order to integrate dynamically changing products on your e-commerce website, it is quite imperative to have real-time data for decision making.
But how technology will help business to be real-time, modern, faster and flexible? Well, the implementation of Mongo DB with deep learning will help business to scale online e-commerce store in an efficient manner. AI will not only create endless possibilities to disrupt industries, but it will also address some biggest challenges that will revolutionize the entire retail sector. Let's find out how the implementation Mongo DB with Artificial Intelligence will drive retail industry at next level.
What Is Artificial Intelligence And Mongo DB And How To Use It In Your E-Commerce?
Artificial Intelligence is all around us. Right from searching on Google for news till the news you watch on social media using Siri, AI is everywhere. You might have heard about Amazon, Netflix, and Zalando- So, What's connection between all these 3 companies? These companies employ Artificial Intelligence in their e-commerce process to provide personalized recommendations based on their previous choices and this is how they succeed in the world of e-commerce.
Well, this was all about Artificial intelligence but what's the role of Mongo DB? How can it help is the development of scalable e-commerce store? Today, with dynamic changing products, traditional database fails to meet the needs as the entities are rigid and small in nature and a single change in attribute requires huge changes in the Model; making it difficult to add new content or attribute without disruption performance. Ase-commerce store is bound to expand its horizons in long run, a non-relational database like Mongo DB allow store owners to incorporate any type of data in the single database without disrupting the performance of the site. The implementation of Mongo DB for deep learning helps in delivering a scalable and robust user experience to a "segment of one" type of users; making the shopping experience more convenient. But,
"Segment of One" – What's that? How using Mongo DB for AI will leverage personalized user experience to customers?
In simple terms, "segment of one" refers to personalization of product or services for customers based on their purchasing details. Today there are many tools available to precisely define consumers' needs; each in its unique way.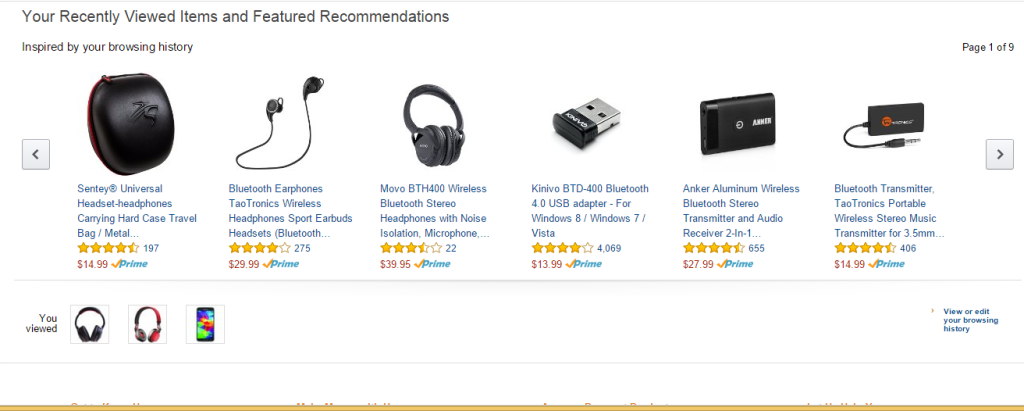 Let's consider Amazon.com. During your first visit, you will find a default home page. With various categories and elements like search bar that have started to collect more information about you like your favorite category, color, brand, size and much more. The very next time you visit Amazon.com, you will visit the website, what you will notice is a fully personalized homepage with lots of similar product recommendation and discounts based on your previous browsing history. Pretty cool isn't it. But how do they collect and store such information? This is where Artificial Intelligence, machine learning, and Mongo DB comes into the picture.
With various AI and machine learning algorithm, your browsing information is collected and stored in the various entity. Being non-relational and scalable in nature, Mongo DB stores all the users' real-time information in various entities and later on this information is retrieved to develop a fully personalized home page for users. Mongo DB's flexible, scalable, expandable and agile approach has made it a premium choice for seamless, intuitive and user-driven eCommerce development.
How Can Implementation of Artificial Intelligence with Mongo DB Benefits E-commerce Revenue stream?
Many e-commerce store owners might be wondering why customers leave your cart in the final step and make an order in your competition. Basically, you don't know which customers are leaving your store and why? What's the reason behind this situation? By implementation of AI backed by Mongo DB, you will be able to keep a track on your customer footsteps that will eventually help to find the reason behind customer switching to another site. By implementing a perfect blend of technology, backend & effective marketing strategy; you can improve your store revenue by 45% as you will be able to:
1.  Recover Abandoned Carts Issue.
2.  Recommend Products to Customers Based on User's Interest.
3.  Customer Segmentation By Their History And Formulating Strategy Based On It.
4.  Sending Dynamic Newsletters to Customers Based On Their Interest.
Additionally, you can even use predictive intelligence and contextual messaging to extract more business from new visitors. Let's watch out Mongo DB powered by AI algorithm drives future of the retail industry at new dimensions. Planning to revamp your existing e-commerce store with Mongo DB backend? If yes, hire our expert Mongo DB developer at cost–effective rates. Contact us now to get the best development quote.