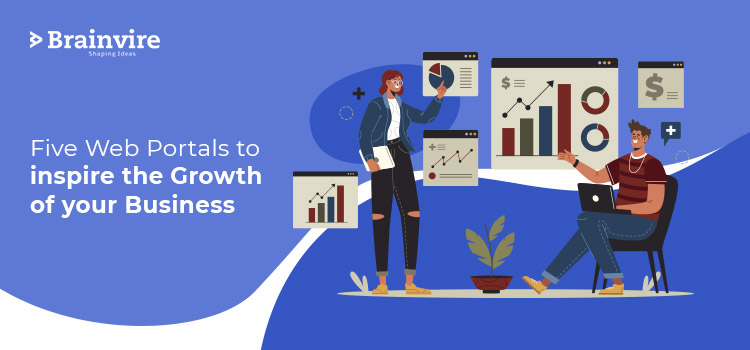 Web portals help businesses provide their target audience with access to relevant content and functionality. Web portals for business make external and internal remote communication and collaboration easier.
Modern web portals are high-traffic websites that include content management, collaboration, and personalization features for content search. Some web portals deal with sensitive data, security features such as multi-factor authentication, content retention, deletion policies, and data encryption. A typical web portal, on the other hand, is designed primarily for informational purposes and has fewer collaboration and personalization capabilities, with the goal of reaching a larger, often unspecified internet audience.
You can select from a variety of web portal examples based on your business objectives and target audience.
Vendor Portals
Vendor portals provide a safe online environment for companies to collaborate with their suppliers while also streamlining procurement processes. Such portals make vendor onboarding and communication, order placement and tracking, and other tasks easier.
Investor Portals
Investor portals are a method of distributing content to your investors and other interested parties. They serve as information hubs for users or clients, who are frequently individual investors, and provide them with up-to-date financial news and data to help them make investment decisions. Investor portals are frequently Cloud-based platforms that can be tailored to the needs of both the financial institution and the investor client.
Want to convert your idea into a successful app or website? Schedule your free call with our expert now.
Intranet
allows employees to stay up to date on business news without having to rely on outside sources. It also allows them to participate in online learning and professional development processes, as well as to support the work process with document and project management features and collaboration tools. 
Government Portals
Citizens can use government portals to easily access popular services such as paying bills and parking tickets, and visitors can enter their addresses to see personalized service information.
B2B Web Portal
A business-to-business portal is a system within a business's website that allows you to manage the needs of your customers, distributors, and employees all at once. Your B2B web portal makes it simple to list all of your available products and services in one location, allowing your customers to browse and buy at their convenience.
Why Should You Consider A B2B Portal?
A business grows, documents begin to fall through the cracks, and even edits are lost as email attachments. If you're not sure where to go next as your business outgrows its current system, Microsoft SharePoint may be the solution you're looking for.
SharePoint is a Microsoft product that serves as a customizable and flexible data storage and retrieval solution for businesses. 
It functions as an intranet, allowing a team to upload and access data, files, and other content.
It enables management to create news feeds for sharing business-wide information or to customize portals for each department. 
Furthermore, rather than folder-based document management systems, most of the content is shareable with other employees and accessible via URLs. 
Businesses prefer to host their data on servers provided by local IT companies or on-site. SharePoint Server is also available for them. This web-based collaborative platform, on the other hand, is extremely versatile and popular.
One can also solve common data management issues, data security concerns, and internal messaging by using the self-contained SharePoint environment.
The fact that Microsoft Sharepoint is a web-based collaborative platform is the primary reason why it is being used by an increasing number of businesses. That means it can be accessed from anywhere. Aside from that, another significant advantage of using Microsoft Sharepoint is that it benefits from everything that comes with Microsoft Suite.
There are several other important ways in which Microsoft SharePoint can help your organization thrive and prosper in today's competitive environment. Let us take a look at them.
Provides a Simplified User Experience
Even though SharePoint is a Microsoft product, it is tightly integrated with the common Microsoft applications that your employees use on a daily basis, such as Excel and Word. Furthermore, this explains how users interact with information and helps to streamline processes such as signature collection, document review and approval, reporting, and issue tracking.
Encourages Employee Mobility
As employees increasingly demanded instant access to critical business applications at any time and from any location, organizations began to embrace mobility, remote access, and bring-your-own-device drives. 
SharePoint allows users to use their devices to access business data from anywhere in the world. Not only that, but one can collaborate with coworkers even when they are not present in the office. It simply means that the documents can be opened, edited, and reviewed at any time or on any device that is convenient for them.
Gathering Critical Business Information Is Convenient
Using Sharepoint, one can make better use of information. And the reason for this is because of its smart electronic forms, which allow businesses to collect data from partners, customers, and suppliers through a simple browser interface. Forms in SharePoint include expense reports and event registrations. The forms are customizable and range in complexity from simple to complex. Simple forms can collect basic information that the business requires, whereas complex forms can play an important role in large business processes.
Data Can Be Securely Entered By External Users
When it comes to the intranet, one can designate specific pages for external-facing purposes. Furthermore, without gaining access to the intranet or the data contained within, on-site contractors can complete orientation training and interviewees can complete online applications. These pages may also require credentials in order to keep the information secure.
It provides information that can be made available to the appropriate teams, even in a very secure manner, without jeopardizing privacy or security concerns.
Makes It Easier To Find Content
Consider the times when you require access to documents before your coworkers are aware of your need. And it was made possible by Sharepoint. There are a few ways to make it happen with SharePoint Intranet.
The first method is your document portal, which uses Machine Learning to identify the content that is most relevant to you. Aside from that, the other way is through deliberate content targeting by the authors of the content, where one has the option to publish news stories to audiences of one's choice — locations, departments, positions, or groups.
We have seen numerous examples of how Microsoft SharePoint is a powerful platform that provides numerous benefits to your business. Now is the time for you to join them. Your employees will be able to quickly locate information and collaborate with other organizations. Contact Brainvire, a leading SharePoint Development Company, to hire SharePoint Developers.