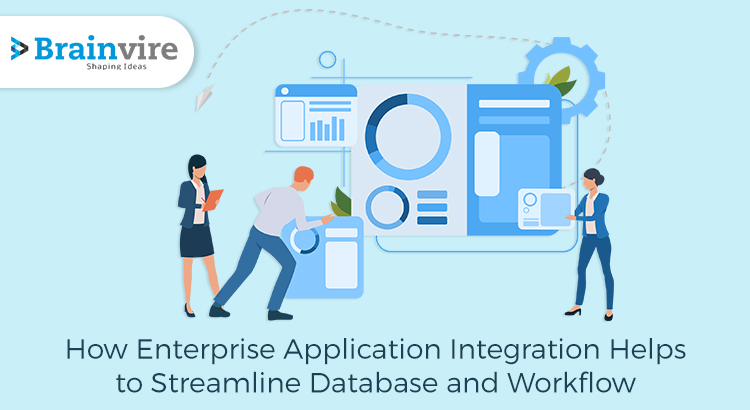 Enterprises today are relentlessly moving ahead with fast-paced technology. All modern-day technologies such as Big Data, Cloud Computing, the Internet of Things, and others streamline information sharing and offer ease of controlling data. 

Business organizations are also quick to implement Enterprise Application Integration (EAI) that helps you in uniting the databases and workflows. 

According to Gartner, the demand for enterprise applications will exceed further. It will also increase your integral development capacity by 500%. 

In simple words, Enterprise Application Integration is the use of technology services and computer systems to help integrate all hardware and software solutions within an organization. 

The global Enterprise Application Integration Market is expected to reach $11.98 billion by 2023.

The integration occurs across various applications fostering communication between different departments. These include –

Customer Relationship Management 
Business Intelligence 
Supply Chain Management 
E-Commerce Applications 
Human Resource Management


According to another study, about 75% of the enterprises are using a minimum of six applications to simplify the workflow management process. These applications also assist in carrying out other important tasks such as monitoring employee performance, tracking multiple transactions, and more. 

What are the Challenges that Enterprise Application Integration has to face?
Enterprise Application Development poses a few challenges for the developers. These are-
Seamless Data Integration 
Seamless data integration requires you to follow standard business management protocols in the entire system. 
Want to convert your idea into a successful app or website? Schedule your free call with our expert now.
Interoperability
Another challenge is connecting business applications with a standard interface. The difficulty occurs because enterprises use different programming languages and operating systems. 
Scalable Solutions
You need to ensure that EAI solutions are stable and scalable to manage the enterprise infrastructure. 

What are the Important Enterprise Application Integration Tools?
The Enterprise Application Integration tools support in simplifying tasks. Some important tools are as follows-

Oracle Fusion 
This tool ensures that the information is delivered to the right team. It also helps in creating, monitoring and improving the application. The modular nature of Oracle Fusion Middleware helps you to install and configure the services according to your needs. 

IBM WebSphere MQSeries 
You can use the IBM WebSphere MQSeries for integrating both back-end and external systems. Also, you can take advantage of the existing software and hardware systems, eliminating the need to write complicated codes. The tool does not allow your data to get lost. 

Tibco 
The tool comprises of modern and advanced business process management features. But more importantly, it lowers your Total Cost of Ownership through general-n-way instead of point-to-point integration. It improves your overall performance of the application. 

See Beyond 
See Beyond has been regarded as one of the best enterprise application integration tools using which you can run the business process in the native environment. It also offers a wide range of services such as Online Analytical Processing, Business Activity Monitoring, Extract, Transform Load, and more. 

BizTalk 
This is an automation tool that optimizes and automates your business processes. It also provides additional tools that streamline the development, design, management, and deployment process. Microsoft Enterprise services cater to Enterprise-level benefits that serve purposes of businesses. 

What are the Major Benefits of Enterprise Application Integration? 
Enterprise Application Integration (EAI) offers a plethora of benefits, which we can highlight below. 

Simplication of Busines Process 
Enterprise Application Integration stands out in simplifying the business processes of all organizations. Several companies are using complex IT structures and multiple applications, which makes it difficult for them to streamline their workflow and integrate data. The useful EAI tools help a great deal in bringing this simplification. 

Streamline Data Sharing and Automating Workflow 
Enterprise Application Integration has established improved coordination between various departments of an organization. You can share any data or information with ease, which is accessed by all employees. Thus, it helps to prevent information duplication. This enhances the overall efficiency of the employees. 

You can also use Customer Relationship Management data to automate your marketing campaign and create reports instantly. This generates transparency of the financial flow. 

Reduce Your IT Cost and Expenditure 
Enterprise Application Integration is a modern software technology that helps you to reduce your IT expenditure. EAI allows you to easily integrate the old and new software and you don't need to remove any former software. Also, seamless data sharing across all channels has allowed companies to cut down the cost. 

The integration of business applications provides a scope to generate new products and services. These products and services can be simply integrated both internally and externally, which helps to save the cost. 

Creation of New Opportunities 
Enterprise Application Integration is creating new opportunities for the organizations and responding to them faster. The trends in technology and market are changing swiftly and the enterprise needs to be ready to implement those changes.  This allows for improving the customer user experience.

Make IT Infrastructure More Flexible 
The IT infrastructure is changing at a quick pace and you also need to follow the same pattern. Thus, it becomes important for the companies to make their enterprise structure flexible. This allows you to maximize the benefits of innovative technologies to cater to the growing demands of the customers. 

You can overcome the hassles, streamlining the process with improved functionality. 

Industries Benefiting from EAI Technology 
Various industries are leveraging the advantage of Enterprise Application Integration. A few important ones include manufacturing, finance, logistics, transportation, healthcare, and many more. ERP, CRM, web application development, eCommerce development, and mobile apps are at rage to automate workflows and acquire an online presence in competitions. 

Summing Up the Discussion 
Enterprise Application Integration (EAI) is the buzzword today allowing you to improve their business process and encourage information exchange. It incorporates greater efficiency and reduces both time and cost while integrating applications. 

EAI also provides an opportunity to identify your potential when investing in software development by hiring a reputed Software Development Company. As a business owner, you need to choose  EAI to make sound business decisions to take your venture to the next level of transformation.