Great news by Google again! It has recently announced the release of Android 5.0 Lollipop designed to be flexible to work on all the mobile devices and can be customized to fit the way you wish for Android App Development Services. Google has added some changes to the extensions of themes introduced in Android L, some are new while the other previously known features have been detailed by the biggest search giant. The obvious features highlighted in this release come in form of visual enhancements, user interface changes, clear design, revamped multi-tasking menu, bolder color palette whether that's a smartphone or a tablet.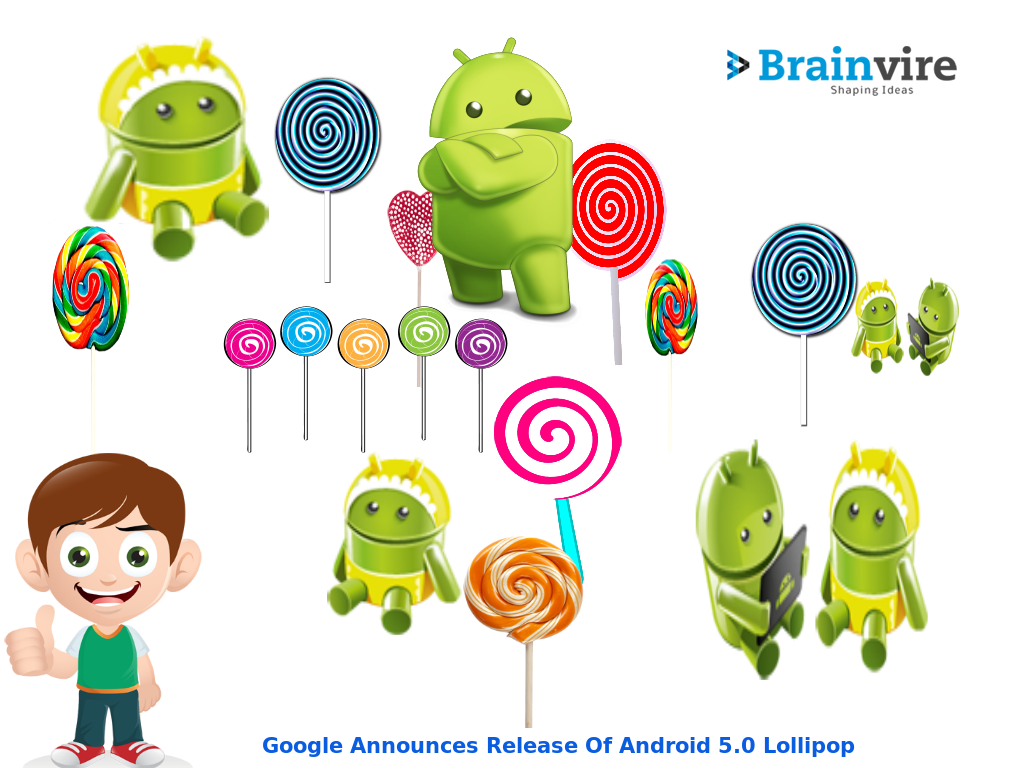 Here are some of the biggest changes that Google introduced to its most popular and widely used mobile and tablet platform with Android 5.0 Lollipop.
Material Design
Well, you might remember when Google introduced Android L and announced that the next version release will have a complete visual overhaul for consistent user experience across varied mobile devices. Here it is. Android 5.0 Lollipop features a cleaner design with more fluid interface and animation. Navigation is also revamped with this release but managed to stuck to the design with some minor changes like status bar can be colored or kept transparent. The"Quick Settings" menu has been revamped and includes flashlight, hotspot, screen rotation, cast screen controls and more.
The new Material Design introduced by Google is bold, colorful and responsive and provides intuitive experience to the user across all the mobile devices. Bright colors, typography, lighting, shadows etc. attract the focus of the end user.
Notification Controls
Android 5.0 Lollipop includes new notification controls that alerts the user during meetings, presentations or at other times. The user can view and respond to messages directly from their lock screen. Also, the user can be able to view or dismiss any notification without actually moving from their activity.
Improved Security
Android 5.0 Lollipop comes with "Factory Reset Protection" which is designed to help protect data on lost or stolen devices. If the user wish to activate this feature they will be required to enter their Google login to factory reset the device and will work only when the phone passcode is enabled. The other security options include SELinux enforcing for even better protection againts malware and vulnerabilities.
Battery Saver
A new battery saver features has been added by Google to Android 5.0 Lollipop usually extending the device battery life up to 90 minutes. It will also display the estimated time left to fully charge the battery when plugged in as well as the time on the mobile device before the user needs to charge again.
Device Sharing
Google has brought the device sharing features which will allow the users to share their Android 5.0 Lollipop device with family, friends etc. without actually worrying about the sentivity of their data. Also, another new feature in Lollipop allows the user to log in to another Android device in order to access syned messages and content if they forget their mobile device at home.
New Multi-tasking
Android 5.0 Lollipop brings a new card-style layout. The app flows in a sort of carousel and can be easily swiped off to either side to close them as before.
Faster Performance and More Efficient
Android 5.0 Lollipop is the fastest yet and brings some nifty features that makes an immediate visual impact. Android 5.0 Lollipop runs twice as fast as the Dalvik runtime that was found on previous Android iterations.
Android TV
Android TV came as a surprise. It is integrated into Lollipop and provides a way to get games, videos, movies, TV shows etc. onto your big mobile screen. Some few big names have signed to Android TV like Sony, Phillips etc.
Connectivity
Android 5.0 Lollipop has enhanced internet connectivity everywhere and anywhere with more powerful Bluetooth low energy capabilities. The improved network results in limited interruption in connectivity for instance, continue with your video chat or VoIP calls without any interruption whether you are at home or as you leave the house.
Runtime
ART an entirely new Android runtime comes with smoother, faster and more powerful computing experience. Also, the new ART Android runtime supports 64-bit devices, enables improved application performance and responsiveness, smoother UI for complex and visually rich applications and lots more.
Media
This new Android 5.0 Lollipop has bolder graphics, improved audio, video, and camera capabilities. The lower latency audio input ensures that the music and communication applications provide real-time experience to the user. USB audio support is provided so that you can plug USB microphones, speakers and any other USB audio devices into your Android device.
Android Lollipop also features new professional photography that lets the user capture full resolution frames around 30fps, support raw formats like YUV and Bayer RAM, allows to capture metadata like noise models and optical information, etc.
OK Google
This provides easy access to information and enables to perform the task with ease. Even if your screen is off, you can say "OK Google" onto your devices with digital signal processing support. It also enables you to talk to Google to get quick answers, get directions, send text and lots more.
Improved Accessibility
Android 5.0 Lollipop brings enhanced low vision and color-blind capabilities in order to adjust the display to improve color differentiation.
Support in 15 Languages
The new release brings support for 15 multi-lingual languages in Basque, Bengali, Burmese, Chinese (Hong Kong), Galician, Icelandic, Kannada, Kyrgyz, Macedonian, Malayalam, Marathi, Nepali, Sinhala, Tamil, Telugu.
Quick Device Setup
Google has brought in Quick Device Set Up which provides new ways to set up their devices with Android 5.0 Lollipop and get up and running in no time.
And a whole lot more….
Apart from this, Android 5.0 Lollipop has improved hardware keyboard accessory support, easier sharing features, print preview, page range support, manage multiple payments apps, data usage, Wi-Fi settings, new search functionality, emoji input, improved app, and system key chords, etc.!!!
Contact Brainvire a leading Android development company for customize android mobile app development.