Talking About How can Mobile Apps Benefit Restaurants and Fast Food Chains? Mobile technology showers countless opportunities for the businesses looking to improve their work process and global scope. Already, many of the retail sections and industrial sectors have gone mobile with enterprise-specific mobile applications that are entirely customized according to their business requirements. Such customized mobile apps when leveraged up to their fullest potential can provide the maximum benefits to these businesses in terms of sales enhancement, customer engagement, effective services and much more. The mobile applications that support ecommerce activities are already on the go with the retailers that want to take their business online and generate additional sales. Adding to this list of businesses now, are the fast food chains and restaurants.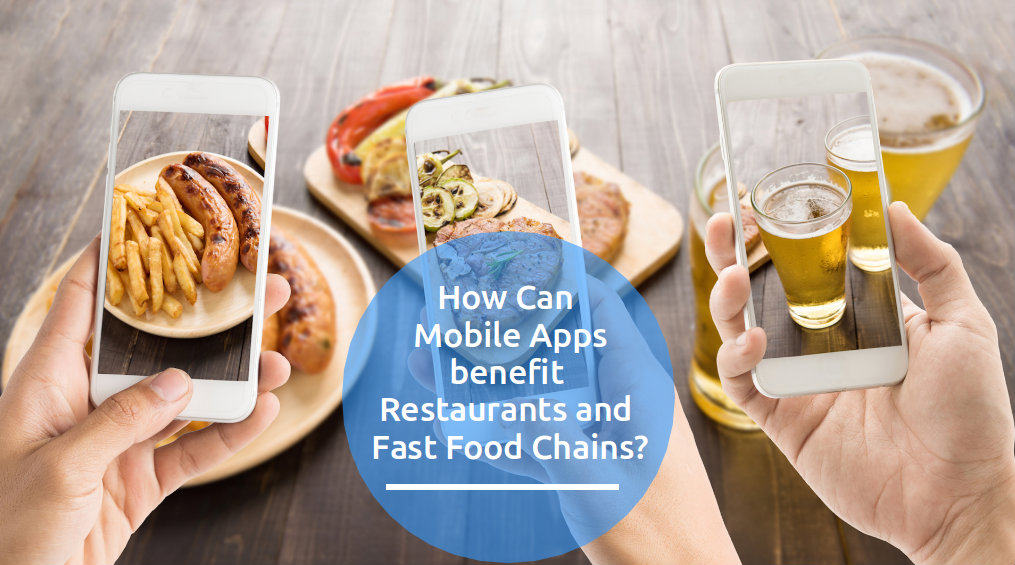 Mobile apps development for restaurants was earlier not a sought-after option for many restaurants and dining companies who had a notion that their services are fast by nature and require an in-store visit, so there isn't an obvious advantage to have online ordering apps or mobile apps for their processes. However the things changed slowly and now, mobile apps have started gaining popularity in the world of food, dining and restaurants as well.
Customer Convenience:
Mobile apps can provide greater convenience to the customers of the restaurants ad fast food centers as they can now order their food menu or reserve their table through these applications before they approach the restaurant or the fast food center. This eliminates the need to wait for long hours for the food to get prepared and delivered and thus saves lot of time for the customers.
Android apps development for restaurants can help them improve the effectiveness of their services and therefore, win customer satisfaction.
Increase in Sales and Repeat Business:
Services like online ordering provided through mobile apps can increase sales and order frequency of a restaurant as more and more customers tend to buy from such food centers that offer them convenience to order food right from their device. The customers can pay from easy payment modes enabled in the restaurant app and hence, are not worried of making cash payments.
Restaurants and fast food centers can track information about the customers through their business applications. They can easily track customer's order history and other details and use this information for upselling needs. They can inform their regular customers about the latest offers, combo pack benefits, latest discounts on their favorite food items through push notifications and hence, can easily educate their target audience with the right information thereby leading to more sales opportunities.
Talking About How can Mobile Apps Benefit Restaurants and Fast Food Chains? These fast food centers or restaurants can also utilize this customer's order history as an effective customer relationship management tool thereby leading to repeat business for them.
Inform Your Customers:
You can allow customers to get every minute detail about your restaurant group or fast food chains through your app. Include information like menus, latest offers, contact details and locations where your restaurants or fast food centers are located. This keeps your customers educated about your restaurant or fast food center and its servings well.
With modern beacon technology oriented apps you can very well provide location-based services to your customers so that they can easily learn about your restaurant or food center and its latest offers as they are nearby or about to approach it. This is a good way to attract new customers to your fast food center or restaurant.
Mobile apps development for fast food chains or a group of restaurants can also help them manage their internal data and process effectively with a single communication, data storage and service channel available.
So, do you a fast food chain across the country or have a restaurant that has just started up? Then, just go for mobile apps development and witness the real benefits of remaining up-to-date with the technology. You are sure to get the competitive advantage with such a huge medium of mobile app users to target for your restaurant promotion needs.
Talking About How can Mobile Apps Benefit Restaurants and Fast Food Chains? Made up your mind to go mobile!!!!Then, hire experts for it. Make sure you get experienced professionals working on your mobile apps development project in order to get the most desired outcome for your investment.