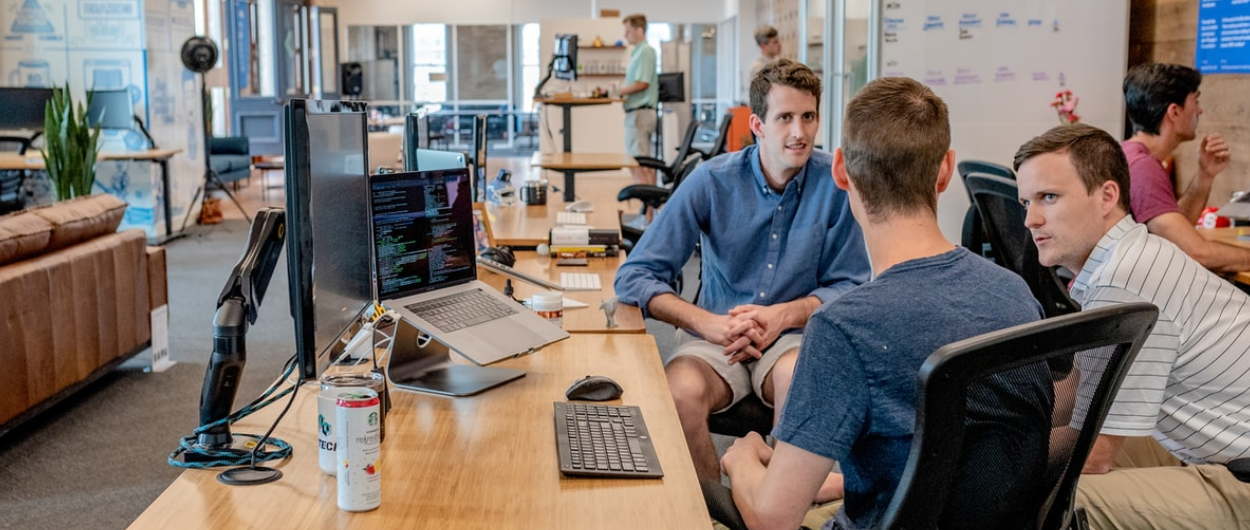 When it comes to business, time is money. No one likes to waste their time on tasks that another person could easily do. That is why most companies are looking for ways to become more efficient and save time to be more considerate of what makes them money.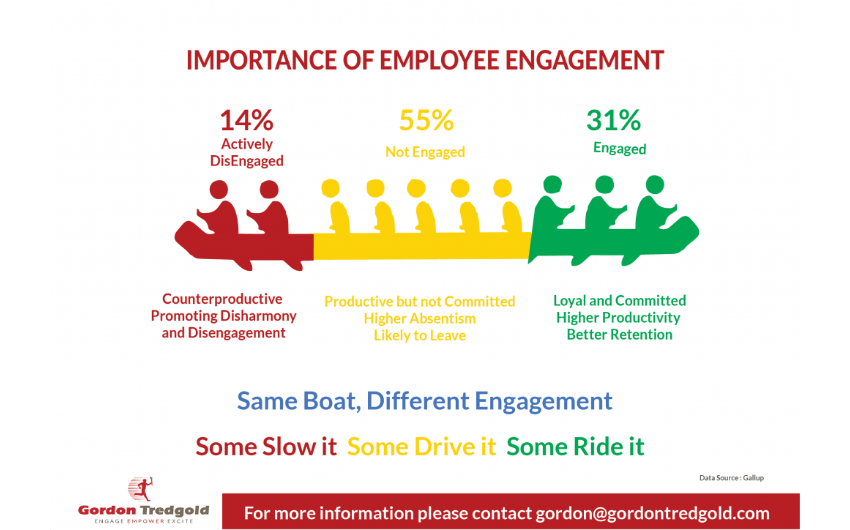 Employee engagement is a hot topic in the corporate world. Plenty of studies show that when employees feel engaged and happy at work, they are more productive and loyal.
SharePoint is a collaboration and file-sharing tool that helps teams work together on projects. This collaborative platform allows users to store, share and manage their data in one place.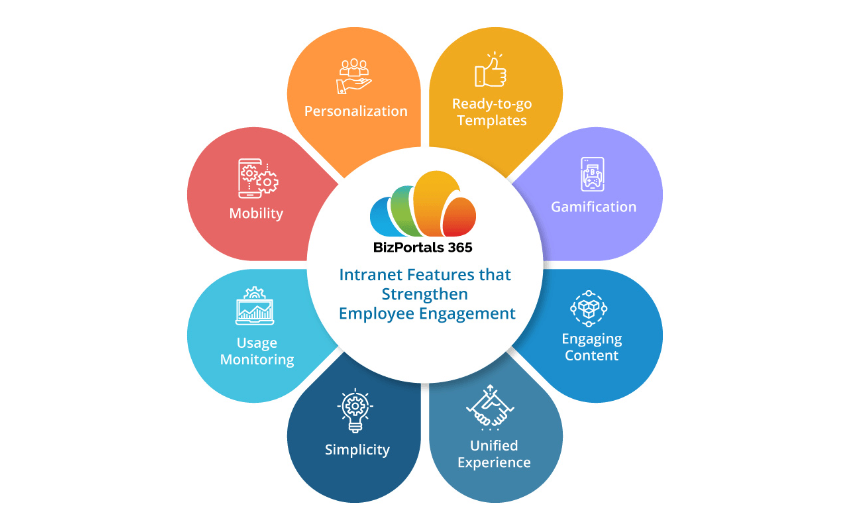 It also provides a team collaboration space where you can create documents, share them with your teammates and keep track of your tasks. This platform is often used by organizations in various industries such as healthcare, education, government, and business. 
Sharepoint insights empower you with the right resources to handle your internal crises. With the employee engagement model, you get the data and information needed to make impactful decisions related to the welfare of your workers.
Employee engagement matters because they will be more productive and loyal to your company when employees are engaged. Engaged employees will also be more innovative, creative, and productive because they are involved in the workplace culture. 
SharePoint provides a greater opportunity for a successful employee engagement.
For SharePoint development, get in touch with Brainvire's experts now!
Engagement is also important because it helps mitigate risk for your company; engaged employees are less likely to burn out or quit when faced with a challenging work environment.
This article will explore how SharePoint helps companies create a more efficient company culture.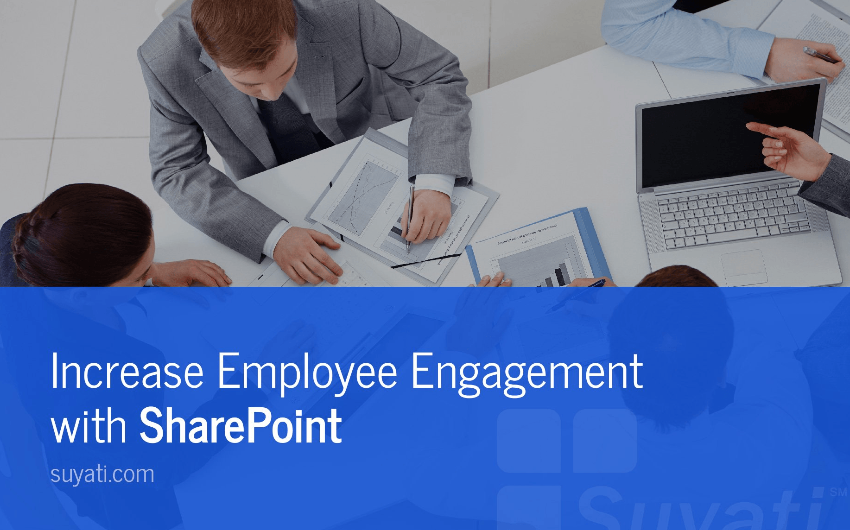 Engaging Working Atmosphere
One of the aspects that keeps a lively atmosphere for employees is connecting in exciting ways. With SharePoint, access to information, records, documents, collaboration, etc., in the most stress-free and humorous way possible. 
With an engaging intranet, you can spice up your working ambiance with intrigued pools, surveys, funny images, videos, and sometimes a few jokes to drive them in daily conversions or deliver some news. It's a better approach for your employees to participate rather than the intranet's conventional company information or industry-related reports. 
With SharePoint, you can let your employees create appealing content; this method regularly keeps a fresh, dynamic, and diverse range. 
Also, ensure that the solution is sufficient with convenient publishing features, and hire people who can write engaging content and give a flow of ideas to start a discussion among employees, letting them know each other on different levels. 
Equip Your Team With Self-Help Tools
Automation has become an essential element of every process in the digital space, and for your employee to function effectively, self-help tools are exceptional. These tools help employees work on the tasks without being scrutinized in the eyes of HR or IT; it lessens the burden of depending on others. 
SharePoint aids your employees in digitizing and automating standard formats utilized for demanding time off, purchase authorizations, and providing expenditure refunds with Office 365 employee expense reimbursement tool.
It gives employees a prominent place to have updated policies and procedures and equips onboarding support for new employees with access to FAQs, a learning base, and development training videos. In addition, these tools are perfect for employees to raise IT service tickets and requests.
These apps free up HR and IT resources and help them dedicate their time to more essential activities.
Enable Two-Way Communication
One of the tips that work wonders for organizations is two directions of communication— Top-Dow and Bottom-Up. On the top-down, the company delivers messages to its employees, wherein bottom-up, the employees are the ones who can send messages to the company. 
The mixture of this communication method caters to a diverse audience at once and allows employees to express themselves. However, this communication style can only be established when your employees share personal stories like becoming parents, excelling in a project, passing an exam, or completing a course. 
You can create a unique segment through the intranet and share news or stories of the staff weekly, even if it's their small achievements. Highlight what they do, how they enjoy the work and spend their time outside of work. 
With SharePoint page comments, establish two-way communication. It lets users discuss their thoughts on shared articles and express them in a judgment-free zone. 
They can give their innovative idea that might be better than what is posted, and the manager can respond and discuss it further. This type of communication emphasizes directness within the enterprise and makes everyone feel like their perspective is respected and considered.
Encourage With Automate Workflow
Automating workflows allows workers to save time performing repetitive, regular, and manual tasks. However, multiple companies still use manual data access processes, such as registering travel expense reimbursement through paper approval into a spreadsheet so that statements can be handled. This takes a lot of time and is error-prone.
Instead, when these activities are automated, they contain validated data, automatically kept in a database from which the tool can handle all types of information.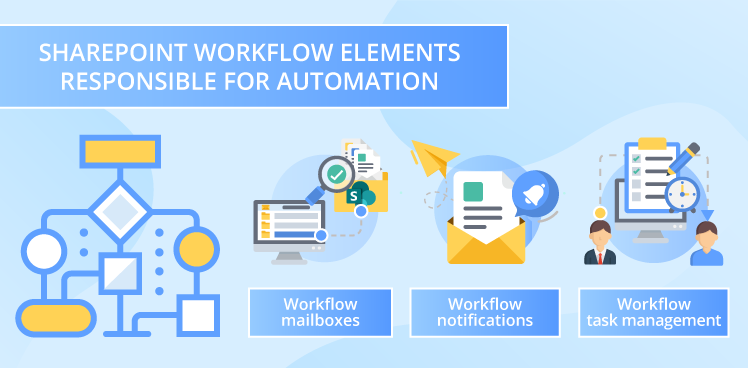 Furthermore, you can automate multi-stage workflows, such as inventory updates, formula assessments for a manufacturing business, or general consent from your supervisor and HR. Also, automate and bring workflows from third-party systems, like ERPs, CRMs, Sales and Finance, and others.
Employ Collaboration Tools
The work nature has evolved compared to 3-4 decades ago. The new era of employees prefers an open workplace and collaborative measures rather than being in locked stalls and managing their work. Therefore, the workplace must deliver the tools to simulate the same culture.
Employees now want to work with appropriate tools for collaborative work. For example, a tool like team sites can work perfectly within the team and cross-team performance and record libraries for co-authoring and editing content. 
It must also deliver functional and more efficient methods of intercommunicating between people and teams. For instance, incorporating project meetings with Yammer on Microsoft Office 365, or you can choose voice and video call abilities for online conferences.
Everyone wants to be in touch constantly or be updated on changes instantly. With an Employee Intranet on Microsoft Office 365, you can fulfill this requirement through chat and instant messaging tools and by integrating email applications with the system to inform the team of changes to documents or information that needs to be followed.
Final Thoughts
SharePoint makes your work more interesting and enticing. It eliminates the requirement of never-ending filing; this makes finding company information easy, getting documents signed off simple, and other things that might have taken ages to do manually can be done in hours.
SharePoint can decrease your employees' pain points and, with some significant development and tools, can ambush many of their most despised tasks.
Microsoft has allowed organizations to scale their SharePoint service as needed, from a few hundred users to a hundred thousand users. This allows for a more cost-effective purchase of the service for businesses.