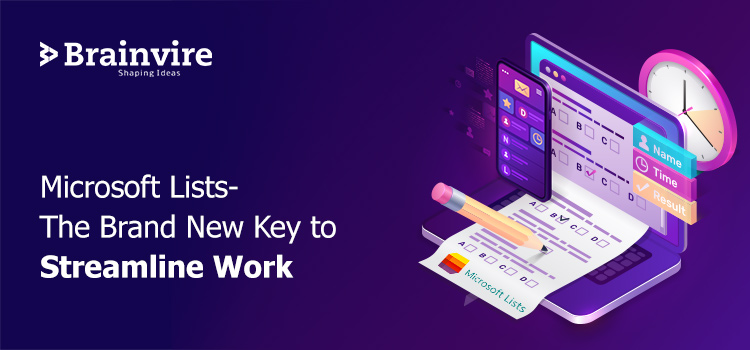 A skilled SharePoint development organization has the caliber to share innovative features of the latest technology and use it for your enterprise. Technologies are getting smarter than humans and hence it is important to make the right use of it for your business.
For instance, Microsoft lists are quite impactful for businesses but do businesses have ample knowledge regarding its use and how it could benefit you? Not many.
In this article, we will share all the essential details that will help understand Microsoft lists better-
Understanding the Fundamentals of Microsoft Lists
Key Advantages of Microsoft Lists
Tit-Bits for Quick and Smart Use of Microsoft Lists for Your Business
Understanding the Fundamentals of Microsoft Lists
Microsoft 365 application's Microsoft Lists lets you create intelligent, easy, and adjustable lists. These lists can update your team about the latest information and alterations.
This information can further guide you to streamline your business activities efficiently.
This Microsoft tool helps you track-
Assets
Issues
Contacts
Routines
Inventory
Microsoft Lists also offer customized smart rules, views, and alerts to sync updates. Initially, you may consider it as a Microsoft-to-do app but this intelligent tool offers much more than that.
With the help of Microsoft 365, it is convenient to access information from different locations so that every team member stays updated. This tool can streamline your team's workflow.
In July 2020, this tool was available for only targeted release Office 365 users. This means that the IT team got the first glimpse of this smart tool. Reach out to IT experts as they can guide you the best in this.
The complete first version of Lists was available to all users from September, 2020 within the set timeframe.
At times, Lists may not be visible to you, but you can follow these steps:
Get access to your OneDrive for Business and change your URL from /onedrive.aspx to /lists.aspx at the end.
Use SharePoint Online to check a site and add /_layouts/15/lists.aspx to the end of the homepage URL.
The next step is to open your SharePoint list and click on Expand which is present on the right side of the list.
Want to convert your idea into a successful app or website? Schedule your free call with our expert now.
Key Advantages of Microsoft Lists
Most assume Lists to be the normal lists that were already present in SharePoint and had a limited access to SharePoint users only.
Surprise!
Now with Microsoft lists it is easy to export data and evaluate it. We have shared the striking advantages of Microsoft lists-
Create Lists Rapidly
You may have turned into a pro at creating lists in SharePoint. SharePoint Online is comparatively convenient to add columns without altering the list settings. This is more like new features introduced in an old system.
However, Microsoft Lists provide improved templates and also the traditional spreadsheet. It is easy to create a list and use it multiple times as per your convenience.
Built-In Formatting Capabilities
This modern list keeps you posted with project deadlines. For instance, a red flame when a deadline is approaching and a yellow smile when you have completed the task before the deadline.
Earlier, it was tedious to create columns and carry out calculations and conditional formatting among them. However, Microsoft Lists comprises the Issue Tracker template which makes your job easier with fancy icons.
Quick Sharing
Do you remember how SharePoint lists were accessible within SharePoint only? Well, it was easy to share it with SharePoint users but when you collaborated with people outside SharePoint, it was a great challenge!
Microsoft Lists have overcome this challenge, and can share the list with concerned people directly via mails. Lined up permissions and company policies no longer cause hindrances in the process.  
Keeping the Core Constant
Microsoft Lists have introduced improved features but they haven't skipped the traditional ones. This tool has the provision of the same old List Settings which means you can cherish SharePoint in the New Microsoft List.
From these settings, you can handle list permissions, access versioning control, and use content types.
Microsoft Lists have introduced a fresh layer of features but simultaneously retained the tested and useful old features in the list.
Make Use of Lists for Teams
Employees often share a love/hate bond with Microsoft with its advanced integrating and updating abilities. For instance, you are in the middle of a meeting and there is an auto-update running.
But, simultaneously, List integration has helped ease work of employees. They can now navigate to apps, Open Teams, and Search for Lists.
Select a Team to add to the List app, it will create a new tab. You can add a list in the existing one or create a new one in the Team as per your convenience.
This new tab is easily visible in the List in the Channel.
That was comparatively easier than what you did in SharePoint, right?
Tit-Bits for Quick and Smart Use of Microsoft Lists for Your Business
Getting familiarized with features merely offers you a view about what the app/ tool can do. Simultaneously, it is essential to learn its use and it can benefit your business.
Discussed here are a few tit-bits of how to benefit from Microsoft Lists-
Create Customized Lists
Microsoft Lists grants you the opportunity to customize lists as per your company's requirements. They guide you to-
Evaluate the type of content of your list-visually and precisely
Track business details
Keep your team updated with latest changes
Apart from these, you can also make use of the default views namely grid, list, gallery, and calendar. Grid is the preset style that you visualize when you create the list for the first time.
You can rearrange and configure the primary rows and columns. In case, you want to quickly edit the list details, then Grid view is an ideal choice.
Use conditional formatting to adjust the appearance of information in these views.
For example, change background fill color based on the progress. Use yellow color when in review and green color when approved.
Calendar View
With Microsoft Lists, it is convenient to set rules and follow them. Once you have drawn a conclusion it is easy to set rules and abide them. Select the right status, people, and value changes for alert notifications.
The rules are likely to keep you posted with changes.
Microsoft Lists coupled with Microsoft Team
Microsoft Lists are quite beneficial for organizations that prefer to work in teams. The smooth collaboration between Microsoft Team and Lists allows you to make wise use of different views- grids, calendar, and cards.
Your team can converse and simultaneously add content. We have already shared how to create lists, along with it, you can also add new columns, define choices in a drop-down menu, filters, and get shareable links.
Microsoft Lists ensures that you don't have to compromise with teams on the work front.
Collaborate your Microsoft Team with Lists today with undivided attention from Brainvire developers.
Get started before it's too late!