How do you make most of the business ideas?
Okay, you have experienced the online presence of your business whether it is a service or product. mobile app development or web development become a necessity. No one can deny the true potential of growing user base online. And if you are still at back seat thinking to develop your own mobile app, you need to look at this thread.
Mobile App Development: Escalate your Business Opportunities
Recently, Google has removed 700k harmful or deceptive apps from Google Play Store. The ratio of removing or rejecting an app has significantly increased by the time. The mobile app can certainly earn you a success but, having a malicious and unreliable app can be harmful to your business.
It all starts with the right selection of mobile app development platform, proper resources, and best marketing strategies to launch your app.
When it comes to developing a stunning app which can justice to your idea, there are a lot of things you need to make out. It is not only about having an idea to develop an app, you need to consider the app development platform, current trend, time, scope, requirement, and budget, of course.
How can you identify the right mobile app development platform that suffices your needs?
This answer is subjective.
There are many types of mobile app development that is defined by the different technology combinations, platforms, coding structure, and execution. Hybrid app development, cross-platform, or native mobile app development, in each case you need to choose the right that fits your needs. Also the mobile technologies helps to transfer the data from one to other platform using blockchain services. 
Stumped On How To Select The Best Mobile App Development Platform?
Here are all the answers you need to get:
In case if you're not aware of the current technology and trends, Ionic mobile app development has significantly captured the worldwide attention of users, app developers, and business owners. Before going towards the introduction of it, we can share some highlights on Hybrid app development.
So, what is Hybrid Mobile App Development and how it is related to Ionic Platform?
Hybrid apps are built with HTML5 and native platforms. Hybrid apps are designed to provide web and mobile experience at the same time. In a nutshell, a Hybrid app is a web app which is built with HTML5 and JavaScript and runs on multiple platforms.
Along with the native platform capabilities, hybrid mobile apps combine the latest technologies to create the best app in no time.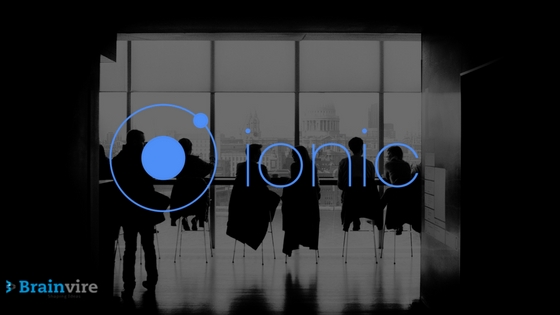 Ionic: Powerful Platform to Build Cutting-Edge Hybrid App
Ionic has grown in significant popularity over the time.
It is specifically built to support the hybrid apps by combining the native features and front-end technologies to build apps faster, efficient, and smoother. Using one single code platform, you can build an app that can run on multiple platforms.
What Makes Ionic A Typical Hybrid Mobile App Development Platform?
With Ionic, you can get seamless access to native features, elements, and layouts like native SDKs for Android and iOS. It uses HTML5 for designing best user experience.
And the best part is, you can do all the tasks including design, develop, deploy, and monitor the app with the web.
Here Are Some Highlights Of Ionic Framework That Can Surely Capture Your Attention:
Ionic is an open-source framework
Pre-made and Pre-styled UI elements
Wide community support for resolving complex queries
Cordova and Angular to support native features
Huge marketplace for plugins
Instantly preview app in browser and mobile devices
Uses HTML Templates for front-end development
Comes with Model-View-Controller(MVC) development model
Ionic offers an amazing platform to build hybrid apps with better functionality and great user experience. It is a win-win situation for developers and business owners as there is only one single code base that allows the app to run on multiple platforms like Android and iOS.
BRIDGE THE GAP BETWEEN WEB AND MOBILE: IONIC IS THE RIGHT SOLUTION
Ionic mobile app development is all about building performance-oriented apps along with amazing user experience. As it supports Angular JS in its base, you can make most out of the modern, reliable, and efficient tools to build a state-of-the-art app.