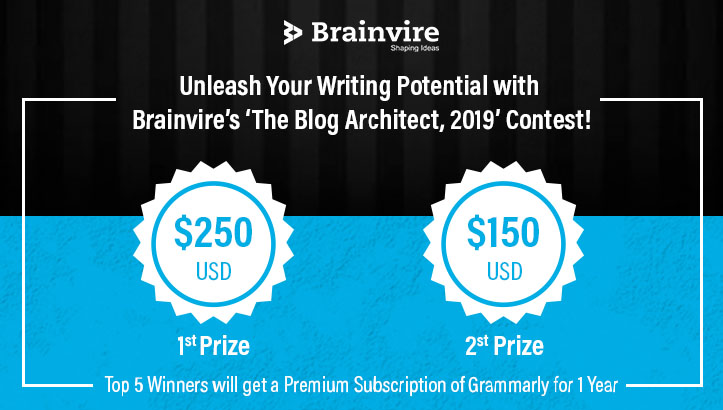 It's a NEW YEAR with new opportunities. Time to take up new challenges, getting out of the comfort zone and proving yourself. Ready?
If YES, take part in this year's WRITING CONTEST!
Brainvire InfoTech Inc. proudly announces 'The Blog Architect, 2019' contest to ignite your creative mind. Grab this opportunity to showcase your writing, and win amazing prizes!
Check out the complete details below.
How to Participate?
Step 1: As a participant of this contest, you can blog on topics related to any technology that interests you. Mention Brainvire in the article and make sure it is in accordance with the flow of your content.
Also, here is a list of some topics that you can consider for the blog –
Apart from this, you will also get some reference articles from us that will help you to write the article in a proper format.
Reference article URLs –
Step 2: Give a backlink to any of our pages using the word 'Brainvire'.
Step 3: Once you publish the article on your blog, share your article link with us on the email address digital@brainvire.com.
Step 4: Share the published article in your social circle through the various social media platforms and tag us with @Brainvire and use the hashtag #Brainvireblogarchitect2019. This conveys us the completion of your blog.
Keep your fingers crossed until the winners are announced!
Date of Contest:
The contest entries are starting from 01st February 2019 and the entries can be submitted till 15th February 2019. The entry is completely FREE!
Eligibility Criteria:
All the bloggers who are interested in writing articles/blogs can participate in this contest.
Nationality is NOT a concern.
If the winner is a foreign national then the equivalent amount of the prize money will be given to him/her.
This contest is open for all.
Guidelines to Remember:
The article should be of 1000+ words. There is no upper limit for the word count.
Make sure your article is indexed in Google.
The article should be plagiarism-free and should be properly formatted (heading tags, bullet points, etc.)
You can post as many articles as you want but on different sites.
The article should be free from grammatical errors. So, please ensure the same. You can use Grammarly for spelling and grammar check.
Brainvire team will select "

Top 5 Winners

" and the decision will be final.
In case you have any doubts regarding the contest, you can email us your queries to the email address given. If you ask your queries on our chat and phone, you will be disqualified.
Winning Criteria –
Winners will be chosen on the below criteria:
1 Like on social media = 1 point
1 Share on social media = 2 points
Articles with the highest number of likes and shares will make through the winners' list.
The popularity of your article will also be one of the factors for selecting the winners. So, don't forget to share the Google Analytics screenshot of your article, if it gets shortlisted, through mail.
Fake social media profiles will be identified and disqualified in case you use them for increasing your engagement.
The quality of your content will also be one of the deciding factors while we shortlist the winners.
Exciting Prizes Await the Winners!
Top 5 Winners will be chosen from the entries. Top 2 winners will receive cash prize + all 5 winners will receive 1 year subscription of Grammarly Premium.
1st Prize: $250 USD
2nd Prize: $150 USD
Payment of Cash Prize:
Payment Source for Indian Participants: Payment will be done via your bank account. You will need to send your NEFT details to us on the given email address.
Payment Source for Participants outside India:Payment will be done by PayPal only.
Declaration Of The Winners:
The Brainvire team will announce the contest winners on 25th February 2019. You can also check the results on Brainvire's Facebook, Twitter, LinkedIn, and Instagram pages. The results will also be conveyed through your emails.
So, what are you waiting for?
We look forward to your participating.
Happy blogging!
Have any further queries regarding the contest? Just drop an email to: digital@brainvire.com
Register Now: