Insurance corporations need to survive in a very competitive market that needs to satisfy both financial commitments and superior virtual experience for corporate consumers and retailers. Talking of the industry, Blockchain is one such technology that is shaping the current investment industry.
Blockchain is a revolutionary technology in the insurance industry, with the potential to drive positive change for insurers. In the coming future, the technology is expected to bring out high productivity, cost-savings, smart contracts, and faster payout processes, while keeping the procedure cent percent transparent.
An estimated five to ten percent of all claims are fraudulent. As per the FBI, insurers of the US lose somewhere more than USD 40 billion. Now, to prevent such fraudulent blockchain, it validates authenticity and ownership of a product or goods as well as detects fraudulent reports to save companies from hoax financial exchanges.
One of the current database systems, 'Know Your Customer (KYC)', did speed up the onboarding of new users at a whole new level. The blockchain architecture along with DLT allows companies to collect details from multiple service providers into a cryptographically secured database. The platform does not change and does not need a third party to authenticate or validate the information.
Blockchain technology is the positive change that the insurance industry has needed for a long time. It will help insurance companies to create smart contracts, track ownership and claims in real-time without any geographical barriers.
What is Blockchain?
Blockchain is a distributed directory to stock static records and transactional data, without the influence of a third party by employing a consensus-oriented technology to validate transactions. This secure way of conducting business transactions builds trust, transparency, and security that was a miss out previously.
Blockchain technology is designed to benefit everyone across the chain, more importantly, the whole ecosystem can interact seamlessly. This automatically results in a more secure data system that maintains the confidentiality and accuracy of data at the same time.

The implementation process extends different layers, from infrastructure to specific applications to generic platforms, a blockchain technology solution builds on four characteristics.
Decentralized validation: Newly-generated data is converted into blocks that can only be added to the blockchain technology after consensus has reached the validity of the action. This helps build trust even without a centralized authority. However, the validation does need advanced computing power, which is usually given by the processors in the computer of users in the blocking system, lending less time to the hackers to manipulate and simulate validation.
Redundancy: The blockchain technology constantly simulates on a group of nodes or maybe all in the network. So, the point of failure rounds up to zero and commences a new practice of smarts contracts required for the industry.
Immutable storage: Each stored data block is linked to the previous set of blocks, making the altering of blocks nearly impossible for the hackers, as they have to falsify prior blocks with all their replication. Moreover, the data is stored in the blockchain by instilling a digital finger stamp with a time and date stamp. Any attempt for forgery will be detected as the fingerprint won't match the previous ones. Pooled with the line of blocks, the stocked data is immutable and extreme transparency on the transaction history is attained.
Encryption: Virtual or digital impressions based on multiple cryptographic public and private data make the network participant authenticate which owns the asset, initiated a payout, approved a contract, or file data in the blockchain network.

Blockchain Technology Convenes the Insurance Industry
The insurance industry has coexisted for centuries but various processes are deemed to be outdated. Some policies contracts are processed in papers, the client still approaches for new policy via voice calls and the list goes on.
As these procedures function, there are high chances of human errors leading to loss, tampering, and misinterpreting the document. Because of this, there is much left to do in terms of security, customer satisfaction, and seamless digital transactions, which are challenges that blockchain technology could help cope with.
While blockchain software solutions are the only hope, there are obstacles that companies need to face while implementing. Insurance companies before adopting blockchain must overcome legal and regulatory issues. Some blockchain features won't work with current insurance laws.
For instance, consumer personal data and their policy details must comply with prevailing privacy and data security regulations.
The decentralization feature coupled with smart contracts boosts boosts information sharing in real-time across all the processes beyond geographical terrain.
How can it Benefit the Insurance Industry?
Dealing with a single source of validity enables business frictions to drastically lower by employing solutions like automating and stimulating DLT networks. With blockchain, every insurance-related issue like data reconciliation is made simpler with superior accuracy, while reducing the time consumed to find information. Further, the platform operates for the insurance sectors to reduce costs and gain high efficiency at all times, allowing for transparency throughout a value chain.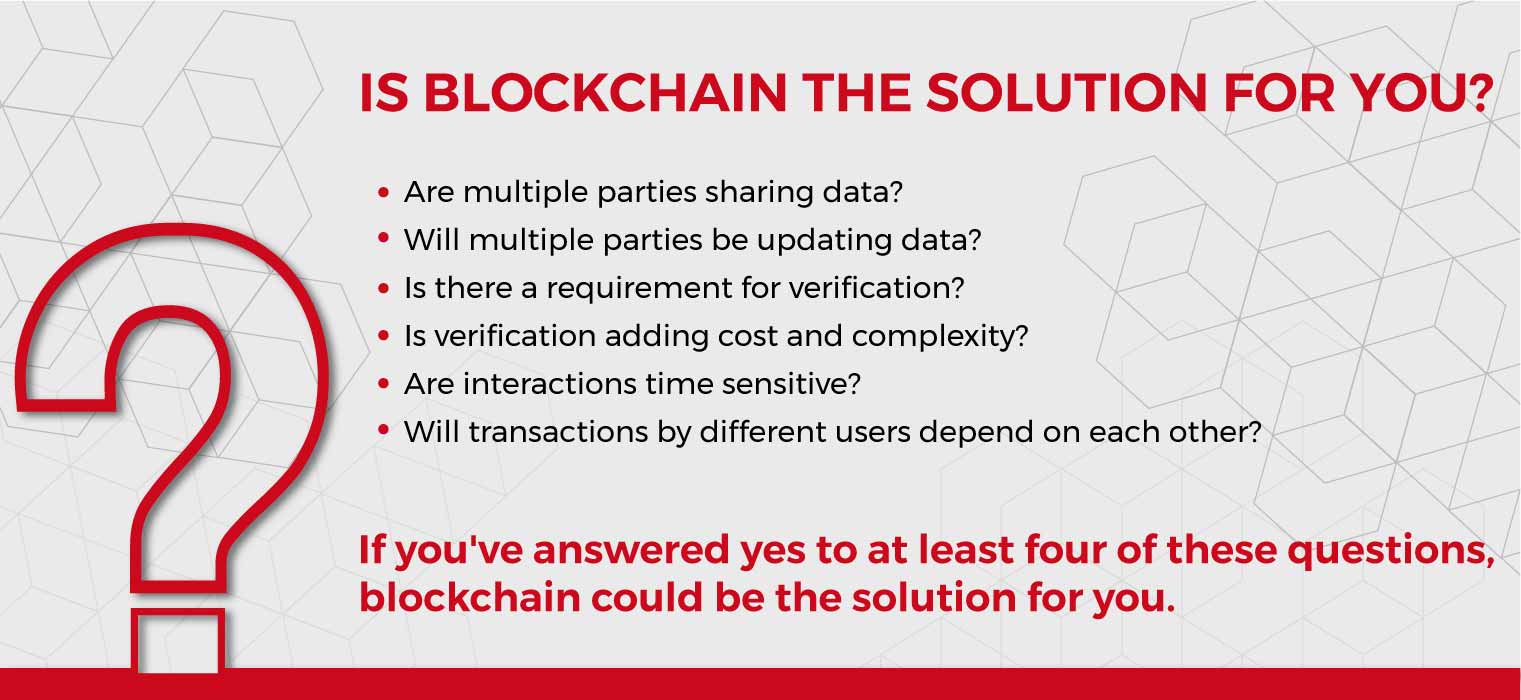 Here are some advantages of using blockchain technology.
With blockchain, the insurance industry will be better secured with a decentralized variation.
As blockchain provides a decentralized platform, consumers don't need to pay for intermediary services.
The hacking threat against your company will be reduced to a greater extent.
Blockchain solves the time taking insurance procedures and automates to maximize efficiency.
Security is also enhanced by the system in which each node poses a copy of the transactions ever done on the platform.
Insurance companies thrive on data! With the help of technologies like Artificial Intelligence, the Internet of Things blockchain can easily compile usable data. For instance, if an insurer wears a Fitbit and agrees to share data, based on certain metrics like heart rate, sleep cycle, oxygen level, you can offer them low-cost premium health insurance.
Impact of Blockchain throughout the Insurance Industry and Line of Process
Builds a reliable and immutable record of products origin to benefit all the stakeholders
Strengthen industry-wide actions to mitigate claim fraud by improved data and data sharing capabilities.
Tracks ownership of a product in real-time without any geographical limitations
Blockchain establishes tamper-proof storage of consumer data that can be shared safely among organizations
Eliminates chances of errors saving resources and time
It improves the visibility of consumer action across institution boosting compliance and regulatory supervision
It helps in automating most or all sections of parametric insurance
Root a policy logic in a smart contract and let a digital feeder spur the execution process upon predefined loss event
It also streamlines catastrophe contracts and other insurance-related securities, like crop insurance, flight delay, and cancellation of insurance
It reduces claim fraudulent by eradicating data silos
Also grants more control to consumers over their personal data involving access rights
Improves pre-existing P2P models like mutuals and reciprocals by automating various tasks and holding funds on smart contract

Smart notary mobile app keeps data meddle-proof
Brainvire developed smart notary mobile applications where two parties can initiate verbal contracts for any transaction. The application stores the conversation and can be extracted to submit as proof in issues like court cases and false accusations. This notary app is highly secured because the data is stored in a service known as bitcoin. cash. The data cannot be misplaced or lost because the trades are protected by the SHA56 cryptography algorithm.
Current challenges and How to Combat it
Blockchain in insurance can address many challenges that incumbent faces including restricted growth in a mature market, poor customer engagement, and the trends of digitization. This technology also aids in detecting fraudulent claims activity and handles a huge amount of data. The ever-growing amount of data generated from IoT have raised the need of shifting data to offer specially tailored services and products.

The high cost and risk involved in the digital transaction is the biggest concern to date. While blockchain may not be the end of all problems, it does offer decisive foundational technology that brings trust, transparency, and efficiency. Blockchain is indeed in its initial phase of adoption, still, there are many ways that insurers are employing the blockchain solution to mitigate the below-mentioned issues.
Challenge- Fraud Claim Settlements and Document Forgery
Solution- Insurers can count on blockchain public ledger technology to validate and add information that can eliminate suspicious transactions as every transaction is listed in the system. Via its digitized central repository, it is easier to verify the authenticity of consumers, transaction history, and policies. This makes it nearly impossible for hackers to steal or manipulate confidential files. This promises quick and secured transactions for insurance claims.
Challenge- Claim subrogation is time-consuming and costly if done manually
Solution-  A clear blockchain solution enables multiple companies to add information and details to collectively store records and simplify claim settlements. The shared ledger facility builds trust as the information is shared seamlessly and improves the consumer experience.
Striving toward the blockchain-powered insurance industry
Blockchain solutions are revamping the industry by helping insurers onboard new clients effortlessly, easing reinsurance systems, and automating claim settlement. Companies are tailoring products and exploring benefits to offer customer satisfaction along with enhanced business processes.
The use of blockchain should help to eliminate compliance, management, acquisition, and documentation costs. It also helps in improving customer engagement by providing visible fairness of tariffs and a higher level of transparency in claim settlements.

Smart contracts offer several benefits whether they are used with P2P insurance or not. They are a reliable and lucid payout system for the consumer and also helps to layout contract-specific rules.  For example, during a claim settlement for a car accident, a smart contract can make sure that the claim is disbursed only if the vehicle is repaired by the preferred service center predefined by the insurer.
How can Blockchain Support Insurer's Basic Rights?
In the insurance industry, blockchain could be beneficial in high-value areas like claims and finance, particularly on processes that need constant reconciliation with third parties. Currently, the majority of insurers are involving smart contracts along with blockchain, which is only triggered when certain terms and conditions meet.
Consider how often Company 1 initiates a claim against company 2 concluding to exchange of money in the form of a digital transaction or paper check. This extended process can be fully automated with a blockchain.
An insurer can initiate transactions with no manual intervention and enhanced customer service by setting up an insurance contract that reimburses in these circumstances. Blockchains help deliver on the digital feature that insurers must get right. If you get it right you might win but if you get it wrong you will lose. Blockchain helps insurers to provide some basic digital opportunities. For example:
Simplified Subrogation( it protects the insurer and the client from paying for losses that they are not liable for).
Supporting efficient payment procedure between insurer and external party during claim settlement.
The transparent claim settlement process
Blockchain helps in streamlining complex manual procedures and automate for less time consumption.
Surmising Lines
Blockchain is a digitization technology that could be of strategic interest to insurance companies. The biggest challenge of industry-wide adoption is facilitating alliances between market participants and technology leaders, shaping the stimulating regulatory ecosystem. Instilling blockchain features today will put insurance companies in a position to benefit from blockchain use cases about five years from now.
Insurance companies and healthcare providers, together try to unify and quicken the claims process to avoid legal hurdles and reduce risk. Tech companies propose a blockchain solution so that a company can offer an insurance claim smoothly.